When it comes to planning an exquisite party or social event, today's party hosts are investing in a more sustainable, green interpretation of luxury. In this article, we provide 5 ways you can work with your event organiser to ensure your event is rooted in practises that help support a more sustainable future.
Click here to jump straight to our 5 ideas for hosting a sustainable, ethical luxury party
Read time: 5  to 8 minutes
Key takeaways:
— How to find venues and suppliers that do good for people and planet
— How to work with your event planner to balance luxury and sustainability
— Tips for reducing your event's impact on the wider world
When Harry Potter star Emma Watson began her influential move into sustainable fashion in 2009 at the age of 19, it was during a year of pivotal change in the world.
The same year, the UN climate change summit resulted in an outpouring of pledges of action from world leaders. Barack Obama was sworn in as the 44th President of the Unites States of America, and the first African-American President in the country's history. He also accepted the Nobel Peace Prize.
In recent years, Watson has accrued a slew of positive actions under her ethically produced belt, marking her rise towards becoming the unofficial poster girl for sustainable fashion and ethical action. This includes launching 'Fashion Footprint Calculator' with second-hand clothes site, ThredUp and wearing a Calvin Klein gown made solely from recycled plastic to a MET Gala event.
In 2020, Watson joined the board of directors for Kering Group. As the luxury fashion house behind brands such as Gucci and Saint Laurent, Balenciaga and Alexander McQueen, Kering is the leading player in the global market of luxury goods. This is just one of dozens of examples of celebrities using their influence, financial backing and passion to help drive the world and the luxury industry towards the adoption of credentials that are better for people and planet.
Luxury that supports people and planet
More than ever, consumers are favouring brands that have a purpose, and sustainability is one of four key trends we believe will shape the luxury events industry.
"More and more, we see that people and our clients are holding themselves more accountable to making more ethically and socially responsible choices," says Mike Walker, MGN events. "These decisions not only support the wider world, but also have an impact on our well-being.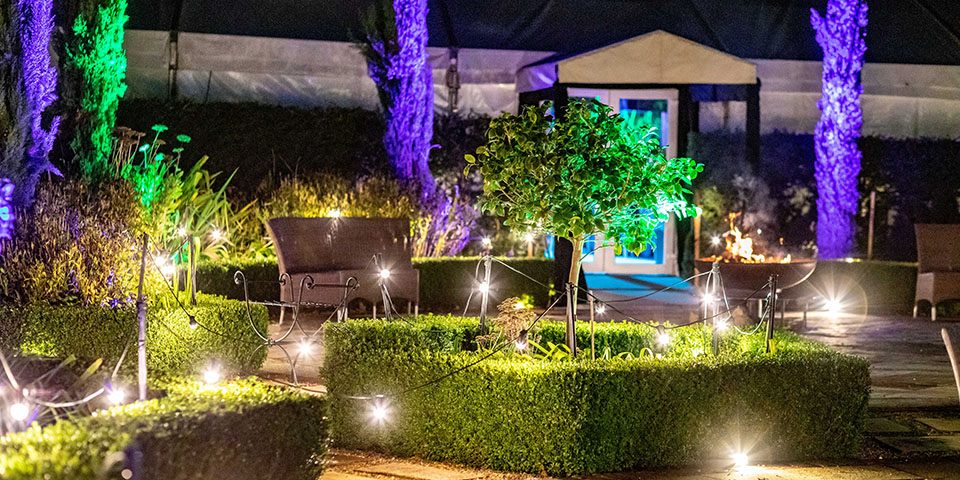 "As leaders in the luxury event space, we believe we have a place in helping to inspire and drive positive change in the industry. We have a loyal client base who look to us for exceptional creativity, discretion and flawless event production but also for guidance on helping them make ethical and sustainable party planning choices.
We believe that luxury brands have the capacity to champion ethical, sustainable practises and to help our clients make informed decisions. For example, we work closely with our partners and preferred suppliers to help ensure we're all applying best practise approaches to our operations and processes."
5 ideas for hosting a sustainable, ethical luxury party
Are you ready to step-up your commitment to environmental, sustainable and ethical causes and support a more sustainable future for all? Below, we share 5 ways you can work with your event organiser to make informed decisions for your next private party or event, thereby helping to drive change in the luxury events industry:
1. Choose a venue that has strong eco credentials…
…or can provide examples of its sustainability policy in practise.
In 2019, the Events Industry Council (more than 30 international organisations in the conferences, events and exhibitions industry), highlighted four key principles that an eco-friendly event venue should aspire to. You can also enquire about the ISO or Green Mark accreditation of your venue options and supporting venues that are participating in programs that combat human trafficking.
Here are some examples of practices put in place by luxury venues around the world:
Substitute single-use plastics: venues such as the Dusit Thani Resort in the Maldives have pledged to substitute single-use plastics with biodegradable or reusable materials such as bamboo.
Venue design: venues such as the Jean-Michel Cousteau resort in Fiji are reducing waste and increasing efficiency through intelligent architecture and design that removes the need for air-conditioning. And ITC Gardenia in India boasts a Platinum LEED rating, as it consumes 40% less energy than any other comparably sized luxury hotel in the world as it has its own wind-farm. They also filter black and grey water, recycle 99% of their solid waste and more.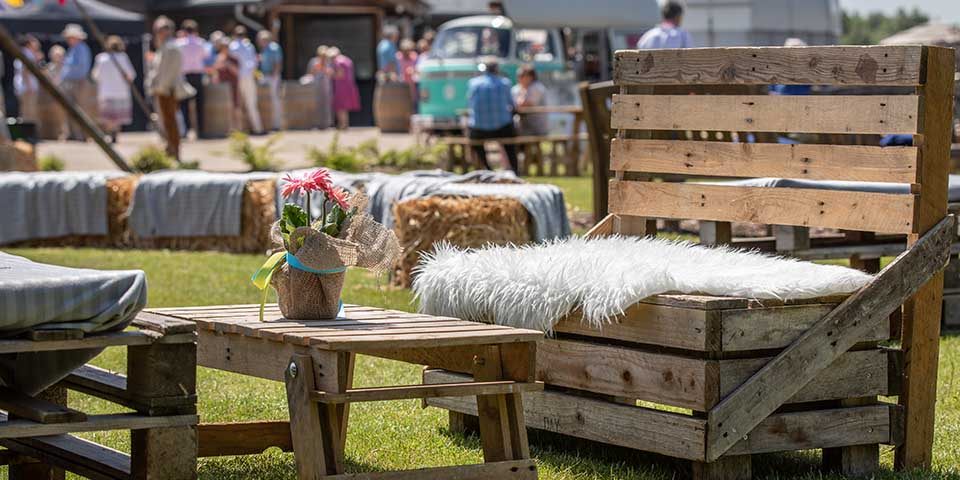 Catering: utilising local resources or growing their own fruit and veg and edible flowers helps hotels, resorts and other party or celebration venues create a biodiverse environment and reduce transportation emissions. Olympia London (albeit an exhibition venue) selects catering partners with strong sustainability credentials. For example, those whose food waste is converted into green energy and fertilisers for local farmers.
Community and ecosystems: Many hotels and event venues are working to directly improve their local ecosystems. For example, the Good Hotel London, which is situated on the River Thames, is helping to filter rubbish that flows down the river before recycling it. While in the Caribbean, the Curtain Bluff Resort in Antigua provides basic necessities to local families in need through its proprietary non-profit organisation, Old Road Fund.
2. Request the most energy efficient practises for your audio visuals.
Ask your event planner to source the most energy efficient equipment possible. Increasingly, AV and production companies are seeking accreditation by organisations such as the Chartered Institute of Procurement and Supply (CIPS) and its CIPS Sustainability Index (CSI). CSI is an independent auditing process that examines an organisation's financial, social and environmental sustainability.
In addition, ask your event planner to make sure your sound, lighting or video tech is all turned off when it's not in use.
3. Ask your party planner about décor and catering suppliers who support the circular economy.
A circular economy is about eliminating waste and extending the life or resources. For instance, textiles and fabric make up a large percentage of waste that ends up in landfills. So, ensure that the décor used for your event comes from responsible sources and that there's a plan to extend its life beyond your wedding, celebration or party.
Consider the materials you select for your tableware and cutlery and only invest in items that can be reused, recycled ethically or rented for the occasion. If there is excess food remaining, ask your event planner about local charities who might recycle it.
Talk to your event planner about how to help ensure your catering quantities are spot-on so you can reduce food waste. By planning to accommodate your guests dietary requirements or preferences from the outset, and by keeping on top of RSVPs, you can help reduce waste. Technology can help to support paperless guest management.
When it comes to décor, consider conscious decorating. For example, for flowers and foliage, ask your event planner to find out about suppliers with green or bio credentials, as well as those who are locally based. Ask your event coordinator to avoid using floral foam in their designs, as it's the equivalent of single-use plastic and won't break down in landfill. You can also consider using potted plants and flowers instead of cut flowers, as these can be re-homed after your party or wedding.
The same ethos can be applied to other décor options where you can consider alternatives to traditional party or event décor. Find out about the ways in which technology, such as digital projections, can be used as an alternative to physical décor. Consider using projectors to display seating plans and tablets instead of printed menus.
4. Specify your preference for independent, local caterers.
It's increasingly important to find out about the provenance of products and consumables, as we are all more mindful of factors such as animal welfare standards, the use of energy in producing certain ingredients such as beef and the use of pesticides, antibiotics and hormones in food production. You can even extend this philosophy to serving Fair Trade tea and coffee.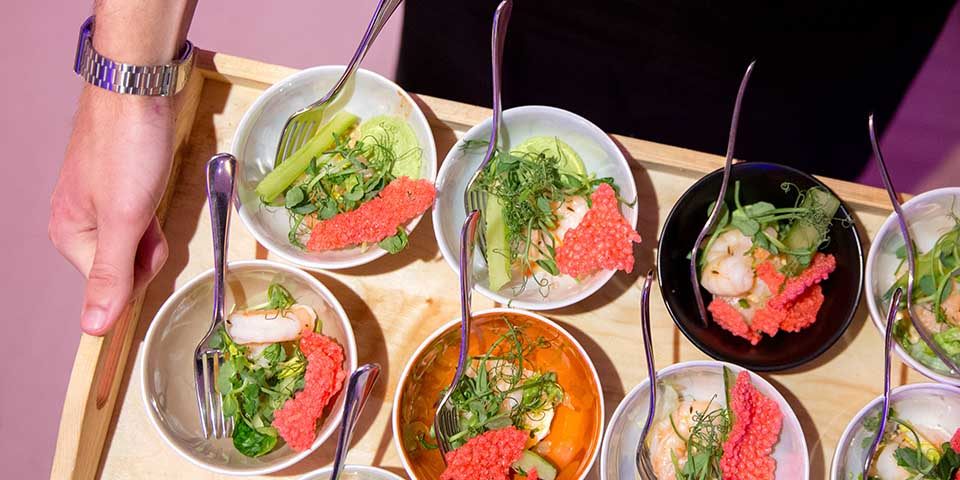 Sourcing locally will help you keep food miles to a minimum and reduces the amount of C02 produced and helps to give back to the local community and economy.
The Vito small business guide to sustainable catering provides an indication of the practises that boutique, local caterers can apply to their operations and output, including:
a) Encouraging small-batch caterers to use less automated, energy hungry equipment.
b) Buying or renting equipment that requires less power, making it more environmentally friendly.
c) Sourcing directly from local farms and suppliers encourages seasonality in your menu options.
d) Including plant-based and vegetarian options helps to cut the emissions associated with your menu, as meat production accounts for nearly 60% of all greenhouse gases.
5. Enquire about ways to offset your party's environmental impact
If you're expecting international guests at your event or party, you might want to consider ways to offset the environmental impact or your event's carbon footprint.
You might want to consider making a donation to a charitable organisation to help offset the environmental impact of your event or soiree.
For example, Sustainable Travel International enables you to purchase carbon offset credits equivalent to the amount of emissions you were responsible for, and to invest them into certified carbon reduction projects. The projects in which they invest the credits also go beyond carbon reduction and into rainforest protection and providing people with opportunities for better livelihoods and health within communities.
Conclusion
There's no reason your luxury party or celebration event can't be beautiful, memorable and fun and also do good for people or the planet.
Take inspiration from the wave of celebrities, such as Emma Watson or Leonardo "the greenest guy in Hollywood" DiCaprio, as well as entrepreneurs and industry leaders across the world who are using their platform and wealth to support a more sustainable future.
If you're looking for more inspiration for your next party, social bash or celebratory event or to book a consultation, visit our blog or speak to one of our dedicated event planners. You can either complete the form below or call 01932 22 33 33. You can also email hello@mgnevents.co.uk.
Further reading:
How to make sure your next party is sustainable
How concierge services are transforming luxury
2 immersive must-haves for modern and exclusive social events or parties.
Sources:
https://thevou.com/fashion/emma-watson-sustainable-fashion/
https://www.forbes.com/sites/forbesbusinessdevelopmentcouncil
https://www.happinessandwellbeing.org/wellbeing-research-faq-2
https://www.hollywoodreporter.com/lists/earth-day-10-hollywood-stars-making-an-eco-friendly-impact
https://www.hitched.co.uk/wedding-planning/organising-and-planning/eco-friendly-wedding-ideas/
https://www.bcg.com/en-us/publications/2020/fashion-industry-reset-covid
https://trendsformative.com/luxury-industry-challenge-contemporary-trends/
https://www.bain.com/insights/luxco-2030-a-vision-of-sustainable-luxury/
https://www.bain.com/insights/six-shifts-changing-the-future-of-media/