If your knowledge of augmented reality extends no further than watching the latest batch of candidates on The Apprentice (Series 14, episode 2) attempt to design children's comics, you might well query what all the excitement is about.
Of course, what Lord Sugar's wannabees are capable of and what AR experts create on a daily basis are two very, VERY different things!
At MGN events we embrace technology and are always looking for how we can apply new developments to the events we create, such as an augmented reality party.
With a definite move towards corporate clients wanting to provide experiential events and immersive experiences for customers or employees, we've already successfully incorporated virtual reality into a number of events –not simply for the sake of it but for a logical and strategic value-added reason. And we're now adding AR to our events bag of tricks!
An augmented reality party relies on wearing a VR headset – which some people don't like, be it because it'll mess up their hair (and we don't just mean females!) or the entire experience feels unsettling – augmented reality needs only a tablet or smart phone.
And Apple's new iPhone XS range has made the use of augmented reality ever more accessible and easy to use.
An augmented reality party is an exciting way forward for greater brand engagement
AR blends the real world with digital content, so the opportunities to bring alive event spaces and provide a more interactive experience are immense and incredibly exciting – just imagine, for instance, how AR might transform an otherwise dry conference into something much more inspiring and simply by getting delegates to take out their smartphones.
Whether you're planning to launch a new product, elevate team-building activities to a whole new level or incorporate gamification into your event, AR could be the perfect way in which to engage with your audience.
And just like in The Apprentice (or not!), AR could transform a two-dimensional printed take-away from your event into a highly compelling and interactive experience that leaves a lasting impression.
Brand awareness, brand building, brand engagement – these are the things that preoccupy every marketing department.
AR is going to revolutionise how brands become more successful, both externally, with their customers, and internally, at key employee events.
Confused about how augmented reality differs from virtual reality?
For a concise comparison of augmented reality and virtual reality, we found this infographic, created by AR and VR specialists Harmony Studios, really useful.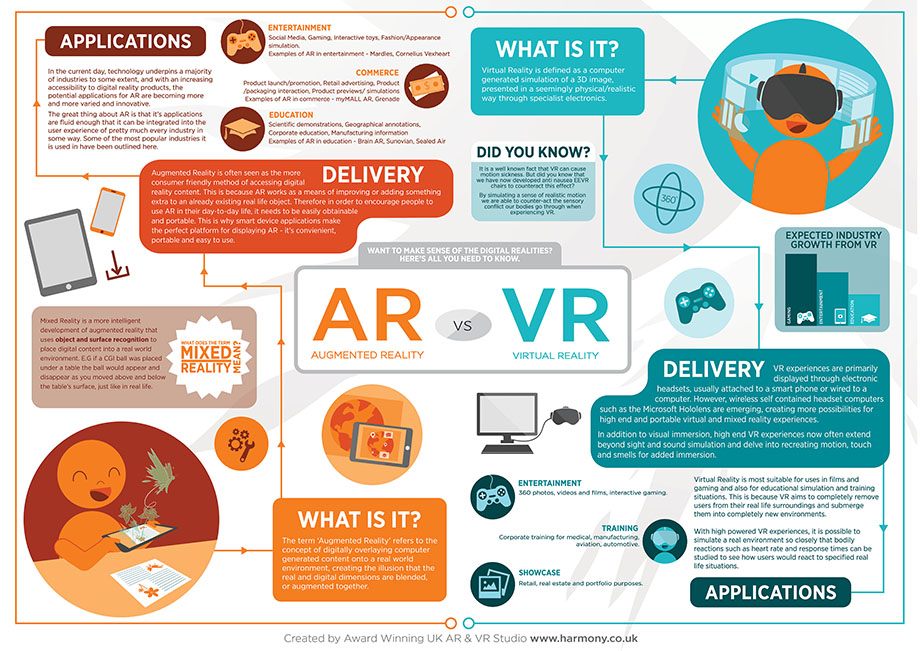 If you're planning a corporate event and would like to explore how augmented reality might be used to make it even better, give us a call.
We'll work with you to create an event that meets your business objectives in the most inspiring way possible.