Bowl food catering is definitely modern but it's not new. This particular style of catering definitely came to the fore recently when Meghan and Harry chose to serve bowl food to the 600 guests attending their wedding breakfast. This decision may have divided opinion but one thing's for sure, bowl food catering just got a lot trendier! We take a look at the reasons why you might choose to bowl food or a formal sit down dinner.
So what's so good about bowl food catering?
Well, if space is an issue and you're worried where you're going to put everyone, then serving bowl food removes the need for tables and chairs.
Bowl food is bigger and more substantial than canapés, less messy and easier to control than a buffet and more relaxed than a traditional sit-down meal.
The food is specifically designed to be easy to eat. Forget about balancing plates on laps and using knives and forks, bowl food can be eaten standing up, bowl in one hand and fork in the other – no stress, no mess!
Bowl food catering means more variety. Quantity is obviously something to agree with your caterer, but you'll need to allow several bowls per person. This means guests can enjoy a variety of flavours rather than one set meal.
It takes up less time to serve and eat, so if you want to get down to the business of partying as quickly as possible, bowl food is a good option.
Guests can mingle easily while they're eating, so it can become a very sociable part of your event.
It's just kind of cool.
The informality of bowl food catering really suits some parties, especially if you want to keep things moving along at a pace. But there is also a strong argument for a more formal sit down dinner – Meghan and Harry weren't above criticism in the media for choosing bowl food. After all, how on earth would the Queen cope with it?!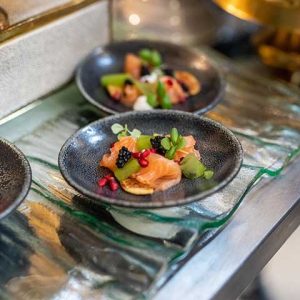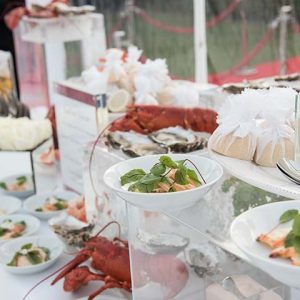 Would sit down dinner catering be a better choice?
Some parties and events virtually demand the formality of a three- or four-course seated dinner. Weddings, in particular, can be long and drawn out. Guests may have travelled some distance and have set out early to make the wedding ceremony – it can be a long and tiring day and hunger will, inevitably, become an issue at some point in the proceedings. A formal sit down dinner means that you're giving your guests the very best opportunity to satisfy their hunger and feel ready for whatever is next on your party itinerary.
It can be quite easy to decline bowl food – it may be something you don't like or simply don't fancy eating – with the expectation that something else will be on offer. But that can also mean that guests end up eating little or nothing. Again, a formal sit down dinner will avoid that issue.
The older generation, particularly, will appreciate the chance to sit down. If some of your guests are on the elderly side, do be aware that they may struggle with bowl food and a sit down dinner will naturally work better.
If there is an element of formality about your party – whether it's to give wedding speeches or you're planning to say a few words (or many more!) on reaching a milestone birthday – it might be more comfortable all round if your guests are seated. Less shuffling and sighing, your guests will be more relaxed and therefore more receptive to, and appreciative of, a long but witty speech.
If guests don't know each other, which can be typical of a wedding party but just as true for a christening party or even a birthday bash, a sit down dinner, with a well thought out table plan that brings different people together, can be a great way of encouraging guests to talk to each other.
You can't beat the sight of a beautifully laid and decorated table. Add the presentation of exquisitely plated food and you have that all-important wow factor – and food is always a talking point and a memory to take away.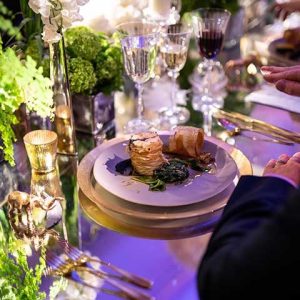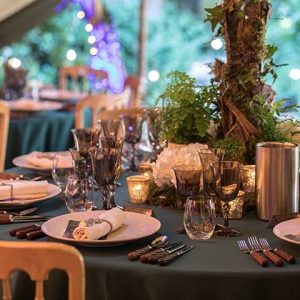 At the end of the day, it's your party and how you plan it is totally up to you. If you'd like any help with catering for your next event, we know some of the very best caterers around who will happily work with you to satisfy the appetite of your guests. Please contact us to find out more.