Sustainable corporate events. At MGN events we're very aware of climate change and the issues we face on a global level. Whilst it's going to be some time before corporate events become carbon neutral, we are taking responsibility for making them more sustainable and are encouraging our clients to get on board. For most clients, being sustainable is part of their own corporate social responsibility and readily welcome every effort to make their corporate events to be more environmentally friendly.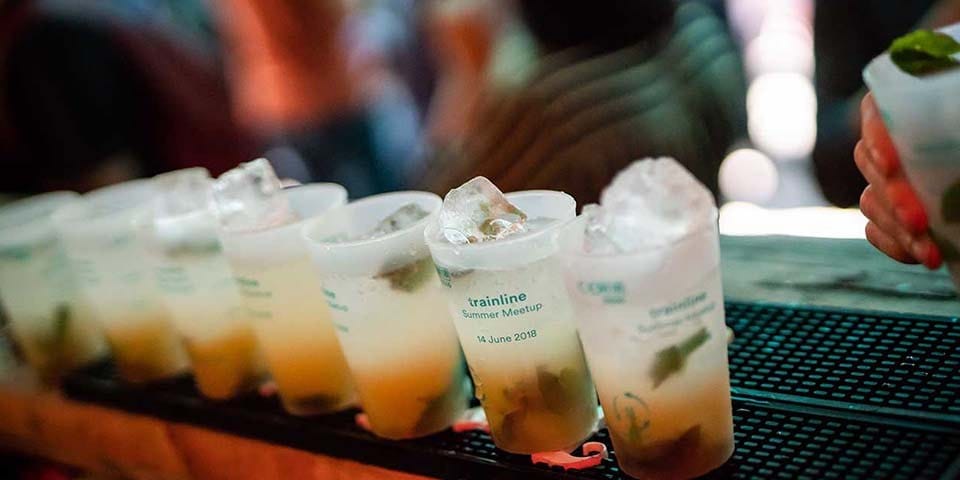 Bringing together hundreds of delegates in one venue can have a big environmental impact – from how far delegates have to travel to how much food is wasted. But with a bit of smart thinking, the impact can be reduced to a more acceptable level. Initiatives include:
Choice of venue
We know how important it is to find the right venue for a corporate event. If it's somewhere really special or iconic, the venue can even become part of the appeal and motivation to attend. However, it's pointless to expect delegates to spend hours travelling when there is a venue that would work just as well but in a more convenient location. Not only does it make good environmental sense, a shorter journey means delegates won't feel tired the moment they arrive!
Hold the event at the office
It's not always necessary to hire a venue. We've delivered events at clients' premises and they've been hugely successful, including a family fun day held in the company's car park!
Travel arrangements
Flying is generally the preferred option, but maybe it's time to start considering trains and ferries – a really smart way of doing this would be to make the time spent on the journey useful, engaging with delegates before the even reach the event. Now there's a thought!
If a lot of delegates are going to be travelling by car, why not organise coach travel instead? Or, if people are travelling by train, make sure that transport is provided to ferry them from the station to the venue – or, at the very least, provide details of public transport. Don't let that part of the journey turn into an endless convoy of taxis.
Technology is a good friend to have
From digital invites to online registration and bespoke event apps, utilise everything possible to keep your event a paper-free zone. It also means you have access to some great tools that will keep delegates really engaged.
Useful giveaways…
Everyone likes to get something for nothing, but gimmicky freebies are so often just thrown away afterwards. Giving delegates something useful is a far better idea. For one summer conference, every delegate received a branded reusable cup, which was to be used during the event and then taken away.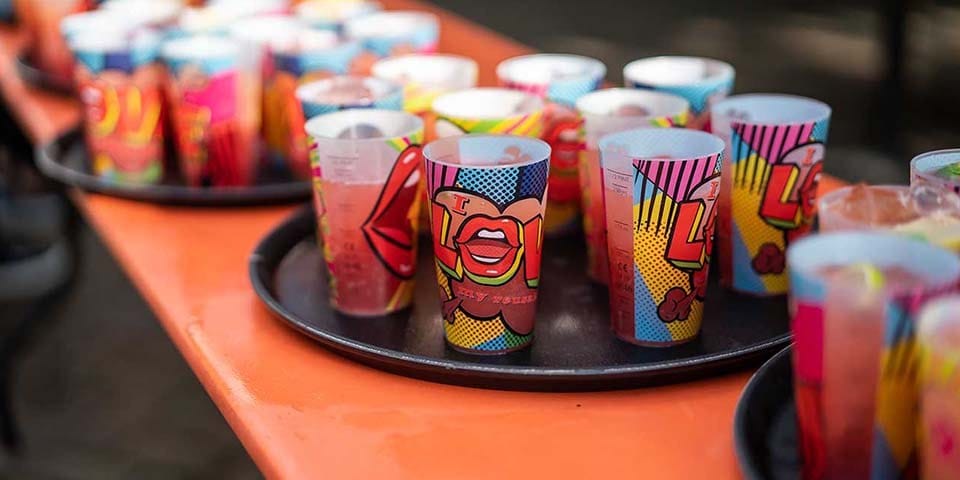 …and limit the throwaways
Avoid single-use plastic wherever possible – take a leaf out of our book and provide reusable cups! Ditch plastic straws and, if you're not providing food on china, look at using palm leaf bowls and plates instead. There is more and more innovation going on and a good event planner and organiser will be up to date on what's good to use.
Get the catering right
It's almost criminal to see bins filled with leftover food at the end of an event. Reduce the possibility by confirming numbers to your caterer and knowing any dietary requirements in advance. Caterers are also very savvy when it comes to sustainable catering – locally sourced, in-season ingredients are what should be on the menu. And think about what to do with anything left over. There are many charities that will happily collect anything that is still fit for consumption – a much better solution.
Do something about your event's carbon footprint
Ideally, you should measure its carbon footprint, the emissions from travel, heating, power etc. Then get involved in a carbon offsetting project such as planting trees – it's a feel-good factor, particularly if the project is local, and a positive contribution to the environment.
Sustainable corporate events with MGN
With so many things to consider, why not get MGN events involved in your next corporate event. Together we can make it more sustainable! Contact us – speak to a member of our team on 01932 22 33 33 or email hello@mgnevents.co.uk.