Technical Event Production
Whether you're looking for an engaging conference experience, an experiential tech activity for a brand or hosting a party like no other, our in house technical event production team will work to bring your event to life. We mix creativity with technology to ensure your live events not only look amazing but inspire, engage and leave a lasting impression on your audience.
We'll listen to your brief, working with you to ensure we design and create a unique live event which inspires your audience and heightens their senses. Filling your room with colourful light to capture the moment, having your brand messages projected onto walls and engaging video and animations of your content will all help make your event memorable for all the right reasons.
Technical event production - making your live events amazing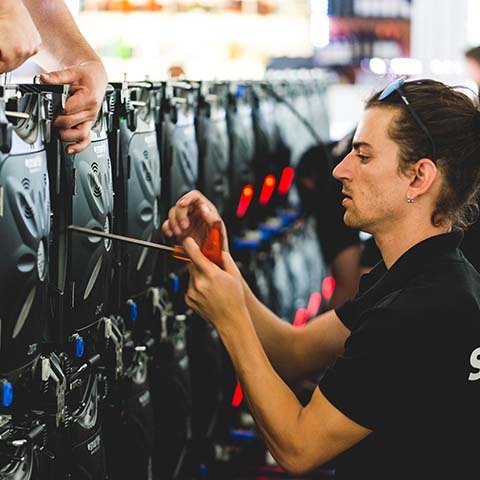 Our technical event production services will ensure your message is delivered professionally to your audience. Our warehouse is full of the very latest technical event services equipment ready to use at your next live event, including lighting, sound, HD projectors, AV equipment, lecterns, staging and stage sets.
We manage all our technical event services in-house, which allows your budget to go further and have one point of contact, making your life easier, rather than dealing with many different suppliers. We work across the full spectrum of live events from small meetings to large scale corporate events, leadership conferences and awards dinners to product launches and roadshows, so you are in safe hands. Give us a call today to get a free quotation.
Bespoke event production - what to expect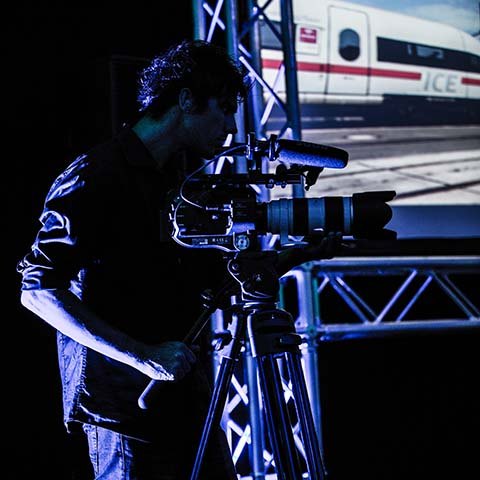 AV, lighting & equipment
Stage and set, design & build
Content creation & animation
LED Video
Technical event production staff
Visualise your live event, before
Our 3D CAD service gives you the benefit of visualising your event at the planning stage. We'll do our best to help you understand our interpretation of the design concept, by creating sketch visuals, CAD designs and fly-throughs. Understand where your budget is going, how your event is going to look, and really impress your manager by sharing visuals in your team meetings.
Keeping it simple – AV language
As a passionate technical event production company, we LOVE live events. We'll take the time to explain the often confusing AV language, and spell things out in plain English for you. To the untrained eye, AV can be a minefield for spending money in area's you simply do not need. Our experts will make sure we only recommend the equipment you really need. We have taken the time to add descriptions to the line items on our quotes, so you can be sure, as a non-technical person, you'll understand what each piece of equipment is, and why it is needed.
Peace of mind
Our technical event services will give you peace of mind that your speaker will be seen and heard perfectly by your audience; atmospheric lighting will create an environment fit for audience engagement. If you really want to, we can help design a power-point template so your slides will be eye-catching, clear and most importantly professional. Whether you're using MGN Events for the full event management, or just for our experienced and skilled technical event production team, we have the talent and the equipment to transform your event and deliver a quality friendly service – get in touch today!
Live events that communicate messages clearly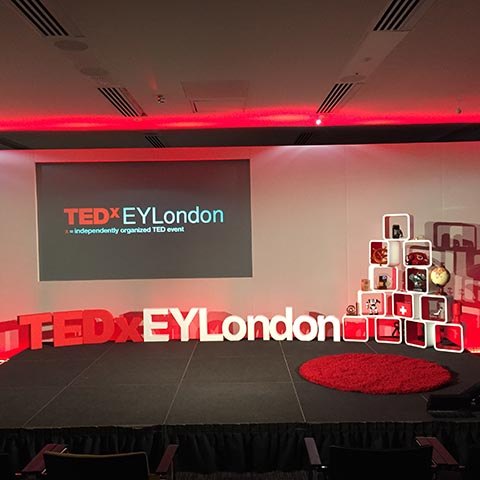 We offer many bespoke event production services in-house, which provides you with extra reassurances and budget-friendly additional services. Our production department can help you with concept generation, design of your environment and creative management.
Our design studio supports bringing all your content needs to life, developing event brands, themes and visual identities. Our producers will then ensure we weave these through the physical touchpoints of your event. All this is provided 100% in-house.
Professional sets & stages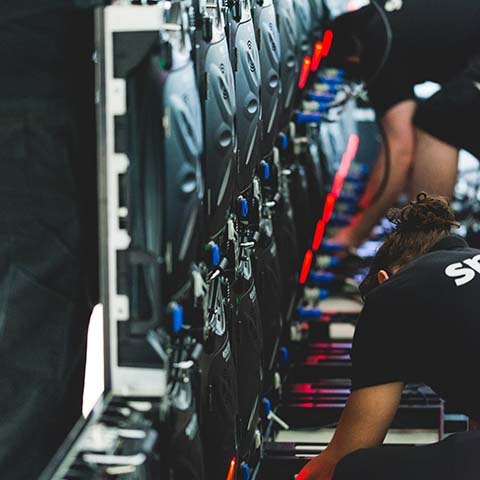 We design and construct stage sets of all shapes and sizes, with single or multiple screens. No matter if your audience is small or large, we promise you will have experts on hand to ensure the technical event production runs smoothly. The perfect set and stage will engage your audience and ensure your messages are delivered professionally. We have many customisable stage sets in our warehouse which are priced competitively and can be modified in size and colour to suit your requirements. Let's have a chat to work out what is best for your event, and we'll provide you with great stage & set ideas for your event.
Atmospheric Room & Stage Lighting
Our Lighting engineers will give you lots of lighting ideas to bring your space to life! Lighting is often the most inexpensive way to transform an event venue. Using our own stock of wireless LED up-lighters, fresnel stage lighting and colour wash lights can transform your room into a stunning setting, helping create an atmosphere to really engage your audience and reinforce your messages.
Crisp & Clear Sound Systems
Your audience will only be fully engaged if they can clearly hear your presenter. Our team of professional sound engineers will be on hand to ensure your speakers have correctly balanced lapel microphones, a lectern microphone that your audience can hear clearly without horrible feedback. Our high-quality speakers and microphones will ensure your audience hears a crisp and clear sound.
Immersive LED video and animation
Have you considered bringing your content to life with short video? It is widely accepted nowadays that stunning presentations engage audiences better and is an effective form of communication. Why not have a quick chat to one of our production managers to see how inexpensive it can be to bring your content to life, using simple effects such as opening videos, 2D and 3D graphical animation.
Production Support
Production Support is vital to the success of any project. If you are an events company, venue or supplier and would like MGN events to help you with technical event production services, we can work as an extended part of your team if you require, unbranded.
Technical Event Equipment Hire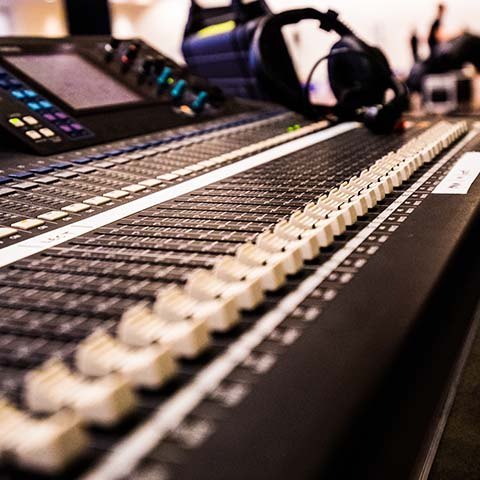 Our 2000 square foot warehouse in Egham, Surrey, is bursting at the seams with the very latest technical equipment and if we don't own it, we know the industry suppliers to ensure we get the best sub hire rates in the business. We'll be transparent with you with what we own and what we don't own.
Our production team know their stuff, but won't bamboozle you with tech speak. We'll explain any complex requirements in plain English. Best of all we are flexible and adaptable to last minute changes and will always work towards solutions that deliver your messages in the best possible way.
Contact Us Today!
Complete the form below to arrange a consultation with one of our event experts.