The demand for spectacular celebrations is growing as discerning consumers seek more personalised ways in which to celebrate meaningful events like birthdays, weddings and anniversaries. Here we discuss why luxury marquees are perfect for your next party.
Today's sophisticated and affluent consumers are more switched on than ever before when it comes to planning private luxury parties and celebrations to mark important milestone events in their lives. Inspired by once-in-a-lifetime experiences like Sublimotion, they want to recreate the same feeling of amazement for their own guests. This level of wow can only be achieved through ultra-personalised luxury events where every last element can be fine-tuned to the client's wishes.
Consequently, when planning a celebration to remember, it's really important to choose a venue that can be highly tailored to accommodate every conceivable request – and luxury marquees fit the bill perfectly. Free from the constraints of a brick-and-mortar building, the bespoke nature of these temporary structures is perfect for creating the most awe-inspiring party spaces imaginable.
Marquees: Highly tailorable party spaces
The biggest advantage of using marquees for parties is that they can be customised to any shape, size and specification, therefore allowing even the wildest creative ideas to be brought to life, says MGN events' Artistic Director Matthew Strange. He recalls a themed birthday celebration based on the movie 'Back to the Future', where a marquee provided the perfect blank canvas on which to bring the crazy world of Marty McFly to life. "The marquee space enabled us to build an entire American diner complete with jukebox and chequerboard floor. We used actors with backstories to draw guests into an authentic, immersive experience and really make things come alive" says Strange.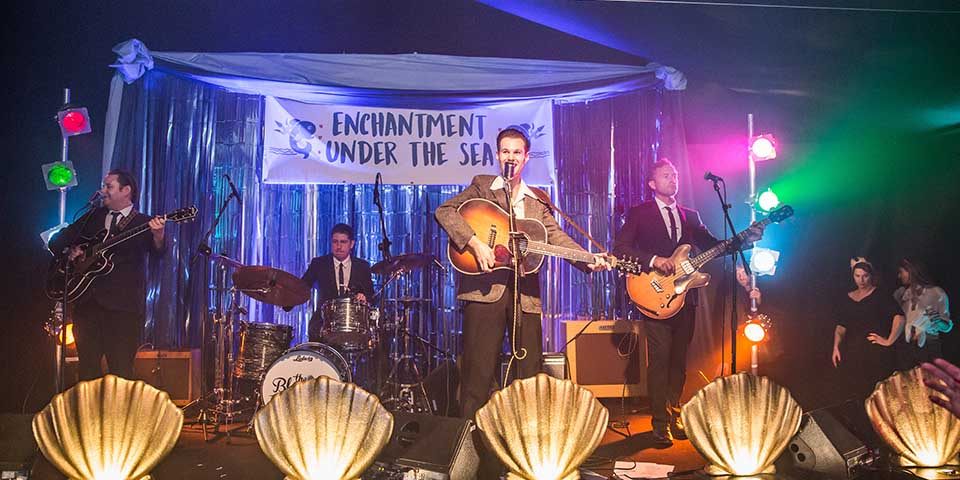 In addition to this, the highly customisable nature of marquees means they can easily be bespoke designed to fit into almost any space the client desires, from private gardens to the grounds of stately homes, there's virtually no limit to where a marquee can be erected.
Moreover, when marquee installations are designed with the right expertise and artistic flair, clients also have the opportunity to showcase their beautiful homes and gardens which become part of the party experience. Smart use of lighting can illuminate points of interest like beautiful flora and fauna and landscaped pathways as well as make a feature of building facades. Clever technology like projection mapping can be used on both interior and exterior marquee walls to create an immersive experience for party guests.
Finding the right event planner is crucial
However, despite the many advantages of choosing a marquee to host your next party, it should be remembered that marquee hire is just the beginning of your journey. Consequently, due diligence must be paid to finding a reputable company that has the expertise, creative vision and technical know-how to transform a blank canvas into a show-stopping experience that guests will remember forever.
"The sky really is the limit with what we can do, no request is too big or challenging for us. If our clients can dream it, we can do it" says Mike Walker, Managing Director at MGN events. We've built the most incredible marquees with real wow-factor for our clients and can say it's an area in which we have a great deal of expertise."
Having worked with some of the biggest brands in the world as well as ultra-high-net-worth clients, Walker knows precisely how to transform marquees into magnificent party spaces complete with a wish list that every client can dream of. Indeed, organising a special celebration to the most exacting of standards requires many different elements to successfully come together.
Incorporate great lighting to lift the space
Specialist lighting and audio-visual effects are arguably one of the most important elements of any event, but especially one that is being hosted in a marquee since there's no lighting to begin with. Event companies, therefore, need to have a deep understanding of the role lighting plays in bringing a party space to life and how it can be cleverly used alongside audio-visual technology to tell an unforgettable story.
Neil Walker, Director of Production at MGN events says: "We've transformed many ordinary spaces and surfaces and brought them to life with breath-taking lighting concepts. From stately homes to private marquees, we know how to use intelligent lighting to create that unmistakable wow factor."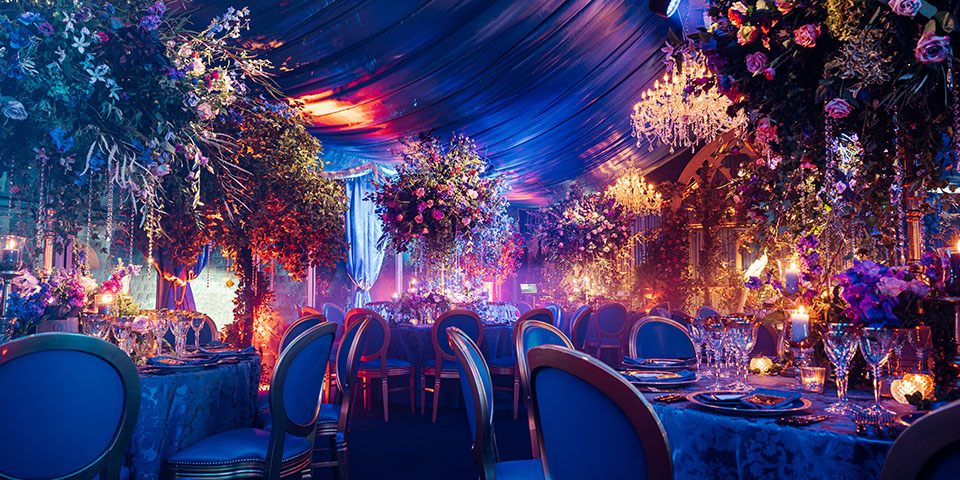 Indeed, the very nature of marquees lends themselves well to being transformed by lighting as well as providing the perfect backdrop for projection mapping technology to bring another dimension to your party. For example, Walker used this technology for a client's party to project playing cards and dice raining down on guests as they walked into a marquee.
Spectacular parties usually have a strong theme running throughout which brings every detail together. And whilst an experienced event management company can transform any space into a show-stopping extravaganza, marquees are a winning choice because every single detail can be designed and customised in a way to complement the theme. "Marquees are fantastic for themed parties," says MGN events' Artistic Director Matthew Strange. "We've done everything from a Narnia-inspired Christmas party to an enchanted forest birthday celebration."
Tailor the internal space to your event
Another great advantage of choosing a marquee for your special celebration is the fact that due to the modular nature of marquees, separate zones can very easily be created to cater for different needs. For example, if you want a wedding marquee but want to create a kids' zone to keep younger guests entertained away from the main event space, this can easily be achieved in a way that feels more natural and inclusive than if you had to use a different room in a traditional indoor venue.
For discerning clients who are looking for more than just a party, marquees really are the best option for creating a highly unique, personalised and immersive experience.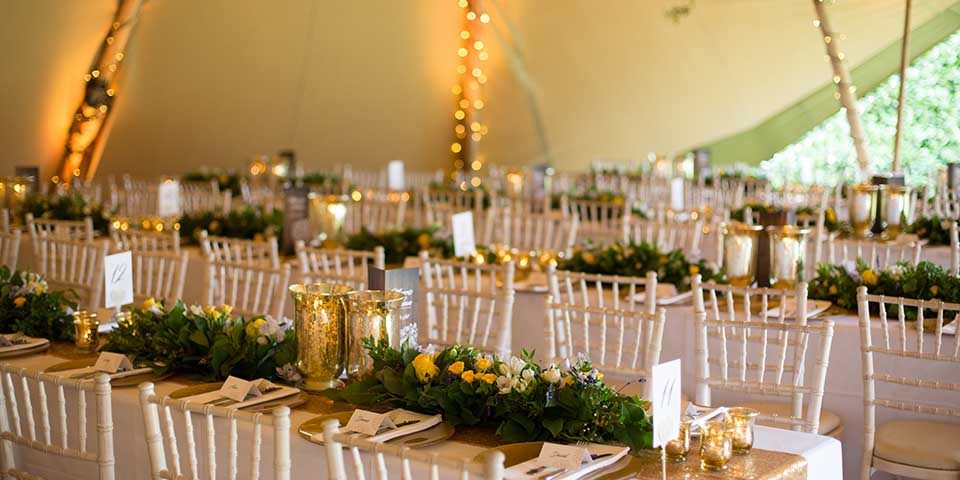 The key point to remember is that because the structure is built from scratch, there's nothing that can't be accommodated. For example, if you really want suspended ceiling installations at your event, this might not be possible if you choose an indoor venue due to many factors such as the integrity of the ceiling and not being able to drill holes into it. A marquee on the other hand would be designed right from the outset to enable this feature to be installed.
Indeed, marquees offer advantages that other venues simply can't compete with confirms Walker, who provides a detailed marquee planning service with 3D designs to help clients visualise their dream celebration. "The whole process requires meticulous planning and attention to detail, which is nothing less than what our esteemed clients expect. We're able to give them a glimpse of what their special celebration can look like, which is really exciting for them and for us."
Moreover, Walker and his team have expertise in every area you can think of – from incredible entertainment, tantalising food and breath-taking interior design and décor, they can provide the full package all under one roof. "We specialise in full-scale events and know how to bring everything together to create something truly extraordinary for our clients," says Walker.
Conclusion
Despite the enormous amount of planning and hard work that goes on behind the scenes, marquees are a fantastic solution for your next luxury event, especially if you want to create something as unique and individual as you are. So if you're thinking about hosting a truly spectacular celebration, consider hiring a specialist events management company with demonstrable expertise who can support you in making your dreams come true!
If you're interested in hiring a bespoke designed and built marquee for your next party or event, contact our team either via the form below, on 01932 22 33 33 or by email hello@mgnevents.co.uk