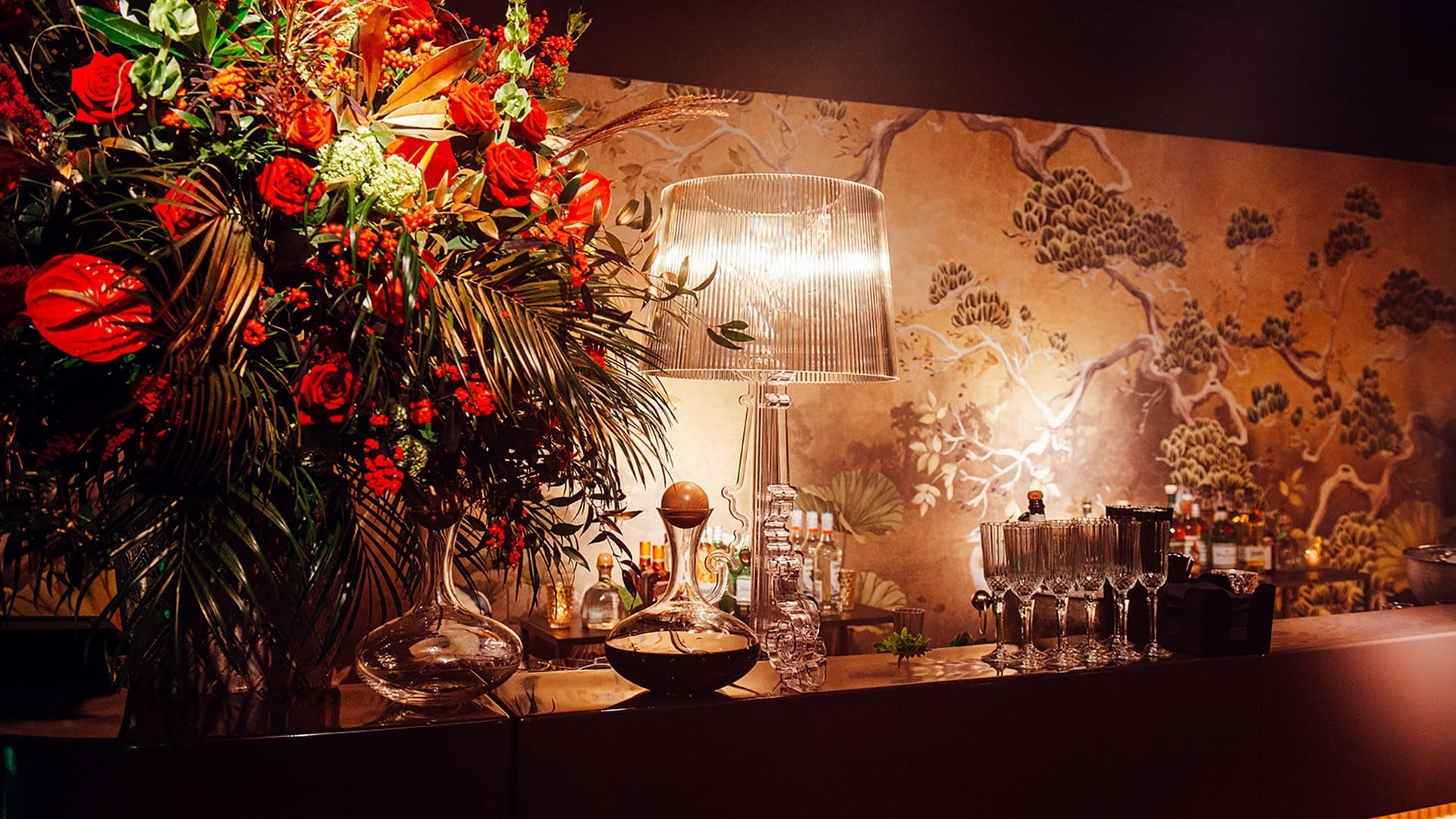 BRINGING MAYFAIR TO COBHAM – AN EXCLUSIVE 50TH BIRTHDAY PARTY
Our talented team has a knack of making the seemingly impossible possible. Our client said that the inspiration for the theme of her husband's 50th birthday party was a highly exclusive and prestigious private members' club, 5 Hertford Street. Beyond the door of this Mayfair townhouse the décor is glamorous, opulent and exotic, and downstairs in the basement is Loulou's, a stylish nightclub. We relished the challenge of recreating such a highly salubrious venue within a marquee.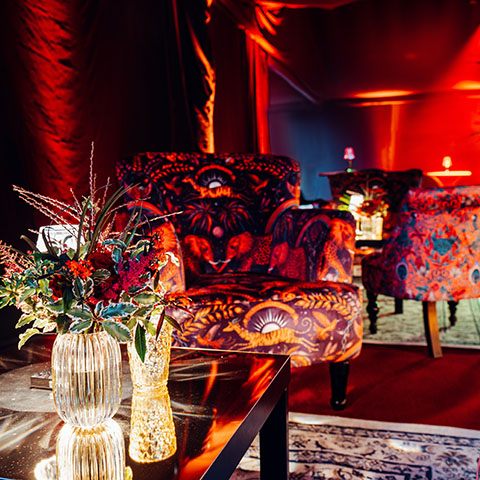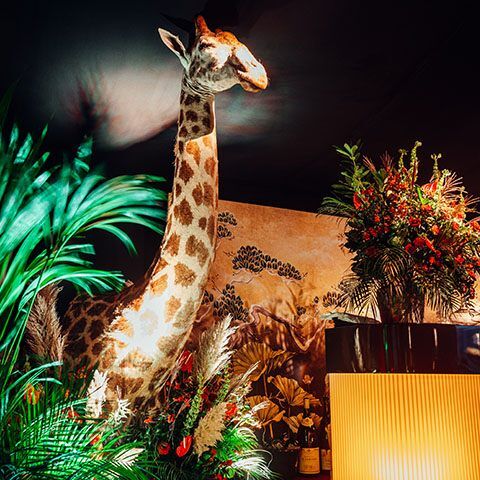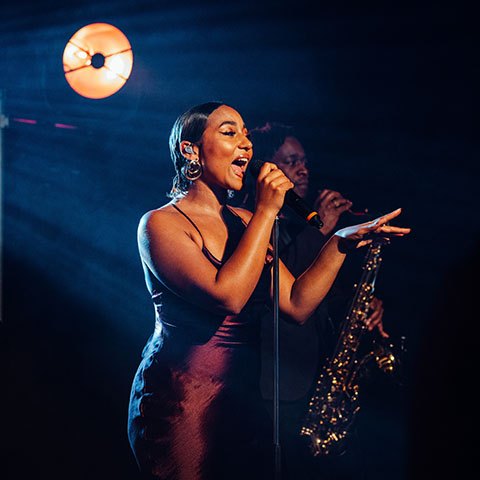 The immaculately manicured grounds of our client's home provided the perfect location for a bespoke marquee party. We created two distinct spaces within the marquee interior. The first was a bar area, where a magnificent Art Deco bar provided a main focal point with shelving to display drinks and elegant glassware. This was complemented by a bespoke mural backdrop we designed and created. A stylishly eclectic mix of plush sofas, armchairs, bar stools and gold poseur tables created a sense of bohemian chic and made for a relaxing yet indulgent space in which guests could mingle and chat. Spectacular floral arrangements added visual impact and richness of colour. An abundance of red roses, smaller clustered spray roses, astilbe, orchids, molucella, oriental lillies, amaranthus, anthuriums, gloriosa and deep red seasonal berries combined with the vibrant emerald green tones of foliage, ferns and palm leaves to add a real wow factor.
Moving into the other half of the marquee, the floristry was used to visually link with the bar. The stage, which was the full width of the marquee, was adorned with exotic blooms and palms. And, just as a giraffe is a particular feature of 5 Hertford Street, we sourced a life-size model of a giraffe, which was a real talking point.
Throughout, we ensured high production values and the lighting scheme was carefully designed to create the perfect atmosphere. Lamps on the tables and bar gave a sense of intimacy and warmth, whilst the stage and dancefloor area was lit with a vibrant mix of reds, greens and blues for a clubbing atmosphere.
The marquee interior was bursting with decadence, indulgence and style and we made sure the 75 guests knew to expect an A-list experience even before they entered. Arriving at the property, which was transformed with an exterior lighting display, the approach to the marquee was also lit and window walls gave a tantalising glimpse of the interior, which added a real sense of anticipation.
Themed cocktails got the party off to a swinging start, along with our client's own specialist wines. The drinks were all carefully selected to work well with the food, an authentic Argentine asado – the birthday boy loves steak! Cooked on an open flame grill outside the marquee, guests enjoyed both a visual treat and a wonderful taste sensation.
As the evening progressed the dancefloor filled up. A five-piece soul band, featuring two amazing vocalists, gave a phenomenal performance and really knew how to get people dancing. Once they'd finished their set our DJ took to the decks and the party vibe continued long into the night.