Discover 5 of the most unique, authentic and memorable venues in London in the first in our mini-series featuring venues across England. Get inspired for your next event.
Read time: 3 – 5 minutes
Key takeaways:
Unique venues for events such as conferences, gala dinners, dinner dances, award ceremonies, launches, Christmas parties, company off-sites and more
Unique venues for gatherings between 10 and 1000+ guests
Venues in London, Norwich, Bristol, Bath, Winchester and other prominent cities.
Hosting your event in a distinctive, unique venue can help:
Build a sense of anticipation ahead of your event
Leave a lasting impression on your guests
Pique curiosity and encourage attendance
Raise the bar for the next event and encourage engagement in the future
If you're looking to create a real buzz about your next company event, look no further than the unique and memorable venues we've uncovered across the UK.
In our unique event spaces series, you'll discover venues that will spark imagination and enthusiasm in cities including Bristol, Birmingham, Norwich, Bath, Winchester and more. This week we kick off the series by exploring 5 incredible event venues in London:
5 Unique Corporate Event Venues in London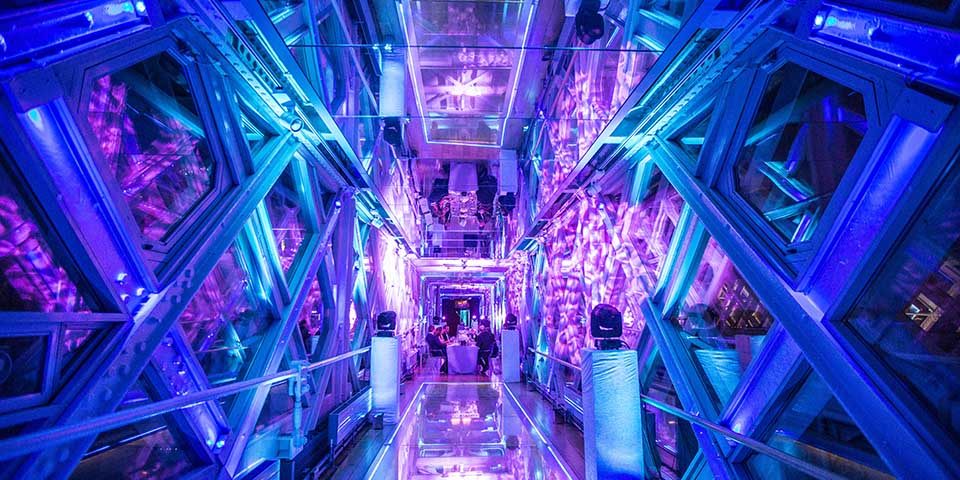 1. Tower Bridge
Straddling the River Thames and cutting an iconic figure on London's skyline, Tower Bridge features high-level walkways with glass floors, the North Tower Lounge and impressive Victorian Engine Rooms. There are panoramic views on offer, along with original architectural features, neo-Gothic windows, and historical education opportunities.
Capacity: Up to 25
2. Science Museum
This award-winning space boasts an IMAX Theatre, a dedicated conference suite and a backdrop of collections and curios. With rooms including 'Making the Modern World', 'Information Age', Exploring Space', 'Wonderlab: The Equinor Gallery', and 'Medicine: The Wellcome Galleries', the museum presents a diverse array of options for daytime or night-time functions.
Capacity: Up to 1,50
3. Horniman Museum and Gardens
With its stunning Victorian Grade II listed Conservatory, 16 acres of award-winning landscaped gardens, Edwardian Grade II listed Bandstand, Pavilion and collections of anthropological and musical instruments, the venue makes a fascinating event venue and backdrop. The location offers expansive vistas across the city skyline, an insight into global cultures and natural wonders.
Capacity: Up to 15
4. Royal Albert Hall
Home of the annual BBC Proms and hundreds of other noteworthy events, the Grade I listed building is an iconic, world-renowned venue. The space offers a broad range of function spaces from intimate private boxes to private rooms. The Royal Albert Hall has played host to legends such as Sir Winston Churchill and Aretha Franklin, so your guests will be in good company.
Capacity: Up to 500
5. Kew Gardens
A UNESCO World Heritage Site, Kew Gardens boasts a variety of stunning spaces within its world-renowned botanic gardens. From The Orangery, the Georgian Cambridge Cottage – the former residence of the Duke of Cambridge, the Nash Conservatory, the Prince of Wales Conservatory, to the Temperate House, there is a myriad of breath-taking options for events.
Capacity: Up to 40
Looking for help finding unique venues in London?
We have great relationships and contacts within some of the UK's most unique and spectacular venues – including venues in London. We are experts when it comes to designing, managing and delivering high-level corporate parties and events. We look after every detail with our end-to-end, full event management service.
Talk to a member of our team for inspiration, ideas and help in pulling together your next corporate event. Contact our team via the form below, on 01932 22 33 33 or by email hello@mgnevents.co.uk.
You can get more help creating successful internal events that support employee well-being in our 5 step framework for event success.