Uncover beautiful, inspiring and memorable venues in Oxfordshire in the second part of our mini-series featuring venues across England. Get inspired for your next event.
Read time: 5 – 8 minutes
Key takeaways:
Unique spaces for events including corporate retreats, presentations, conferences, dinners, award ceremonies, drinks receptions and more
Spaces with a capacity for circa 1000 guests
Venues in Oxfordshire including the city of Oxford.
In the first part of our unique event spaces series, we not only shared inspiring spaces in London but also provided a reminder of the benefits of hosting your next event in a unique venue. Here, in part two, we're covering off-event venues in Oxfordshire, including the city of Oxford.
5 Unique Corporate Event Venues in Oxfordshire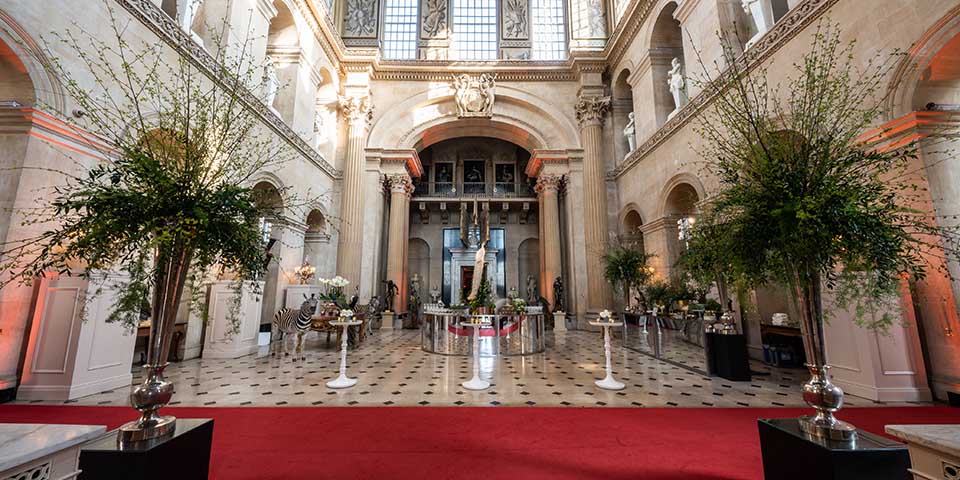 1. The Bodleian Libraries
Although the Bodleian comprises 27 libraries including the Central University Library, there are half a dozen key spaces that make ideal corporate event venues. Crammed with magnificent architectural detail and history, these spaces include the 15th-century Gothic Divinity School; the 17th-century Convocation House with its fan-vaulted ceiling; the Chancellor's Court; the Blackwell Hall atrium; and the rooftop terrace with stunning views across the breath-taking and iconic Oxford skyline.
Capacity: Up to 400
2. Voco Oxford Thames Four Pillars
The property, which once belonged to the Knights Templar, is an effortless blend of 18th-century medieval character and 21st-century style. Situated just 15-minute' drive from the city centre, the hotel is set in 30 acres of well-manicured gardens featuring weeping willows that overhang the swan-studded River Thames.
The hotel even boasts a 1920s barge, which sits on the river and can be used for special events. Inside, tall gabled ceilings, iron chandeliers, and tasteful artwork lend historic charm to the light-filled spaces.
Capacity: Up to 200
3. Aynhoe Park
This luxury country house is large enough to host hundreds of guests for indoor or outdoor events. Its combination of 17th-century grandeur, 250-acre Capability Brown gardens and unrestrainedly creative interiors, mean that the venue is as sought-after as a filming location as it is for private and corporate functions.
Down a discreet flight of stairs lies a secret subterranean bar, The Club. While The Library, Private Dining Room, and Orangery also offer other spectacular event spaces.
Capacity: Up to 500
4. Blenheim Palace
Over three hundred years old, Blenheim Palace and the Blenheim Estate offer diverse indoor and outdoor spaces for all manner of corporate events. Think Dior fashion shows, VIP hospitality for Salon Privé and the launch of the Churchill-inspired five-pound note for The Bank of England.
Interior spaces include The Saloon, with its ceilings and walls featuring paintings by French decorative artist Louis Laguerre, the magnificent Great Hall with its 67-foot high ceilings painted by James Thornhill, The Orangery restaurant, and The Long Library.
There are also a number of elegant, comfortable rooms for meetings. Outdoor offers immaculate Formal Gardens including the Water Terraces, Rose Garden, Duke's private Italian Garden and courtyards.
Capacity: Up to 2000
5. The Trout Inn
In a quiet corner of The Cotswolds, The Trout Inn is a beautiful country pub and gardens with a private dining room perfect for meetings, workshops or team-building days.
Set apart from the main pub and dining area, this quiet, well-appointed space can accommodate up to 50 standing, 30 in a theatre-style arrangement or 20 in a U-shape or Boardroom arrangement. The hotel serves AA Rosette-awarded cuisine, while its bedrooms overlook the Thames and historic Tadpole Bridge.
Capacity: Up to 50
Venues in Oxfordshire – or anywhere else
We have great contacts within some of the UK's most unique and sought-after corporate event venues – including venues in Oxfordshire. Talk to us for help sourcing your next corporate event venue, and let us help you create a successful corporate occasion that supports company culture, employee engagement and well-being too.
Check out our 5 step framework for event success for more tips on creating events that support employee engagement and well-being.
For more inspiration for your next event or contact our team via the form below, on 01932 22 33 33 or by email at hello@mgnevents.co.uk.
Further reading:
11 surprising and meaningful employee recognition ideas
5 tips for setting the right tone at your next corporate event
10 top keynote speakers for virtual events
Increase staff engagement with a personalised event
7 great ways to improve employee well-being at internal events
Building team culture in a work-from-anywhere world
People-first culture: 5 ways to spark and measure engagement at employee events