From 1 October restrictions are being lifted on business events and conferences – it's the much-anticipated news we've been waiting for. No specific guidance has been issued as yet, but it's obvious that events will have to be run responsibly and with social distancing and hygiene measures an absolute priority.
How might Christmas 2020 look?
In terms of planning, we'd usually expect to be getting fairly festive in September and working on Christmas 2020 events. This year it's looking increasingly unlikely that November and December will be packed full of larger corporate Christmas celebrations, but this news will hopefully mean that some 'real life' events will be able to take place. In the meantime, we're constantly evolving how we work with clients keen to keep everyone connected and have our own thoughts on how events might run whilst Covid-19 continues to present a risk. So… Here's what we think: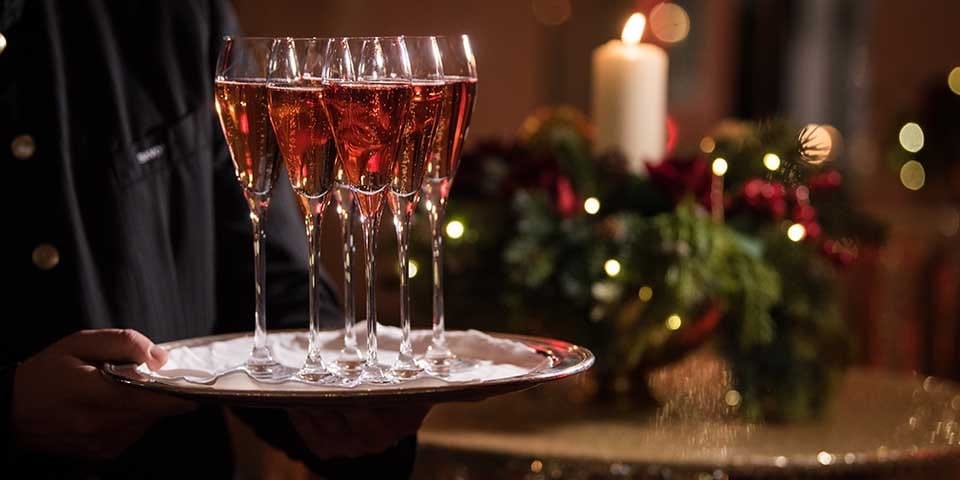 Virtual Christmas parties will be the norm
Many businesses have had to adapt quickly to working in a completely different way. Keeping connected through platforms such as Zoom has become the new normal. From our experience, we've been able to do the same with business events and have come up with an almost endless list of what's possible – most of which can be given a festive slant. How about an online Christmas bake off, Christmas lip sync battle, Christmas cheese and wine tasting, Secret Santa presents delivered to the door and unwrapped online.
We've organised some fantastically successful summer parties for our clients in this way and think that this concept will work just as well at Christmas. Typically, participants log in to Zoom (other platforms are available!) for a huge welcome and introduction to the event before heading off to enjoy 3-4 smaller group activities for which they've pre-registered. Everyone then reconvenes for some plenary fun and games; talent shows and versions of classic TV games shows have proved very popular – followed by award ceremonies. For more inspiration, why not take a look at just some of the great ways a virtual Christmas event could become something unmissable!
We think this is a great compromise for companies who really want to do something special for their employees but don't want to run the risk of spending big on an event that runs the risk of being cancelled if there was to be a second spike in Covid-19 or localised lockdown measures introduced.
Smaller gatherings
Large-scale event for 500 people is, sadly, not likely to be allowed this year. We do think that smaller team events are more likely to go ahead. That immediately raises the question of expense – multiple small groups versus one large event where volumes of scale deliver better value – so budgets are likely to be stretched.
No shared parties
The option to buy tables at venues, restaurants and marquees, sharing the space with other companies, just won't happen. Venues are having to observe strict social distancing rules so capacity is much reduced. And businesses will be cautious of willing and needless exposure to other people.
No dancing
You get too close, you get too hot and maybe a bit sweaty, dancing simply isn't on the agenda.
No buffets
Social distancing has put paid to buffet food for now. Catering will have to revolve firmly around bottoms on seats and table service.
Health and safety will be priority
Gloves, masks, hand sanitising stations are to be expected. Careful measures will be put in place for any and every event, particularly when it comes to how bar and catering staff work. It's simply a fact of life for now.
So far so bad. But it's not all 'bah humbug', because the magic can – and will – still happen in some shape or form!
Open air events
Enclosed areas present a potential health risk. Why not move things outside and get everyone wrapped up warm for an authentic festive feel! Think traditional German Christmas markets; the pleasure of strolling from one stall to another and discovering what each has to offer. We think this could be the basis of a fabulous festive experience.
Having successfully worked in fields and car parks, we know how possible it is to create something special in the most unlikely setting.
Get the right props and do a great job of styling. Add a snow machine for extra wow factor and you've got a wonderful Christmas event! Speak to a professional planner to organise your own Christmas market party.
Giving something back
From a CSR angle, we think that 2020 will be the year that companies will be keener than usual to donate to hospitals, charities and special causes. It's a Christmas present that will be much appreciated and hugely satisfying to give.
Plan your Christmas 2020 party with confidence
If you're wondering how your company might be able to safely celebrate Christmas 2020, why not contact us? We have a Santa sack full of great ideas! Call 01932 22 33 33 or email hello@mgnevents.co.uk and speak to a member of our team today.