ALL THE FUN OF THE FAIR (AND CIRCUS!) FOR A SPECTACULAR CORPORATE EVENT
We always enjoy working on corporate events that are all about celebration. It's even better when it's a family event, where the partners and children of staff are also invited – it takes fun to a whole new level!
Our client, a successful video game developer, employs 200 people and wanted to host a summer party, which would need to provide plenty of entertainment for adults as well as 50 children of various ages.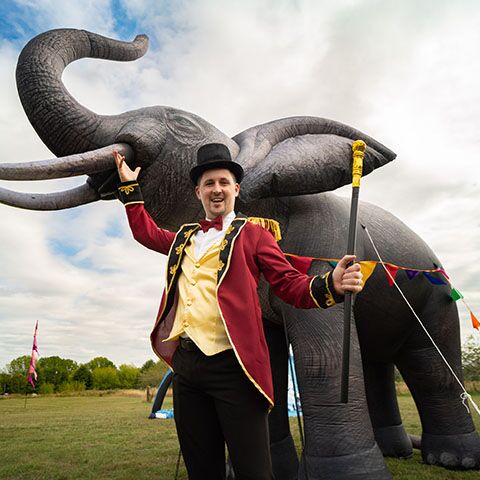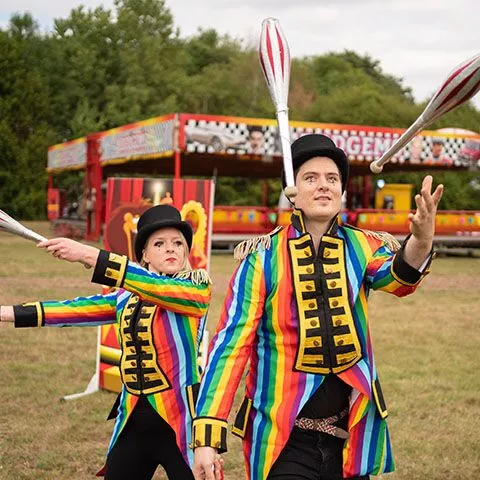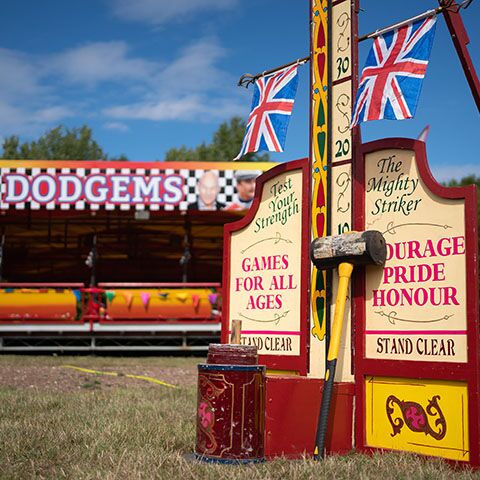 The company works from offices in a beautiful rural location and, with plenty of green space available, the setting couldn't have been more perfect. The outdoor area is an asset that the company regularly uses, having a tipi tent permanently on site, so we set to work on designing a vibrant and exciting festival-style event.
Taking inspiration from traditional circuses and funfairs, we gave the event a visually dynamic look, with bold use of colour everywhere – festival flags, parasols, bunting, paper lanterns, and even the coats worn by our jugglers. And with so many guests, we needed to ensure an endless choice of fun and entertainment. The dodgems ride provided a great focal point and lots of amusement for adults and children alike. Other attractions included crazy golf, an inflatable assault course, 4D games, and a high striker for those wanting to test their muscles.
Extending the circus theme, a pair of jugglers roamed through the crowds performing fantastic tricks as well as an acrobat who knew how to get the children involved. A face painter was kept busy and got through plenty of glitter paint. And our ringmaster made announcements throughout the day to ensure that no one missed out on any of the actions. For the brave and curious, there was a display of exotic animals where guests could observe – and even handle – a variety of creatures, including a lizard, tarantula spider, skunk, and python.
As well as non-stop excitement, we provided a chill-out area where guests could relax on low-level seating and beanbags. And for those wanting a calmer experience, we ran a candle-making workshop in the tipi. A wide variety of food was on offer, with food vans supplying tacos, pizza, curry, and – a real winner with the kids – deep-fried Kinder desserts!