Our client, a leading supplier of medical equipment, experienced a challenging and demanding time during the Covid-19 pandemic. Despite the many lockdowns, the company continued to provide support to clients and customers. This would have proved impossible had it not been for a committed and dedicated team all pulling together whilst working remotely.
It was obvious that all employees deserved a very big thank you and MGN events was asked to create a memorable event that would show just how much everyone's efforts have been appreciated. We were delighted to be involved and set about planning a spectacular celebration that would see everyone gathered in the same space for the first time in two years.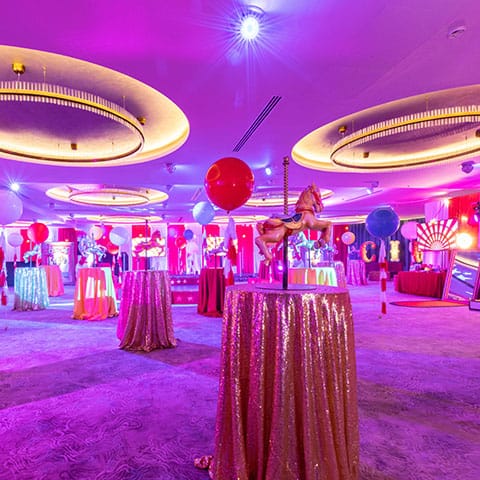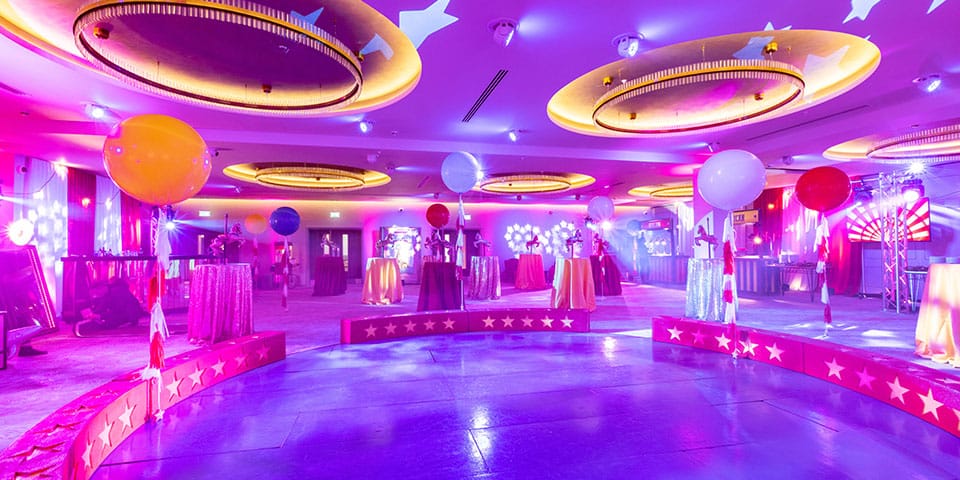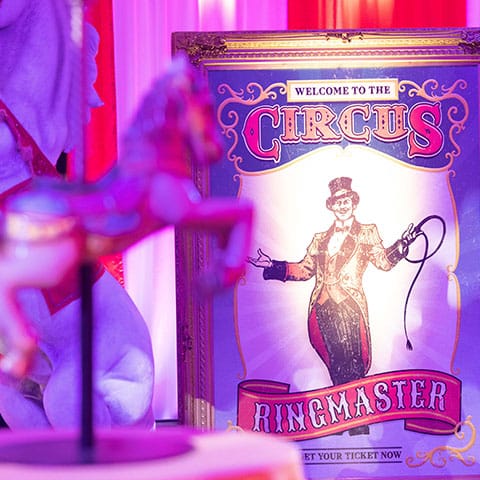 Held at Marriott's stylish Courtyard London Heathrow, we completely transformed the ballroom, disguising the walls with swathes of fabric to emulate a tent. Greeted by our ringmaster, 140 guests stepped into the interior of a traditional Big Top, complete with circus ring, candy stripe tent poles, balloons, vibrant lighting and prancing white horses.
Designed as a standing party, it gave everyone the chance to mingle and enjoy catching up with colleagues. A delicious array of street food was on offer, set up as circus-themed side stalls and, naturally, the bar was flowing. We also arranged for a great line-up of circus acts to entertain the guests. Jugglers, a unicyclist, contortionist and sword swallower, overseen by the ringmaster, all took their turn in the ring and wowed everyone with jaw-dropping routines. Performances complete, guests took over the floor as the DJ got the party rocking. And to add to the memories, guests were invited to clown around in silly hats and glasses for fun photos.
As well as the celebratory aspect, there was also an awards ceremony to reward employees for excelling during the pandemic. It was an opportunity to formally recognise those who made such a valuable contribution to the business in that time, so important when it comes to employee engagement. Inspiration Healthcare understood that productivity, performance and work-related stress could so easily have been an issue during the pandemic and, whilst the biggest round of applause was necessarily delayed, they realised the value of investing in this event.