Why not consider a corporate away day in Oxford? A beautiful city and home to the University of Oxford. The university buildings, that are in themselves a fantastic display of English architecture through the ages, are what give Oxford its distinctive look.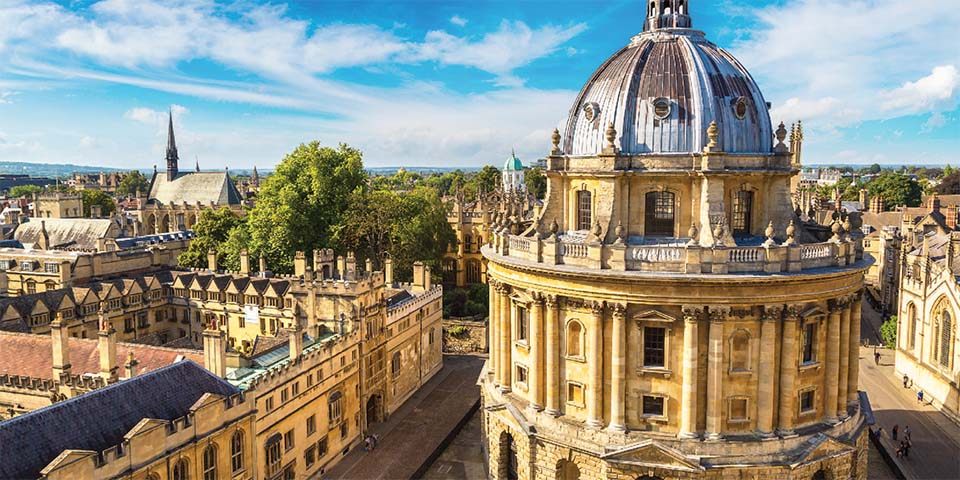 A corporate away day in Oxford
Almost equidistant from London, Birmingham and Reading, Oxford is easily accessible by rail and road. Perfect, then, as the location for a corporate away-day. We've found seven fantastic venues that offer great flexibility in terms of space and numbers. Which one would suit your company?
Oxford University
The university can be traced back as far as the 11th century, the oldest university in the English-speaking world. Made up of 39 colleges scattered across the city, the university boasts impressive alumni; from heads of state, including many UK prime ministers, Nobel Prize winners and Olympic athletes. Quite an inspiring setting then for a productive and motivating away-day. There are five venues to choose from, including Sheldonian Theatre, a Grade I listed building and the charming gothic-style St Luke's Chapel. Catering is available in all venues, as is AV equipment and wifi. Combine work with pleasure and treat everyone to a guided walking tour, a trip to the Ashmolean, Oxford's museum of art and archaeology or go punting on the river.
Pitt Rivers Museum
This fascinating museum is dedicated to anthropology, archaeology and ethnography.  Hire the entire museum or book one of five different meeting spaces, which can be used flexibly and accommodate 18-180 people. Smaller groups are suited to private rooms or can hire the lower gallery after 5pm and work surrounded by exhibits.
Cherwell boathouse
Oxford is associated with punting, a popular activity since Victorian times. Cherwell Boathouse was built in 1904 and also boasts an excellent restaurant; so base your event at the boathouse and you'll be able to enjoy some top-notch catering. Host your corporate away-day in a marquee on the terrace, which is available throughout the year. Hire the  the Conservatory, or between April and October, the Lower Boathouse for a more rustic setting.
Malmaison Oxford
Why not combine your corporate away-day with a sleepover in a boutique hotel – Malmaison Oxford has 95 rooms and suites. The building was previously a prison, which makes this venue rather quirky; we're already thinking interesting themes for a corporate event! The hotel has a number of meeting rooms and breakout areas, which are well equipped for business events. The Cells are perfect for small groups of up to 20 people.
Belmond le Manoir aux Quat'Saisons
Twenty-five minutes outside Oxford is Great Milton and the world-renowned Belmond le Manoir aux Quat'Saisons. If you want to treat your team to a gastronomic experience after a busy day's work, this is the place! Made famous by chef Raymond Blanc and boasting two Michelin stars, the restaurant is a real treat. The stylish Belle Epoque wing is suitable for 15-50 people and you'll have use of a reception area, dining room, conservatory and private garden. Once business is over, you could also enjoy a cooking course, team-building activities with the gardening school or a tasting session of food and wine. Should you want to arrive by helicopter, you absolutely can.
Stonor Park
A little further away form Oxford, and just 10 minutes from Henley, is Stonor Park, a beautiful country house that dates back to Medieval times. Set in the Chiltern Hills, it is a stunning venue and perfect for an away-day. Make use of a medieval hall or, for large events, a marquee can be sited on the lawn.
River & Rowing Museum
To Henley now, another place well known for its boating activities. The River & Rowing Museum is a great venue for corporate events. Built on the banks of the river and with stunning view; this modern building has two meeting rooms available, onsite catering and fantastic opportunities for team-building activities and motivational talks by Olympic athletes. It could be an inspiring and well-spent day out of the office!
Planning a corporate away day in Oxford?
If you're wondering what to do for your next corporate away day, in Oxford or anywhere else, why not contact us. Our proactive approach ensures the day is productive and aligned to your business objectives.