3 BIRTHDAY PARTIES IN 1 – AN 18TH, 21ST & 50TH
What a fabulous example of synchronicity, a mother turning 50, her daughter 21 and her son 18 all in the same year. Our client came up with the great idea of throwing a combined 89th birthday party, to be held in late summer and on the eve of her 50th birthday.
We were asked to find a venue as well as planning and organising the party. 70 guests would be travelling from all different parts of the UK, so location and good transport links were high on the priority list. Our search led us to Smallfield Place, a stunning Jacobean country house within easy reach of Gatwick. It had everything we needed – beautiful gardens, gorgeous indoor space and enough accommodation for the family to stay for the entire weekend.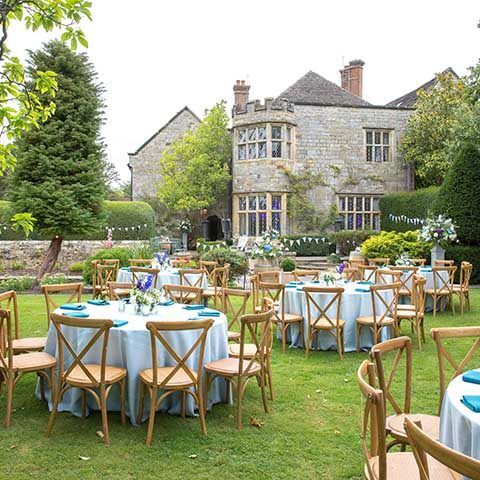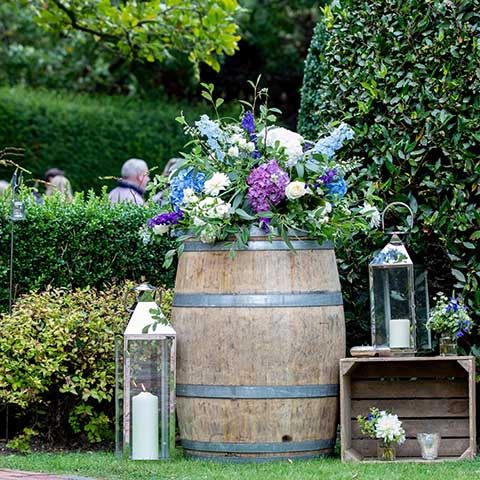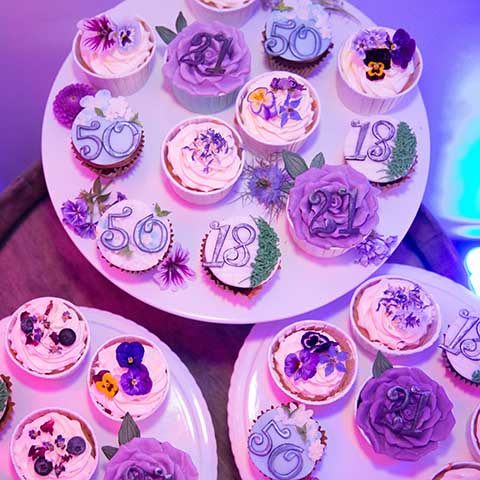 Taking advantage of the picture-perfect surroundings, the theme was a summer garden party. Everything was designed around a colour palette of blues, purples and greens. We worked with a florist who created the most amazing floral displays that added a stunning visual impact.
Arrangements were designed to sit on top of oak barrels, in large urns, on the bar and as centrepieces for tables. Bunting, lanterns and festoon lighting added even more charm. Ahead of guests arriving, there was a champagne reception for the family, which made for a special and intimate time together. As the party got under way, guests could enjoy three special cocktails, each one named after the guests of honour. We also had cupcakes specially designed for each birthday and to match the theme. A delicious barbecue was organised, followed by all manner of tempting treats at a dessert station, and guests were able to enjoy dining outside.
As evening fell, the party moved inside. More floral arrangements featured and, to bring the outside inside, we created an avenue of free-standing birch trees adorned with fairy lights in the corridors and around the edges of the dance floor.