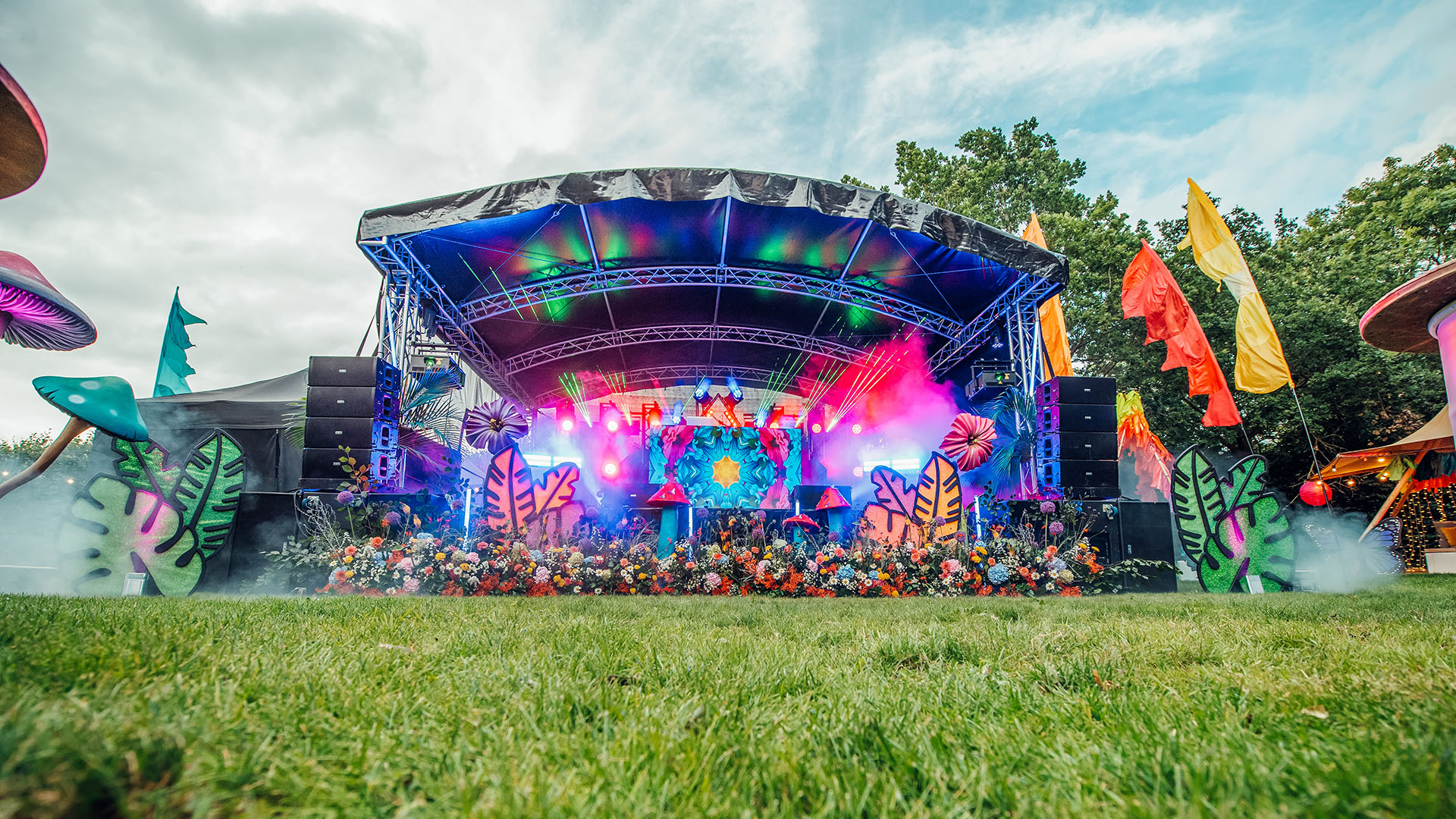 A Boomtown-inspired 21st birthday party
21st birthdays deserve to be celebrated in style and our client wanted us to create something really special for her son's party. Having discovered that he loves music festivals we agreed that a festival theme would be perfect. We took inspiration from Boomtown, a music festival with a unique atmosphere and one that merges theatricality with an environmental ethos.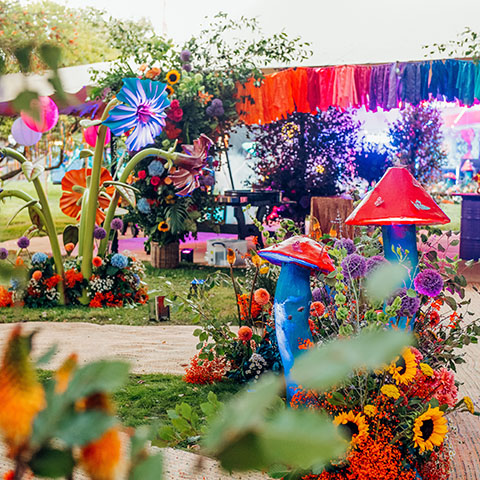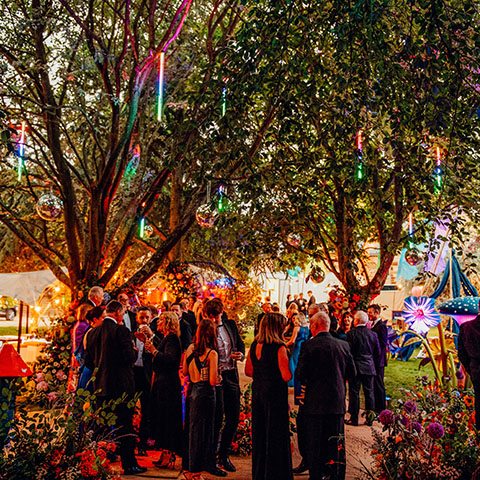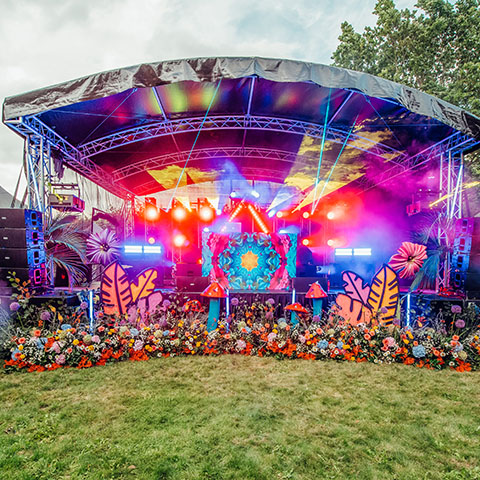 The grounds of our client's home in Great Harrowden, Northamptonshire, offered plenty of space for a mini festival for 150 guests. We created a festival village using stretch tents, bamboo tipis and pergolas and decorated the area with vibrantly coloured bunting, festival flags, festoon lights and lanterns. Typical of Boomtown, we injected a touch of magic, mystery and enchantment, using props such as giant mushrooms, exotic flowers, foliage and butterflies. Trees were decorated with mirror balls and light sticks and an array of floral displays created synergy across all parts of the event space. Even the birthday cake, an impressive three-tiers of chocolate and vanilla sponge, was decorated in keeping with the enchanted forest theme.
The guests were a mix of young friends and more mature members of family, so the party had to appeal to a diverse audience. We created several chillout areas with sofas and armchairs, low level cubes and low tables, as well as small VIP areas where groups could gather and relax. There was also a casino where guests could have fun playing Roulette and Blackjack. And for those intrigued by what the future might hold, a tarot card reader entertained guests with fortune-telling.
Drinks were served from a semi-circular bar that had been decorated with artificial grass. A choice of cocktails was available as well as Champagne, Jägerbombs, beers, wine and soft drinks. In keeping with the festival theme, we organised a variety of street food catering – Mexican burritos, steak sandwiches with chips, vegan alternatives and waffles for dessert – all served from a row of themed festival stalls.
The main focal point was a professional festival stage. Along with a top quality PA system, the stage was fitted out with moving lights, LED battens and smoke jets. There was also a DJ booth with custom-made façade and a professional laser show was synched to the music throughout the party. DJ Matt, a resident DJ at Ministry of Sound and a regular on the house music scene, created a fantastic festival vibe. And as the sun went down, the
lighting around the garden came into its own and added to the atmosphere. As befits a festival, there had to be a headline act – a great live set by electronic music duo Prospa.
Guests were invited to stay overnight and we had created a glamping area. Deluxe carpeted bell tents were comfortably furnished with air beds with sheets, pillows and duvets to guarantee a good night's sleep. The following morning a breakfast of bacon butties, coffee and smoothies was served from catering vans.