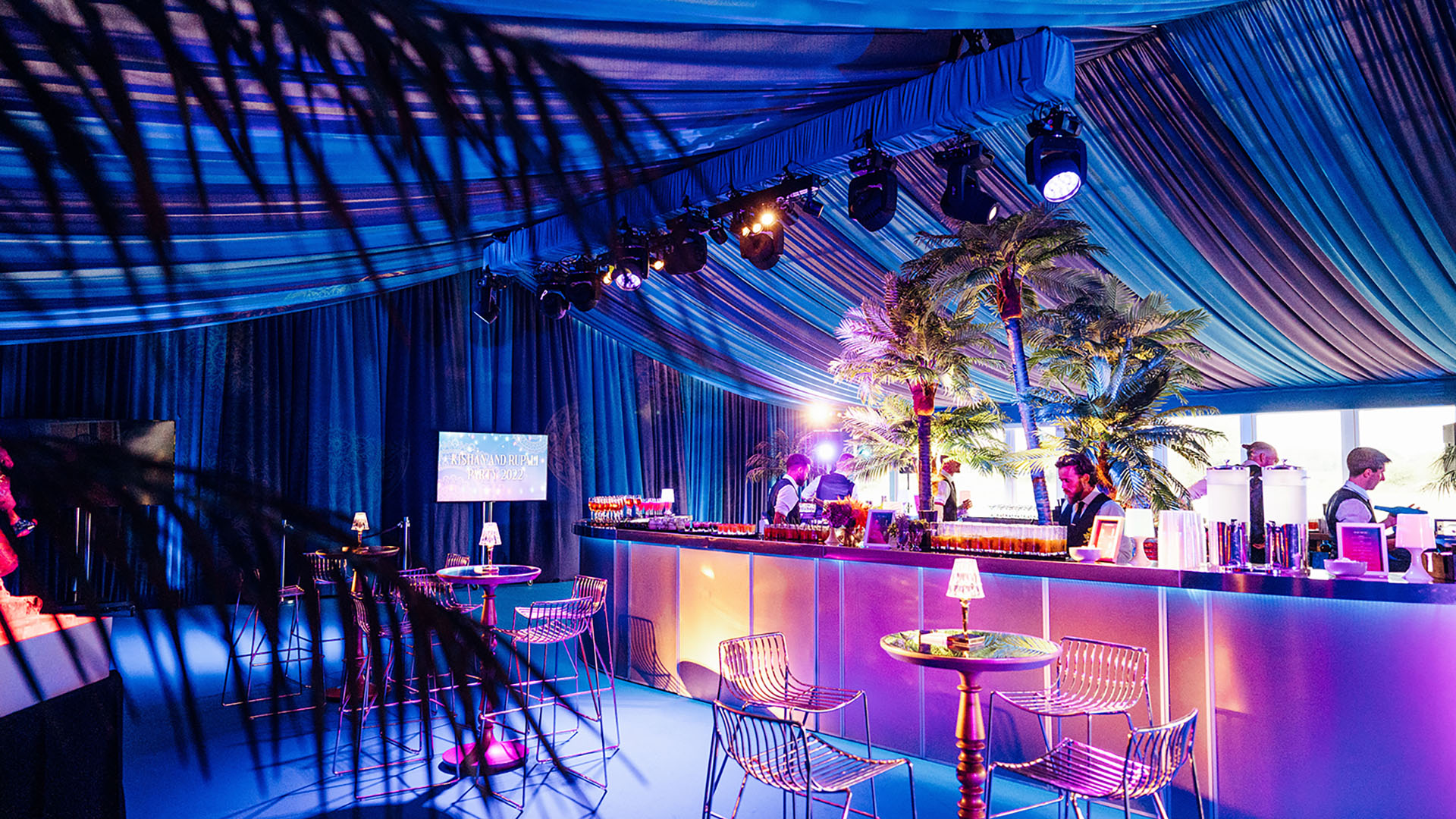 JOINT 18th AND 21st BIRTHDAY PARTY – BOLLYWOOD STYLE
Good things, as the saying goes, come to those who wait and this most definitely applied to this particular brother and sister who (due to the Covid-19 pandemic) were unable to celebrate their 18th and 21st birthdays until they were actually 20 and 23! The family was determined to reschedule and two years later we were able to dust off our plans and finally deliver a fantastic joint 18th and 21st birthday party for the siblings.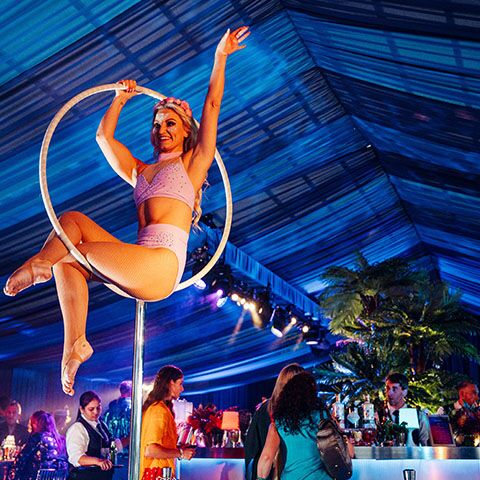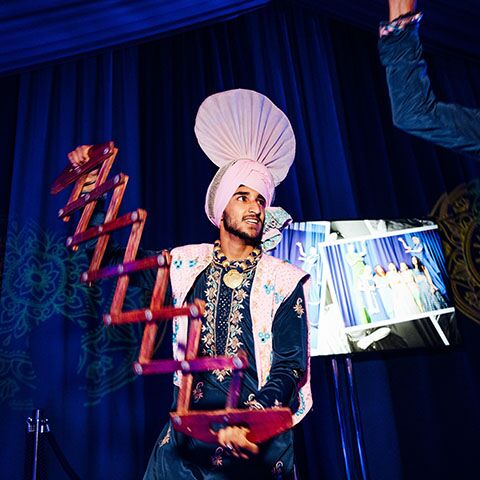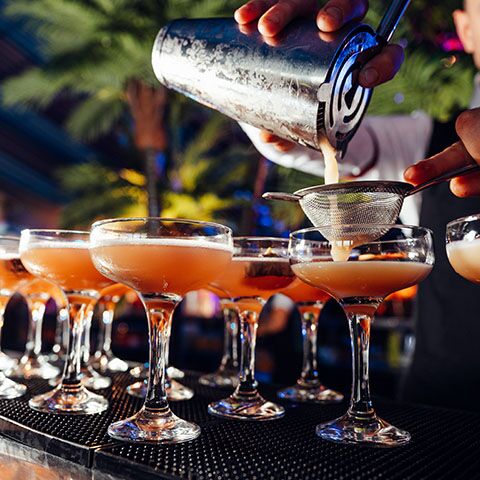 The joint 18th and 21st birthday party was held at the family's home, a farm in Cheshire, and with plenty of space almost 200 guests, including 25 children, were invited. Our brief was to create an event inspired by all things Bollywood, with blue and purple as the predominant colours, which couldn't fail to deliver vibrancy, excitement, energy and an absolute visual feast.
We created a bespoke brand for the party that was used across multiple items, from cushions to bar items and, for the ultimate in indulgence, the birthday boy and girl were armed with money guns that made bespoke money literally rain down over the guests. And to generate excitement from the earliest opportunity, we created branded and animated invitations complete with Bollywood music that were sent out to guests.
We installed a large 15m x 45m marquee for the party. Clear glass wall panels along one side gave views out onto the farmland and, because there was plenty of space, we incorporated an impressive 60m covered walkway. The interior of the marquee and walkway were beautifully dressed in blue and purple draping and the walkway, designed to create a real sense of anticipation as guests approached the marquee, was lit with fairy lights, lanterns and tealights. Rose petals strewn across the floor added a special touch.
Inside the marquee, we created a rich and indulgent ambience. Gold bar stools, poseur tables and plush white sofas dressed with bespoke cushions provided plenty of seating. The space was made more intimate with table lamps and tealights, whilst our lighting scheme cleverly incorporated the Bollywood branding.
Palm trees and gorgeous floral displays, using a mix of purple and hot pink orchids, gingers, anthuriums and tropical leaves, gave the space an exotic feel. We also set up large format TV screens on which we displayed a live feed of photos being taken at the party as well as a fantastic selection of family photographs that showed the siblings throughout their childhood.
Part of the beauty of using a marquee is the ability to hide certain features that are then revealed at the appropriate time. In this instance, a reveal curtain concealed the nightclub area and a fun UV-lit ball pit with bespoke branded balls. As if one surprise wasn't enough, there was also a shisha lounge that was hidden until later in the evening.
The nightclub had its own unique look. Inspired by Armand de Brignac's cult Ace of Spades Brut Gold Champagne, the stage set featured a gold shimmer backdrop and lighting, lasers and smoke jets created an authentic club vibe.
The bar was a particular focal point. Finished in brushed gold, it was branded with the Ace of Spades design and the bar staff served cocktails, created for and named after the siblings, in beautifully stylish glassware. Attention to detail was everything – the ice cubes were stamped with the initials of the siblings and we branded the drinks coasters and gold foil napkins. Continuing the Bollywood theme, an Indian elephant ice sculpture with a vodka luge created another visual focus.
We ensured that guests were entertained and wowed from the moment they arrived. Two tuk-tuks provided a very charming shuttle service to the marquee and immediately established the party theme. A three-piece roaming acoustic band played during the welcome drinks reception and guests could also enjoy watching Bollywood stilt walkers and an aerial hoop artist perform.
Meanwhile, the younger guests were treated to a special circus skills workshop. But it wasn't just the kids who got to play, adult guests also had an opportunity to try their hand at something different – not only did our dhol drummers and bhangra dancers entertain, they also invited guests to learn and participate.
Once the nightclub opened the party really started rocking. We had arranged for a number of DJs, which included friends of the birthday boy, to play their sets.
During the party our caterers put on a fantastic Indian fusion feast, including canapés, bowl food, dessert bites and, to keep everyone going, late-night bites. The children enjoyed their own delicious buffet.
As a final surprise, we organised a fantastic fireworks display that began after various members of the family made speeches to mark the special occasion. And to thank everyone for coming, guests went home with special party bags containing a personalised thank you card along with a range of bespoke items, including a vanilla cupcake, lip balm, fridge magnet, elephant keyring charm, Ace of Spades bottle opener and one of the balls from the ball pit.