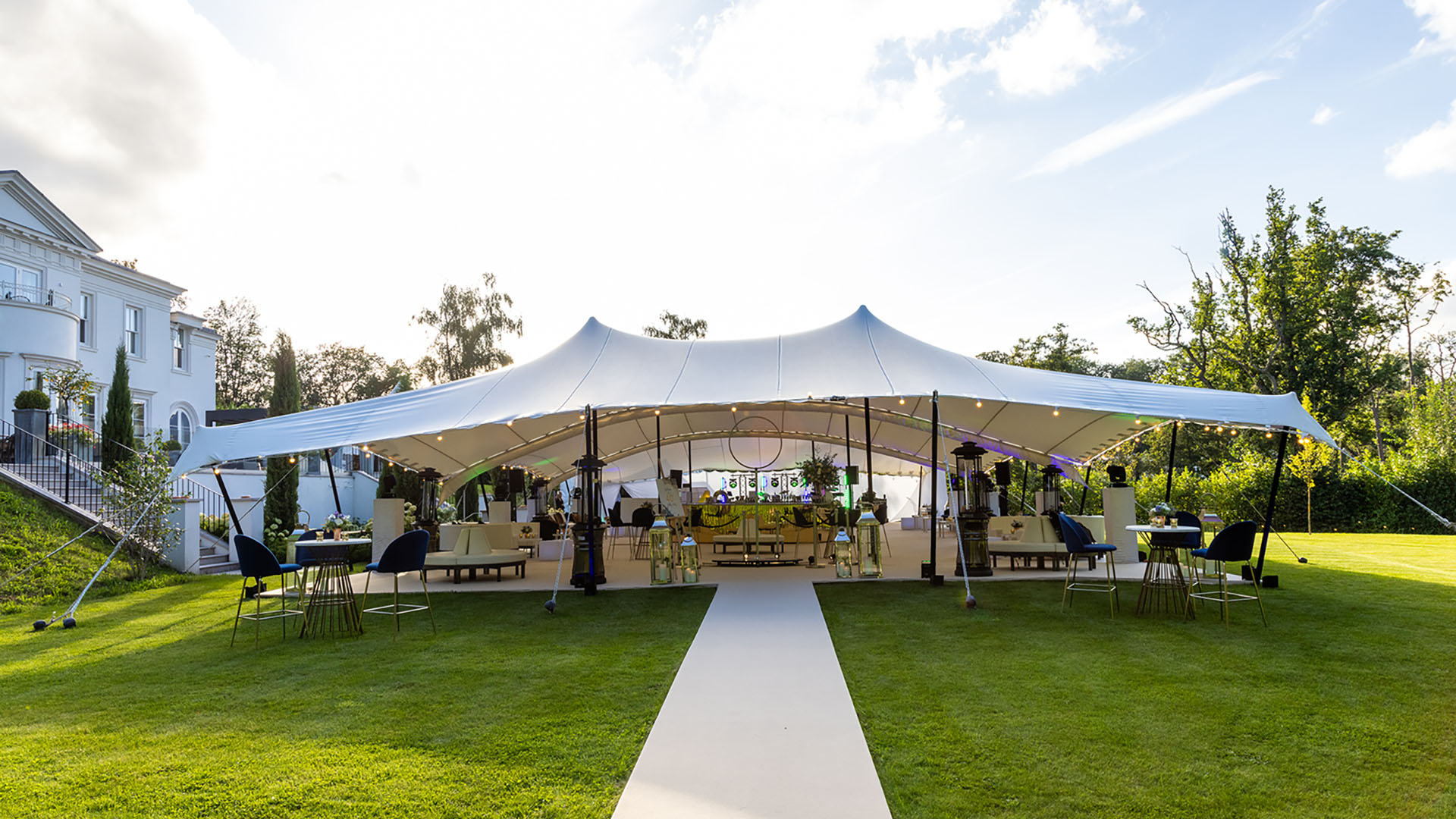 A fabulous 40th birthday party in Virginia Water
Having previously organised several events for this particular client, we were delighted to be asked to plan and organise a very special party to celebrate the 40th birthday of our client's husband.
Despite a guest list of 300, there was no need to look for venues, our client's home in Virginia Water has spacious and beautiful grounds and, taking place in August, we could be confident in planning an outdoor event. We presented three concepts for the event theme and our client chose a design using navy blue and gold as the colour palette.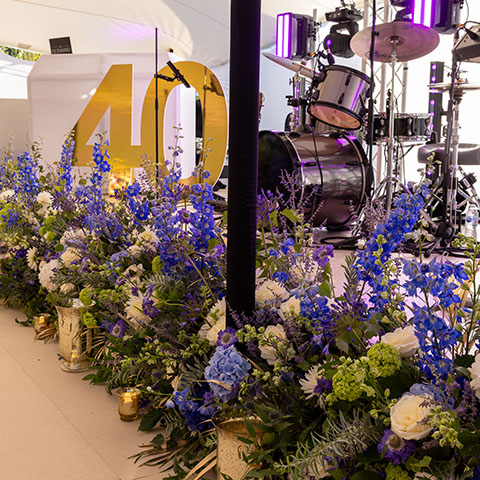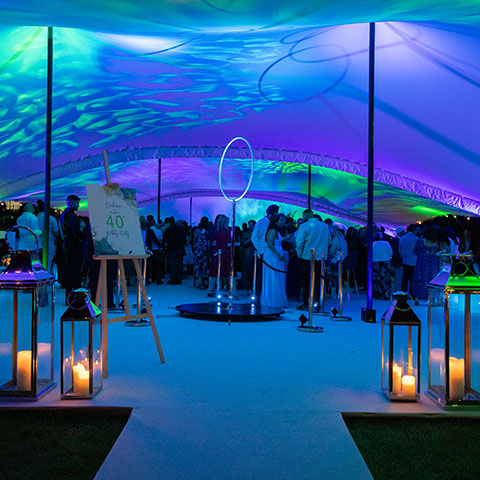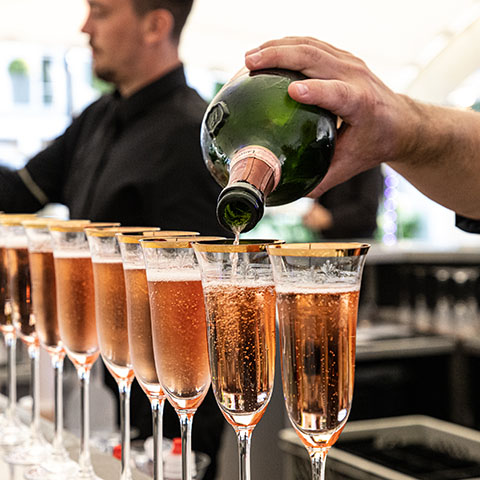 For the ultimate in style, we used three white stretch tents to create an impressive event space of 30m x 15m. Set up on the lush lawn in front of the property's imposing white façade, the tents looked visually striking and would create an immediate visual wow factor as guests arrived.
We installed a wooden floor, which was carpeted, and then used a variety of furniture, including white sofas, navy velvet sofas and armchairs, white coffee tables with gold mirror tops, gold wire poseur tables with marble tops, white cube seating and bar stools, to create a cool and sophisticated club environment. Blue and gold cushions added softness and helped make the seating areas look comfortable and inviting. A stunning gold mirror bar was centrally positioned to create a main focal point, and amazing floral displays that incorporated our colour theme with lush green foliage, added further visual interest and a subtle tropical vibe – from small posey arrangements to a fantastic floral skirt that extended along the 5-metre length of the stage.
As guests arrived, they were welcomed by our gold mirror performer who ushered them to the event space and drinks served in gold rimmed glasses. At the bar, our flair bartenders prepared cocktails from a menu of four, as well as serving a selection of beers, spirits and soft drinks.
The catering was inspired by flavours from all over the world – from British staples to Japanese and Thai – and carefully planned around feeding the guests without any obvious break in the partying. A selection of five canapés, along with five vegetarian options, were served initially, including crispy salmon fishcakes, chicken coconut katsu and roasted vine vegetable bruschetta. Bowl food followed – Thai green chicken curry, pulled ham hock and pea macaroni cheese and fish and chips with lemon crushed peas. Non-meat eaters were treated to Thai green vegetable curry, truffled pea macaroni cheese and wild mushroom risotto. For dessert, guests enjoyed five miniature masterpieces – chocolate and pecan brownie, churros with cinnamon sugar and chilli chocolate dip, apple crumble tart, mandarin and passionfruit cheesecake and raspberry and white chocolate profiteroles.
Throughout the afternoon, the gold mirror performer mingled with guests and an aerial artist gave an incredible performance using a static hoop. Meanwhile, our client's nephew did an amazing job as DJ. 
As it grew dark, so the event space and garden was transformed with a vibrant lighting scheme. Moving lights, pixel sticks and festoon lights lit up the marquee, wash lights bathed the garden and trees in colour. The stage, also lit with moving lights, pixel sticks and LED battens, was set for the evening's entertainment, a brilliant seven-piece band whose set had everyone dancing. Later, stonebaked pizzas were served to help soak up the alcohol and keep energy levels up.
Ensuring that parties run smoothly are par for the course and guests would have been unaware of several challenges. A last-minute decision to install patio heaters because the evening was likely to be a little cooler than anticipated was simple. Overcoming a logistics issue during installation – our client's garden is only accessible via a slope from the entrance driveway was trickier but overcome by installing a trackway that enabled us to wheel flight cases of equipment and cages of glassware and crockery, not to mention moving all the furniture, to the marquee site. Guest arrivals and departures also had to be carefully planned. The property is located on a single track road, so parking would have been an issue. We had a team of four security staff to manage vehicle movement and had also encouraged guests to use taxis. Radio comms were used to keep the flow of taxis moving and to ensure guests weren't kept waiting.