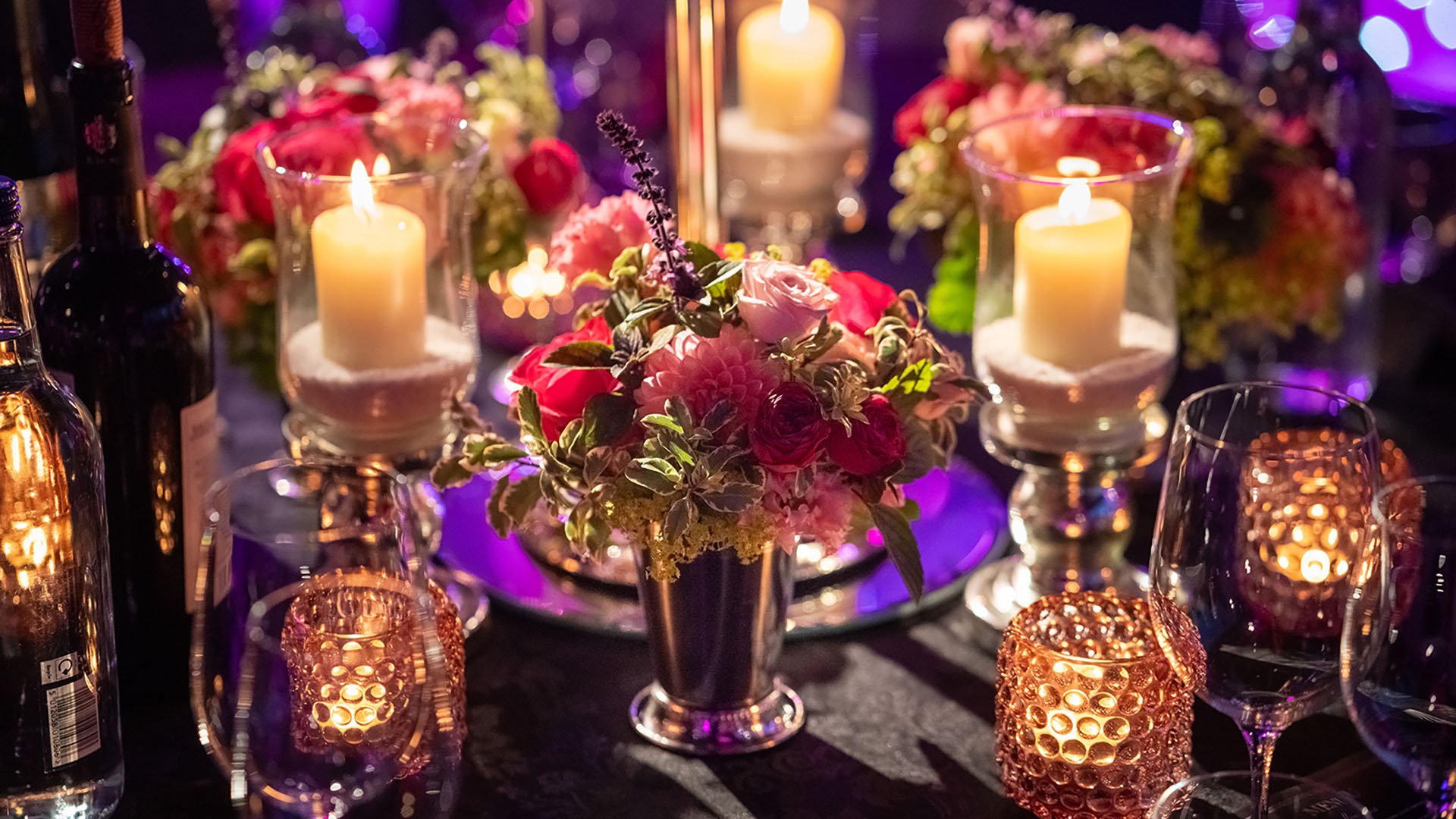 A glitz and glamour 70th birthday celebration
We love being asked back by families to help them celebrate milestone events. And our involvement in one special 40th birthday party led to us planning a 70th.
Having enjoyed his own party so much, a previous client wanted to ensure his mother would turn 70 in fine fashion. Not wanting any fuss, her agreement to hold a party was relatively last minute, which meant her son had little time for planning anything himself. He kindly recommended MGN events and we set to work immediately to create a memorable party for 50 guests that would include a seated dinner.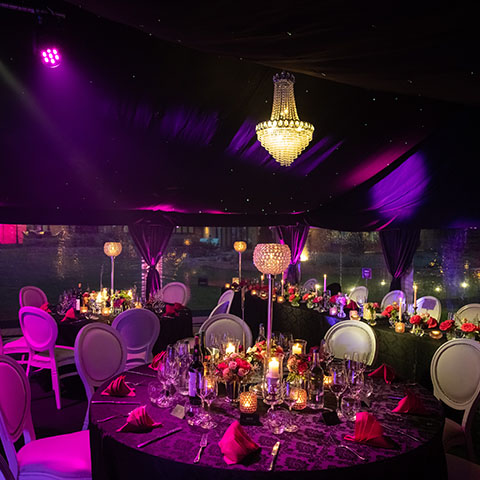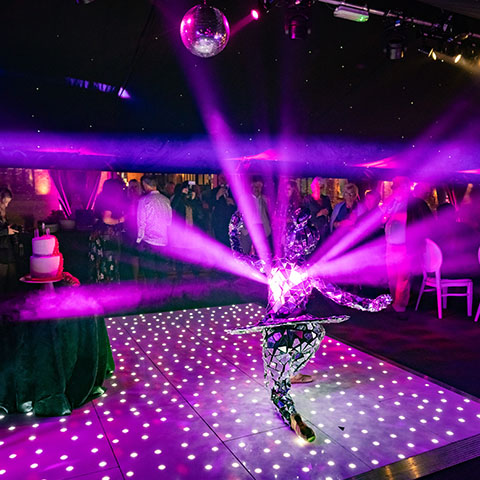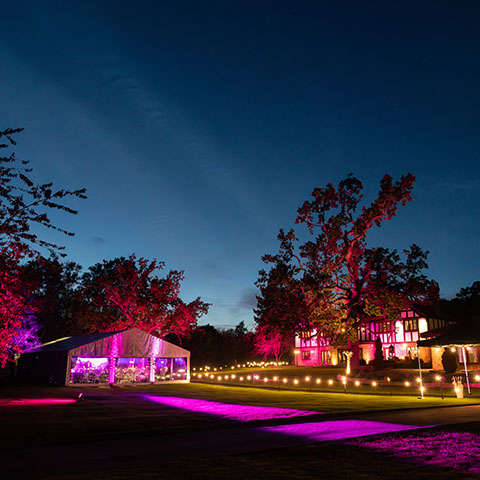 The party was to be held at the home of our client's son in Henley-in-Arden, which would mean a totally stress-free experience for the birthday lady. We installed a clearspan marquee in the garden and, because the setting was so picturesque, half of the marquee featured window walls so that we could bring the outside in and make a feature of the garden itself. As it became dark so guests would see the garden transformed by atmospheric lighting.
The chosen theme was glitz and glamour and we made sure there was plenty of sparkle, from the white LED dance floor to the black starlight ceiling, mirrorball and everything in between. Knowing that our client's favourite colour is fuchsia, we incorporated pink into the colour palette, which added vibrancy to the lighting scheme and, naturally, worked well as part of the floral displays. Pink was also perfect for adding splashes of colour when it came to smaller details such as linen napkins.
The event space was designed both for dining and dancing. The dining area featured a long head table, round guest tables and a huge chandelier hung from the ceiling. Working with our florist we created glittering centrepieces and floral displays using roses, dahlias, zinnias and lisianthus, and glowing pink tealight votives and enclosed pillar candles added gentle sparkles of light. The head table was dressed with the same flowers in bud vases and complemented with candles and tea light votives to tie everything together. Taking inspiration from the golden age of Hollywood, the tables were named after iconic movie stars, including Elizabeth Taylor, Cary Grant and Audrey Hepburn. We even incorporated a lovely quote by Marilyn Monroe – "we are all of us stars, and we deserve to twinkle" – into our designs for the menus, table plan and place cards.
Arriving at 6pm, guests approached the marquee via a black astroturf walkway and were greeted with champagne and a selection of appetising canapés. A roaming magician and mirror ballerina mingled with the guests and entertained throughout the reception before guests were invited to take their seats for dinner. The main course was prepared as a buffet-style meal, with a choice of roasted Scottish salmon fillet, wok-seared chicken and roasted portobello mushrooms. Accompaniments included three potato dishes, artisan salad of artichokes, roasted butternut, walnuts and rocket, roasted vine vegetables and quinoa, tomato, mint and parsley with a citrus dressing. A selection of miniature desserts was then served to each table, beautifully presented on tiered stands. And to finish, a cheeseboard, artisan breads and crackers.
Speeches took place between the main course and dessert. Some very touching words by our client's son were followed by her own speech. Everyone sang 'Happy Birthday' and our client then blew out the candles on a two-tier birthday cake that had been secretly arranged. By now, night had fallen and, with the lighting coming into full effect, the mirror ballerina took to the dancefloor and gave a magical performance that delighted everyone.
Once dinner was over our DJ, who had been playing a great mix of Motown, Soul, 80s and 90s tracks in the background, picked up the beat and encouraged guests onto the dancefloor for the rest of the evening. Our bar staff ensured the drinks kept flowing and, in the background, we managed all the logistics of parking and taxis within limited space as and when guests were ready to leave.