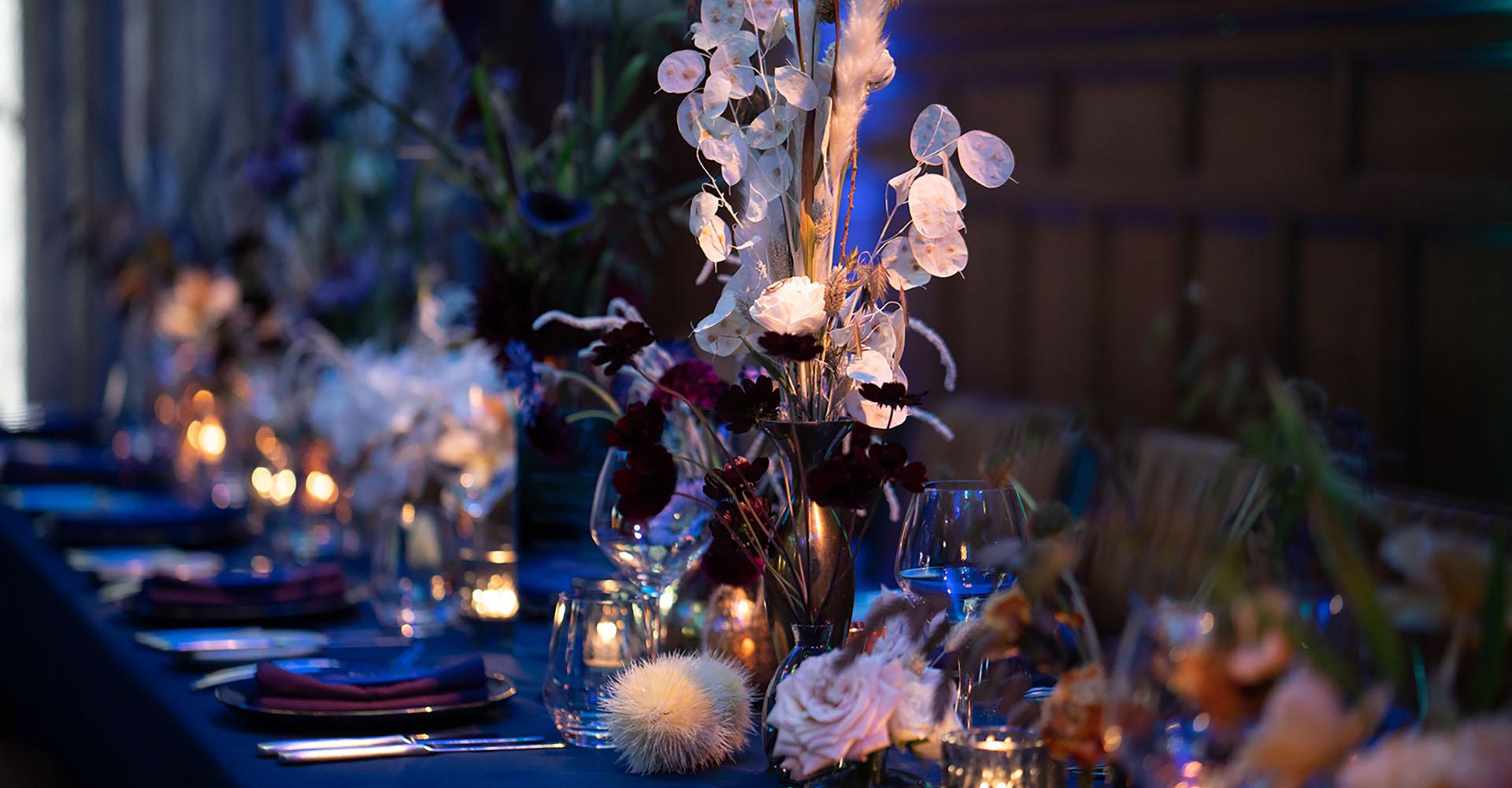 A STARRY 40TH BIRTHDAY PARTY
We were very excited to be asked to plan, design and manage this particular birthday party. Our client had already booked the venue – Hampton Manor, a stunning country estate in the West Midlands – and shared with us his wonderful vision for a truly memorable celebration.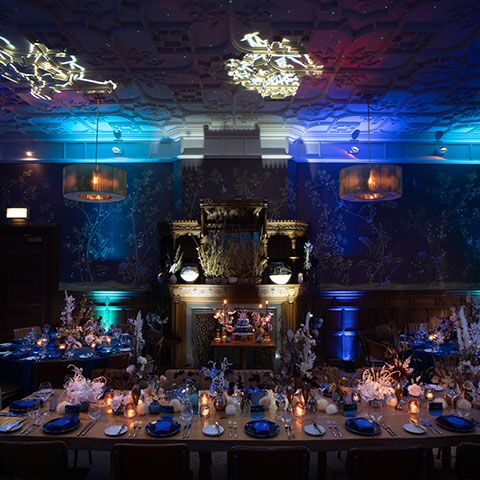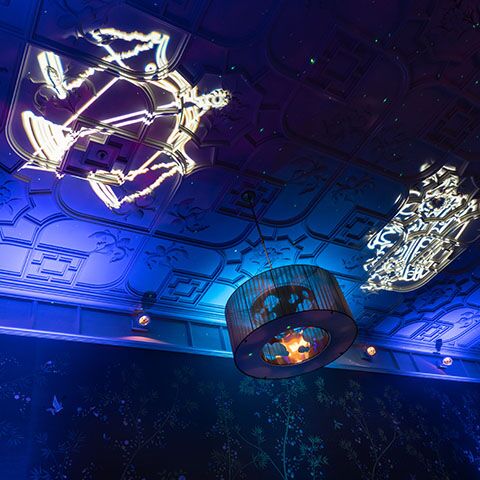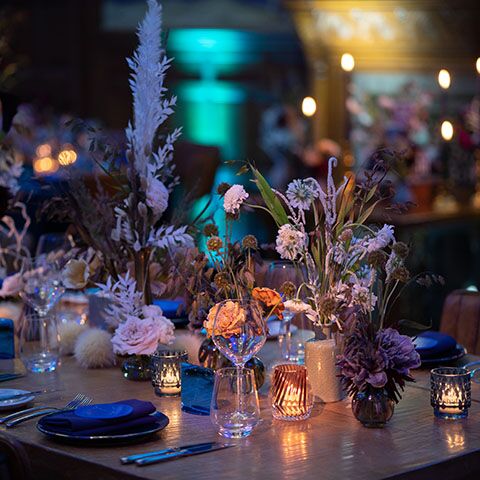 The theme was 'celestial', based on our client's professional involvement in astronomy. Naturally, this provided plenty of inspiration and we set to work to create a very special experience for 50 day guests, additional evening guests, including four children.
We worked closely with our client to shape his vision and to ensure everything would meet his expectations. The entertainment element of the event would be unique and it was therefore important to get it absolutely right – we created CAD drawings to provide a clear and precise visualisation of how the chosen space would be transformed.
There were lots of logistics that needed careful consideration and organisation. Some guests would be staying overnight at the venue whilst others would be staying locally, off site. Those invited to the dinner had a choice of dishes that needed to be confirmed ahead of the event. Other guests would be joining later. We designed several invitations and information packs to cover the various permutations.
Guests arrived mid-afternoon and were greeted with champagne and canapés and a harpist performed throughout the reception. To establish the design theme we used a photographic backdrop of a moonlit forest, backlit to give the illusion of the moon shining through stained glass doors – this gave guests a tantalising glimpse of what they would soon experience.
Dinner was served in Peel's, the venue's Michelin-starred restaurant. Uplighters in different shades of blue transformed the space into the night sky, onto which we projected star and constellation graphics to create a beautiful galaxy across the ceiling. We used both long and round tables to accommodate the guests and stunning floral displays – a beautiful mix of Vanda orchid stems, anthurium clusters, towering alliums, garden roses, dried gypsophila and cosmos flowers – created a strong visual focus.
Clear cut glass and ceramic vessels, natural grasses and textured dried seed pods, silver air plants and bleached chestnut seed pods added an earthiness to the table décor, and flickering tealight votives created a charming twinkling light. A birthday cake, organised by our client's mother and designed to echo the party theme, was prominently displayed.
Place settings were personalised with a bespoke drinks coaster displaying each guest's star sign. Once seated, guests enjoyed a sumptuous four-course dinner. A garden course of garden beetroots, driftwood mousse and sourdough crumb was served to everyone, followed by guests' choice of starter, main and dessert. From Cacklebean eggs to Dunwood Farm beef sirloin, the ingredients were all carefully sourced for taste and quality as befits a top restaurant. A separate child-friendly menu ensured that the younger guests' appetites were also fully satisfied.
After dinner guests moved to the courtyard where they were greeted with a celestial gin-based cocktail with lemon juice, crème de cassis and edible glitter stars. With its glass roof, the space couldn't have been a more perfect or more intimate setting for what was to come. We set up theatre-style seating along with coffee tables on which were gold lamps and a stage had been installed with gold-edged black carpet and gold shimmer walls. Inspired by an Elton John candlelit concert, we placed an array of candles and lanterns around the stage to create a magical atmosphere. On stage was a Yamaha 9ft CFX Concert Grand piano and Yamaha 9000 drum kit, which we had hired for the occasion, and on either side of the stage was a large screen.
Everything was set for a gala performance by none other than our client himself, a talented pianist and singer, accompanied by his cousin playing drums and a keyboard player we had sourced. Our client wanted the concert to be a celebration of his 40 years and the family and friends who have been part of his life.
The concert was quite a technical challenge, but one that our tech team was more than able to deliver. The screens displayed a bespoke animation as guests entered the room and we created a technical running order that would ensure specific photos, that our client had shared with us, would be shown at key points during the performance – with certain songs played in tribute to various people. We also set up cameras in the room so that we could also display on screen close-ups of the performers, including one focused on our client's hands as he played the piano. Lighting that changed according to the mood of the music added to the atmosphere.
Following the concert, guests were invited outside for a fabulous fireworks display, which was choreographed to Queen's 'Don't Stop Me Now' and 'A Sky Full of Stars' by Coldplay. When guests finally retired for the night, they discovered a final special touch. During the concert, we had arranged to place special gift bags in their rooms during the venue's turndown service. Adults received personalised zodiac candles scented with lavender and camomile, a space-themed eye mask and their place cards and coasters from dinner. The children received space-themed toys, including 3D glow-in-the-dark planets.