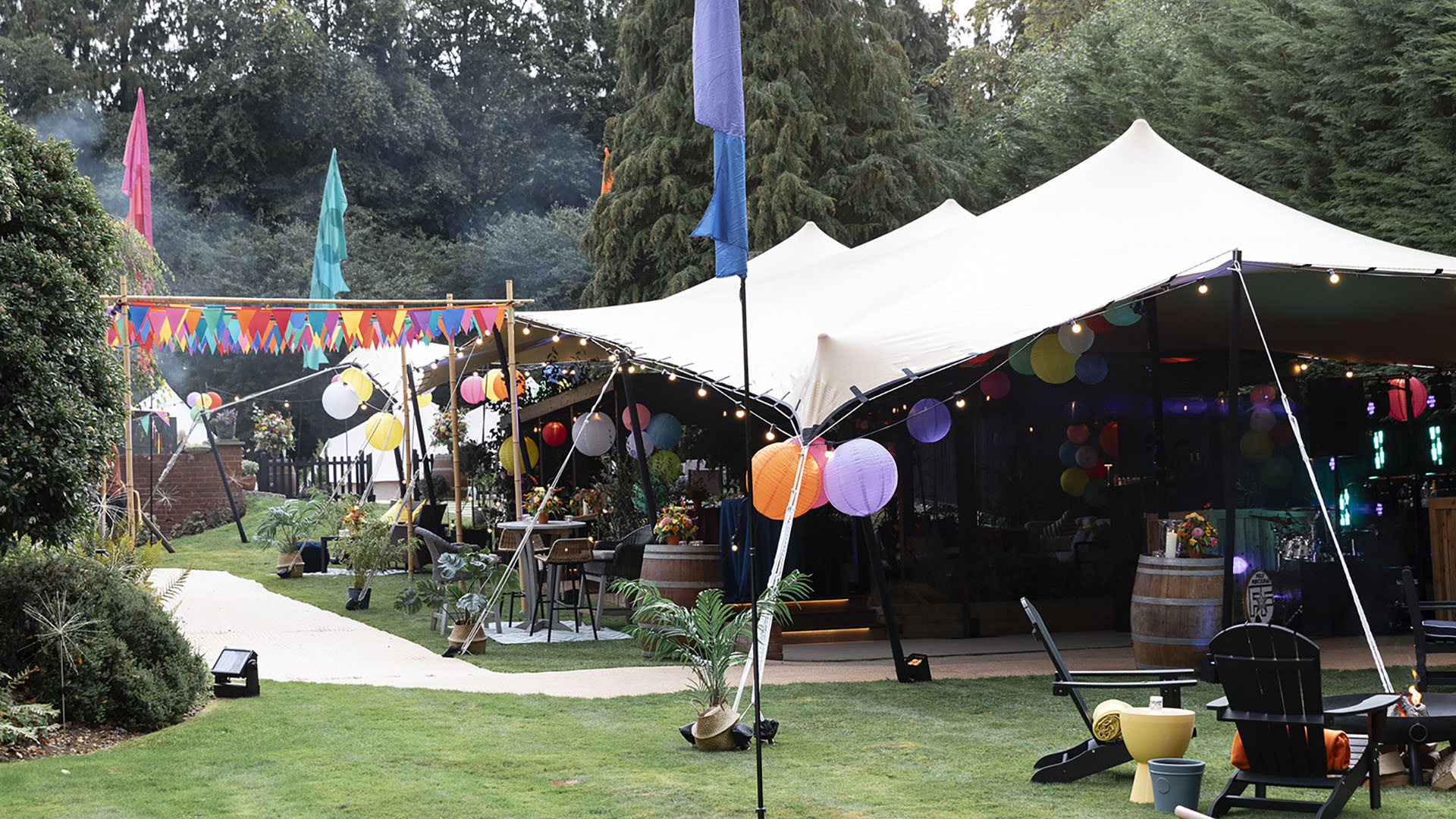 Celebrating a 50th birthday with an elegant garden party
Keen to celebrate her 50th birthday with family and friends, our client asked us to plan and organise a party for 75 guests that would be held in the garden of her home in Great Missenden, Buckinghamshire.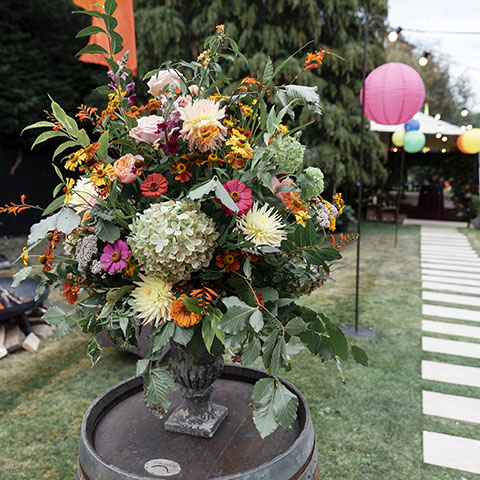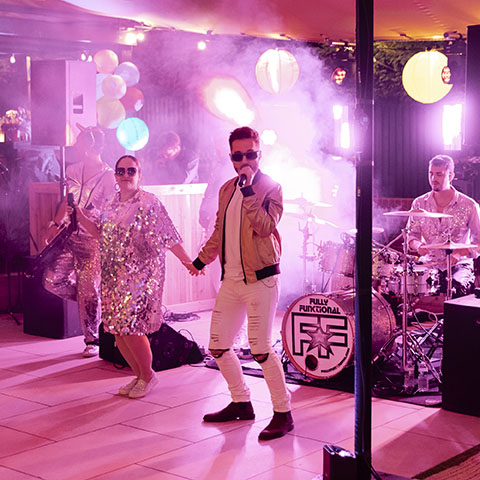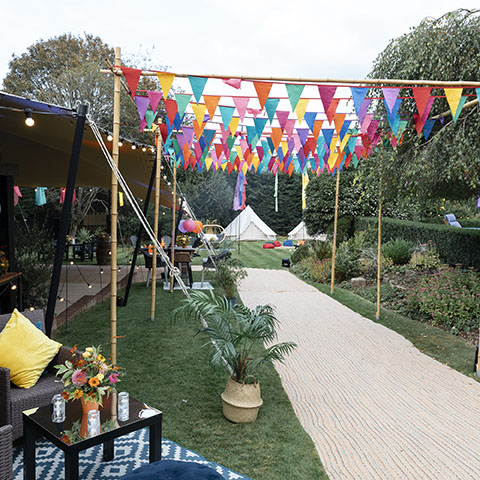 With much of the garden being on a slope we utilised a generous patio area and installed a 10m x 20m stretch tent over an existing pergola to create the event space. A smaller tipi tent with a twinkling light curtain was used as a VIP area, and a separate relaxed area with rugs and bean bags was set up for a number of teenagers that would be attending. We also utilised much of our client's own outdoor furniture, adding cushions, rugs, throws and potted plants to create comfortable and inviting seating areas. Bunting, lanterns, festoon lights and festival flags added splashes of colour and our lighting team did a wonderful job of lighting the garden, bathing the area in colour washes and moving lights. Floral arrangements added a beautiful visual elegance, from a giant welcome arch at the entrance of the stretch tent to suspended arrangements hanging from the pergola and smaller posey arrangements on the poseur tables and low tables. We also had a photo wall, which featured a mix of real and artificial flowers and foliage, that provided a perfect backdrop for guest photos.
The party started with a Champagne reception and a delicious selection of canapés, including sirloin skewers and Thai crab cakes. This was followed by a sophisticated barbecue and a stunning array of dishes – salmon fillets brushed with honey, soy and wholegrain mustard, prime British beef rump steak marinated in sea salt and garlic, spicy peri-peri chicken thighs, Dingley Dell Cumberland sausage skewers, field mushroom stacks with vegetables and halloumi cheese. Accompaniments included wedges of Moroccan-spiced butternut squash, corn on the cob bites, coleslaw and a variety of salads, along with freshly baked artisan bread and baps. Seasonal fresh fruit salad was served for dessert, as well as brownie bites and vegan ice cream.
Throughout the party a DJ played and kept energy levels high. But the highlight of the evening was a five-piece band that played two incredible sets of back-to-back classic songs and delighted the guests. For anyone feeling peckish later on, we served mac'n'cheese with a choice of toppings. And as the party drew to a close, guests who were staying overnight retired to the glamping area and beautifully decked out bell tents. Three firepits were tended throughout the night so that anyone who wanted to stay up and chat could pull up a chair and keep warm.