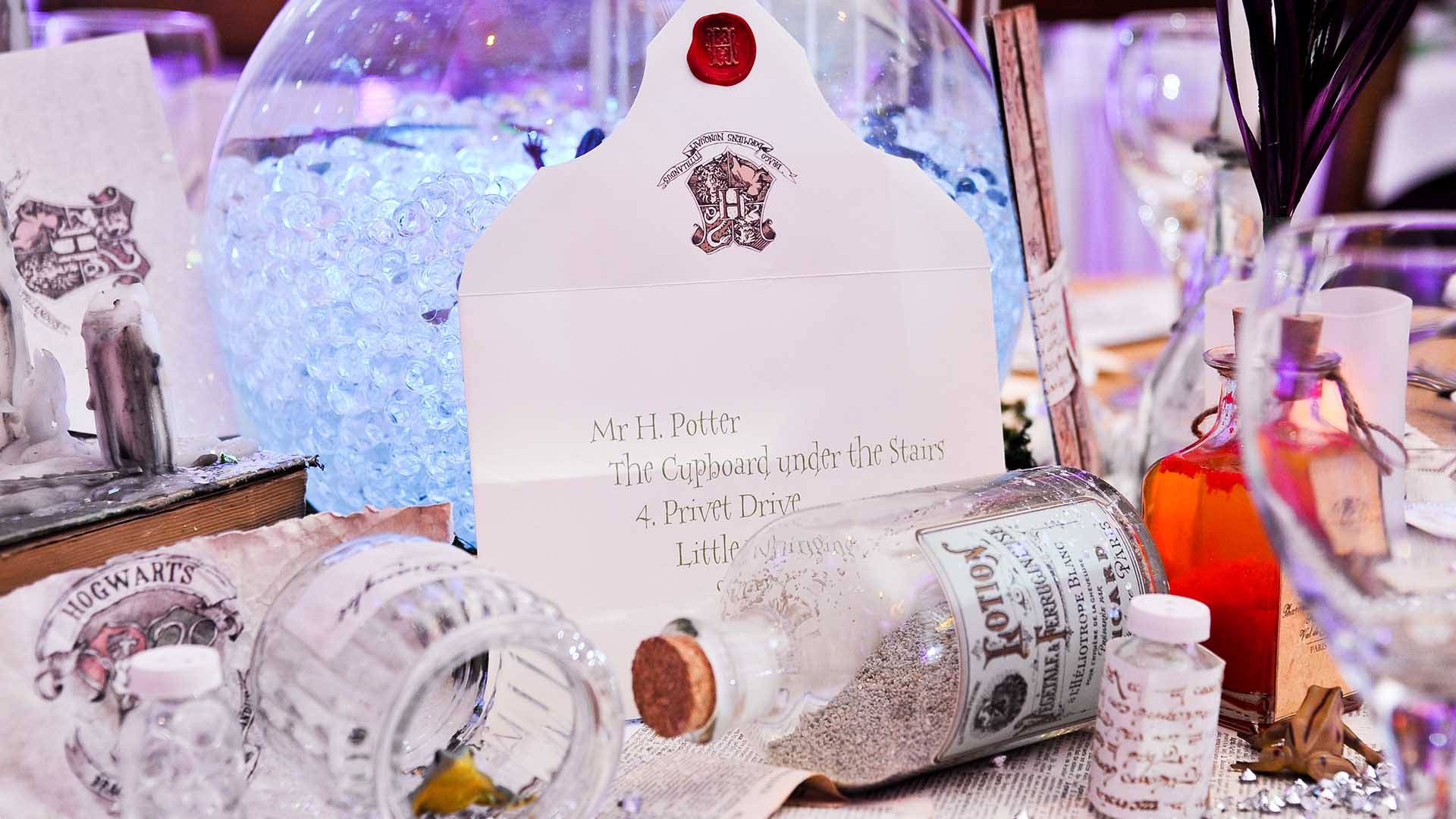 SEVEN THEMES, ONE 21ST BIRTHDAY
Guests were invited to arrive in fancy dress costumes and knew the aspiring thespian birthday girl Claire quite well. No one quite expected what would greet them for this very special 21st birthday party dinner!
The function room was unrecognisable. We transformed it from its dated decor to a starlit, white voile-draped room. The unique bespoke table decorations were the talking point. The attention to detail for this party really took the guests' breath away. The table themes included Alice in Wonderland, Nostalgia, Music, Circus, Casino & Theatre. A truly unique dining experience.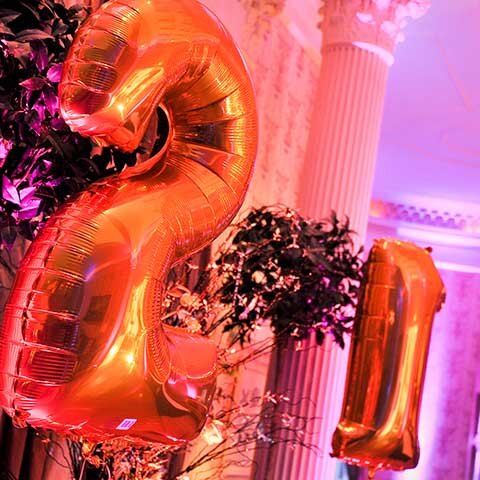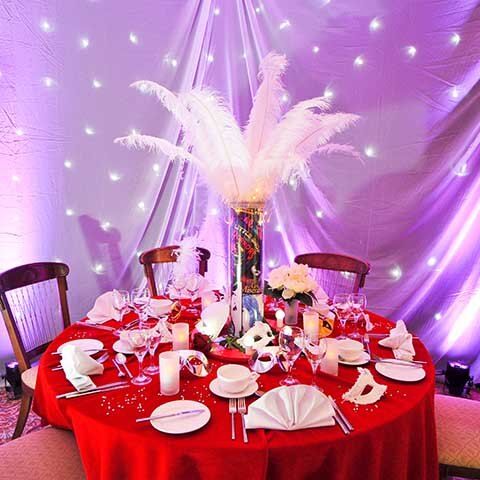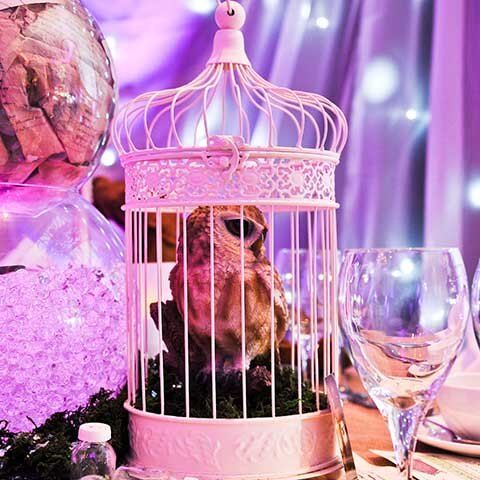 TABLE DESIGNS
ALICE IN WONDERLAND BESPOKE TABLE DECOR
A set vase with doll house furniture hanging upside down and inside out (to represent falling down the rabbit hole) was uplit by Blue/yellow morphing lights. An array of colourful wildflowers (& a small tree) explode out the top of the fishbowl centrepiece with LED lights and theatrical elements.
An astroturf table sash with daisies (Representing Grass) and blue material was draped over the table.
Sprigs of large pieces of Grass and daisies were placed around the table and glassware.
Props were scattered around the table, such as 'drink me' bottles, playing cards, little white rabbits, birds, pocket watches, cups and saucers etc.. for everyone to look and play with.
Colour scheme: Blue, white & natural ochre colours.
NOSTALGIA BESPOKE TABLE DECOR
A tall glass vase with mirrored centre base had hanging coloured cassettes inside, lit by LED morphing lights. An array of colourful flowers explode out the top of the vase with LED lights and other theatrical elements. A colourful table sash provided the finishing touch. Props from the '90s were also scattered around the table, including images from the 90s for everyone to look at and play with
Colour scheme: Pink, yellow, red & blue.
CASINO BESPOKE TABLE DECOR
A set vase full of casino items such as dice, cards, LED lights, and chips on a mirrored centre base. A palm explodes out the vase's top with LED lights and other theatrical elements. Green table sash.
Deck cards at each set table place, with individual chips and dice.
Small roulette table.
Colour scheme: Green, red, black, white, yellow.
THEATRE BESPOKE TABLE DECOR
Tablecloth: Gold/bronze Metallic tablecloth scattered with vinyl and CD's.
Inside the Vase: One large cylindrical vase, with a printed insert to look like squashed in CDs & Tapes inside the vase.
Top of Vase: Records explode out of the top of the vase.
The mirrored base plate under the vase with morphing led lights lit the vase.
CD's/ Tapes/ pink feather boa/ microphones/ record, lady gaga glasses & props around the table to play with.