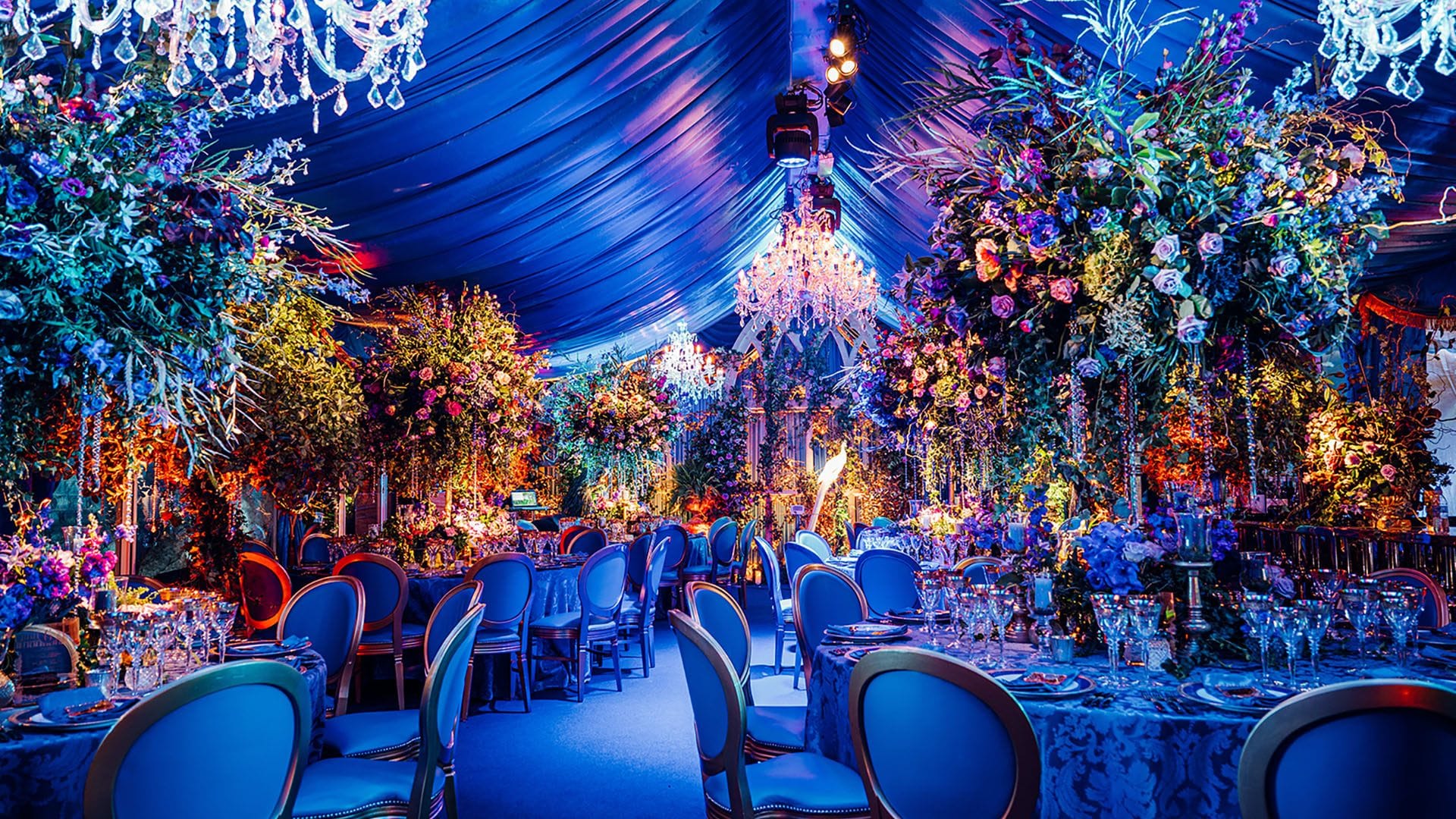 THE ULTIMATE IN OPULENCE, A UNIQUE 60TH BIRTHDAY CELEBRATION
A stunning private residence in Buckinghamshire was the location for this very special 60th birthday party. With her birthday falling in November, our client wanted a party that would elevate the most autumnal of nights and she asked us to create a guest experience that shouted opulence and indulgence. It meant that every detail had to be absolutely perfect, from beginning to end, and we set about designing a stunning event that our client, her family and guests would remember for years to come.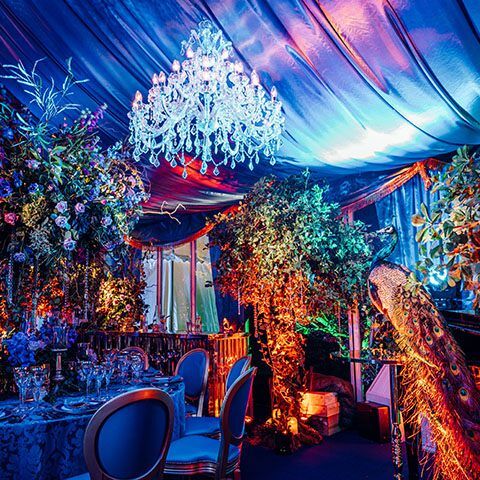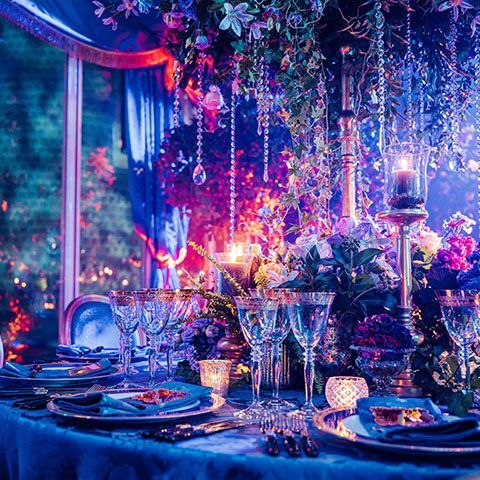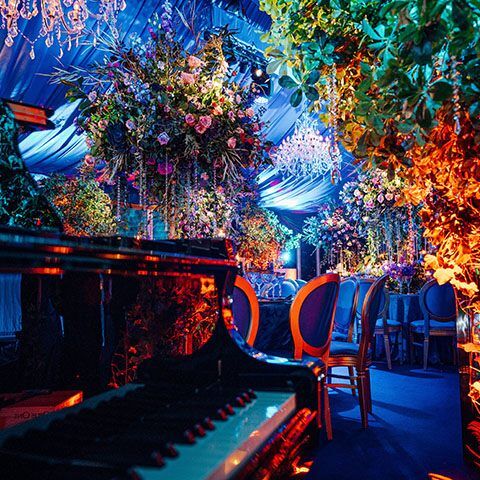 The opportunity to utilise certain areas of the house, as well as installing a luxury marquee in the garden, presented a complex design challenge, but one our team absolutely relished. Having discussed initial ideas and aspirations with our client our event planning and management team set to work.
Our luxury design service ensures that clients understand exactly how their events and parties will look and feel. It provides absolute confidence and reassurance as well as the opportunity to check every detail. Artistic Director, Matthew, used our in-house 3D design software to demonstrate our vision for the party and how we'd bring the chosen theme to life. We also involved our client in meetings with our florist and caterers, where ideas could be discussed, samples could be presented and approved – ensuring everything is to our client's taste and liking is always our first priority.
65 guests were welcomed with champagne and canapes and, starting the evening's proceedings with a bang, treated to a spectacular firework display viewed from the rooftop of our client's property. Having enjoyed a visual feast in the sky, guests were guided through the house to the marquee where dinner was to be served. We had built a bespoke glass walkway between the house and marquee, which helped to create a sense of anticipation as well as ensuring no one had to worry about muddy shoes trying to cross the lawn. The garden itself could also be admired as guests moved through to the marquee.
The desire to surprise and delight was very much integral to this particular event. Entering the marquee, guests found themselves apparently walking on clouds, a magical illusion created by dry ice, through which the beautiful décor was then revealed. Guests had already been given a tantalising glimpse of the party theme when they first arrived – a specially-designed projection onto the property featured peacocks that appeared to be showing themselves off. Now in the marquee, the theme of gothic romance really came to life. We took inspiration from medieval castles and stained-glass windows and married that with our client's love of all things blue and gold, along with majestic peacocks, to create a truly opulent and decadent space.
The marquee interior was dressed in cobalt blue drapery and every detail, from the luxury table coverings and chairs to the plates, cutlery and glassware, was carefully chosen to fit perfectly with the colour palette and to ooze richness and elegance. Huge crystal chandeliers hung from the marquee ceiling and we even constructed bespoke castle windows, the largest of which measured a staggering 4.5 x 3 m!
A gold bar in the centre of the marquee provided a focal point and four decorative peacocks, plus one unique white peacock placed next to a grand piano, added a special wow factor. The floral decoration was, quite simply, astounding! Created around a colour palette of blue, purple and green our florist produced a plethora of lush displays that added texture and visual impact.
Ferns, moss and ivy trailed the walls and floor of the marquee entrance, which immediately created a gothic atmosphere and worked beautifully with the glowing LED candles that lit the glass walkway. This styling was continued across the castle windows and garden features, including a well, that could be seen from the glass windows of the marquee. Roses, spray roses, anemones, hydrangea, vanda orchids, lisianthus, clematis and deep green foliage were used to create table-top and hanging displays. And echoing the chandeliers, gems appeared to drip from the displays. The marquee interior also featured six artificial trees and our florist dressed the bases with ferns and foliage, as well as creating garlands of wild ivy that twisted up and around the trunks and into branches decorated with strung glass crystals. A scattering of peacock feathers added another beautifully specific detail. Our lighting scheme enhanced all the details in the marquee interior, highlighting the peacocks, bar, windows and flowers and added another rich layer of colour and interest.
Gold mirror was used for the table plan, menus and place cards and, once seated, guests enjoyed a luxury seven-course dinner with each course paired with a carefully selected wine. An amuse bouche of pea soup with crouton and truffle was served as an appetiser, followed by a first course of beef carpaccio, truffle pecorino and tarragon dressing. The second course was white crab meat with mango salsa and sourdough crouton and lobster was the main feature of the pasta course, served in ravioli with dried tomatoes and lobster bisque. For the main course, guests were presented with plates covered by a cloche, lifted at the table to reveal confit duck, potato dauphinoise, dried tomatoes and fine green beans. Moving into dessert, guests were served basil sorbet and lemonade foam followed by a sharing dessert of baked Alaska presented to each table.
Throughout the dinner, guests were entertained by a pianist and in between courses our client's husband and four children each gave wonderful speeches in honour of the birthday lady. Our technical team ensured that no one missed a word.
Dinner over, guests retired temporarily to the basement of our client's home for a cocktail reception. Four cocktails, favourites of our client, were served while we set about transforming the marquee into a casino. The bar was retained but dining tables were replaced with two roulette tables, blackjack, craps and a wheel of fortune, all of which had their own dedicated croupier, and for craps an instructor. Invited back to the marquee, guests enjoyed the rest of the evening trying their hand at the various games and the drinks flowed. An indulgent cheese station was set up for everyone to help themselves and, to balance the liquid intake, gourmet burgers were served later in the evening.