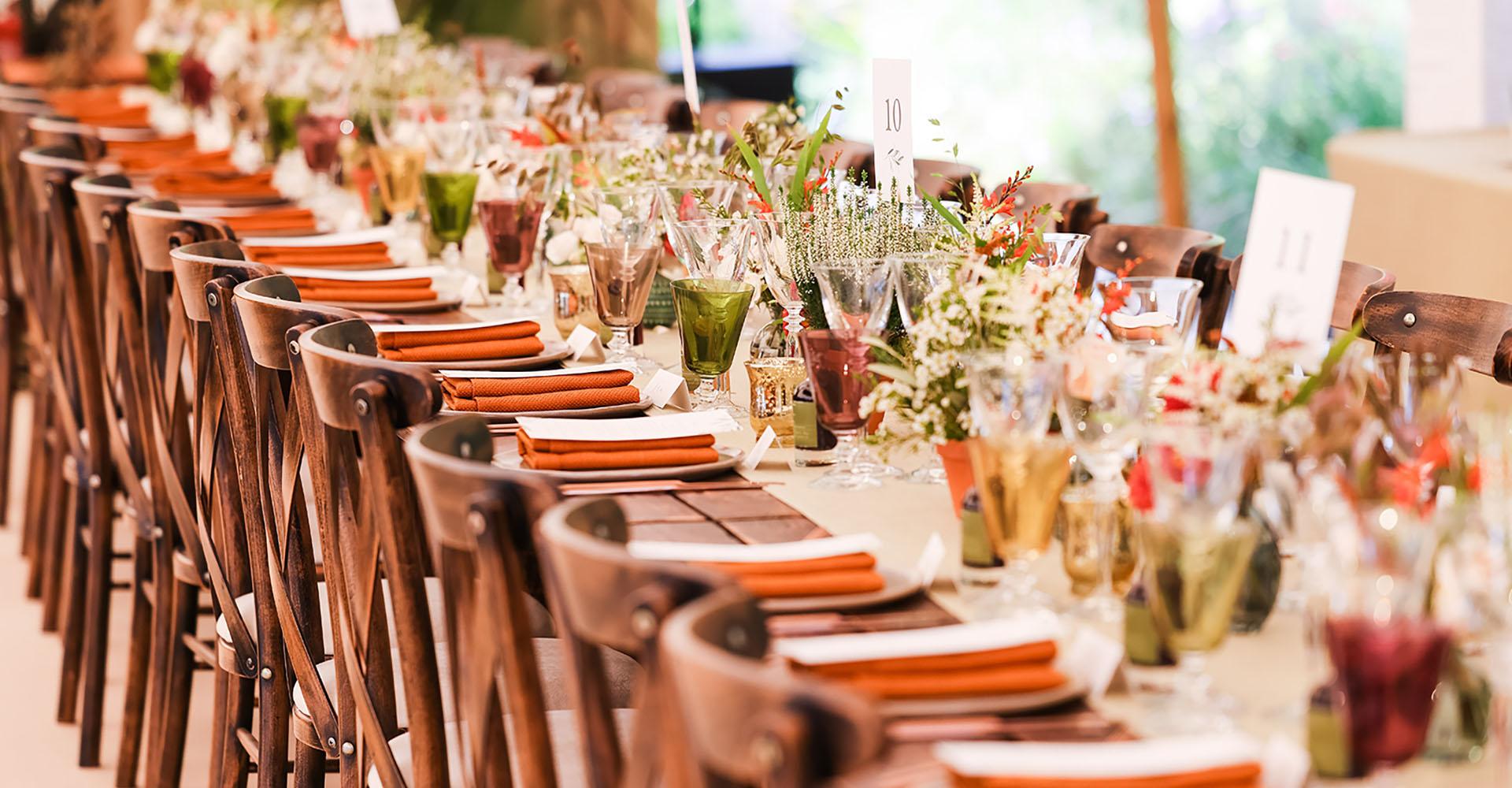 WEDDING RECEPTION AT HOME IN RICHMOND, SURREY
It's always an honour to be part of a couple's wedding day, and this one was made all the more special and intimate by using our client's own home as the venue for the wedding reception. Living in Richmond and keen to host the wedding reception outside in the garden, our client wanted to take inspiration from the nearby Petersham Nurseries, a renowned destination for plant lovers and foodies alike.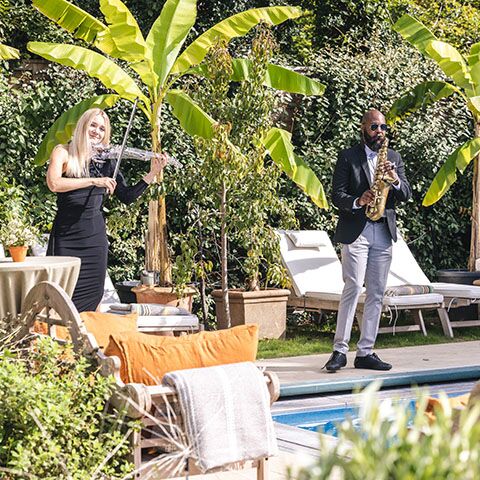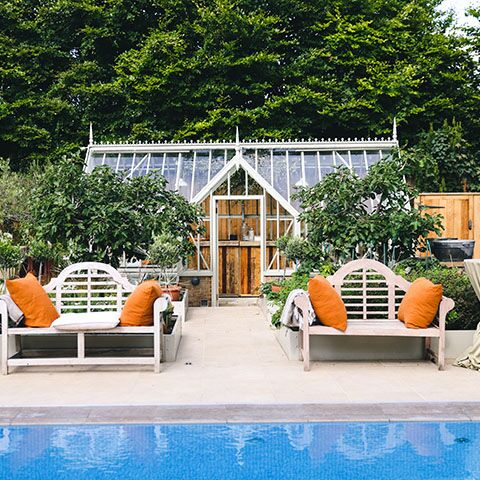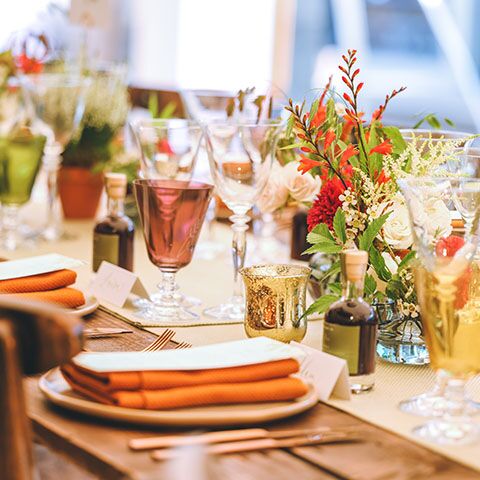 During the planning stage we worked closely with the couple to ensure that every detail would be perfect. A CAD drawing enabled us to show how the marquee would look during the wedding breakfast and once transformed for the evening. We arranged a menu tasting so that the food and choice of table linen, crockery and glassware could be finalised and approved. We also worked with the bride to create wedding stationery and designed welcome signage, a table plan, food and bar menus, dessert signage and the order of ceremonies. Guests' place cards were exquisitely handwritten by a calligrapher and designed to match the wedding favours, miniature bottles of Espresso Martini.
We worked with a palette of earthy colours, including olive green and burnt orange, that would work beautifully within the outdoor setting. Flowers and plants naturally formed a central part of the design theme. The wedding breakfast would be served in a sail tent marquee, which was decorated with an abundance of foliage and our florist created impressive 5-metre ceiling displays hung between each of the central wooden poles. Birch trees and potted plants were positioned to disguise the base of the poles. The floral displays were created around our colour palette and incorporated early autumn foliage, grasses, hydrangea, roses, dahlias, astilbe and, especially for the bride, South African protea from her home country. We also utilised many of our client's own potted plants and olive trees, rearranging them in the garden and incorporating them into the marquee layout.
Our client's stylish greenhouse was the perfect location for a cocktail bar. The floral design was extended to establish a synergy with the marquee and provided a focal point for guests during welcome drinks and whilst the marquee was transformed into an evening party venue. Similarly, we utilised our client's own garden furniture. We added cushions and throws and, complemented by the addition of poseur tables dressed with green linen and finished with ruscus and foliage, an already beautiful haven was transformed into a cohesive and stylish setting for the wedding celebrations.
Despite the September wedding date, the weather gods were kind and the day was bright and dry. The wedding itself took place at a local church, a mere five-minute walk away from our client's home. We had a small but important part to play in the marriage ceremony, supplying the bride's bouquet and 15 buttonholes, all carefully designed to match the flowers used for the wedding reception.
Sixty-six guests were greeted with a champagne reception and canapés, which included spiced sticky cauliflower lollipops, truffle polenta balls, fried buttermilk chicken, mini lobster rolls and bruschetta. Following a group photograph, with the beautiful greenhouse as a backdrop, guests moved into the marquee. Long wooden tables and crossback chairs created a stylishly rustic feel. The tables were dressed with table runners and plates, cutlery and glassware carefully selected to fit the natural colour palette. Carefully chosen elements, from burnt orange napkins to coloured glass goblets, gold tealight votives and floral displays in terracotta pots, added lovely bursts of colour.
Our caterer created a sumptuous wedding breakfast with each course served as sharing boards. Starters included vegetarian antipasti, beetroot-flavoured hummus, pesto and fresh burrata. The main course was slow-braised lamb shoulder and hot smoked salmon fillet served with a selection of side dishes. There was a break for speeches and then the wedding cake, a lemon drizzle cake that had been decorated by our florist, was cut. For dessert, guests enjoyed a selection of mini desserts served alongside the wedding cake.
After teas and coffees, guests were invited to return to the greenhouse cocktail bar whilst we prepared the marquee for the evening reception. The long tables were replaced with round tables decorated with gold lamps and the floral displays were rearranged to create the atmosphere of a jazz club. As darkness fell so the festoon lighting that was draped around the marquee came into its own. We had also installed lighting throughout the garden to enhance the trees and other features.
The transition into the evening reception, to which more guests were invited, was marked by a drinks reception. A violinist and saxophonist played in the background while guests chatted and mingled. A seven-piece band then performed in the marquee and guests enjoyed plenty of dancing. Later in the evening we served barbecued mini burgers from our client's outdoor kitchen, giving guests a little more stamina to dance to our DJ's tunes until midnight when the party had to end.
The following day we organised a buffet lunch for 30 friends and family who had stayed overnight close by. Utilising the marquee once again, we dressed the tables with fresh linen and the floral displays and served hearty and comforting lasagne with a selection of salads followed by slices of wedding cake.