Internal events are powerful drivers of employee well-being, engagement and experience and have the ability to inspire, educate and motivate employees who ultimately contribute to the success of the organisation.
However, for internal events to have a positive impact on staff and the organisation at large, they should be planned and executed in a way that prioritises employee well-being. Consequently, as an internal events manager, you need to consider the different ways in which you can introduce wellness elements into your event.
Here are seven ways you can ensure employee well-being isn't a missed opportunity when planning your next corporate event.
Considered content delivery
The way in which content is delivered has a huge bearing on how impactful it is. Poor quality, lengthy presentations with boring visuals are difficult to engage with and your audience is unlikely to absorb the message due to a lack of focus and interest; indeed, it can even become a stressful experience for them.
Therefore, content must be delivered in a way that makes people want to watch, listen, and participate so that maximum impact can be delivered.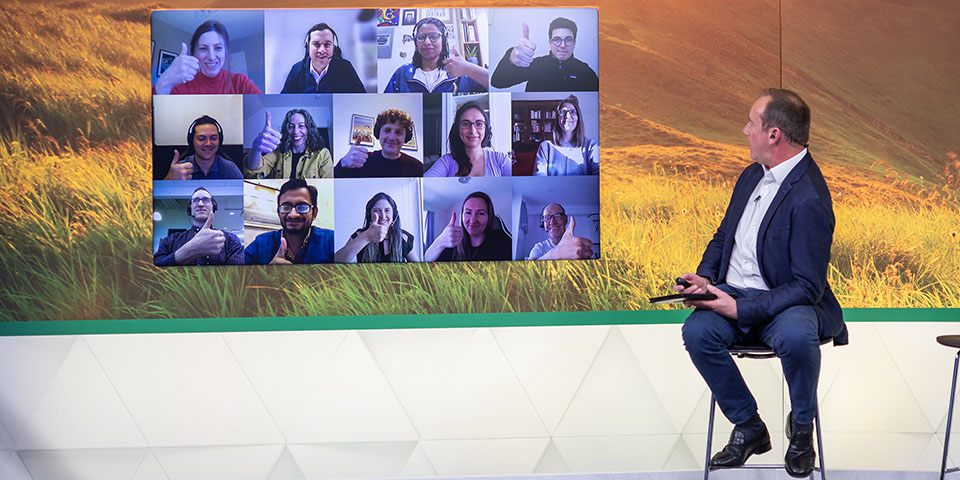 Events with amazing sound and visuals and overall high production value are definitely key in getting your audience interested and keeping them engaged throughout. This is especially important for events like AGMs and conferences which can be long in duration and content-heavy.
"Lighting, sound and stunning visual effects to highlight key elements of your event are extremely important in ensuring your event has the greatest impact possible" explains Neil Walker, Production Director at MGN events. He's been involved with some of the company's most successful corporate events and is at the forefront of what's possible from a technological perspective.
Plan in comfort breaks
As obvious as it may sound, ensure that you have sufficient breaks in your event schedule so that staff have an opportunity to rest and recharge before the next session. Also, the agenda should be set at a comfortable pace so staff can make the most of each session without feeling harassed or rushed from one session to the next.
If you're providing lunch, allow ample time for staff to not only eat but to connect with colleagues from different teams, which in itself can increase employee well-being (particularly if many staff are working remotely for extended periods of time).
Add some relaxation sessions
There are many different ways you can incorporate relaxation sessions into your event which feel natural to partake in for staff. For example, corporate meditation sessions can help to unwind the mind and can be performed online via live stream as well as onsite.
Yoga and stretching sessions are another way in which you can help staff release tension and improve mental and physical well-being at your event.
Depending on the type of event, you can have dedicated sessions that people can opt to join or if you're short of time, a simple 10-minute exercise in the middle of a seated program can work wonders to clear the mind and reset focus.
Massage chairs are another great way to help staff feel relaxed and can be hired for your event. And if you want to inject some fun into your event whilst getting staff moving, a motion reactive wall or dynamic floor is the perfect solution!
If you're unable to provide specific relaxation sessions and activities, consider having a prayer/meditation room where staff can retreat for some quiet time.
Utilise event technology
Specialist event technology can help to make your event a more enjoyable experience for staff. For example, interactive elements like live polls, quizzes, competitions, and challenges at your event are a fantastic way to make things more entertaining and to demonstrate that you take employee well-being seriously.
Installations like interactive touch video walls can bring presentations to life whilst multi-touch tables allow employees to learn and explore topics at their own pace.
"We can perform real-time surveys during events to find out what your audience is thinking and feeling during the event," says Walker. "Our live response tools significantly improve audience participation which is key to collecting data that can be used in a meaningful way."
Moreover, interactive tools are particularly good if you want to educate staff about new products, policies and other organisational developments in a way that will help them engage better and retain the information being presented.
Event-specific apps are also a great way to keep employees engaged and connected with each other throughout the event as well as enabling event organisers to share real-time updates and important information with attendees. These features can greatly enhance employee well-being by reducing stress and making it much easier to navigate and get the most out of the event.
Provide energising food and drink
Delicious, nutritious and energising food and drink is an easy yet very effective way to improve employee well-being and happiness. Indeed, if the food is poor then it can have a massively negative impact on the whole event experience, so it's something definitely worth investing in.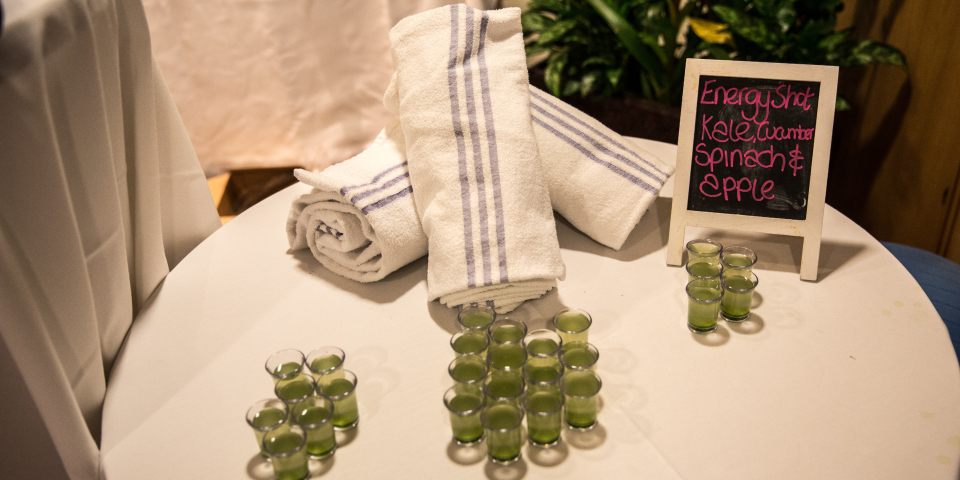 Different dietary requirements should be catered for wherever possible by asking staff when they register for the event.
Adding an experiential element to your food and drink offerings will be a welcome surprise for guests and certainly get them talking and sharing on social media. For example, edible mist orbs allow guests to inhale flavoured mists through a straw to get an instant zero-calorie flavour sensation.
Ensure you have amazing ambiance
Importance needs to be given to the overall ambiance created at your event as this can have a huge impact on the mood of staff.
For example, the temperature should be comfortable and easily adjustable and intelligent lighting should be used to set the right tone and atmosphere.
Plants and floral arrangements can brighten up spaces and create mood-enhancing effects, as well as essential oil diffusers which help to calm, relax or energise staff depending on the time of day.
Take it outside
Spending time outdoors in the natural environment has well-known benefits for the mind and body, including improving mental and physical well-being by reducing stress and increasing access to fresh air.
Of course, it's not always easy to predict the British weather but if you can take elements of your event outside – such as refreshments and drinks – it's an easy way to improve employee well-being at your event, especially if the weather is warm!
Employee well-being: Conclusion
No matter what type of internal event you're planning, it's important to always have employee well-being and the interests of staff at the very heart of it. In doing so, you'll be demonstrating your organisation's commitment to its staff, which in turn will help them to engage with your key messages, and to feel more valued and willing to contribute to the overall success of their organisation.
If you enjoyed this article, take a look at our five step framework for improving employee well-being at internal events.
Find out how MGN events can help you to improve employee well-being at your next event. Contact our team either via the form below, on 01932 22 33 33 or by email hello@mgnevents.co.uk