If there's one party theme that's truly inspiring in terms of food and drink, it's Halloween. Party hosts can get creative with the buffet table and bar – after all, who wouldn't want a severed finger or glass of witches brew on the spookiest night of the year?! The internet is brimming with ideas and inspiration for Halloween themed drinks, so there's no excuse for avoiding the spirit of the season. We've compiled a selection of top creepy cocktails – from subtle and classy autumnal favourites to themed drinks with a definite injection of fun – to make your Halloween party a scream!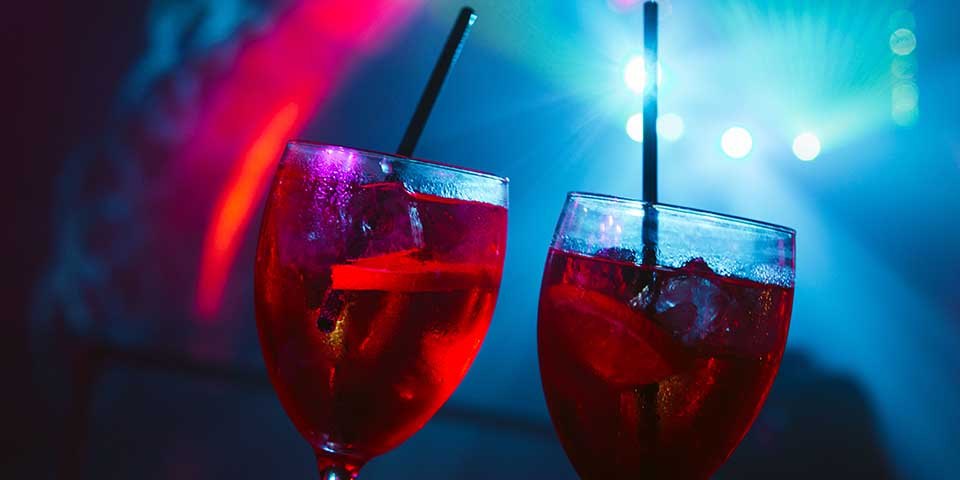 1. Creepy Eyeball Martini from Pineapple & Coconut
Kicking off with one that definitely isn't subtle, this ghoulish looking cocktail is a twist on a classic party favourite. The 'eyeballs' are made from lychees stuffed with blueberries, and can be served floating or skewered on a cocktail stick for a drink that appears to be watching you! The recipe suggests a lychee, matcha and blood orange martini, and you can make an alcohol-free version by swapping the vodka for coconut water.
2. Evil Drinks Lab from Honestly Yum
Get your guests feeling like mad scientists for the evening as they create their own cocktail concoction! The instructions for this impressive looking drink are actually very simple; it's all in the presentation. Use scientific glass measuring beakers, test tubes and pipettes and you'll have a stunning Halloween cocktail that really owns the wow-factor. With colour changes, dry ice effects and a touch of spicy devil's blood to finish, this is a true showstopper.
3. Vampire Cocktail from Food Network
Is it a drink or a dessert? This fabulous alcoholic ice cream dessert is a mix of vanilla ice cream and liqueurs, with a drizzle of grenadine blood for effect. It's easy to make and would be perfect to serve at the end of a meal or for guests looking for an indulgent and creamy cocktail. This is another recipe that would be simple to convert to a 'lookalike' non-alcoholic version for children or designated drivers.
4. Pumpkin Spice Punch from HGTV
Looking for a classier cocktail recipe that's seasonal without being scary? Pumpkin Spice Punch is fairly self-explanatory, but works brilliantly for a Halloween party. This is an alternative version of a classic sangria recipe and can easily be made in a large batch for your party guests to enjoy. Serve in a cauldron or large hollowed out pumpkin and you have a centrepiece for your bar, a Halloween prop and a delicious drink in one.
5. Glow In The Dark Infected Brain from Boulder Locavore
This is an absolute must-have if you're planning a Halloween party involving UV/black disco lights. Who knew that tonic water glows under black light?! Grab yourself a novelty ice cube tray, make up some tonic water ice cubes and watch in wonder as your guests marvel at this novel drink… This recipe uses a melon liqueur but you could get more creative with your ingredients or even turn it into a macabre mocktail alternative.
6. Black Cauldron from Gayot
Your Halloween cocktail party will take on a sinister twist with this 'dark-as-the-night' brew. Black Cauldron contains a few speciality ingredients including black barrel tequila and activated charcoal, so it may be one to save for when you have an experienced bartender on hand. The eerie effect is worth the effort though!
7. Floating Eyeball Jello Shots from Sugar Hero
Quick and easy to whip up, you can make these effective shots with or without alcohol. Use gummy eyeballs from the pick'n'mix counter and simply add your choice of clear fruit or vodka jelly. They're ideal for making in advance, and are guaranteed to be popular at a light-hearted Halloween bash where ghastly equals great!
8. Mulled Red Wine from Food and Wine
Another perfect cocktail for sophisticated Halloween soirees. You can be spooky without plastic spiders and fake blood after all. This warming drink is ideal for parties with an outside aspect, whether that's a tour of the neighbourhood as you go trick or treating or simply a versatile event venue with space to take the party outdoors. Keep warm in a large pan (or cauldron!) and serve in mugs.