There are many reasons champagne endures as a symbol of prestige and joy. Discover 8 labels whose brightness and flavour are guaranteed to please every palette at your next special occasion, celebration, or soiree.
Read time: 3 – 5 minutes
Key takeaways:
– Discover the most lauded champagne brands available today
– Learn little-known facts about your favourite labels
"I only drink champagne on two occasions; when I am in love and when I am not." – Coco Chanel
In an interview with Harper's Bazaar, former Champagne Bureau UK director Françoise Peretti explained how champagne wines first became fashionable among the courts of France as early as the 5th century. When explaining the reasons for its enduring status as a symbol of prestige, Peretti cited its quality and affiliation with joy and celebration.
1. Moët & Chandon
Owner: LVMH
Established: 1743
Popular label: Imperial Brut
Robe and tasting notes: Pale yellow, somewhat greenish in hue with fine bubbles. An elegant flavour with notes of green apple, and citrus fruits, nutty cereal and brioche.
Food pairing: Raw food, sushi, sashimi, fruit carpaccio, aromatic herbs, white flesh fish.
Did you know? It's pronounced "mo-wet" – the 'T' isn't silent as it's situated next to a French vowel in the word 'et' which means 'and'. The champagne House is the largest in the world, producing almost 30 million bottles per year.
Website: Moët & Chandon
2. Veuve Clicquot
Owner: LVMH
Established: 1772
Popular label: Brut Yellow Label
Robe and tasting notes: Golden yellow in colour with tiny bubbles. A strong, silky drink with an aromatic intensity and freshness, reminiscent of vanilla, toasted brioche, yellow and white fruits.
Food pairing: Apéritif, sea food, blinis, pasta, parmesan.
Did you know? 'Veuve' means widow in French. This is a reference to Madame Barbe-Nicole Clicquot who successfully steered the House to iconic international status after the death of her husband in the early 19th century.
Website: Veuve Clicquot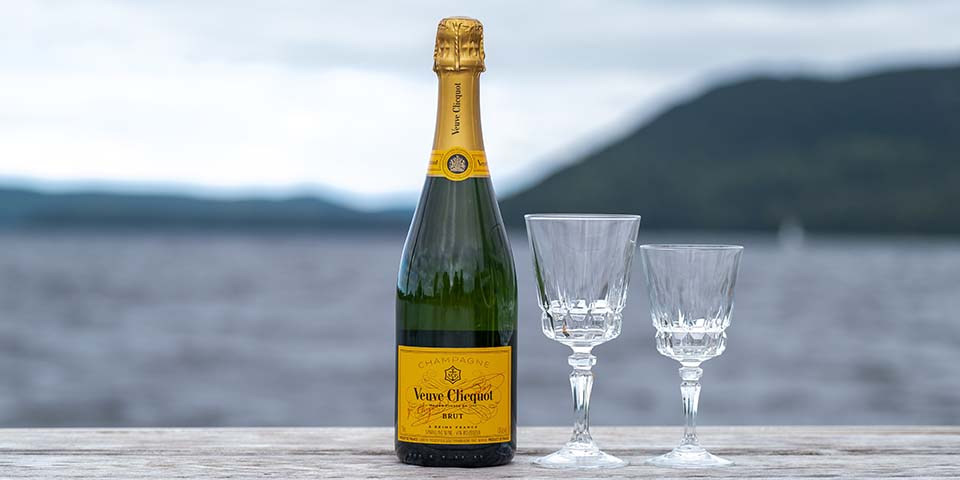 3. Bollinger
Owner: Champagne Bollinger
Established: 1829
Popular label: Special Cuvée Brut
Robe and tasting notes: Golden colour with very fine bubbles. An aromatic aroma of ripe fruit, roasted apples, pear, compote, fresh walnut, and peaches. A structured, velvety palette.
Food pairing: Smoked salmon, grilled lobster, light chicken dishes, charcuterie, and patés.
Did you know? The wines age in the Bollinger cellars for at least three years; with vintage selections sitting for longer.
Website: Bollinger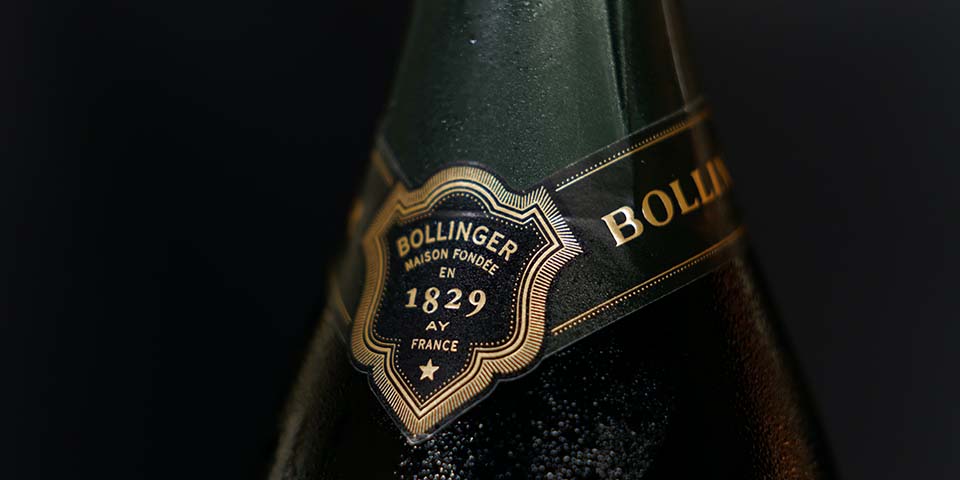 4. Krug
Owner: House of Krug
Established: 1843
Popular label: Grand Cuvée 170th Edition
Robe and tasting notes: A light golden colour with fine vivacious bubbles, the wine has aromas of flowers in bloom, ripe and dried citrus fruit including quince and lemon, as well as marzipan and gingerbread.
Food pairing: Turbot with truffle, Jabugo ham, oysters, grilled shrimps, Moroccan and Indian food, carrot cake, tarte tatin and cheesecake.
Did you know? This label is a blend of 195 wines from 12 different years, the youngest of which is from 2014 and the oldest from 1998.
Website: Krug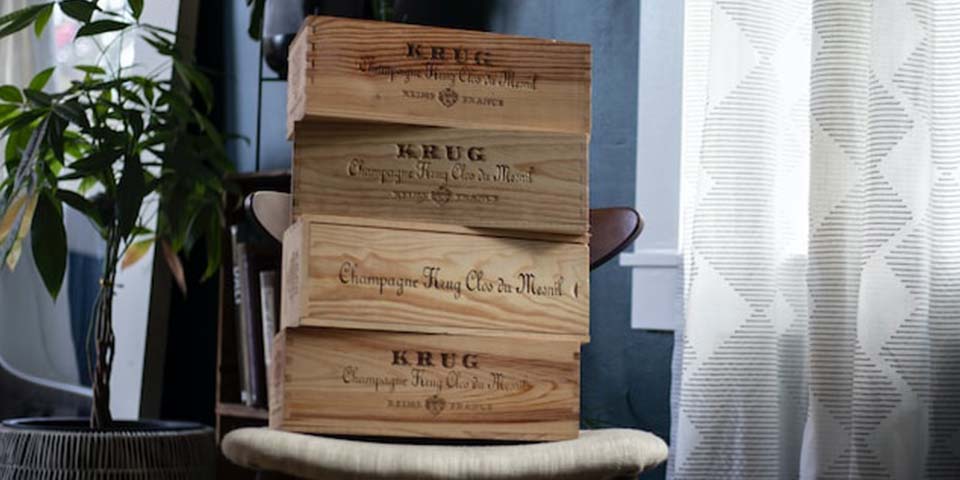 5. Taittinger
Owner: House of Taittinger
Established: 1734
Popular label: Brut Réserve
Robe and tasting notes: A brilliant golden yellow body with fine bubbles. A light, crisp wine with aromas of hawthorn and acacia flowers, peach, honey, and vanilla. It is lively and fresh with a discreet lingering foam.
Food pairing: From smoked salmon to fish and chips.
Did you know? The wine's complexity comes from being bottle-aged for three years, which is double the length of time legally required.
Website: Taittinger
6. Ruinart
Owner: House of Ruinart
Established: 1729
Popular label: Blanc De Blancs
Robe and tasting notes: Comprising 100% chardonnay grapes, this wine has a pale-yellow hue. Fresh lemon, juicy pear and peach are complemented by notes of spicy ginger and pink berries.
Food pairing: Raw foods with contrasting elements of saltiness, fruitiness or freshness, fresh carpaccio and citrus or fresh herb marinades.
Did you know? Ruinart's eco-designed second skin packaging case is made from 99% recycled paper, which is moulded to the shape of the bottle. It is designed to be light, aesthetic, functional and sustainable. It was inspired by the way maître d's wrap a white serviette around bottles of champagne.
Website: Ruinart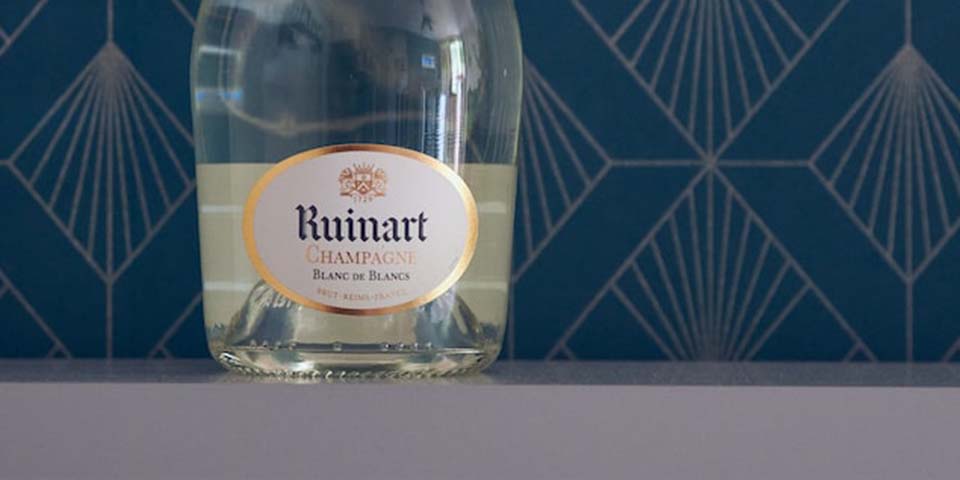 7. Pol Roger
Owner: Maison Pol Roger
Established: 1849
Popular label: Brut Réserve Non-Vintage
Robe and tasting notes: A golden straw-coloured hue with an abundance of fine bubbles. Aromas of green apple and pear develop into notes of quince jelly, apricot jam, honeysuckle, and brioche. Long-lasting notes of candied orange peel and sweet cardamom also make an appearance.
Food pairing: Apéritif, fish and even spicy dishes.
Did you know? This label is said to have been a favourite of Sir Winston Churchill and was also enjoyed at the wedding of William and Kate, Prince and Princess of Wales.
Website: Pol Roger
8. Dom Pérignon
Owner: LVMH
Established: 1927
Popular label: Vintage 2003 Plénitude 2
Robe and tasting notes: Pale gold in colour, this vintage wine offers a taste of dried fruit, raspberry and fig, lemon verbena, white pepper and rosemary, spice, and liquorice root. There are also layers of marzipan, candied pineapple, apricot compote, and warm breakfast pastries.
Food pairing: Salty foods such as caviar, crackers and chips to creamy dips, oily fish and slightly spicy foods like mild curry.
Did you know? Born in 1638, Dom Pérignon was a Benedictine monk and cellar master. He pioneered wine-making techniques in 1670, including that which gave rise to champagne. The first vintage of Dom Perignon was 1921 and only released for sale in 1936.
Website: Dom Pérignon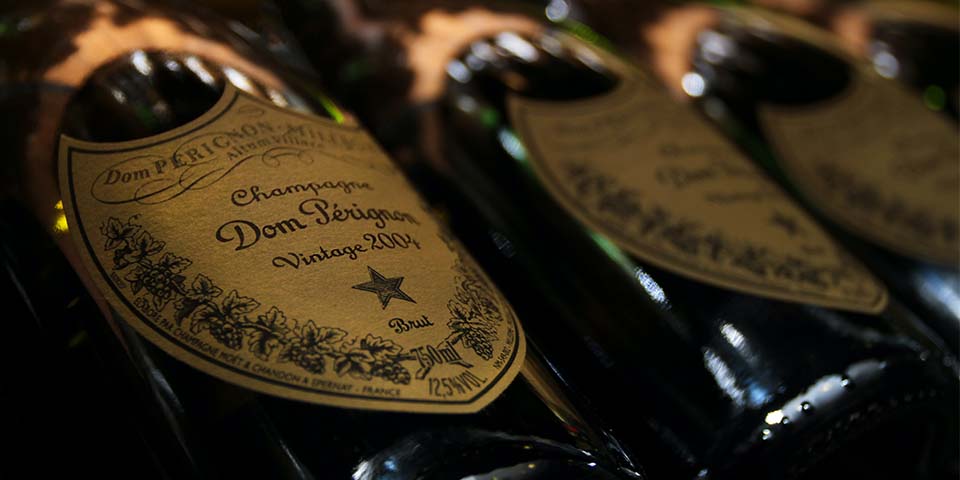 Sugar-Free Champagne
If you're interested in the cream of the crop of low-sugar or sugar-free champagnes, there are several elegantly complex blends to consider, including: Laurent-Perrier Ultra Brut, Champagne Eric Rodez Dosage Zero Grand Cru, Pol Roger Pure Extra Brut, Ar Lenoble Dosage Zero Champagne, and Louis Roederer Brut Nature with Philippe Starck Champagne.
Plan Your Perfect Party
Whether you're looking for the perfect sip as an aperitif at your next celebration or the perfect bottle to serve with a brunch or fine dining experience, our events planners can bring expert sommeliers and refined caterers into the mix to help ensure your event is a spectacular success.
Why not book a consultation, read our blog or speak to one of our dedicated event planners? You can either complete the form below or call 01932 22 33 33. You can also email hello@mgnevents.co.uk.
Further reading:
8 delicious alcohol-free cocktails for your next luxury party
6 delicious must-have cocktails for your autumn-winter soiree
9 tips for hosting an immersive experience your guests will love
How to create immersive experiences that engage the 5 senses
3 time-saving steps to luxury party planning
Hosting the luxury event of the season: 7 essential considerations for briefing your event planner
2 immersive must haves for exclusive social events
How experiential luxury is emerging to meet the expectations of wealthy consumers in a post-pandemic world