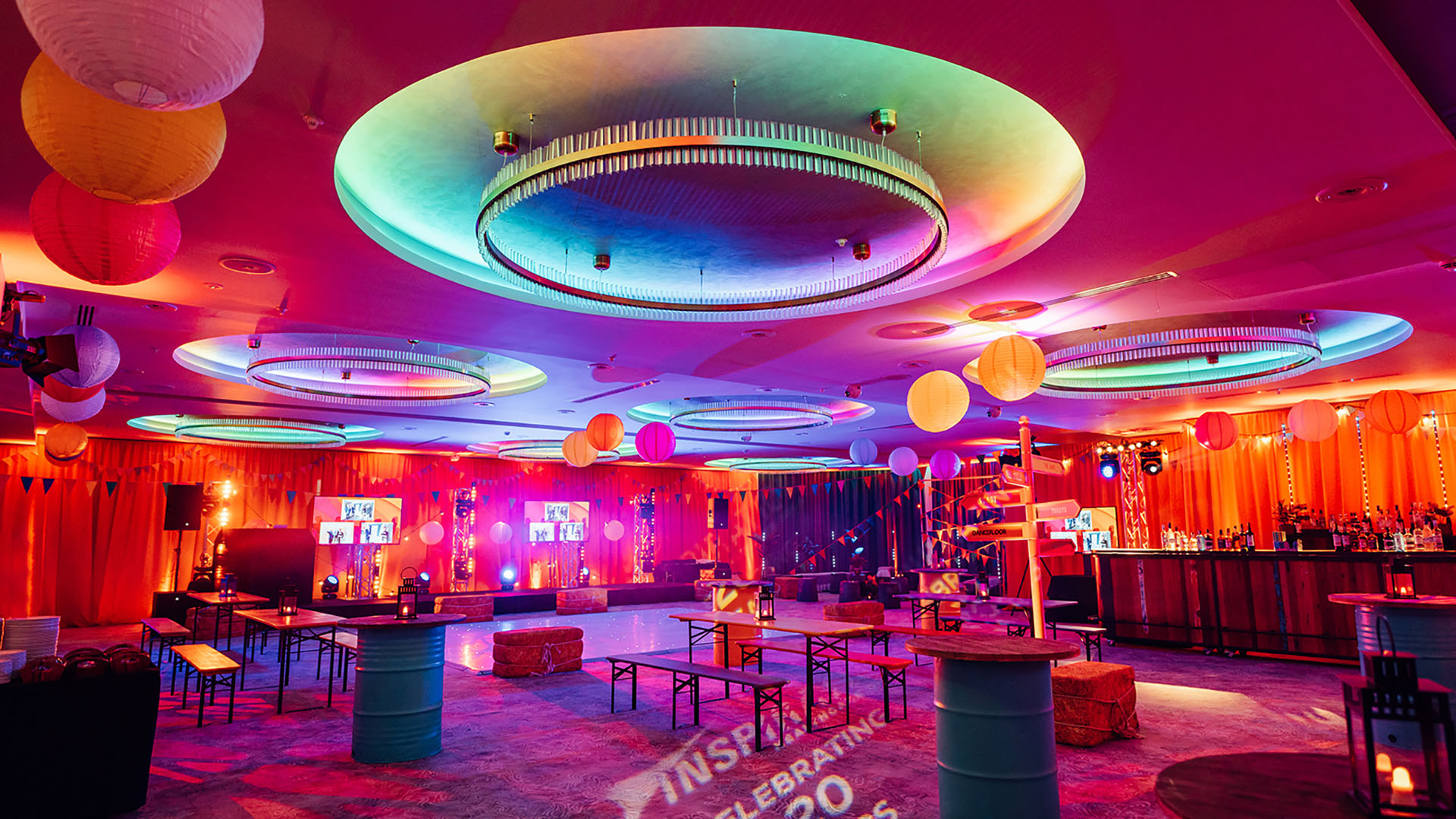 Celebrating success with a festival-themed party
In 2022 we delivered a highly successful post-Covid celebration for a company that supplies medical equipment. Not only was it a fantastic way to reward hard work under challenging circumstances, the experience inspired our client to introduce an annual awards celebration into the company's corporate calendar. Having been asked to plan, organise and manage the event, we were delighted to discover that guest numbers would increase to 200 from 120 – all down to how well received the previous event was!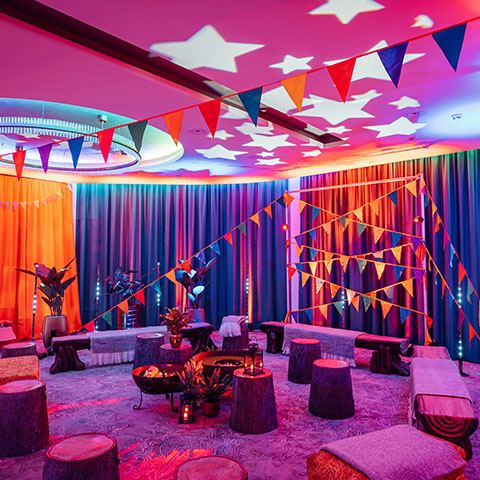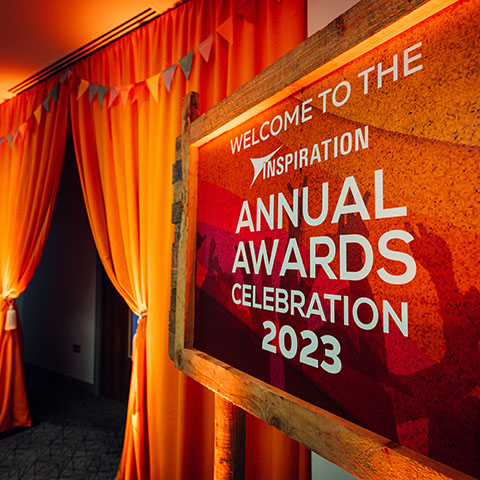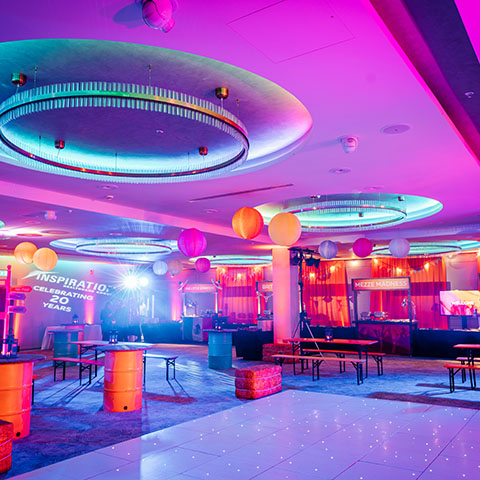 We provided our venue-finding service but nothing came close to beating the previous venue. Not only is Marriott's Courtyard London Heathrow convenient in terms of proximity to our client's two office locations, the fantastic ballroom space gave us carte blanche to transform it however we wanted. On top of that it also answered our needs in terms of overnight accommodation for guests and space for a number of small business meetings that would be held ahead of the party.
We agreed on a festival theme for the event, which would create plenty of visual impact, yet be very cost effective and provide real value for our client's budget. Using a vibrant colour palette of orange and pink, we created full event branding that was applied to bespoke invitations and event signage, as well as a branded awards presentation deck, holding screen animation and a video montage of photos of employees that played on a loop throughout the party.
The event space was transformed with bunting, paper lanterns and festoon lighting, whilst bright orange draping over the walls instantly suggested a festival tent. A bar made from wooden pallets, wooden picnic benches and tables, barrel poseur tables, hay bales, log seating and even an electric campfire brought the space to life. A dynamic lighting scheme, including bespoke gobos with the company logo, completed the look and helped to create a fantastic party atmosphere.
For the awards presentation, we built a stage with lighting truss, LED battens and pixel sticks. Two large screens were installed along with relay screens so that everyone would have a good view. A comfort monitor ensured presenters could focus fully and confidently on the audience – all supported by our back-of-house technical team for a smooth, seamless and professional experience. Once the formalities were over, one of our regular resident DJs got to work and made sure everyone had a great time dancing the night away.
In keeping with the festival theme, the catering was an eclectic mix of world cuisine served from four street food stalls that we branded Wok'n'Roll, Mezze Madness, The Little Sombrero and Best of British. With a delicious choice of Chinese, Lebanese, Mexican and traditional British dishes, guests could enjoy whatever they fancied, including lamb koftas, sweet and sour pork, tacos and fish and chips followed by tempting desserts such as Eton Mess and churros.
Taking full advantage of having everyone together, a team-building activity was planned for the following morning. Logistically, this presented a challenge – the party finished at midnight, we had to have the ballroom space turned around and ready by 9am. While guests enjoyed a good night's sleep, our crew came in to clear all the props, furniture and catering stations before setting up tables and chairs. The stage set was retained and the lighting changed to create an atmosphere befitting an intriguing murder mystery. Organised in conjunction with one of our suppliers, a fantastic group of actors performed dramatic scenes and, working in teams, guests were tasked to identify the murderer, motive and murder weapon. Following the fun and a fair bit of friendly competition, guests enjoyed lunch before being returned by coach to their offices in Croydon and Hailsham.