The corporate cocktail party, since James Bond first uttered those immortal words 'shaken not stirred' as he ordered a martini, way back in the sixties, cocktails have conjured up a sense of style and sophistication. Fast forward to the eighties and you have Tom Cruise strutting his funky stuff as a flair bartender in the wonderfully cheesy Cocktail – whatever you think of the film, it certainly popularised cocktail drinking. And so to today, when cocktail bars are a must have at all sorts of parties and events.
When is a cocktail not simply a drink?
Cocktail making never stands still for long and something rather interesting is happening on the cocktail scene. In cities such as London, Manchester and Paris, pop-up cocktail bars are making an exciting appearance. Similar in concept to Secret Cinema, they are created around themes, from the cult TV series Breaking Bad to the challenge of code breaking in The Bletchley (you'll figure it out!) to the much anticipated opening of The Grid, a dystopian sci-fi experience inspired by Channel 4's Black Mirror. Forget paper cocktail umbrellas and twizzle sticks, a fruit-topped pina colada is so last century. The cocktail just got experiential!
The corporate cocktail party is an idea that translates brilliantly to corporate events. Whether it's for a new product launch, an office summer party or a teambuilding day, getting creative with cocktails is a really effective way of conveying a company's brand. This can, of course, be as simple as taking the corporate colour palette and making sure that the cocktails on offer reflect those colours. Ask the bar staff to wear uniform that is the right corporate colour and serve from a bar with an LED fascia so that it can also sport the corporate colour. Or go that bit further, order a totally bespoke bar that carries the company logo itself and get branded cocktail glasses. Add the theatre of incredibly talented flair bartenders and you have a real wow factor for your event and no one will be in any doubt about why they are there.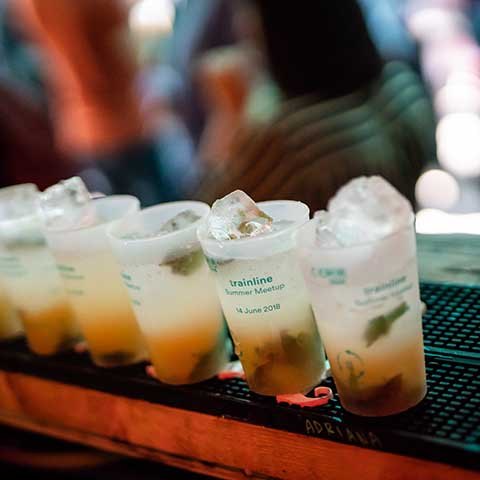 Mix it up even more with molecular mixology
Mixologists have become much more experimental of late and are now really pushing the envelope. Science has entered the world of cocktails and we now have gels, jellies, sorbets, foams and smoke as mixologists borrow techniques such as spherification and smoking popularised by chefs ­- think Heston Blumenthal and his quest to make food an experience in the truest sense. Molecular mixology has further opened up the options when it comes to corporate events. These clever techniques can be used to add impact and theatre and bespoke cocktails created to convey the all-important corporate colours.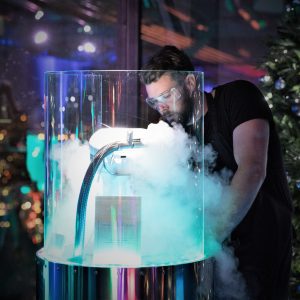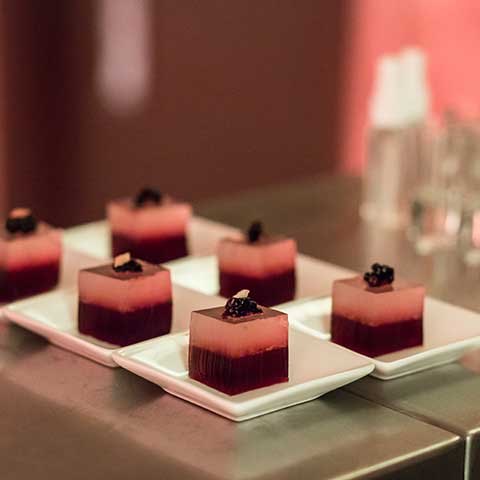 Planning a corporate cocktail party? Give us a call on 01932 223333 to find out how we can help bring your brand to life!