The recent hot weather has got us thinking that the only things missing are a sunset over a beautifully calm ocean, a cocktail or two and some really cool music. Yes, we're thinking Ibiza. It's also making us think just how good Ibiza is as a party theme. We've worked on a number of Ibiza style parties for clients, from the current clubbing generation celebrating 18th and 21st birthdays to those who experienced Acid House, the Rave scene and Techno the first time around and want to party like it was the 90s all over again.
Whether you've sampled Ibiza's vibrant nightlife or not, everyone knows that the island plays host to some of the coolest summer parties ever, commanding the best DJs and music producers on the circuit – from Paul Oakenfold to David Guetta. Clubs such as Pacha and Amnesia have a reputation for truly extravagant and sophisticated events, which attract lots of celebrity guests, and then there's Ibiza Rocks, a live music event which has attracted bands such as Arctic Monkeys and The Prodigy.
Essential ingredients for an Ibiza style party
So how can you create your own mini Ibiza style party at home or in a venue? Well, like any themed party it's all to do with attention to detail. Lighting plays a huge role in creating an authentic atmosphere and giving your party an exciting vibe. Our lighting designers and technicians know how to transform the most modest space into something sophisticated and vibrant. Colour and moving lights, which can be synchronised with the music, work well. Add LED laser beams for an even more authentic feel.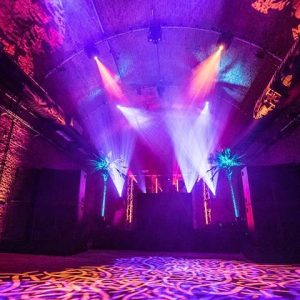 Illuminated poseur tables and cube seating are great for creating a nightclub look and you'll obviously need an ultra-cool dancefloor – how about an illuminated one! The choice of music is, of course, integral to creating the Ibiza spirit – talk to your DJ who will undoubtedly embrace the thought of playing Pacha, even if it is in Surrey, Berkshire or London! And if you want to go totally hedonistic and extravagant, add some extra entertainment to really make a statement. Burlesque dancers, LED dancers and circus performers have become a staple of events such as Matinee, held at Amnesia, and would certainly add a big wow factor to your party.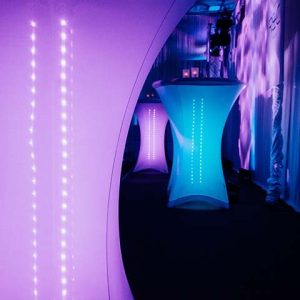 Don't forget to chill out!
Even the most energetic ravers amongst your guests will need to take a breather every now and then. So do make sure you have a chill-out area set up, somewhere that is a little quieter with comfortable sofas to relax in. If your event is in the middle of summer, you could even move the chill-out area outside and use rattan furniture, lighting the area with lanterns and candles.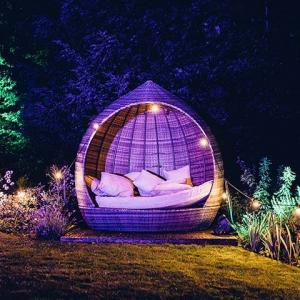 Want to have some cheesy fun with your Ibiza style party?
Then think Wham! and the perfect pop hit of 1983 that is Club Tropicana. The video features scenes filmed at Pikes, one of Ibiza's most iconic hotels and a favourite amongst the rich and famous. This would be ideal if you have an outdoor swimming pool at your disposal. Throw in some inflatables, add some immaculately coiffed hair (just say yes to backcombing!), serve cocktails with paper umbrellas, ask your DJ to play back-to-back Duran Duran and Spandau Ballet, and you have a vintage 80s Ibiza pool party!
If you're planning an Ibiza style party, why not contact us to find out how we can help create an amazing event!