Organisations are becoming increasingly aware of the growing importance of staff engagement in a post-pandemic world. This article explores the important role of corporate events in increasing staff engagement and well-being for greater success.
Staff engagement has never been more important since the onset of the pandemic. Staff are increasingly prioritising their health and well-being as well as seeking a greater sense of purpose from their work.
This newfound perspective is forcing companies to take the issue of staff engagement more seriously and to explore new ways in which they can engage and motivate staff at work.
Organisations who are successful in achieving this can enjoy a happier, more productive and loyal workforce who all strive towards the same vision and ultimately, contribute to the company's success.
In fact, the correlation is quite stark according to a report by Gallup – an analytics and advisory company – which states that companies that scored the highest on staff engagement showed 21% more profit. And companies with highly engaged employees scored 17% higher on productivity.
The converse is also true – if the issue of staff engagement isn't taken seriously, employers can expect dissatisfaction amongst their workforce, resulting in poor staff morale, lower productivity and higher rates of absenteeism – all of which will negatively impact reputation, profitability and success.
According to Gallup's recent State of the Global Workplace report, only 15% of employees worldwide are engaged in the workplace, and so clearly this is a matter of concern to employers on a global scale.
Consequently, employers are always looking for ways in which they can resolve the issue of poor staff engagement. Whilst there are a number of different initiatives that can be implemented to help this issue, organisations shouldn't overlook the important role that internal staff events can play in helping to address this issue.
Indeed, when internal events are planned with a clear vision and executed well, they can be a powerful tool to energise, inspire and motivate staff. Bringing different teams together not only improves communication but also fosters a sense of togetherness and enhances staff well-being.
In order to create events that increase employee satisfaction and engagement, you should think about all aspects of the event, from the invitations, venue and decor to content delivery, use of technology as well as the food and drink provided.
Thinking about all the ways in which you can design and deliver a captivating event not only increases staff engagement but also achieves the objectives of the organisation is absolutely key to its success.
Here we'll discuss some of the ways in which you can make sure your next internal event is a success.
Staff engagement begins with great pre-event planning & marketing
A great place to start before planning your event is by conducting a pre-event survey where staff can share some ideas about what they would like to see at the event. This can help increase staff engagement right from the outset; if they are involved in designing the event, they are more likely to attend and contribute to it.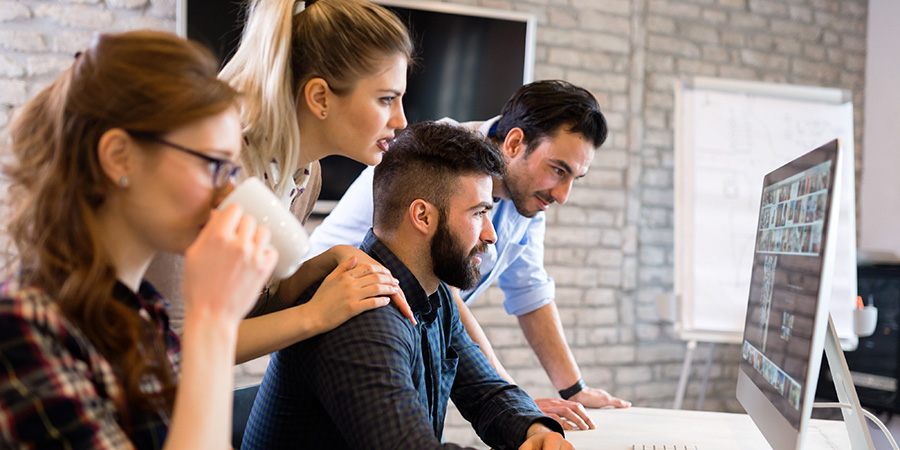 The event marketing that follows on from this is also really important in terms of getting buy-in from staff. For example, great digital invitations and eye-catching promotional videos/printed material can help to build anticipation and excitement for things to come.
Where possible, try and match your material to the overall feel and theme of your event. For example, if your event is designed to be fun and interactive, make sure your promotional material reflects this.
Content delivery
Content delivery is a critical part of any event and can hugely affect the uptake of information. For instance, boring PowerPoint presentations and an endless roster of speakers are likely to disengage the audience quickly.
However, presenters who are good at using a story-based framework to convey their message will find that staff are far more likely to be receptive to it.
Moreover, adding interactive elements to your event is a great way to capture the attention of your audience – and there are many ways in which you can do this. For example, you can turn one-way presentations into interesting conversations with live polls, word clouds and surveys.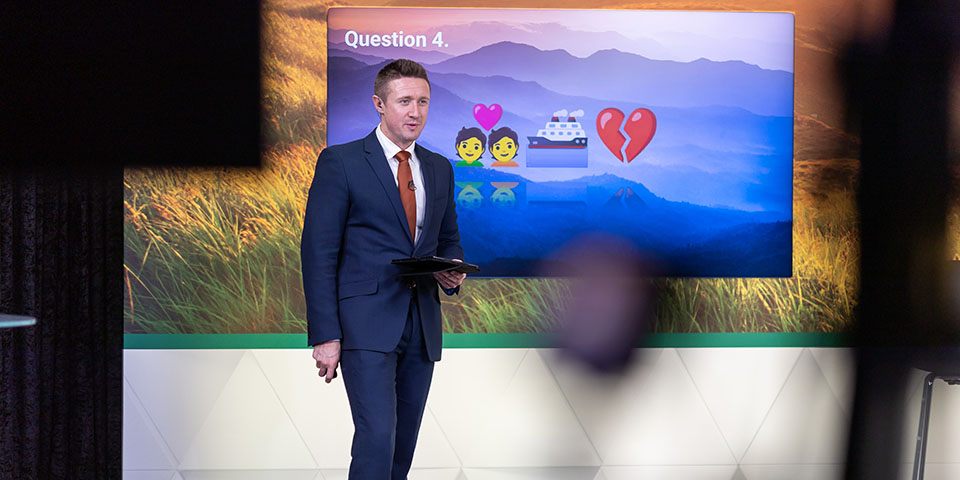 Speakers love to interact with their audience and live polls give them an opportunity to find out what people are thinking, whilst audience Q&A sessions give everyone an equal chance to ask questions (which is great for those who are a little reluctant to speak up).
Moreover, they can ask anonymously as well as upvote questions which help bring to light topics that might have been missed using traditional methods of asking the audience questions.
Quizzes are also a great addition to your event to make it more fun and interactive, as well as to test the knowledge of your guests. This is especially good for training events to test how much information has been absorbed by staff.
Ultimately, content must be delivered in a way that makes people want to watch, listen, and participate so that key messages aren't lost.
Use of technology
Adding an immersive element to your event through audio-visual technology is a fantastic way to increase staff engagement and create a more memorable experience. Moreover, staff are more likely to learn (and retain) information that has been presented in an immersive context.
For example, using gamification technology to increase audience participation via an app is a fantastic way to get people excited and more involved with your event.
Participants earn points by answering questions and completing challenges, which then show up on a leaderboard in the app. This simple yet innovative idea introduces a fun and competitive element to your event which is guaranteed to increase staff engagement.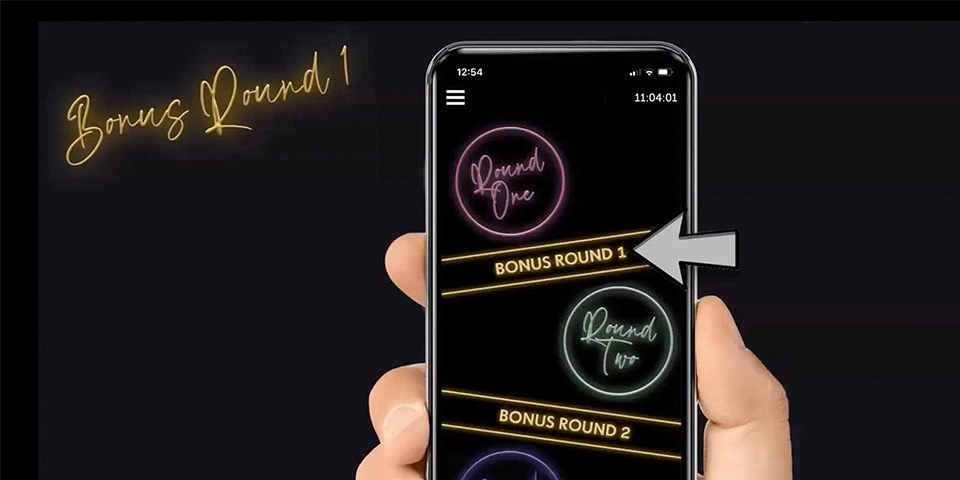 If you're planning a huge event with lots of different areas for attendees to explore, specialist apps are available to help guests find their way around. This allows guests to make the most of what your event has to offer instead of wasting time trying to navigate a large venue.
And if you want to bring everything together then fully customised and branded event apps are the way to go. You can have everything from personalised agendas, attendee networking, and interactive networking to document libraries and real-time updates all from the palm of your hand.
Don't forget staff who can't attend in person by live streaming of the event to enable them to participate remotely.
Indeed, with the rise of hybrid and remote working, there's an even greater need to engage staff using technology that can enhance the remote working experience. For example, virtual whiteboards are excellent tools for sharing ideas, brainstorming and bringing people together just as if you were in the same room.
Virtual events that feature a lot of speakers can make use of virtual greenrooms which essentially enable every speaker to communicate with technical teams and other presenters before going live.
This allows them to feel comfortable, confident and fully prepared to deliver their presentation without having to worry about their camera or microphone working correctly, or pressing the right buttons when it's their turn to talk.
Promoting staff well-being
As discussed, internal events play an important role in helping to increase staff engagement, foster closer working relationships and boosting morale amongst employees. As such, the promotion of staff well-being at your actual event shouldn't be an afterthought.
Simple gestures such as a relaxed event schedule, delicious, fun and energising food, relaxation sessions and a comfortable venue can go a long way to helping attendees feel well taken care of. Goodie bags are a nice finishing touch as they leave your event.
Event feedback
Gathering live feedback from attendees whilst they are still part of the experience is a great way to get insights into how they really feel about your event. "Our live response tools significantly improve audience participation which is key to collecting data that can be used in a meaningful way", explains Walker.
As we have mentioned, customised event apps are not only a fantastic way for attendees to get the most out of your event, but also provide rich data and analytics (collected during the event) that can help you assess audience engagement and overall event performance. You can see exactly which elements of your event were more engaging thus giving crucial insights for future events.
More importantly, open communication must continue with staff after the event has taken place so they feel it was worth their time attending. For example, any changes in workplace policies and processes as a direct result of staff feedback will help them feel heard and valued and more likely to engage in future events.
Conclusion
Staff engagement and well-being, with their links to company productivity and profits, must always be at the heart of every internal event; there's no point in organising an event for staff if their needs aren't prioritised.
This applies whether you're planning a large scale conference, summer party or intimate team-building event.
Moreover, managing expectations – of both staff and company leaders – is also something that needs to be considered – especially if the event is celebrating an important milestone and/or has a considerable budget attached to it.
So if you're planning an important event in the corporate calendar, consider working with a specialist events management company that can bring years of experience as well as a valuable outside perspective to your event.
To find out how MGN events can help you to create an engaging employee event, contact our team either via the form below, on 01932 22 33 33 or by email hello@mgnevents.co.uk