Running low on drinks before the night is over is every party host's worst nightmare. Unless you're hiring a venue which incorporates a bar, you'll need to consider how much drink you need to buy. There's a fine line between keeping your guests' glasses topped up, and overspending and wasting drinks. As one of the UK's leading party planners, here are a few handy tips for striking the perfect balance when it comes to your party beverages.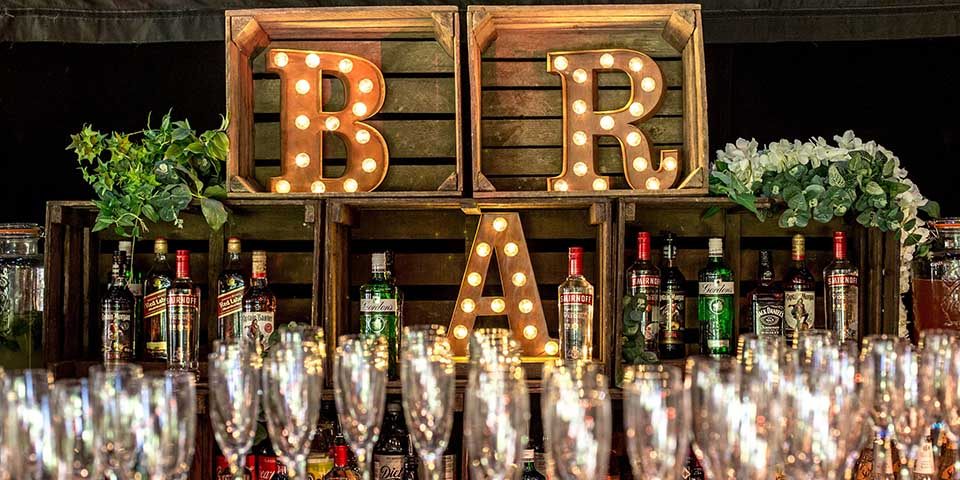 Hand over the hassle?
If you're hosting a large celebration, consider letting someone else deal with the drinks. Selecting a venue with a bar means you won't have to think about it at all! For parties in other venues, such as a marquee or even your home, there are plenty of options for mobile bar hire. You can hire just the physical bar and stock it yourself or go for a full package including equipment, drinks and staff. Opting for an all-inclusive bar might take a bit more from your budget than purchasing and serving drinks yourself, but plenty of people consider it worth the cost for such an all-important aspect of any good party.
Variety is the spice of life!
Make sure you've got a good choice of both alcoholic and soft drinks. Deciding on the right mix depends on the type of event and who will be attending. For daytime celebrations or parties with children present, stock up on fruit juice and soft drinks. Events which include a sit-down meal as part of the proceedings will require wine on the tables, whereas a fabulous drinks party, product launch or networking event may call for champagne!
If you're managing the drinks yourself, it pays to keep things simple, so consider selecting one red, one white and one sparkling wine, one type of beer, one or two spirits and simple soft drink offerings. Consider pre-mixing a punch or cocktail you could serve as an exciting signature drink.
How much is too much?
When planning your shopping, think about which drinks will be the most popular options and make sure you have plenty of those available. If your celebration more about elegance and sophistication, wine and champagne will be the order of the day! Are you emphasising the fun factor with your festivities? Choose colourful cocktails to impress your attendees.
As a general guide, guests are likely to need two drinks during the first hour of the party and then one drink each hour after that. Some will drink more than this, especially if you're offering a free bar, but some will drink less and average it out. When shopping for your drinks, work out how many servings you'll get from a bottle – you can pour six small glasses of wine from a standard 750ml bottle – and purchase accordingly, allowing a margin for safety.
If you're worried about running out of drinks but don't want to leave yourself with too many leftovers, arrange a sale or return agreement with your beverage retailer. Many places offer this service; you can have a generous supply of drinks and get a refund for any unopened bottles.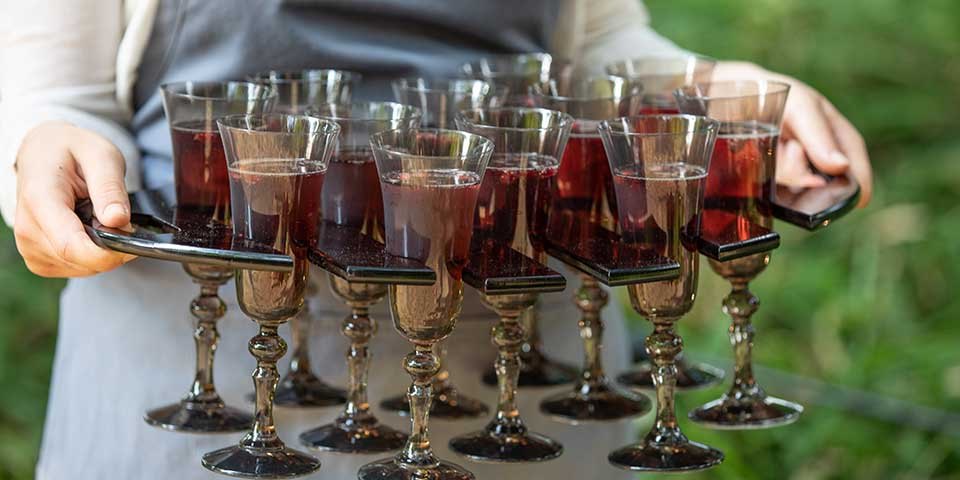 Top tips to keep the drinks flowing:
A large drinks dispenser for punch or a signature cocktail can make an eye-catching centrepiece for your bar. Guests can serve themselves or your bartender can quickly and easily dispense multiple drinks.
Whether you're using real glasses or disposables, plan on your guests needing more than one! People often put down glasses as they're mingling or change what they're drinking during the evening. The last thing you want to be spending your time doing is washing up!
Have plenty of ice available. Ideally, you'll have a fridge on hand to store drinks until they're needed, but if not, keeping them cool is key!
Don't open everything at once! Especially important if you've bought your alcohol on sale or return, no party host wants to be stuck with lots of half-used bottles of wine.
Make sure you have access to drinking water. Provide jugs of water on the tables if you're serving a meal, or offer bottled mineral water if tap water is not suitable.
Every party or celebration is different, and your beverage needs will vary depending on your specific mix of guests and the style of your event. It's always better to have too much than for the bar to run dry mid-party, so best to stock up!