Read time: 3 to 5 minutes
Key takeaways:
— Why a people-centric culture is critical to every organisation's success
— How technology can support people, purpose and culture and foster positive employee experiences
— 5 creative, effective ways to use technology to spur on staff engagement and measure feedback and satisfaction
If culture eats strategy for breakfast, as Peter Drucker suggested, then technology is the tableware.
Shortly before he died in 2005, Austrian-American Peter Drucker was celebrated by BusinessWeek as "the man who invented management." One of Drucker's most admired views remains that a leader is just one of many voices around the table, not the only voice.
Sharing Drucker's opinion on the importance of culture and having a deep respect for all those voices, Sir Richard Branson is heavily invested in putting people first. It's this approach to culture that's often credited for Virgin's pull as one of the world's most desirable places to work.
People, culture and technology
Today's most forward-looking companies all actively revolve around their people, and their culture aligns around a cause, a purpose. They focus on staff recognition, involvement, wellbeing, exceptional life experiences, and ensuring people feel their contributions matter. These are the cultural cornerstones of engaged loyal staff, operational brilliance and performance excellence.
And to create this type of people-first culture, organisations need to have multiple points of connection to their staff. These might include events that celebrate, recognise and reward, group gatherings that stimulate and involve, virtual and in-person conversations that involve sharing and deep listening or nudges and formal feedback opportunities that gather staff preferences and feelings.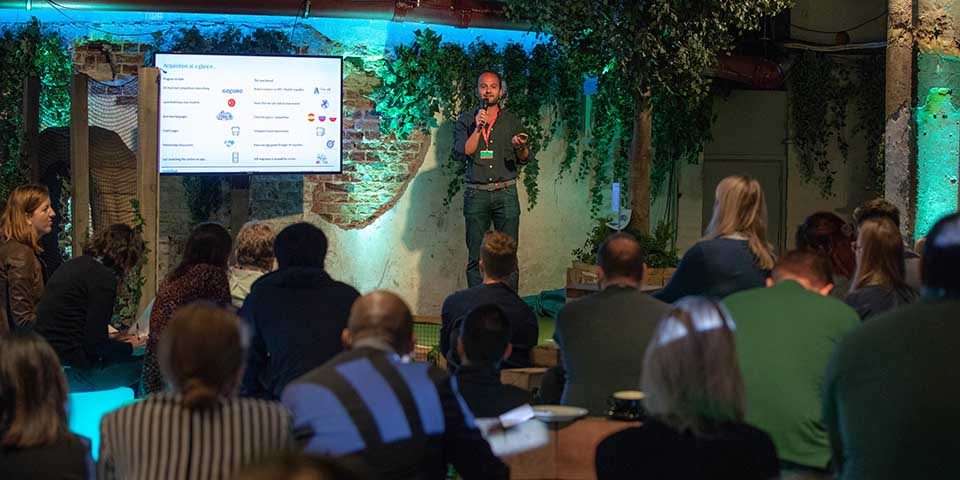 Technology plays a vital role in all these activities. But the Microsoft Work Trend Index 2021 reported that 41% of employees globally are thinking about handing in their notice, with a significant proportion blaming 'digital burnout' and no longer feeling connected to their peers, the wider company and its purpose.
So, this poses a dilemma, and the big questions are:
How do you use technology in a way that supports a people-centric culture, spurs on staff engagement and fosters a positive experience?
How can you gather and measure staff sentiment, satisfaction and engagement?
Digital engagement tools for internal events
Digital tools are critical to today's internal events and your overall cultural mission. Whether you're a leader with staff engagement and sentiment on your scorecard, a human resource professional focused on making inclusion and equity part of the social fabric of your organisation, or an internal events manager planning an event or employee activity.
When it comes to virtual, in-person or hybrid events for example, planners need to bake technology solutions into their planning from the outset. For instance, at the point you identify your event objectives, there are tech solutions available that are designed to reflect your culture, the event and atmosphere you're trying to create, and the outcome you're looking to achieve.
You can get more guidance for creating successful internal events that support employee well-being in our 5 step framework for event success.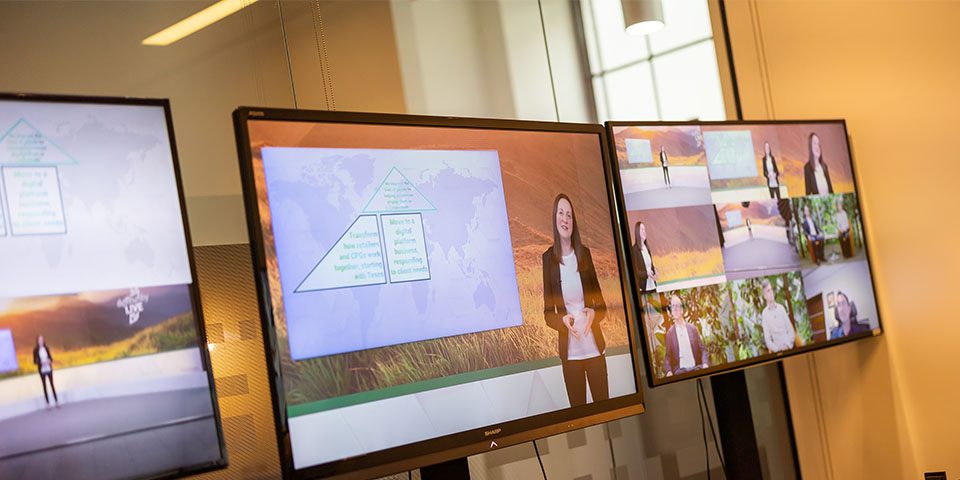 5 ways technology can measure employee engagement and sentiment
Here are 5 ways technology can help improve culture, spark employee engagement and measure feelings and opinions at events and employee touchpoints:
1. Use a customised event app
…and wraparound communications to help make your people feel valued and involved.
MGN events offer event app solutions that can be tailored to your organisation's branding and customised to the event schedule. The app enables a personalised event agenda, real-time updates and push notifications, networking scheduling via private message or group chats via an activity feed or discussion board.
These features help support your overarching event objectives. For instance, seeing real-time comments and updates from peers can mean employees are more likely to engage with each other, share their thoughts and keep up to date with announcements — all in the palm of their hand.
Solution: The event app. Talk to a member of our team to find out more
2. Include interactive participation, quizzes and live event polling
…to measure engagement, satisfaction and to help your people feel like they're at the centre of the action and the conversation.
Speakers and event organisers can use MGN's live polling tool to gather valuable insights to capture important feedback as well as to inform the discussion. This type of activity shows deep listening, which enables leaders to analyse the results and report back with their findings and the actions they're going to take as a result.
Alternatively, organisers and speakers can use the built-in analytics to get real-time results and spark immediate and dynamic, open communication and ideation.
Planners can also use the tool ahead of time to help shape the event or touchpoint agenda or to reveal poll results and opinions at just the right time during a presentation. Interactive quizzes add another dimension to meetings, from formal all-company meetings and training to informal sessions and sociable networking.
Solution: The live polling tool. Speak to one of our experts for more information.

3. Spur on healthy competition
…and drive engagement through gamification to add yet another dimension to events, campaigns, and multiple other social connections with your people.
At MGN events, we have seen first-hand how gamification can quickly get more people involved and hold their interest over time.
The gamified challenges can be customised around your event objectives to achieve high-level goals. And if there is a tantalising prize or incentive in sight for participants, so much the better.
Solution: The gamification app. Find out more about gamification for events.
4. Use a variety of tools in online jam sessions
…to promote the exchange of ideas and keep those working at a distance engaged, connected and focused.
For instance, MGN's community focused app enables real-time connectivity before, during and after events so people can share documents, chat, access virtual meetings and receive and give feedback. It's a great way of keeping people connected over distance, breaking down silos and building strong social ties.
Tools like wordclouds or Twitter walls are also great for ensuring that you capitalise on the energy from brainstorming or 'jam sessions', providing breakouts that allow the introverts as well as the extroverts in the organisation to get involved and share their input in a safe, organised way.
MGN are firm believers in giving people psychologically safe spaces where they can share their views, help drive innovation and feel like their contributions matter.
Solution: The community app; collaboration tools such as wordclouds. Talk to us to find the best solution for your events.
5. Give speakers a virtual green room and stream your sessions live
…helps bring far-flung teams into the room and into the action in a calm, structured way.
The green room gives presenters and speakers a behind-the-scenes digital space for last-minute mental prep as well as tech checks.
Recording your sessions means that you can make all-employee meetings or learning opportunities available on-demand as well, perfect for things like product demonstrations, training and proposition walkthroughs.
Solution: Live streaming tools. Discuss live streaming options with one of our specialists.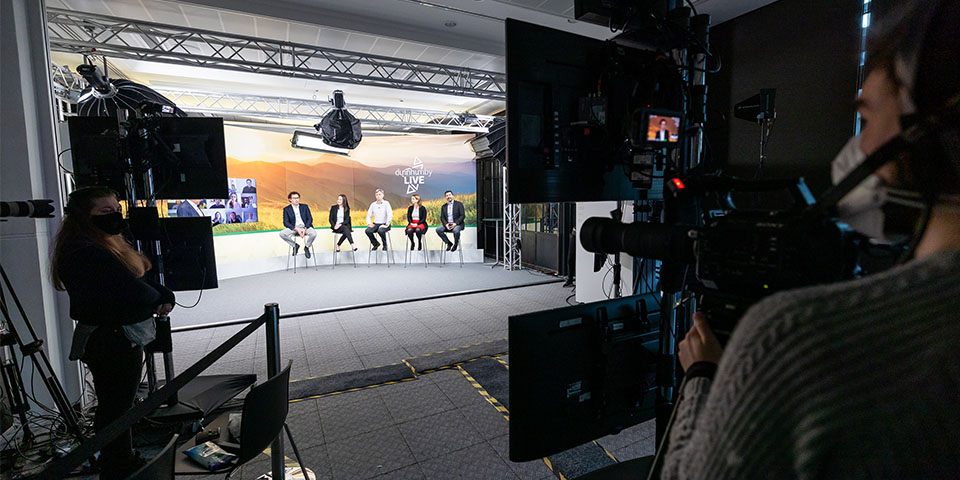 Conclusion: Technology and people-first culture
For Peter Drucker, who focused his business management discipline on "people and power; on values [and] structure", technology would undoubtedly be the power behind his people-centric mission to help strengthen organisations.
Get more tech inspiration for your next live event, broadcast, webinar, virtual or hybrid event or contact our team via the form below, on 01932 22 33 33 or by email hello@mgnevents.co.uk to find out how MGN events can help you to create a people-first culture, and improve employee well-being at your next event.
Further reading: 
How to improve staff well-being through corporate events: A 5-step framework for success
6 Reasons every company should have a hybrid employee event strategy
How to personalise your employee event
Sources:
https://www.drucker.institute/perspective/about-peter-drucker/
https://www.forbes.com/sites/pavelkrapivin/2018/07/09/sir-richard-bransons-5-billion-reasons-to-make-your-employees-candidates-happy/?sh=7f646f367100
https://www.weforum.org/agenda/2021/06/remote-workers-burnout-covid-microsoft-survey/
https://emtemp.gcom.cloud/ngw/globalassets/en/human-resources/documents/trends/reinvent-your-evp-for-a-postpandemic-workforce.pdf
https://www.drucker.institute/perspective/about-peter-drucker/