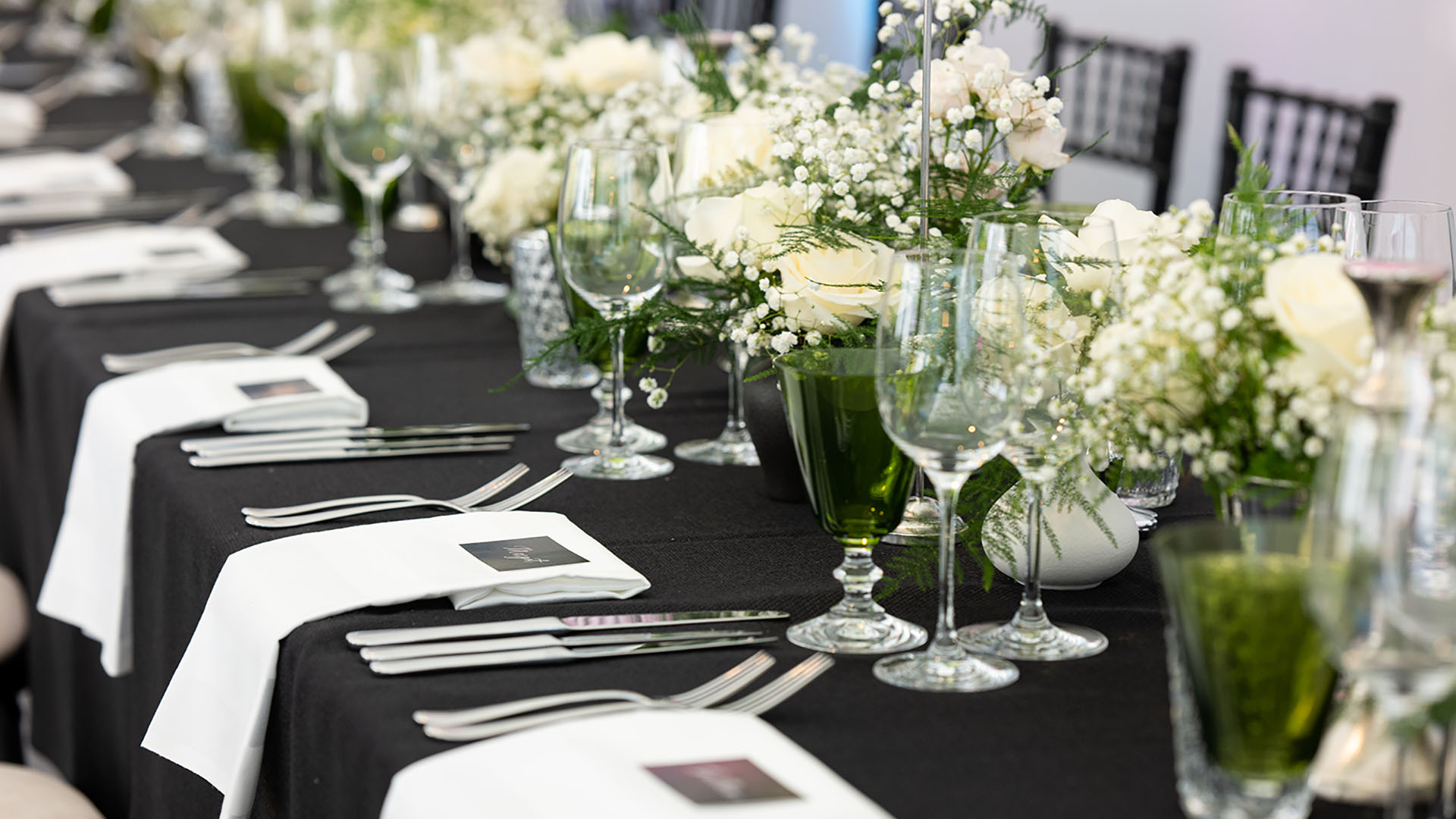 The ultimate in sophistication for an 18th birthday and graduation party in Cobham
Our client asked us to plan and organise a very special celebration for their daughter. Not only would she be turning 18, they also wanted to mark her graduation from school, having completed an International Baccalaureate Diploma.
We took inspiration from all things chic and Chanel to create a super-stylish event for 80 guests. Held in the grounds of our client's home in an exclusive area of Cobham, Surrey, a combination of two stretch tents with a smaller one in between made maximum use of the garden space.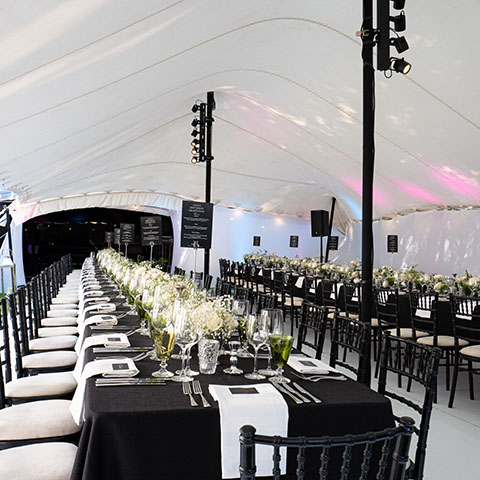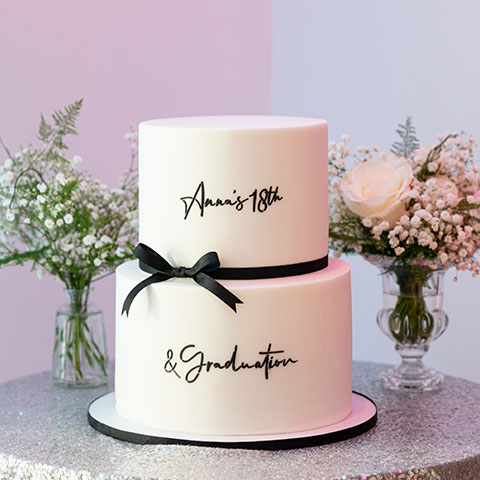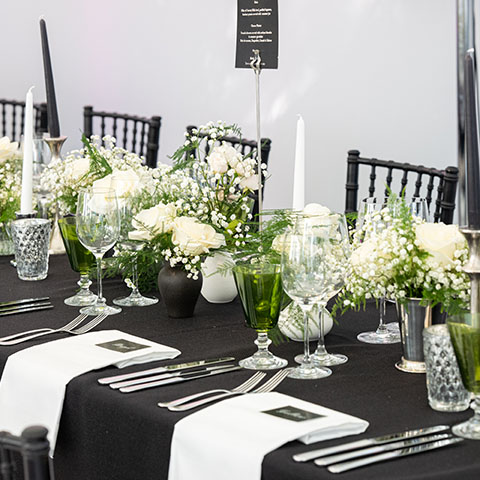 The theme was based on a monochromatic colour palette, which was reflected in the tents themselves. The dining tent was white, open on two sides and the floor covered in white carpet. Two long rows of tables were dressed with alternating black and white tablecloths and beautiful floral displays of white roses, dahlias, hydrangea and baby's breath. The table settings included elegant glass and silverware, candles, bespoke name cards and menus and crisp white napkins and looked stunning, and black chairs with white seatpads completed the look. The other stretch tent, which was black, created an altogether different atmosphere for after-dinner entertainment, with a mirror bar, poseur tables, DJ booth, dance floor and casino tables. Parts of our client's home were also incorporated into the party space, including an indoor swimming pool that was opened up and dressed with floating and hanging silver and black balloons.
As guests arrived champagne and Pimm's were served, along with a variety of delicious canapés. During the welcome reception a close-up magician wandered amongst the guests and baffled everyone with incredible tricks and a saxophonist played laidback tunes, which created a lovely atmosphere.
Invited to take their seats for a three-course dinner, guests enjoyed a starter of burrata, heritage tomatoes, grelot onions, basil, balsamic caviar and focaccia, followed by fillet of Surrey Hills beef with podded legumes, fondant potato and summer jus. A cheese platter of Brie, Roquefort, Gruyere and goats' cheese was served instead of dessert. During the meal a loop of family photos were displayed on a large format TV screen and we also
installed a PA system so that everyone could clearly hear the speeches.
As befits a very special double celebration, we arranged a beautiful cake for the young lady of the moment – a two-tier black and white cake, one tier with a rich and indulgent chocolate buttercream filling, the other red velvet cake with vanilla bean buttercream filling.
As night fell our lighting scheme transformed the space. We used pinspots to highlight key elements, along with uplighters and wash lights to add colour to the exterior of the house and trees in the garden. Moving into the club tent, guests could enjoy dancing during the DJ's club session or try their hand at blackjack and roulette. We also installed a number of arcade games, including a pinball machine and air hockey, in the house where
guests could also chat, relax and chill out.
The drinks flowed throughout the party. As well as Pimm's, champagne and wine, cocktails were available – mojito, espresso martini, cosmopolitan and pornstar martini – and served by flair waiters from the mirrored bar. There was also a whisky and cigar corner. A sweetie table in the club tent proved popular and, later in the evening, stone- baked pizzas were served to help keep energy levels high. Still partying at midnight, masks, hats and whistles were handed out for yet more celebrating.