Halloween has become a much bigger event in the UK over the last 10-20 years, with the American tradition of 'trick or treating' well and truly established. Along with it, so many households have responded, putting out pumpkins, turning front gardens into haunted cemeteries or dangling witches on broomsticks from the roof. And why spend all that time entertaining the children that come knocking? Why should kids have all the fun? Why not use it as an excellent excuse to get your besties round for a full-on Halloween dinner party!
Our top tips to up your Halloween dinner party game
So here are our top six tips for how to make your Halloween dinner party eerily elegant:
1. Dressing up is a must!
Whether you want a sophisticated gathering of guests taking inspiration from Morticia and Gomez Addams or are planning a Monster Mash of skeletons, mummies, witches and warlocks, a Halloween dinner party absolutely demands that guests come in costume. Remember to make the dress code clear on the invite!
2. Create a spooky party space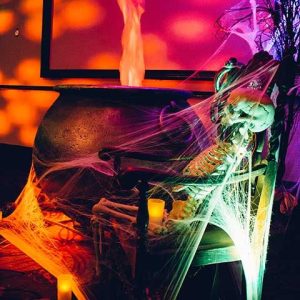 There are so many Halloween dinner party props available both online and on the high street and it couldn't be easier to decorate the space. Again, you can go cheesy – with inflatable skeletons, fake spiders and webs – or you might prefer to add a touch of class, dressing the room with swathes of velvet in autumnal colours as well as orange and black. Whatever atmosphere you want to create, we think that it would be criminal to not use pumpkins (carved faces optional!). The dinner table will obviously be a focal point of the evening so think about how you can make it look impressive – props such as candelabra, skulls, maybe a stuffed crow or two, even the choice of table linen will make a huge difference.
3. Lighting is essential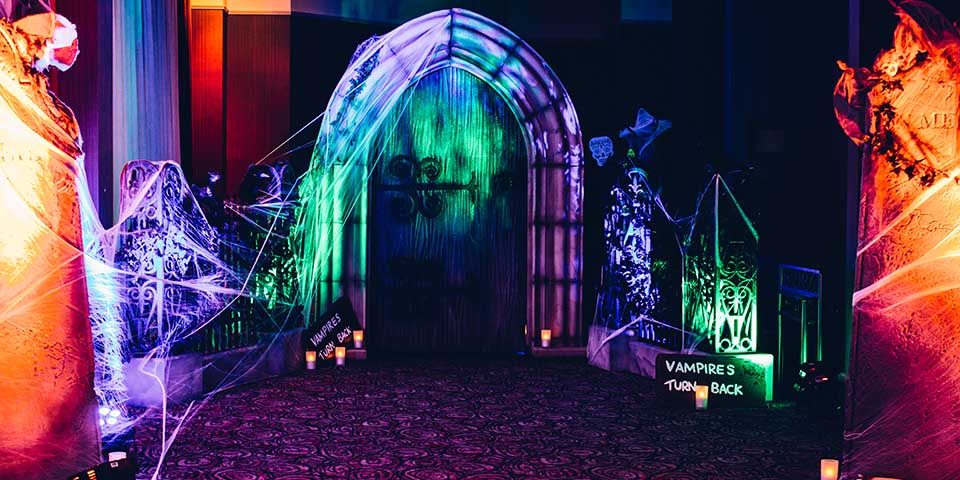 Keep the lighting low with flickering tea lights and candles. Uplighters and colour wash lighting adds to the atmosphere and can be designed to complement your colour scheme – how about touches of lurid green or flickering reds and orange that will conjure up the idea of flames.
4. Be playful with the food
How about pumpkin soup for starters, complete with a spider's web decoration using cream – it might take a bit of practice to perfect the web effect but will look brilliant! Dips look great served in hollowed out squashes. And for the main course, how about chicken skewers, pumpkin risotto or squash ravioli, and sides using seasonal produce such as beetroot and wild mushrooms.
5. Follow the theme through with drinks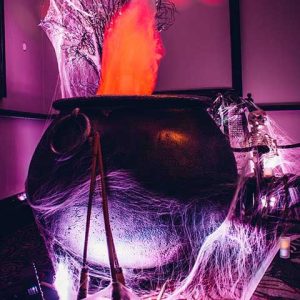 This might be as simple as adding a little food colouring to drinks or serving them in ghoulish goblets. You could make a punch and present it in a cauldron – a true witch's brew – or serve blood-red shots in syringes (no needles, please)! If you're planning to serve cocktails, there are all kinds of tricks to add a real wow factor. Just imagine presenting your guests with smoking cocktails that could have come straight from a mad professor's lab!
6. Games are a ghoulishly good idea
Apple bobbing is fun however old you are and you could, of course, have your own version of Trick or Treat. If you want to go less traditional, how about creating a horror movie trivia quiz? Simple games for around the table include the blinking game, where one guest tries to 'murder' others with a sly blink of the eye. Or get everyone taking turns to create a spooky Halloween tale – where it goes and how it ends is totally dependent on the imagination of each guest.
Need some help with your Halloween dinner party?
We are masters of the macabre and like nothing more than opening up our bag of terrifying tricks to create a haunting Halloween dinner party experience that your guests will remember for all eternity! Why not contact us to find out how we can help create an amazing event?