Welcome to our high-end big birthday inspiration and planning guide. Read through the entire article, or click on any of the links below to navigate to the sections that are of most interest to you.
Foreword:
Find inspiration for your celebration
Get your party planning started
Celebrate your milestone moment
Your path to an unforgettable celebration
Foreword
Crafting Luxury Experiences
Hosting a big birthday event is the perfect way to celebrate a fulfilling life and to capture a meaningful moment with those you hold dear. The vibrancy, the emotions, the meticulous details — celebrating a milestone birthday, whether it's a 21st, a 50th, 60th or an 80th, is a chance to create an extraordinary experience that leaves you and your guests with incredible memories and stories to tell.
Marking a milestone age or planning a big birthday celebration demands top-tier quality, exclusivity, craftsmanship and bespoke attention to detail. To design and plan high-end big birthday experiences requires a deep understanding of your unique interests, views, and needs. In this guide, we delve into the world of upscale birthday event planning and provide insights that will ignite creativity and result in exceptional and immersive celebratory experiences.
Mike Walker, Managing Director, MGN events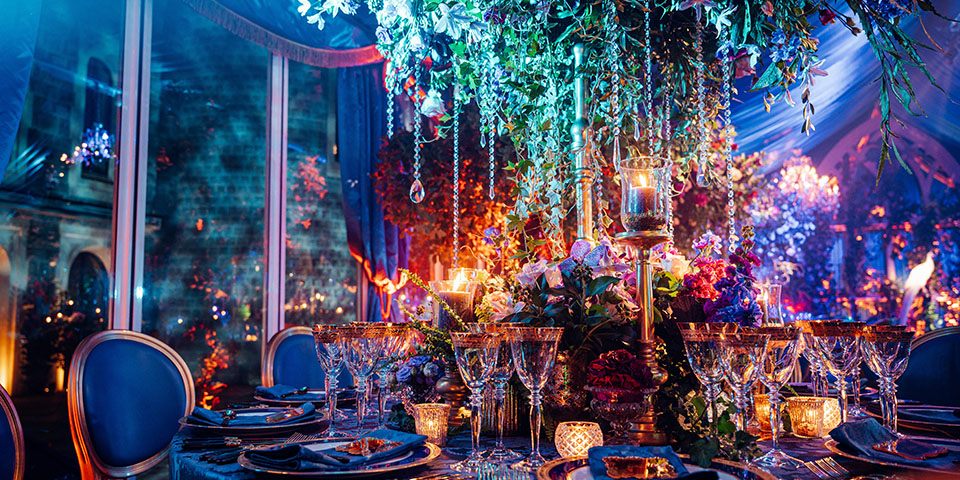 Find inspiration for your celebration
Inspirational, exclusive, and bespoke big birthday celebration ideas
Whether you're following the British monarch's tradition of celebrating twice a year, opting for spring and winter birthday celebrations like Paddington Bear, or simply sticking with a single event, creating a memorable milestone birthday is a special art.1
We're here to inspire you every step of the way. Here are 5 exceptional ideas that never fall out of favour:
1. A classy black-tie soiree or gala with unforgettable entertainment
Think: A luxurious at-home black-tie soiree where you host over 100 distinguished guests at a gala-style affair featuring high-ticket entertainment. It's an event reminiscent of one of Oprah Winfrey's several celebrations held in honour of her 50th birthday. As you step into your exquisite bespoke marquee or beautifully styled estate home, you're serenaded by a musical superstar or an exceptional quality cover band. To ensure impeccable service, a team of a hundred waiters cater to your guests every need. The atmosphere is so enchanting that even the staircases are lined with talented musicians or entertainers. Your big birthday celebration exudes class and grandeur in every detail.2
Picture gallery inspiration:
50th birthday party marquee – MGN events
Sophisticated 18th Birthday & Graduation party – MGN events
Black and White themed 40th birthday party – MGN events
2. A floral-themed party with infinite creativity
Amid a profusion of fresh blooms, an array of creative activities and entertainment awaits, from crafting your own floral arrangements or headpieces to mixing your own botanical-inspired drinks or watching a live plating. The means to breathe life into a floral or garden-themed celebration are limitless. Embrace free-spirited boho vibes, summon the yesteryear nostalgia of boaters and brass bands, or infuse your event with your personalised interpretation of a garden fantasy. Regardless of your age, a venue bursting with fresh foliage and flowers always provides a breathtaking setting for a big birthday celebration that's as distinctive as you.
Picture gallery inspiration
Club Tropicana 60th birthday party in Farnham
Garden themed 21st birthday
Reception at home in Richmond, Surrey
3. A literary or cinematic inspired big birthday
Step into a world of fantasy plucked straight from the pages of a beloved novel, poem, or timeless film. Become the central protagonist in a much-loved literary or cinematic masterpiece. The possibilities for indulgent themed treats and immersive entertainment are boundless, all set in an environment that seamlessly combines elegance and whimsy. This experience is a dream come true for anyone with a passion for the worlds created by giants such as Jane Austen, Virginia Woolf, Edgar Allen Poe, Quentin Tarantino, Shakespeare, Jules Verne, JRR Tolkien, Tim Burton, Ian Flemming, JK Rowling or JM Barrie. Who could resist transforming their house extension marquee into Narnia or their swimming pool into the Mermaids' Lagoon?
Picture gallery inspiration
A Midsummer Night's Dream birthday party
Bond themed 60th party in Hampshire
Stepping into Narnia for an incredible party
Joint 18th & 21st Bollywood party
Tarantino-inspired 40th birthday party
4. An immersive birthday dinner with theatrical touches
For those who appreciate the charm of more intimate gatherings, consider a six-course culinary voyage that traverses the globe, featuring 3D projection and storytelling that whisks diners away to far-flung destinations. Host this unique big birthday experience at home or in an exclusive venue, with captivating entertainment between courses, from a Chinese fan dancer to an Indian drummer or a mesmerising belly dancer. This is more than dining; it's a multi-sensory fusion of theatre, fine cuisine, music, and great company.
Picture gallery inspiration
Transforming a birthday party into an immersive dinner
Immersive must-haves for modern and exclusive social events
5. An open-air affair in lush gardens or expansive grounds
Picture an open-air, day-to-night celebration in lush gardens or vast grounds. Tipi tents in various sizes await, ready to create a sheltered haven, or opt for a rustic barn adorned with lanterns and bunting. Guests can enjoy al fresco dining with outdoor tables and chairs, while circus acts, and stilt walkers add whimsy. In the twilight, enjoy the enchanting glow of festoon lighting and live music. As night falls, gather around a cosy firepit, framed by Moroccan-style lanterns and colourful rugs, offering a magical and memorable garden experience.
Picture gallery inspiration
Rock'n'Roll Circus Comes to Stratford-upon-Avon
Celebrating an 18th, 21st and 50th birthday in 1 party
Summertime in Cobham and the Partying is Easy
40th Ibiza themed party
Let these ideas spark your creativity for your upcoming milestone celebration or big birthday event.
What makes a big birthday event memorable?
Transcending the ordinary.
We all long for those moments when life transcends the ordinary. When you craft and customise an event such as a milestone birthday party to create an extraordinary experience, you're essentially building a treasure trove of incredible stories. And as they say, 'incredible stories are the enduring luxury'.3
Immersing in new experiences.
Whether you're planning a party at a country house on a family estate, a home in a gated suburban community, a city penthouse, or at a bespoke venue, it's about dreaming big for your occasion, trying new things, and immersing yourself and your guests in experiences. And for those who contribute in significant ways to the economy or society, for example, the vitality and excitement of a big birthday celebration are seen as a key ingredient of an eventful and fulfilling life.4
Leaving a deep imprint.
The true art of creating a memorable party or event lies in the engagement and enjoyment of your guests. It's about creating an emotional and sensory masterpiece for everyone. One that stays vivid, ready to be relived and retold. Your big birthday event should resonate with your tastes and ambitions as well as those of your guests. After all, it's the emotional connections that leave the deepest imprints, and make it an affair that goes beyond the luxurious and into the extraordinary.
---
"Luxury and discretion go hand in hand. It's knowing where to go first, what to buy first, pivoting away from the crowd, not in any way following it."5 — Town & Country
Get your party planning started
The ultimate blueprint for a lavish big birthday celebration
This is where you'll find our step-by-step guide on what to expect and consider when you're planning a big birthday event:
The big picture
Your journey begins with a vision for creating an event that brings alive the birthday celebration you envision.
Often your ideas are not explicitly defined. An expert event designer will take you through a creative process to uncover this information.
Beyond the obvious, a seasoned expert will delve into the thoughts you hold close to your heart. Clues to these could lie in your choice of lifestyle, your aspirations, your sporting interests, philanthropic activities, taste in art or luxury assets.
You might want your big birthday party or event to stand as a singular celebration or to unfold over the course of several days. The timing and overall structure will play pivotal roles in the design of your event.
It's the fusion of these elements that will help unveil the blueprint for your extraordinary big birthday event.6
Setting the budget
Establishing a budget framework is essential to ensuring your party aligns with your ideal financial investment and objectives.
Your event planner will work with you to define the investment that will bring your vision to life, while managing costs effectively and thoughtfully.
Planning the rhythm or flow
The heart of your event lies in the experiences and moments you want to create.
Your event planner will work closely with you to outline a schedule that will leave indelible memories and infuse your celebration with meaning.
Arranging the venue and setting
Whether it's an intimate gathering or a grand affair, the choice of venue sets the stage and tone for your event.
Your expert event designer will explore options that reflect your aspirations and preferences, ensuring every detail aligns with the overall vision.
Creating a mood board
When it comes to visualising or building a concept for the aesthetic of your big birthday event, you need a mood board. This encapsulates the ambiance and style you're looking to create.
Working with a professional such as a Creative Director at your chosen event planner will help you piece together a visual representation of every aspect of the overall design, from colour palettes, floral arrangements to vignettes and memorable decor.
Considering culinary delights
No milestone birthday event would be complete without an exquisite culinary experience, exciting bar and sommelier-selected wine list.
An experienced event designer will be able to curate a menu, birthday cake, dessert selection and other delectable options to suit your tastes and cater to the expectations of all your guests.
Planning entertainment and immersive experiences
Entertainment can take many forms and is the beating heart of your milestone birthday event, as do the visual effects, and audio-visual experiences.
Whether you're looking for a one-of-a-kind immersive performance, theatrical acts, a DJ, live band, singer or artist that resonates with your preferences and vision, or sensory experiences that transcend the ordinary.
This is where the expertise and connections of an event designer come into their own.
Respecting party etiquette and cultural nuances
Social convention, etiquette and the nuances of gracious hosting are essential to ensuring your guests are comfortable, well-attended and that you can set the desired tone for your big birthday celebration. Ensure that your event coordinator has the expertise to guide you on the nuances of hosting and guest interactions to ensure your celebration exudes warmth and charm.
Other thoughtful considerations include:
Respect for your guests' diverse religious beliefs.
Catering to the culinary preferences and dietary requirements of your guests.
Suggesting a dress code that aligns with the ambiance you'd like to create.
Make provision for gift-giving customs that will resonate with your guests.
Be mindful of any cultural or personal superstitions that may influence the event, steering clear of practices that might be deemed inauspicious.
And because life is unpredictable, and sometimes plans change, be sure your chosen event planner is an expert at handling event cancellations with grace on behalf of you and your guests, should the need arise.
Arranging transport and accommodation
From seamless arrivals to luxurious stays, your comfort as well as those of your guests is paramount.
Your event coordinator should arrange for a smooth welcome and transition from an airport or helipad to the chosen accommodation for your guests, complemented by a warm welcome and unique gift that enhance their stay.
Equally, arranging homeward transportation at the end of the party or celebration is another thoughtful, luxurious touch for your guests.
Applying criteria such as sustainability principles
For those who value sustainability and conscious living, it's important to articulate these to your event designer so these principles can be integrated into the design of your big birthday celebration.
Your principal event coordinator will be able to ensure every element of your event aligns with your commitment to a more sustainable or ethical lifestyle, should you wish it.
---
"When American film-star-turned-princess Grace Kelly celebrated her 40th birthday in 1969, her gigantic fuchsia birthday cake reportedly weighed 75.3 kilograms and had to be cut in half to fit through the doors of the dining hall."7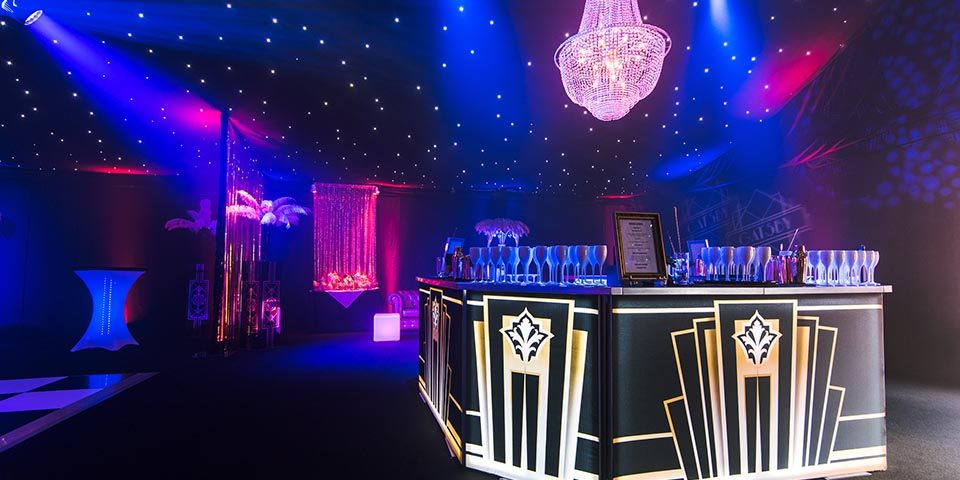 Four benefits of appointing an event planner to design your big birthday
Luxury events and parties are intricate ecosystems. They thrive on relationships and rely on a network of deep experts.
Every great big birthday party begins as a spark of an idea, a moment of inspiration. It evolves into a well-defined concept that shapes the event into a meticulously crafted masterpiece, creating a lasting legacy for the guest of honour and their loved ones. Having the right team in place to orchestrate your event offers a host of benefits, including:
Time liberation and convenience.
For those of us who truly understand the value of time, we know it's our most precious asset. Partnering with an event designer and planner not only brings your imagined celebration to life, but also buys back your valuable time.
By delegating intricate tasks to a professional, you're not only saving time but investing it wisely. This means fewer hours spent on non-beneficial activities, allowing you to focus on what truly matters, whether it's business, finance, sport, leisure or other moments that bring you fulfilment and happiness.
Unburdened enjoyment.
The pinnacle of luxury is peace of mind. Entrusting a personal assistant or an event designer with the intricacies of finances and complex details grants you the serenity to focus on the bigger picture. It also means that during your celebration, you'll also be able to relax, kick up your heels and enjoy yourself as though you're a guest at your own event.
You can involve yourself in the experience of planning your big birthday to a greater or lesser extent, knowing that the event's orchestration is in expert hands.
Access to infinite inspiration.
A luxury event planner brings not only meticulous planning but also an abundance of creativity, adaptability, accountability, and expertise.
From crafting mood boards that mirror your vision, to curating guest lists, coordinating exquisite catering, accommodation, and transport, securing top-tier entertainment, coordinating immersive experiences, and either installing remarkable marquees or selecting a dream venue, their value is immeasurable. It's like having a limitless source of inspiration and implementation on speed dial.
The art of living remarkably.
Life isn't about existence; it's about crafting a vision.
With the assistance of a luxury event planner, you buy into the experience of becoming 'information-rich' and gain the tools to customise your event for minimum hassle and maximum return. Surely, the thrill of making things happen and developing projects through prudent decision-making – from big birthday celebrations to starting a non-profit organisation or making a financial investment – is a hallmark of modern luxury living.
Considerations for big birthday celebrations for specific ages
In this section, we've thoughtfully curated age-appropriate event etiquette and considerations that go beyond typical event planning norms. Our goal is to help you craft a big birthday celebration that stands out for all the right reasons.
18th birthday celebration
A coming-of-age celebration in many cultures, marked by the legal ability to buy and consume alcohol in some countries.
The responsible service of alcohol
Providing age-appropriate options
Allocating designated drivers, transportation or accommodation
Ensure appropriate communications regarding alcohol consumption
Providing discrete monitoring and assistance
Involving parents and ensuring supervision
Providing security to ensure safety and well-being
21st birthday celebration
An age that is considered a coming-of-age celebration by some cultures.
As above for the 18th considerations, as well as:
Open bar vs drinks tokens
Professional bartenders
30th birthday celebration
A significant milestone often marked with a sense of self-discovery and personal growth.
Consider sophisticated entertainment options such as wine tasting or live music
Encourage meaningful speeches or toasts
Providing guests with unique party favours or mementos
Consider sustainable choices that reflect the growing awareness of the younger generations
40th birthday celebration
A chance to embrace wisdom and experience.
Consider setting up a gifts registry to guide guests in selecting presents
Think about providing childcare services for those with young families
Perhaps consider the seating arrangements to ensure smooth conversations and a comfortable atmosphere
50th birthday celebration
Half a century of memories and accomplishments, a time for reflection and celebration.
As above for the 40th birthday considerations, as well as:
Consider including elements from the guest of honour's timeline, including music, sporting events, luxury brand releases or business or philanthropic achievements
Provide guests with long-lasting keepsakes
Perhaps produce a tribute video to celebrate the guest of honour
Providing a selection of fine wines, champagne or cocktails will meet discerning tastes
60th birthday celebration
A milestone birthday that signifies a fulfilling life and the continuation of new adventures.
As above, as well as:
Offer interactive experiences such as a wine tasting or an art exhibition
Create a memory lane display of photographs, memorabilia, and keepsakes from the guest of honour's life journey
Consider a legacy contribution to a charitable cause or foundation supported by the honouree
Consider a sophisticated and elegant venue such as a private vineyard or an exclusive country club
70th birthday celebration
Celebrating the wisdom and the stories accumulated over the years, a testament to a life well-lived.
As above as well as:
Consider an interactive activity such as a stargazing element complete with telescopes and an astronomy expert for a unique and memorable experience
Ensure the guest of honour arrives in style with luxury transportation such as a helicopter or yacht transfer
Think about creating customised souvenirs that can be personalised to each guest as a memento of the event
80th birthday celebration
A remarkable achievement, a time for cherished memories and the embrace of family and friends.
As above, as well as:
Choosing a venue that is accessible and accommodating for elderly guests
An intimate gathering or smaller event can create a cosier, more meaningful and less overwhelming experience for the guest of honour
A family tree display or a visual representation of the guest of honour's lineage can be a touching or symbolic addition to the celebration
Capture the moment with professional photography or videography
90th and 100th birthday celebrations
A rare and treasured moment, celebrating a lifetime of experiences and the enduring strength of the human spirit.
As above, as well as:
Consider a venue such as an historic mansion or building or a luxurious garden, ensuring that it is accessible and comfortable for the guest of honour
Consider a memory sharing space where guests can share their favourite memories or well-wishes. This could be in video format, for example
Hire a professional documentarian who can capture every special moment and even create a unique video to share with guests after the event
Ensure there are multi-generational activities if the guest list includes friends and family members of different ages
Joint big birthday celebrations
A coming together of siblings, multiple generations or best friends to share in the celebrations of their big birthdays or other significant celebrations.
Ensure diplomacy, communication, and coordination between the celebrants to ensure they're equally well represented
Be open to having moments within the event dedicated to the individuals
Plan for dual toasts where close family and friends can pay tribute to the guests of honour
Designate spaces for each guest of honour to display their favourite memories, accomplishments, or personal mementos
---
"We are happy when we have family, we are happy when we have friends and almost all the other things, we think make us happy are actually just ways of getting more family and friends."8 — Harvard Happiness expert, Daniel Gilbert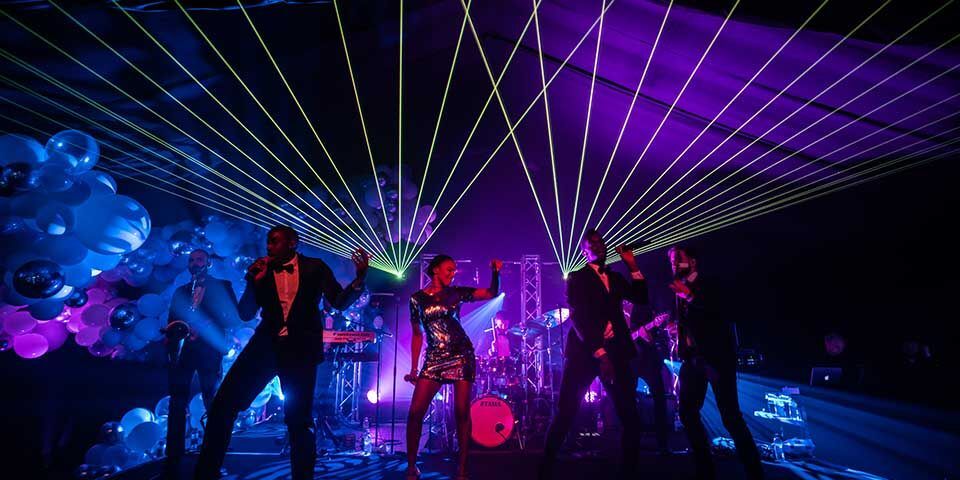 The discerning celebrant's guide to choosing an event planner
For those who demand the extraordinary, selecting the right event planner is paramount. With a plethora of choices available, what sets event designers and planners apart? Here are some valuable insights into making the ideal selection:
Experience: Experience matters when choosing an event planner, as a seasoned expert will navigate event logistics seamlessly, meeting and exceeding your expectations. Look for professionals who have mastered the art of event planning and employ deep experts in production, technical solutions, creativity, lighting and sound, venue sourcing, high-ticket entertainment, and imaginative theming.
Case studies and testimonials: Case studies reveal the event planner's execution of grand visions, aligning their abilities with your preferences, personality, and vision. Testimonials can provide candid insights into their performance and capability to deliver exceptional events.
Integrity and discretion: Privacy and discretion are essential for high-net-worth individuals and their friends and family. Event planners must prioritise integrity, respecting your confidentiality.
A visual gallery: A carefully curated gallery reveals the planner's creative expertise and ability to bring ideas to life. It offers a glimpse of what they can achieve and serves as an inspiring source for your own big birthday celebration.
An unimpeachable reputation: Choose an event designer with a flawless reputation for delivering exceptional events, whether grand or intimate, to ensure your celebration is unforgettable.
Customer loyalty, referrals and complaints handling protocols: In the realm of high-end events, success is measured by unwavering customer satisfaction. A dedicated event planner consistently prioritises your needs and wishes, ensuring a history of delighted clients.
Aligned values: Select an event planner whose values align with your own, such as financial management, a customer-centric approach, limitless creativity and energy, a commitment to shared goals, big picture focus along with attention to detail. This foundational connection fosters a deep understanding, translating your vision into reality with seamless collaboration.
Celebrate your milestone moment
What is a big birthday or milestone birthday event?
Creating a single definition of an event is a complex ask, due to the richness and diversity of what an event can be. Various experts have offered their opinions:
It's "a planned gathering with a purpose," a straightforward definition that underscores bringing people together for a specific reason.9
Events are often 'memorable and special' and 'temporary', aligning with the notion that events are significant moments in time.10
Ultimately, an event is a deeply personal concept. Personal events are shaped by individual experiences, cultural diversity, event type, and purpose. But we do all seem to agree that events hold a great deal of promise.
The symbolism of milestone birthdays
A big birthday — also known as a special birthday or a milestone birthday — isn't just a date on the calendar; it's a moment that weaves together time, culture, and personal growth.11
Some birthdays, such as when you become old enough to vote, drink alcohol or retire, are legally significant but aren't always celebrated with grandeur.
What makes a big birthday stand out is not a legal aspect, but the numbers themselves. Nice juicy round numbers like turning 30, 50, 60 or 70 tend to be celebrated more and with more splendour.12 We are often asked, are the ages 65 or 75 considered to be special birthdays? These are significant milestones, and so they have every right to be classed as big birthdays if you want them to be.
Sometimes, what makes a birthday a milestone celebration comes down to a cultural perspective. For instance:
In Korean and Japanese cultures, reaching 60 is a big deal.13
In South Africa, turning 21 marks adulthood and you're given a physical key to symbolise that you're ready to open the door to your future.14
In Jewish traditions, boys (and some girls) celebrate their 13th in a special way.
And for Latina girls in the Americas, their 15th birthday is a major event.15
In our modern culture, celebrating the actual age has become a big deal. It represents a whole system of meaning:
Your birthday marks the day you entered the world, full of potential and promise, akin to the Hindu celebration of Janmasthami, the birth of Lord Krishna, a symbol of hope and renewal.16
Counting the years becomes a way to look back on your life's journey, making those special milestones even more significant.
It's a bridge between your past and your future, symbolising the march of time and the change it brings.
Why celebrate a big birthday in lavish style?
A big birthday is a chance to feel cherished and connected.
People expect to be remembered on their special day, and it's perfectly acceptable for parents to throw lavish one-of-a-kind parties for themselves, their children, their parents, or spouses. It's about taking a moment to shine and celebrate in such a way as to create lasting memories.
A milestone celebration is an opportunity to live in the moment.
A special event such as a big birthday is a unique moment in time celebrated with ceremony and ritual to satisfy specific needs.17 As humans, we really do struggle with living in the moment. Making a fuss over a birthday is an excellent reminder to stop taking life for granted, to stop comparing things to how they used to be or how they could be, but to acknowledge how marvellous they are right now.18
Celebrating with family is one of the best ways to create memorable experiences and boost your happiness.
A gathering of people, be it for a few hours or a few days, to celebrate and honour, is one way to define a special event.19 When marking significant milestones like a big birthday, it's worth the effort to create an unforgettable experience or party for your friends and family. Studies show the value of our relationships is priceless, exceeding $100,000 USD.20
Giving back to the community at a birthday gala party is a way to share your gratitude for your achievements.
Elevate your milestone birthday celebration by turning it into a glamorous charitable gala, benefitting a cause close to your heart, whether it's in your local community or on a global scale. Generosity not only enriches the lives of those you support, but it also brings profound joy and well-being to your own journey and those around you.21 And if you're celebrating your 60th birthday, for example, why not set out to raise £60,000 or £600,000 in support of the cause you're championing?
Seize the moment to inspire others through your journey and earned wisdom.
Throughout our lives, we find inspiration in various places — our family, visionaries, achievers, and dreamers. Why not seize your milestone birthday celebration as an opportunity to inspire others? Choose a theme that focuses on key traits associated with your accomplishments, be it a literal representation or a theme that projects courage, the power of collaboration, or empathy. Or perhaps even focus on the things you hope to achieve in the future.
Whether you're turning 18, 30, 50, 60 or 90, remember that your big birthday is your unique moment in the spotlight, surrounded by friends and loved ones. So, why not celebrate in style?
---
"The vitality, excitement and involvement [of special events] not only generate strong social bonds and memories but are also seen by many as a key ingredient of an eventful and fulfilling life."22 – Consumer culture, modernity and identity.
Your path to an unforgettable celebration
Life is a series of milestones, and among them, celebrating a big birthday stands out as a significant chapter in our life's story.
Read more: Celebrate in style: 8 tips for planning a lavish big birthday celebration
Unlock the magic of unforgettable parties with MGN events. For a deeper dive into planning an exceptional big birthday celebration, uncover our tips and discover how to bring your dream big birthday celebration to life.
Your path to an unforgettable big birthday celebration begins here.
MGN events – Pioneers in private events. Experts in luxury.
Discover how we can help you create your perfect milestone celebration. Fill out the contact form below, email hello@mgnevents.co.uk or give us a call on 01932 22 33 33.