Chefs, such as Heston Blumenthal, have garnered plenty of praise and attention for elevating dining to an experience of theatrical proportions. Whilst many of us are happy to hang out in Pizza Express and other high street chains, there are others who seek out the most incredible fine dining experiences. Whatever camp you fall into, whether splashing out hundreds of pounds on a meal is a given or simply an aspiration, here are the restaurants we'd most like to visit worldwide.
8 of the most expensive restaurants we'd like to visit worldwide
1. The Fat Duck
It seems only right to start out with Heston's restaurant in Bray, Berkshire, which has three Michelin stars. Booked up months in advance – this is not somewhere to go on a whim – you'll experience course after course of inventive cuisine over a 4-5-hour period. Described as a nostalgic journey, designed to bring childhood memories to life and combined with clever personalised touches, a visit to The Fat Duck will set you back £325 per person plus wine.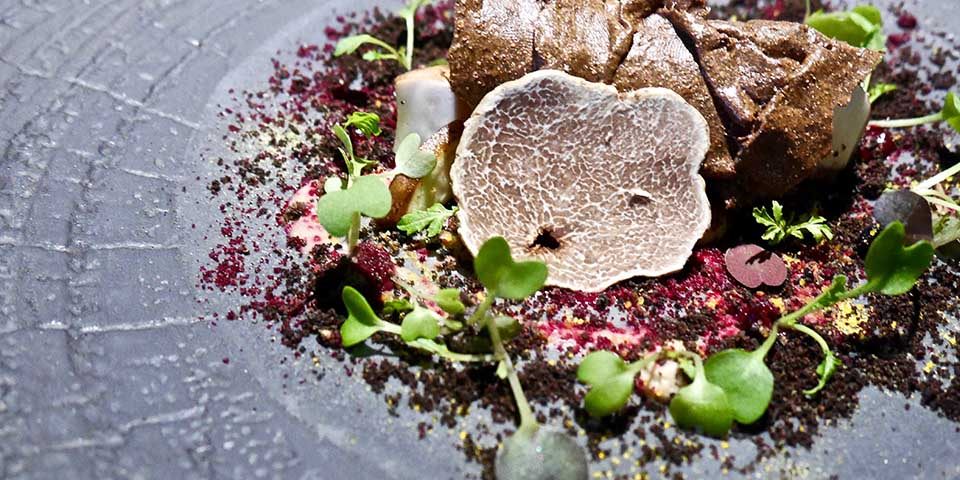 2. Sublimotion
Opened in 2014 in Ibiza, Sublimotion takes experiential dining to a whole new level. The whole experience lasts for three hours and each sitting caters for just 12 diners. Enjoy a tasting menu in a unique space with lighting installations and wear virtual reality headgear for a carefully choreographed multi-sensory show. Sublimotion is the most expensive restaurant in the world – £1,200 per person!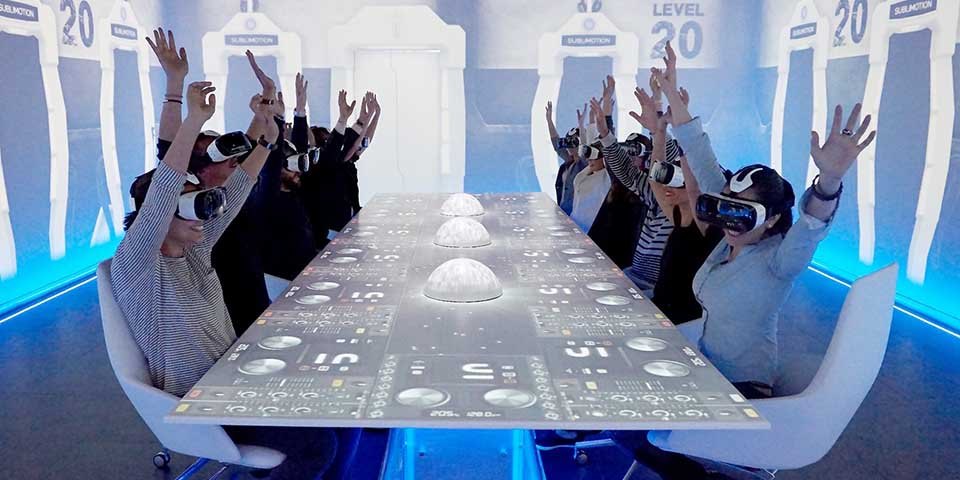 3. Ithaa
Immersive dining is taken literally in the Maldives! Ithaa is the most amazing undersea restaurant. Accessed via a dark and winding staircase at the end of a jetty, the restaurant is a glass box located five metres below sea level and seats just 14 diners at a time. The food is impeccable and, at £230 for a six-course dinner, feels like a bargain, especially when you can enjoy the most stunning views of tropical fish swimming by. You may even glimpse the odd shark, turtle or stingray if you're lucky.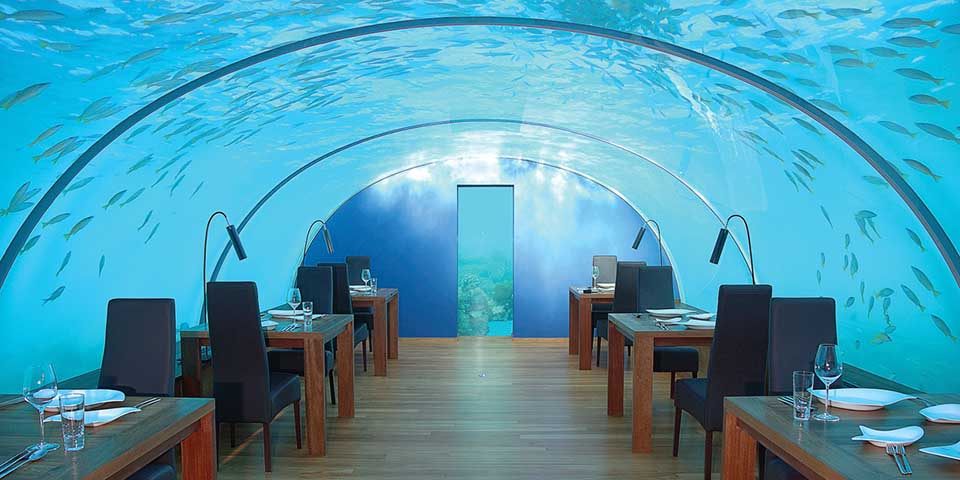 4. Schloss Schauenstein
Schloss Schauenstein is the stuff of fairy tales. This restaurant is set within an 18th-century castle in the Swiss Alps – the setting could not be more beautiful. Chef Andreas Carminada set up in 2003 and the restaurant now boasts three Michelin stars. Food and hospitality are given equal importance, and the attention to detail, delicate flavours, artistic presentation and overall experience does indeed feel like you've entered the most wonderful fairy tale world.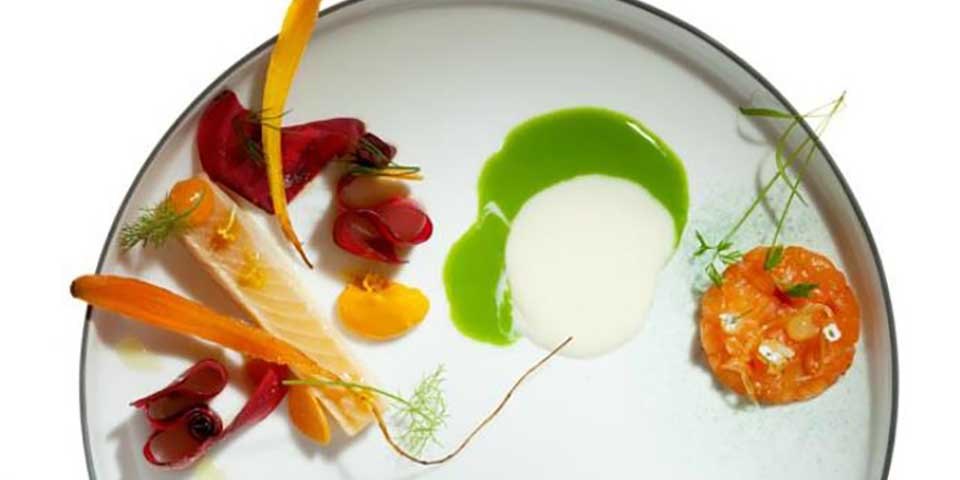 5. L'Arpege
To Paris and chef Alain Passard's restaurant, which was awarded three Michelin stars back in 1996 and have been maintained ever since. Unusually, perhaps, for a French restaurant, Passard's menu has become well known for its emphasis on vegetables. Produce comes from Passard's own kitchen gardens and delivered fresh every day. It means every day is different, the menu improvised according to the seasons and available ingredients. L'Arpege is an honest and simple concept, beautifully realised and the Art Deco-inspired setting is as tasteful as the food.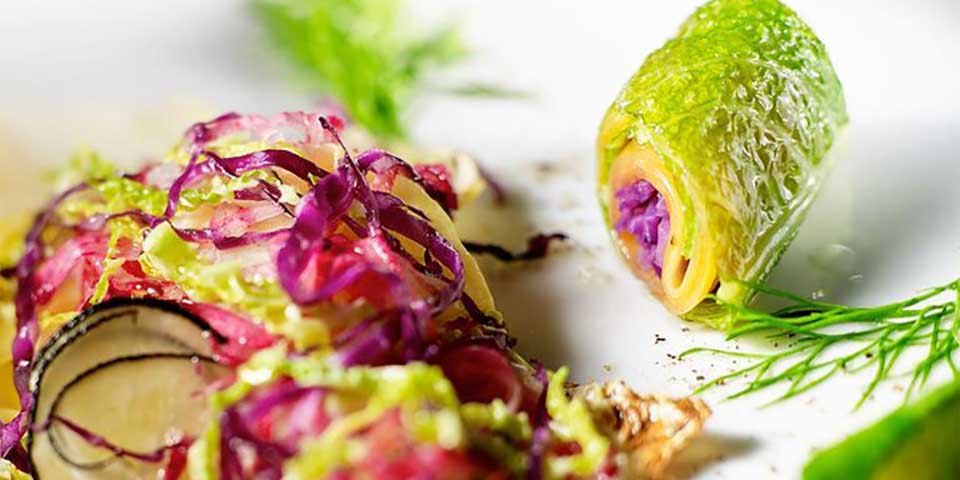 6. Toya
Should you find yourself in Japan, then Toya on the island of Hokkaido is the restaurant to visit. Opened in 2002 by French chef Michel Bras, Toya occupies the top floor of The Windsor Hotel and overlooks Lake Toya. It's a breathtaking setting and as close as it gets to dining on a cloud. The cuisine is an intriguing fusion of French cuisine made with local produce, and the food presentation is on a par with works of art.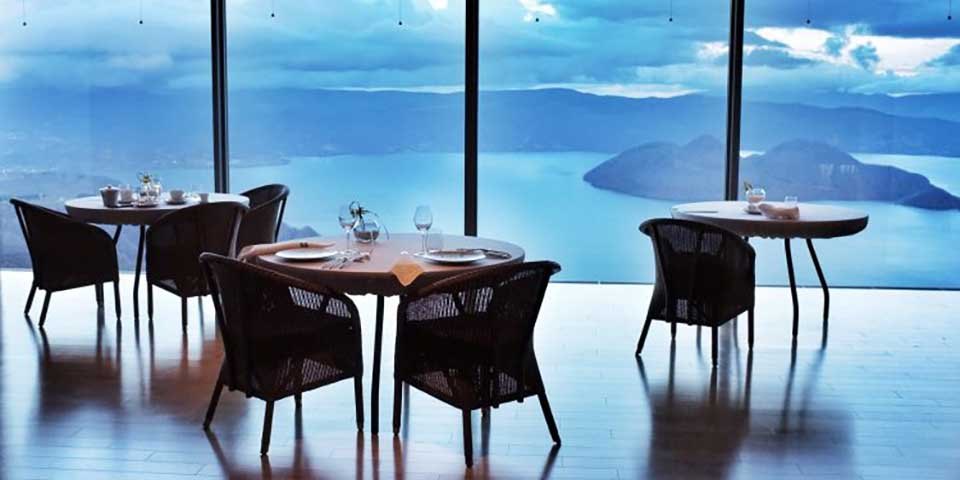 7. The Krug Room
And so to Hong Kong and the Mandarin Oriental Hotel where you'll find The Krug Room.
This is another restaurant that focuses on 'the experience' and has only 12 covers at a time. The intimate environment has been designed to look like a train carriage – think elegance and opulence, not standard inter-city trains, we are talking about the Krug brand after all! Instead of views of the outside, the windows provide an up close and personal view of the kitchen and the hard-working chefs. Eating here is a multi-sensory experience and the menu changes according to inspiration and what's in season. Dishes are paired with Krug champagne – not surprisingly – and the formal dress code only adds to the overall experience.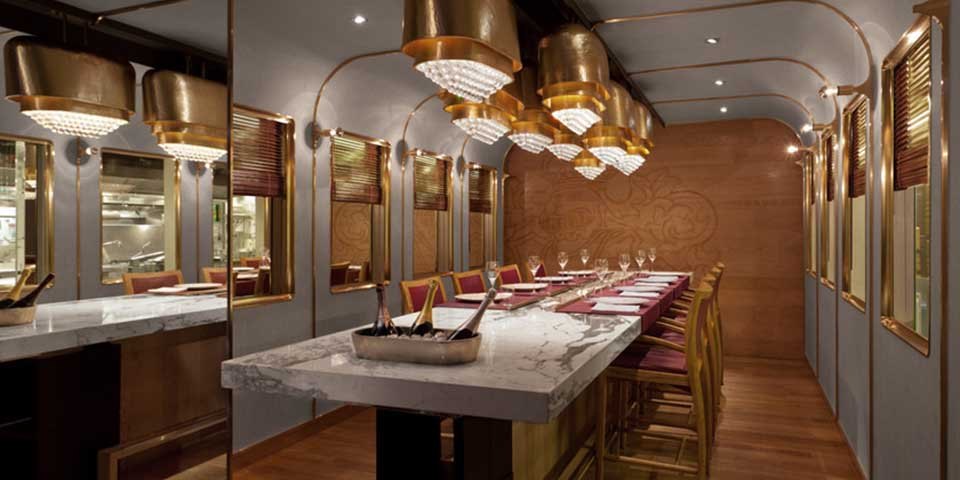 8. Ultraviolet
Dubbed the world's most innovative restaurant, Ultraviolet can be found on the outskirts of Shanghai. Within a bunker-like building, ten diners a night experience a 20-course menu in an immersive environment. Seemingly bland walls are transformed through advanced video projection technology, different aromas permeate the air and a soundtrack helps to set the mood – even temperature has a part to play in this multi-sensory experience. You could find yourself eating the most divine dish by the sea or be transported to the Alps without leaving your chair. Incredible!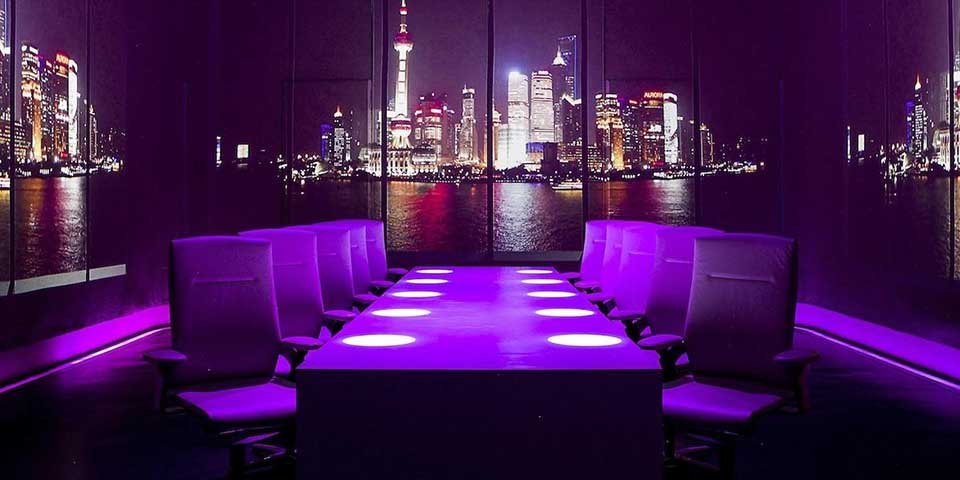 These restaurants may be on our bucket list for many years to come, but we can dream – and we certainly take inspiration from some very pioneering thinking! If you'd like to create something just as amazing for a special occasion, why not contact us and find out what we could do!