If you have all of the vision but none of the time to plan your luxury party or social bash, find out how you can skyrocket the process in 3 simple steps. Click here to jump straight to the 3 steps.
Read time: 5 – 8 minutes
Key takeaways:
— How to effortlessly create a headline-grabbing event, even with the busiest of personal schedules
— Tips on how to use your time and resources efficiently during the planning
— The MGN events 3-step luxury party or event planning service
The sky is no longer the limit when it comes to planning and hosting a one-of-a-kind experience, event or luxury party. The race for space tourism is on, with companies such as Blue Origin, Virgin Galactic and SpaceX set to offer guests a space experience complete with a view of planet Earth and a champagne-in-zero-gravity moment.
While you might be planning your luxury social gathering or ultimate celebration on terra firma, your busy lifestyle might make finding the time to make it happen seem like a moon shot. When time is one of your most valuable assets, having a concierge-style event coordinator at your fingertips can help you realise your vision by using your time and resources efficiently.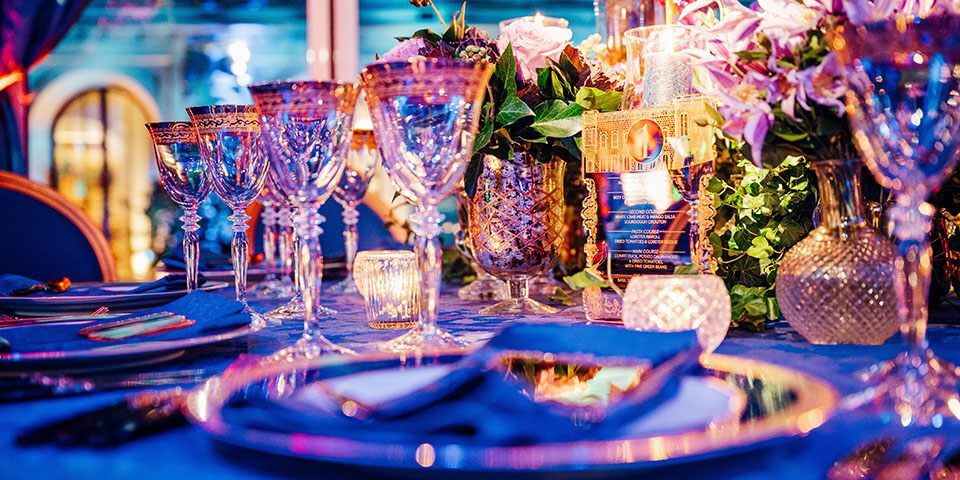 As an experiential luxury events company, MGN events has seen a marked uptick in appetite for unique experiences recently. "Our clients want to write the manual on one-of-a-kind parties or to pioneer the next word in luxury at their event," says Matthew Strange, Creative Director, MGN events.
"It might be a child's or spouse's birthday party, a wedding, or simply an excuse to get together with friends and loved ones. When creating an experiential event for clients who lead busy lives, it's about maximising the time they have available during our research, planning, creation and implementation phases. Then bringing their vision to life with the best hospitality, service and experiences the world has to offer."
3 time saving steps to luxury party planning
As Matthew continues, "We help people to live life the way they want to and share meaningful experiences with others by making the event planning and hosting process effortless and rewarding.
We provide above-and-beyond service and can manage the most unique, urgent or complex plans to deliver a tailor-made luxury party or event. Unbookable entertainers are bookable. Cutting-edge tech is applied with atmospheric results. Exceptional dining experiences and liquid libations are created around every whim, theme, dietary requirement or food allergy."
We spoke to Matthew in more detail to explain the 3-step process MGN employs to make their luxury party and event planning process more engaging and efficient. And, we find out why those techniques are so successful.
1. Planning and personal attention
We invite our clients to an initial briefing discussion with a dedicated Event Manager and our Creative Director. This is so that you can share your vision for the event and provide us with the practical details we need to ensure the best possible planning experience for you. We aim to keep this session on-point and as crisp as possible.
It's an invaluable first step and is an opportunity for you to be explicit about your:
Vision and goals:
What do you want to achieve? How do you want people to feel at the event? Do you have any inspirational images and ideas to share? What direction or end result do you have in mind? Are there any languages, cultural norms or customs you'd like to include? Your event planner and the Creative Director will find this information invaluable when it comes to uncovering a world of possibilities and creating a concept for your event.
Vital stats:
Share an idea on the event date and agree on a rough guest count or guest list early on. Let us know your 'golden rules' for engaging with your guests. Are there any food allergies or preferences we should know about upfront?
Budget:
Even if you don't have a cap on your budget, it's useful to provide us with some guidance to make sure the finances don't get in the way at any point.
Availability:
We're here to free up your time so you can focus on everything else you need to do. Let us know to what extent you do or don't want to be involved in the event planning process, and when you'll be available.
Contact preferences:
We can keep in touch with you however you prefer – email, telephone, web chat or even WhatsApp.
Travel schedule:
If you live outside the UK or you travel a lot, make sure your event coordinator is aware, so we can work around your time zone and your commitments.
Venue or site:
Where do you want to host your event? In a marquee in your own grounds or at a specific venue? Your luxury party and event planner can then research, conduct site visits and present you with options for your perfect venue or marquee.
During the planning phase, your Event Manager will work to understand your aspirations allowing for a truly bespoke service and event to emerge.
2. Designing the exceptional
The Creative Director and design team will take cues from the briefing session to develop a concept that will bring your vision into being. We'll blend the art of storytelling and innovative design with the latest immersive tech to help bring your luxury party, celebration or event to life.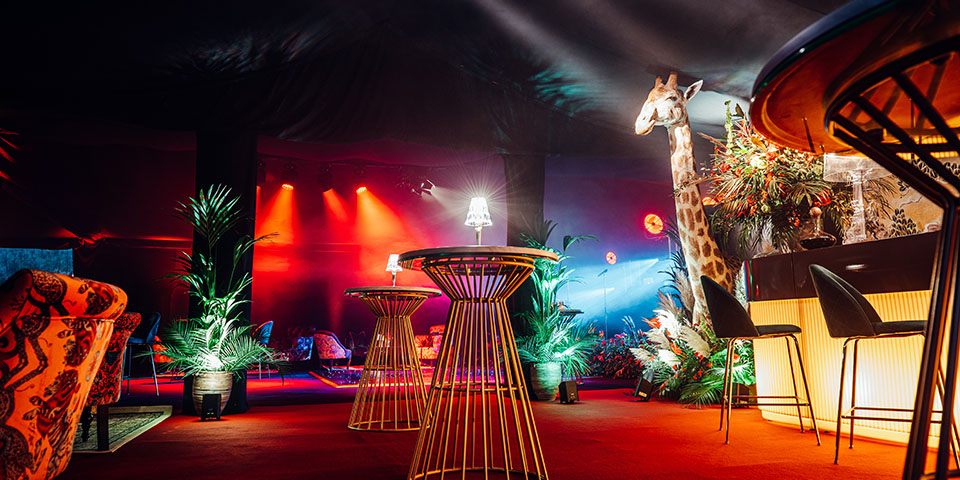 Using visual aids such as storyboards and mood boards, our Creative Director and Event Manager will talk you through the concept and proposal. A structured meeting, the concept presentation will enable you to provide your feedback quickly and efficiently. The clearer you are about your impressions and thoughts, the easier it will be for us to build the best possible event for you.
We'll take a proactive, problem-solving approach by anticipating any potential logistical or planning issues early on and presenting practical solutions and workarounds.
3. Delivering luxury
When delivering your one-off memorable experience, we bring to bear our extensive creative, logistical and technical expertise.
We leverage relationships across the industry to add those perfect extra touches at every guest touch point:
— Theming and décor
— Tech and techniques that engage the five senses and help create the perfect ambiance
— Specialist lighting and sound effects
— Projection mapping
— Experiential food and beverages
— Live-action entertainment or theatre
Our designers and logistics experts can also help ensure a flawless guest experience by arranging:
— RSVP and guest list management
— A paperless RSVP website
— Digital save the date and invites
— Printed save the date stationery and invites
Decide how involved you want to be
You can outline your level of involvement and the oversight you would like to have during the delivery, management and implementation phase. We will detail out the installation and set-up for you, as well as how we will manage the event on the day itself and throughout the event.
We can keep you up-to-date with status reports, planning schedules and any actions to be carried out and by when.
Or you can entrust us to make executive decisions on your behalf and anticipate your needs ahead of time, giving you greater control of your time.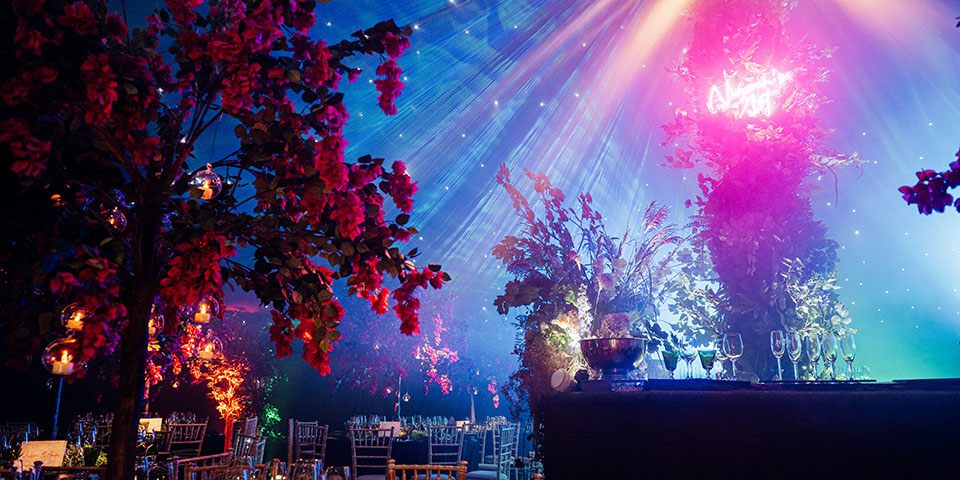 We'll also explain the post-event de-rig and conduct a final handover so you can soak up the glory of having hosted a spectacular luxury party or event. "Done well, event planning and delivery should put the client in control but remove the time-consuming tedium and detail. This serves to free up their schedules so they can focus on the bigger picture and other commitments," concludes Matthew.
Conclusion: Be a guest at your own luxury party
While you might not be planning to sit beside Tom Hanks or Katy Perry on one of Virgin Galactic's headline-grabbing first flights, you can still plan and enjoy a luxury party experience that's worth talking about for years to come.
If you're looking for inspiration or to book a consultation, visit our blog or speak to one of our dedicated event planners. You can either complete the form below or call 01932 22 33 33. You can also email hello@mgnevents.co.uk.
Further reading: 
2 immersive must-haves for modern and exclusive social events or parties
9 tips for hosting an immersive experience your guests will love
How to create immersive experiences that engage the 5 senses
Sources:
https://wimmerspace.com/2008/11/30/the-ultimate-high-fliers-the-ultra-wealthy-planning-to-be-the-first-tourists-in-space/
https://www.bighospitality.co.uk/Article/2013/04/23/Dietary-requirements-Catering-for-customers-with-allergies-and-intolerances