Whether guests ask for zero-proof, alcohol-free, non-alcoholic or spirit-free cocktails, we've got you covered for your next luxury party.
With an increasing number of people avoiding alcohol, it's a good idea to have a repertoire of appropriate twists on classic cocktails to hand to suit party guests of all ages and preferences.
Read time: 5 – 8 minutes
Key takeaways:
Alcohol- and spirit-free recipe inspiration for all seasons
A quick view of the ingredients and links to full recipes to help you decide which to add to drinks menu
Why zero-proof and no-alcohol support an inclusive party atmosphere
"With an increasing number of health-conscious consumers opting for low alcohol or no-alcohol drinks, today's party hosts and flair bar tenders need to cater accordingly," says Matthew Strange, Creative Director, MGN events. "Offering your guests a selection of zero-proof cocktails helps people feel included in the experience – even if they choose to abstain from alcohol."
We've compiled a list of elegant, inspirational alcohol-free drink options for your next soiree or party. And for those looking for refined menu pairings to accompany your spirit-free or non-alcoholic libation, take inspiration from the world's finest luxury dining experiences.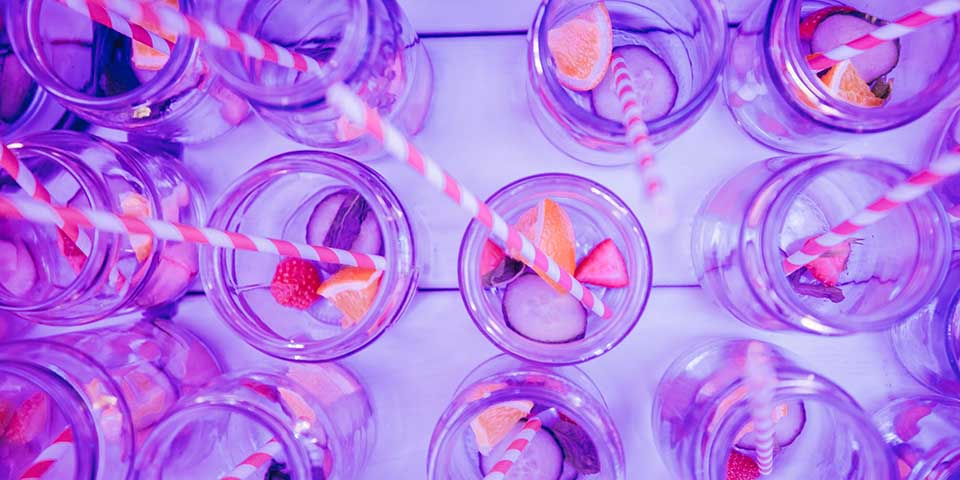 Spirit-free Spring cocktail recipes
Sage Sour
This frothy lemon-coloured beauty is perfect for year-round parties. But the botanicals in the alcohol-free gin are certain to awaken your tastebuds, making it perfect for a spring celebration.
Recipe in brief: Put an alcohol-free gin or water infused with gin botanicals, lemon juice, sugar syrup, and sage leaves into a cocktail shaker with ice. Double strain into a separate jug. After discarding any sage pieces, pour it back into the shaker, add the egg white and shake it really hard. Pour the frothy blend into a cocktail glass and garnish with some sage. Get the complete alcohol-free Sage Sour recipe here.
Spirit-free Irish cream liqueur
If there's still a nip in the air, you might find this warming spirit-free Irish cream liqueur just the thing for your spring event.
Recipe in brief: Take double cream, evaporated milk, maple syrup, freshly brewed espresso, cinnamon, vanilla extract and grated orange zest and shake it all together with plenty of ice in a cocktail shaker. Double strain it into tumblers and serve over plenty of ice. Read the full recipe for spirit-free Irish cream liqueur here.
No-alcohol Summer cocktail specials
Summer cups & fruit coolers
Brimming with sliced cucumber, strawberry or red fruit and mint, a sparkling punch is a welcome refreshment on sultry evenings and during the hottest of days. For a dry or tangy twist, consider adding fresh ginger or goji berries to the mix.
Recipe in brief: With a base of crushed red berries, mint and cucumber topped with clear, ice-cold lemonade and garnished with mint and sliced fruit. Alternatively, grated ginger, goji berries and frozen raspberries can be sweetened with honey and served over a glass full of crushed ice. Click the links for the complete summer cup mocktail recipe and goji berry cooler recipe.
Fiery ginger beer
Combining ginger and lemon in a zingy alcohol-free drink is a surefire way to add a classy kick to your bar menu. Served chilled, this is the perfect accompaniment for grilled meats, stone-baked pizza, whole-baked fish, herby salads and flame-charred vegetables.
Recipe in brief: Heat finely grated ginger and lemon zest, sugars and water in a pan until it takes on a syrupy consistency. Add the strained ginger syrup to fresh lemon juice and serve chilled and garnished with mint sprigs. See the complete ginger beer recipe here.
Alcohol-free Autumn cocktails
No-alcohol Negroni
Cardamom, coriander and grapefruit lend a tangy spicy twist to this alcohol-free Negroni. While a splash of natural red food colouring adds a deeply pleasing autumnal edge to the finished drink.
Recipe in brief: Small chunks of grapefruit are simmered along with orange slices, sugar, water, cardamom pods and coriander seeds. Crush the fruit during the simmering process. Take it off the heat, and leave it to cool, adding a splash of red food colouring if you like. Strain the mixture, pour a shot or two's worth into a glass, and top with grape juice, cold water and ice. Garnish with a slice of fresh orange. Read the full No-alcohol Negroni recipe here.
Alcohol-free Sidecar
With a couple of this zero-alcohol, honeyed-smoky-zesty Sidecar in hand, guests will enjoy mingling at your event all the more. This unique mocktail is made with lapsang souchong tea, which is to black tea what a peated whisky is to a standard malt whisky.
Recipe in brief: Put cold lapsang souchong, lemon juice and marmalade in a cocktail shaker. Dissolve the marmalade then add honey, strain and serve with a slice of dried orange. Click here for the full alcohol-free Sidecar recipe.
Cool alcohol-free Winter cocktails
A wintry alcohol-free mulled wine
If you want to ensure your party is filled with the traditional scent of mulled wine, minus the alcohol, you can replace the red wine with fruity pomegranate and apple juice. By combining the juice with warming spices, you'll create an uplifting twist on this winter party staple.
Recipe in brief: Put pomegranate juice, apple juice, sugar and frozen blackberries in a saucepan. Add a cinnamon stick, star anise, peppercorns and orange segments. Heat until gently simmering, then strain into heatproof glasses. Get the complete alcohol-free mulled wine recipe here.
Faux fizz for a sparkling Hanukkah, Christmas or New Year
It feels fairly obligatory to raise a delicate champagne flute to see in the New Year or to celebrate a festive occasion. Help ensure those abstaining from alcohol have their own special tipple when raising a toast.
Recipe in brief: Sliced pear, dried apricots, golden caster sugar, lemon zest, honey and rosemary combine to create a base syrup for this effervescent fizz. Adding a splash of apple cider vinegar, topping with chilled sparkling water and serving in a champagne flute, results in a refreshing, classy faux fizz drink.
Looking for party ideas and inspiration?
If you're looking for more inspiration for your next party, social bash or celebratory event, visit our blog. To book a consultation, or to speak to one of our dedicated event planners. You can either complete the form below or call 01932 22 33 33. You can also email hello@mgnevents.co.uk.
Further reading:
9 inspiring luxury summer party themes
Discover the world's finest luxury dining experiences
5 inspiring global wine producers on social
5 tips for planning a sustainable party
4 new and exciting luxury event trends
2 immersive must-haves for modern and exclusive social events