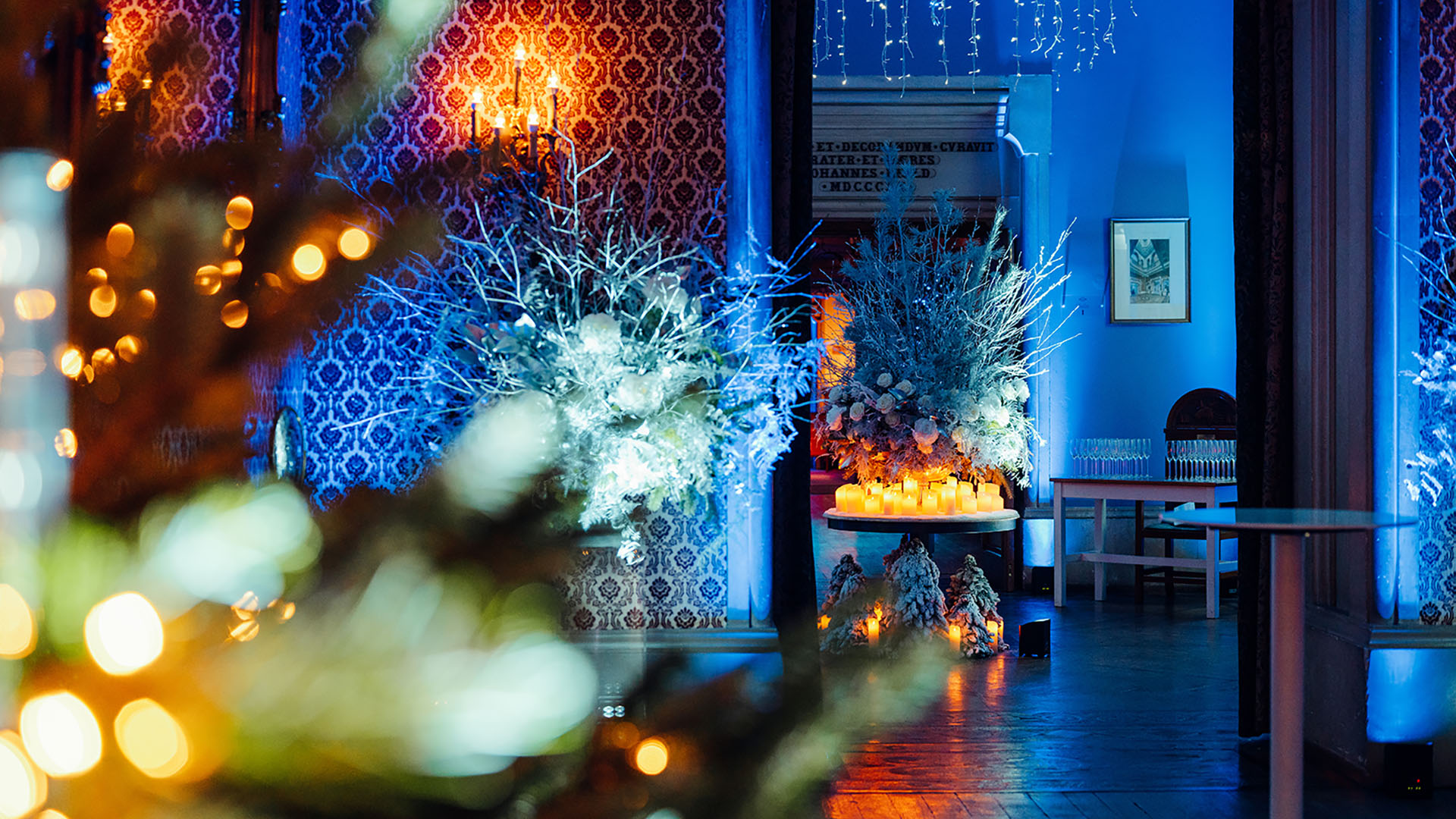 A stylish winter wonderland party for 500 in Wiltshire
The second event in a two-night Christmas extravaganza, this Winter Wonderland party followed a highly successful and enjoyable Heroes and Villains themed party.
Our client, a leading sports data specialist, wanted to treat staff and their other halves to a special Christmas celebration, which would be held during the 2022 FIFA World Cup tournament. It would also be the first big event the company had held since the Covid-19 pandemic – it had to be special and memorable! We transported 500 guests in luxury coaches from London to Chippenham in Wiltshire, where we had arranged accommodation at multiple hotels, with the parties taking place at Grittleton House, an impressive venue set in beautiful grounds.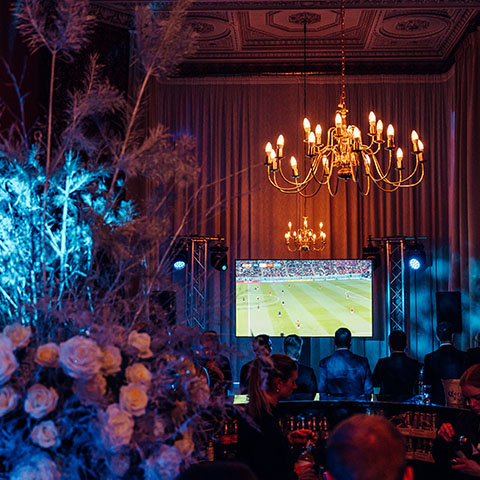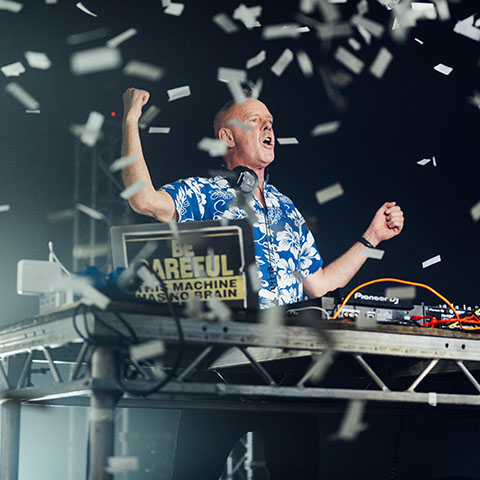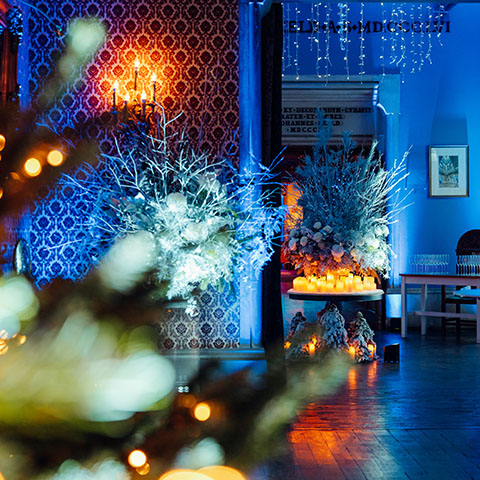 Where Heroes and Villains was fancy dress, Winter Wonderland would be a black tie event, an altogether more glamourous experience. With exclusive use of the venue, we had the freedom to create different event spaces and we brought in various items of furniture to help style each space. Three rooms were dedicated to entertainment where bands and DJs performed. Another room was transformed into a chillout area and, to avoid long queues for drinks, we installed several bars, including a cocktail bar. Additionally, we placed ice buckets filled with bottled beer throughout the venue so that guests could easily help themselves.
For this second party, with a more sophisticated theme, it was important to create a completely different look and feel to that of the previous night's party. The façade of the house was bathed in blue wash lights so guests immediately saw a difference as they approached. And to create a winter wonderland atmosphere we installed twig trees dusted with fake snow, traditional Christmas trees, lots of twinkling lights and mirror balls, with a lighting scheme of cool blues that was designed to make the most of the venue's impressive architectural features. We also had a central focal point – an ice sculpture of the iconic World Cup trophy.
The venue's central hall was the perfect space for a welcome reception. Prosecco and canapés were served as guests arrived and a pianist performed from the upper gallery, which made for a wonderful atmosphere as everyone mingled and chatted. A 360° photo booth gave guests the opportunity to get plenty of glamorous photos and, as the party got underway, guests were free to enjoy the various event spaces. Knowing that the World Cup was of significant interest, we installed a number of large TV screens so that guests could keep track of the matches during the party.
We worked with the venue's catering team to provide the most delicious food. Whilst this particular event was a more refined experience, we served bowl food that was elegant and sophisticated, followed by dessert bites. Knowing that guests might feel peckish later, more food was served at 12.30am, which kept energy levels high.
With a very special headline act organised for each night, we installed a 12m x 30m clearspan marquee in the grounds of the venue, which would easily accommodate all 500 guests. The space also meant that we could build a huge stage for the performances and add a wow factor with confetti canons and smoke jets. Entertained by a 10-piece band on the first night, the second night saw guests bowled over by the appearance of musician and DJ Fatboy Slim. Needless to say, the marquee was rocking to his beat from the moment he began his set.
Behind the scenes, and to ensure the event ran smoothly and safely, we had a security team and event medics – essential for such a large-scale gathering. Transport was also key to the event's smooth running. With guests accommodated in a number of hotels, we needed to get them to the venue and back again. Whilst guests would arrive at the same time, it was important to give them the option to leave as and when they wanted. We organised a fleet of minibuses to shuttle guests back to their hotels and, to avoid any confusion, guests wore colour coded wristbands that identified their accommodation.
Given a relatively short time in which to plan, organise and deliver this event, we were delighted that our client was so impressed and that all 500 guests had a brilliant experience. We also impressed ourselves, just a bit, by how much we achieved in so little time.