Heroes and villains – an epic party for 500 in Chippenham
For a company specialising in data and sports analysis the 2022 World Cup was a major event and a period of intense and focused work for its employees. However, the timing of the tournament – taking place in the run up to Christmas – was the perfect opportunity to adopt a 'work hard, play hard' attitude and our client wanted to treat everyone, including their partners, to an epic Christmas celebration.
Just like the World Cup, this particular event was destined to be a major event in the company's calendar – the first opportunity for everyone to get together since the Covid-19 pandemic. We were asked to plan, organise and deliver a Christmas party that would see 500 people whisked away from London for two days and two distinctly different parties.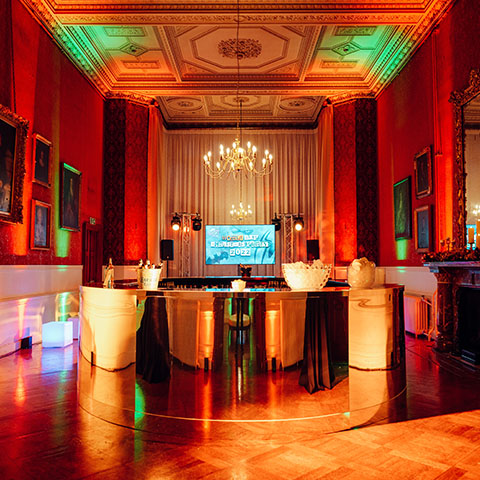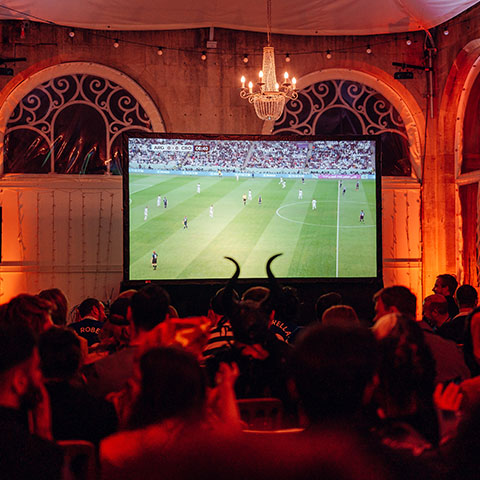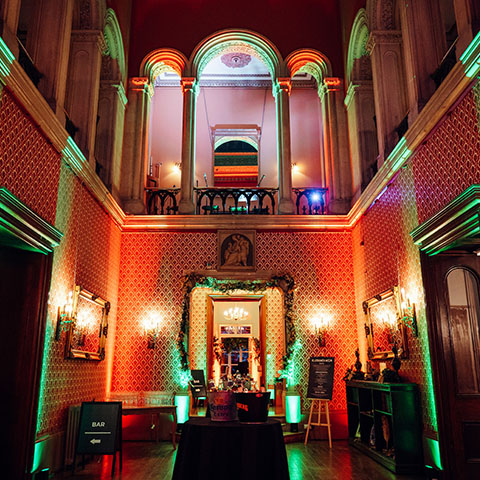 We secured exclusive hire of Grittleton House, a stunning Grade II* listed country house in Chippenham, Wiltshire. Set within beautiful grounds, the venue itself would provide a wow factor the moment guests arrived. The front of the house was bathed in lights for visual impact as guests arrived. And inside, our lighting team did an amazing job of creating a colourful and vibrant party atmosphere having designed a lighting scheme that made the most of the wonderful architectural features.
The theme for the first night was Heroes and Villains and guests entered into the spirit of things with some fantastic costumes. We provided plenty of props for their use, as well as professional face painters whose fantastic skills complemented the party theme – and a 360° photo booth meant that guests could get some great souvenir photographs.
Everyone was welcomed with Prosecco and canapés and a four-piece band performed from the upper gallery of the central hall. As the party got underway, guests were able to explore and enjoy the many different event spaces we'd created, including a cocktail bar, chillout area and three rooms offering a variety of entertainment, from DJs to live bands, all with their own unique vibe. We also installed large TV screens so that everyone could watch the World Cup, during which time more substantial canapés were served followed by bite-sized desserts. To avoid long queues for drinks we ran three bars as well as keeping lots of chiller buckets full of bottled beer topped up throughout the venue, making it easy for guests to help themselves.
The highlight of both evenings was a special headline act. This meant that we needed a space big enough to accommodate all 500 guests. We installed a 12m x 30m clearspan marquee in the venue grounds, which allowed us to build a massive stage set complete with smoke jets and confetti canons. Later that evening, everyone gathered to enjoy a fabulous live set performed by a 10-piece band from Tel Aviv. Late night snacks were then served at 12.30am to help soak up the alcohol and give guests a second wind.
This epic two-day event, which involved the creation of two themed parties was organised within a very short time frame. The team surpassed itself in every respect, not least in dealing with the logistics involved when 500 guests are involved. We arranged for five coaches to transport guests from the company's London office to Chippenham. With so many people to accommodate we booked rooms in a variety of local hotels and guests wore wristbands that were colour coded according to which hotel they were staying in. This helped hugely with transport – we ran shuttles between the hotels and venue, including a fleet of minibuses that were available for guests to return to their accommodation when they were ready rather than waiting for a coach to be filled. At such a large event, health and safety is also an important aspect. We had event medics on site and a large security team, which helped ensure everything ran smoothly.
And at the end of the night guests left knowing that they'd be returning for a second night of celebrations, but with no idea of just how different that experience would be!