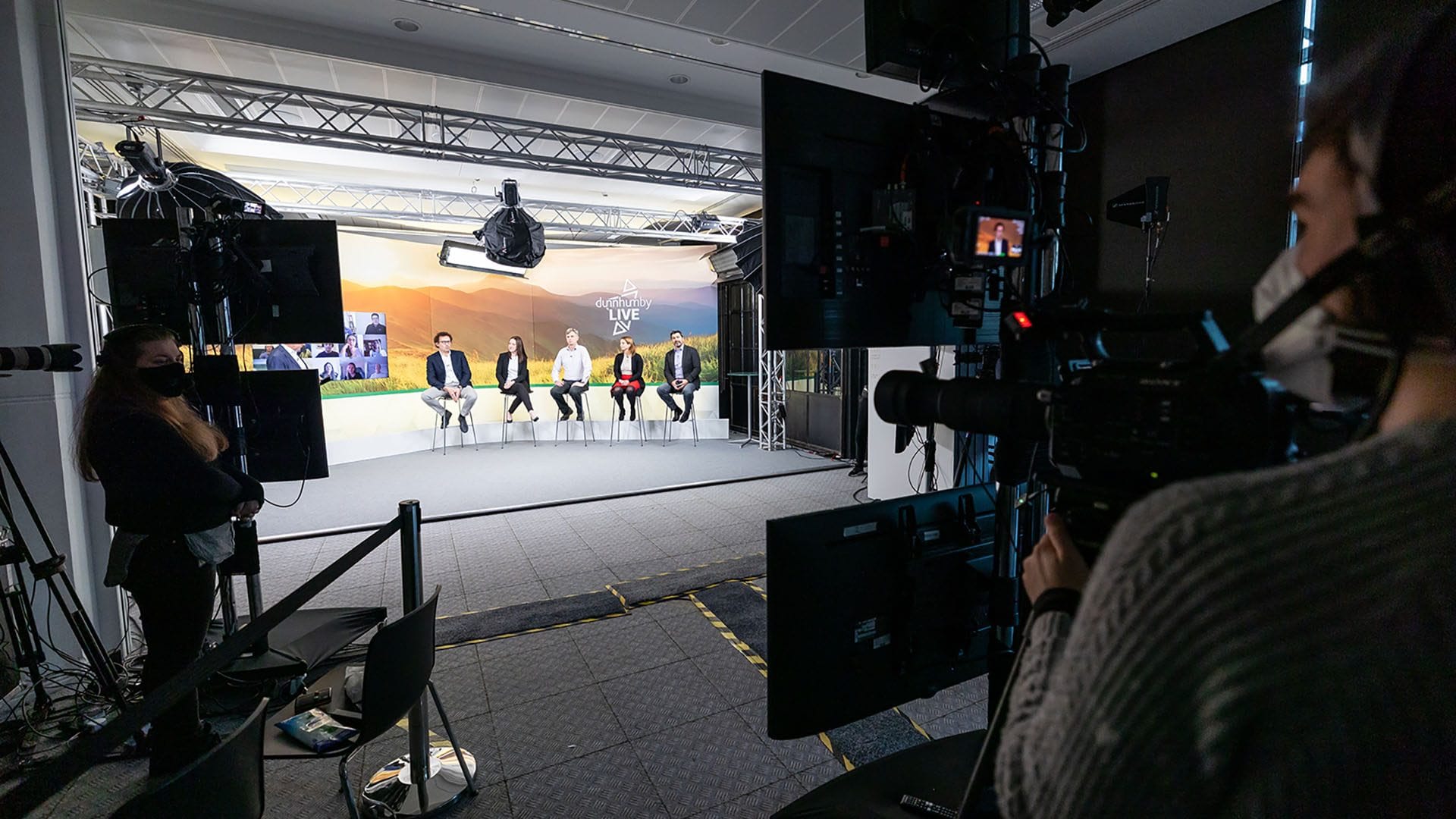 A virtual global company conference delivered across multiple time zones
Our client, a global leader in customer data science and analytics, has a 2,000-strong worldwide workforce. Traditionally, the company's annual conference has been delivered in person across three geographic regions but the Covid-19 pandemic had prevented this from happening in person in 2021.
MGN events was asked to completely reimagine the all-company conference and deliver a virtual event experience that would bring their people together, communicate a refreshed business strategy and provide opportunities for everyone to find out about all the positive work being done regionally and by functions – live and across different time zones.
Our client also wanted people at all levels of the business to be able to network and make connections outside of their usual teams and departments. Indeed, one of the key event themes was 'connectedness'. The event was also intended to provide employees with a break from their day-to-day work, to celebrate and be proud of the work they do and be inspired and motivated about the year ahead.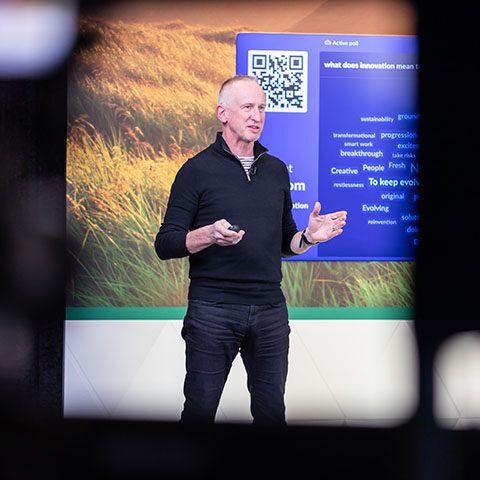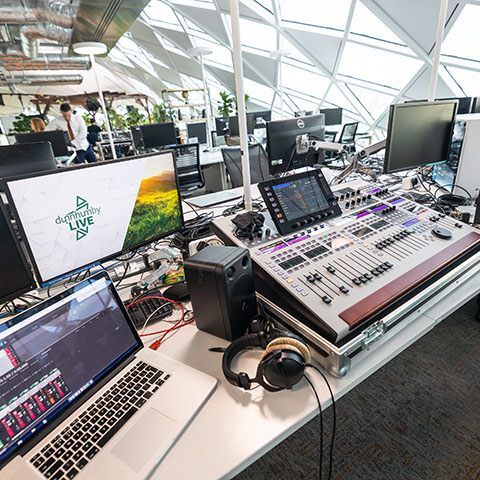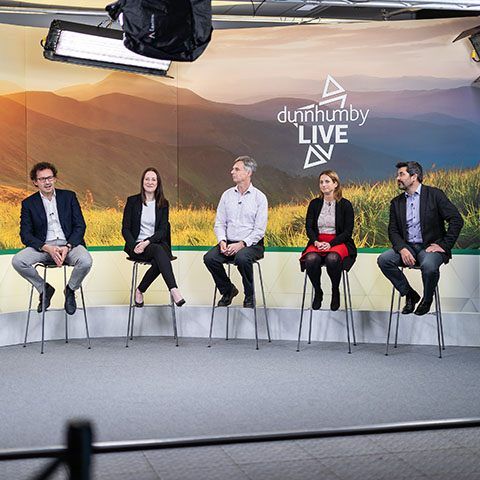 PREPARATION, PREPARATION, PREPARATION
The event was scheduled to run over two days and the agenda was designed so that sessions would repeat live at times that everyone could access them according to their geographic region – Europe, the Middle East & Africa, Latin America, North America, Asia Pacific and UK & Ireland.
We took a completely holistic approach to the conference, working closely with the client to create an effective engagement and content strategy that would prove compelling and unmissable for attendees. We ran content discovery sessions with senior teams to deep dive into each set topic and to explore various possibilities. From this, our creative teams, led by our content strategist, recommended different agenda formats for each session to ensure delivery of clear messages and information. The first day of the event consisted of a global plenary session, followed by global updates. Day two incorporated regional and functional breakouts, along with a virtual fair that took inspiration from the trade expo format and provided an overview of specific areas of the business.
Naturally, this required a significant amount of content creation and we put together multiple videos, presentations, pre-recorded sessions, animations and graphics. Professionally produced to ensure high production values were embedded within the event, we also created strong branding, including a bespoke logo, colour palette and graphic assets, to establish a consistent look and feel across all audience touchpoints – from the pre-event comms campaign to all visual aspects of the event itself.
A bespoke and fully integrated registration website captured delegate information and enabled attendees to choose appropriate session times. A week before the event our bespoke event platform opened, where delegates could participate in challenges, complete tasks and post messages, activities that helped create a sense of anticipation and encouraged a high degree of engagement.
LIVE FROM HEAD OFFICE
Part of the challenge we were given was to bring the virtual event to life, something that would create a genuine wow factor. In this respect we went as big as possible and, after careful consideration, decided to broadcast from our client's London office rather than using a TV studio. The familiar surroundings helped give the event a real sense of authenticity and strengthened the connection with all employees – critical for a virtual experience.
Three separate studios were created. The main studio, used for the live broadcast on both days of the event, was built within the company's training room. We installed a full set and stage with a branded curved backdrop incorporating a large TV screen used to display speaker presentations, graphics and an interactive audience wall that would be key to creating a meaningful two-way dialogue between presenters and the audience. Two further studios were also set up in different areas of the office, and each given a different look, to broadcast content on day two of the event.
Behind the scenes we had a small army of over 50 professionals on site to ensure the event ran smoothly. This included executive producers, camera operators, streaming technicians, audio and lighting crew, graphics operators, show callers, AV and stage managers. State-of-the-art equipment was used, including a pole cam for quality shots, 4K cameras for the very best picture quality and we even installed a custom floor to dampen background noise.
Live streamed via the secure bespoke online event platform, our professional host welcomed all those attending and guided delegates through the sessions. Presenters were well supported via our virtual green rooms, where they could communicate with our producers. Presentation quality was enhanced by the use of a scriptwriter, which helped ensure key messages were delivered effectively and professionally. This resulted in confident and relaxed presenters who were comfortable in their roles, which made for a truly engaging experience.
MAXIMISING AUDIENCE ENGAGEMENT AND PARTICIPATION
Although this was a broadcast event we still wanted attendees to feel that they were part of a shared experience that was dynamic. This is where the interactive audience wall came into its own. Comprising 12 attendees who had volunteered to participate when they first registered, this representative group was actively encouraged to provide feedback on each session, to respond to the content and to interact with the presenters in real time. Other features on the event platform gave all attendees multiple ways to get involved throughout the event, including instant chats, challenges, activity feeds and polls.
To keep everyone fresh, keen and engaged, we built in energising interactive sessions throughout the event. This included a fun 'Emoji Guess the Film' quiz between presentations, a desk yoga session and an 'around the world' challenge. The challenge saw attendees randomly put into teams of six and was designed to achieve our client's objective of making connections and encouraging people to work with others outside of their usual team.
THE TRUE MEASURE OF SUCCESS
Of those who registered for the event 95% attended. Over the two days, which equated to a total of 361 hours of viewing time, some 6,467 messages were sent via the chat feature, over 1,000 people took part in the polls and a total of 9,264 votes were cast. Each attendee averaged 9 interactions and participation in the challenge section of the event platform saw a massive total of 17,147 points accumulated. Impressive numbers for a highly complex event catering to a truly global audience.