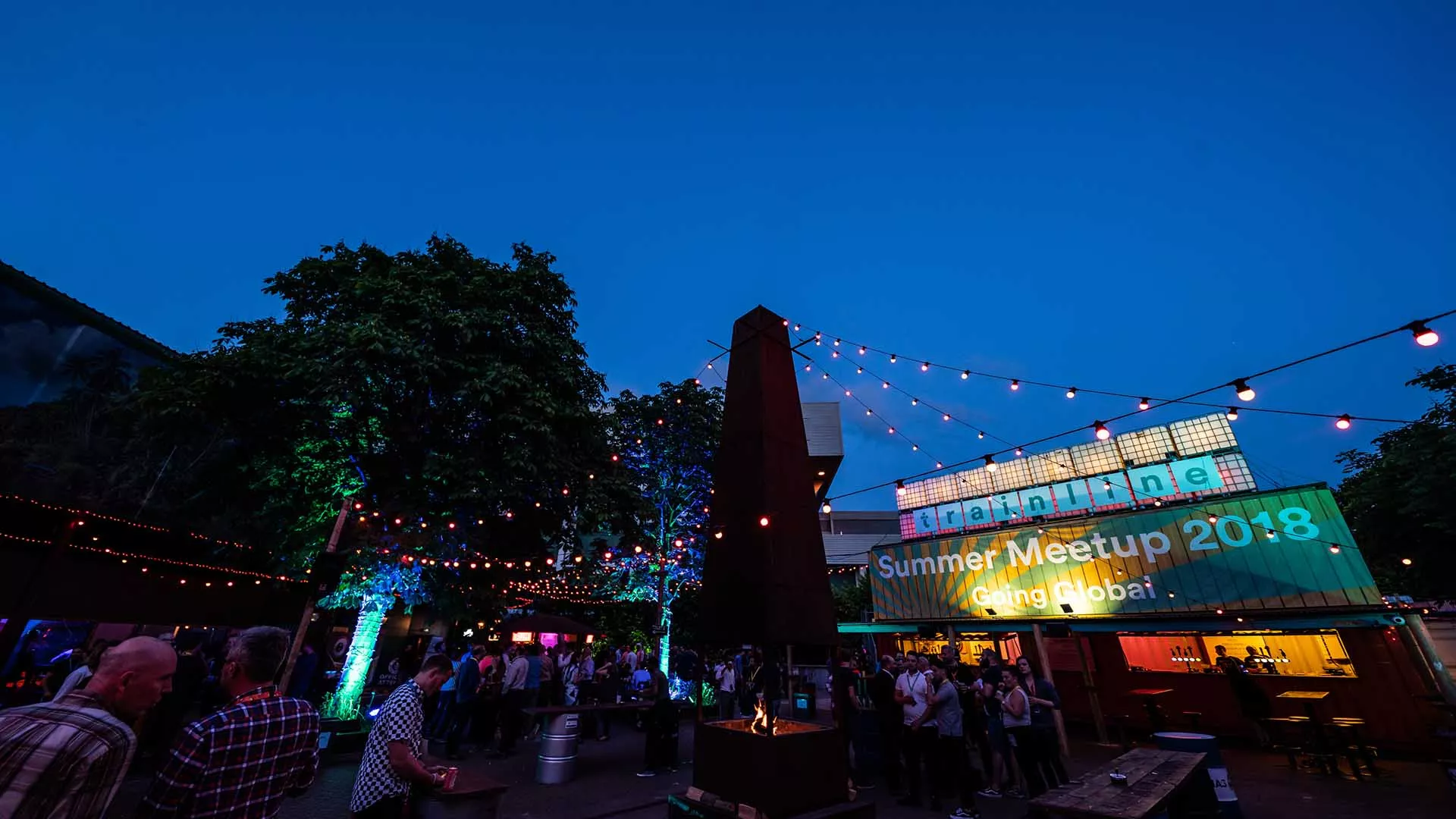 SUMMER CONFERENCE & AWAY DAY
This annual away day brought together over 500 employees from several European offices. Focusing on business growth, an afternoon conference explored company performance and future plans. It was also an opportunity to collectively celebrate success and have fun in a party atmosphere. Having worked with this particular client for a number of years on various events, MGN events was once again chosen to deliver the key event in the company's calendar.
Our client embraces the concept of a corporate event that is less 'corporate' but will still achieve its objectives. In that respect we like to challenge ourselves to make each event even better than the last one and to come up with something fresh and exciting.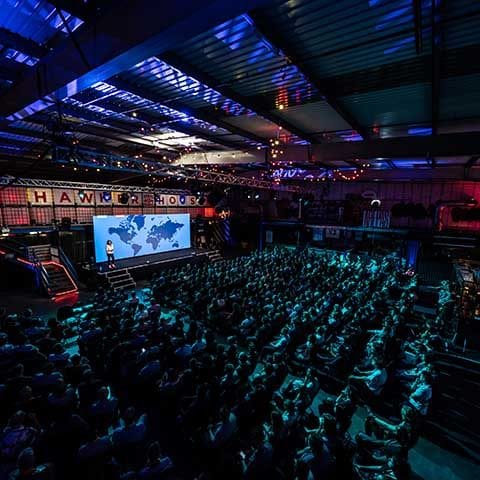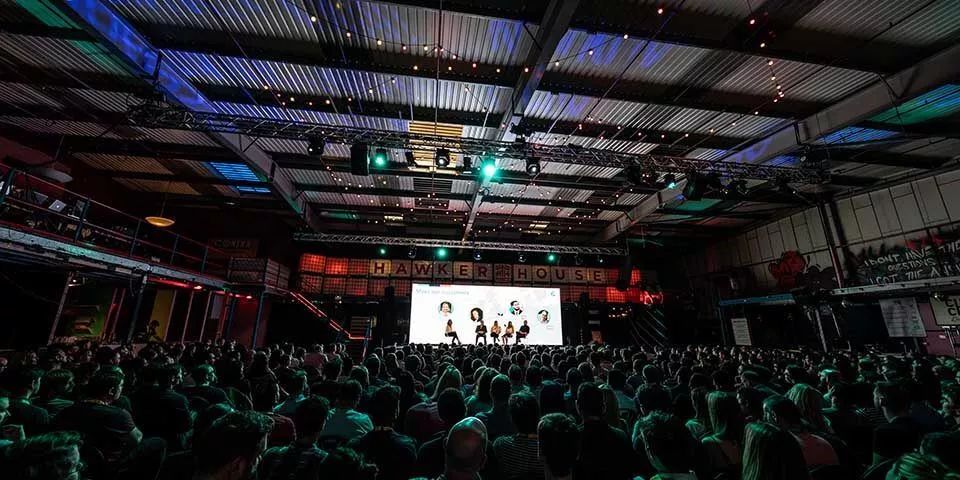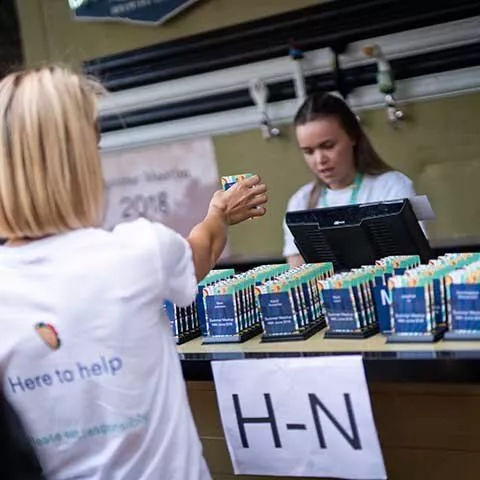 Having agreed that London would be the location of the away day event, our venue search focused on finding somewhere unusual, an unexpected setting for a large-scale corporate event. Hawker House in Canada Water was the perfect alternative to a traditional conference centre. The event theme was 'going global', so a street food market offering cuisines from around the world was ideal. It would also enable us to 'festivalise' the away day and create an atmosphere that would both surprise and delight. With the venue sorted, we then progressed with the design, organisation and management of the event. We took care of all the logistics involved, including travel and accommodation for all delegates.
The whole event was strongly branded from the moment guests arrived. Our event registration team – wearing branded t-shirts – was there to meet and greet, and every guest received a bespoke lanyard, name badge and passport, which neatly established the global theme. Delegate information had been collected pre-event via a bespoke event registration website we'd set up, so our event management team had live realtime data on who had or hadn't arrived.
Once in the venue delegates found themselves within a fully branded environment, from large-format printed banners and festival style posters right down to reusable cups. The cups themselves enabled us to hit our sustainability target and were also intended to be taken away as a memento of the event.
For the conference itself our in-house technical production team created an engaging and immersive environment in which it would take place. This included building a large 6m x 3m, 2.9mm pitch LED video wall. We rigged and flew trussing in the venue ceiling to create a lighting scheme that would add atmosphere and focus attention for the conference. The use of custom gobos in conjunction with the intelligent lighting helped brand the environment – a high impact low-cost solution. It would later also help transform the environment into a vibrant party space for the evening.
The away day's afternoon conference kicked off with the CEO's address and was followed by two panel discussions, both of which took an interesting angle. The first saw four customers participating in a Q&A session, an ideal opportunity for employees to ask whatever they wanted and to gain a real understanding of the service the company provides from the customer's perspective. The second panel brought together a number of industry experts who discussed the company's future plans in a much wider context and gave insight into what these developments will mean. This combination of customer focus and industry insight provided plenty of food for thought and ensured that the conference wasn't purely self-congratulatory or insular in content.
Taking advantage of so many internal teams coming together in one place, we also organised several team-building activities that would strengthen relationships between departments and countries. We challenged employees to break three world records, including building the tallest Lego tower. Whilst they weren't official attempts – so no one made it into the famous Guinness Book of World Records – records were broken and there was a huge sense of achievement and triumph!
As the away day progressed, we prepared for a corporate party in the same venue. The 'festivalisation' of corporate events is a trend that has evolved and developed in recent years – we know just how well it works and how positively delegates respond to a more relaxed atmosphere where they can explore and discover experiences. Held across three zones, each offering different types of entertainment and with a range of street food stations available, there was something for everyone to enjoy. To add to the fun we supplied a Video DJ and karaoke, and GIF photobooth produced plenty of memorable moments and takeaways from the evening.