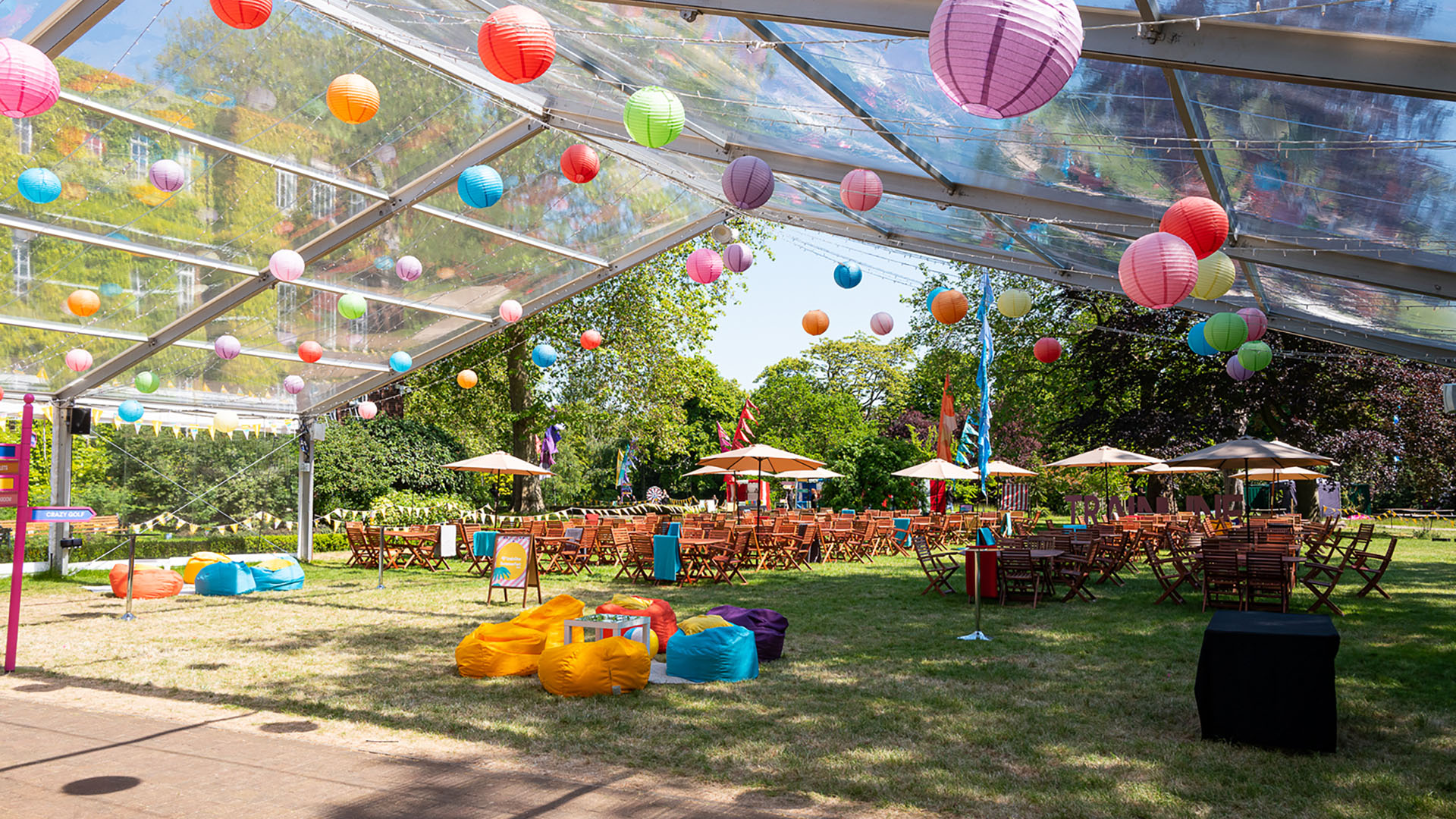 A summer festival across London and Europe
Summer Festival time… Working with returning clients is always a great challenge for us – we love nothing more than raising the bar to ensure their next event is fresh and exciting. We've delivered many events for this particular client over a number of years, the most recent being a celebratory annual conference and the company Christmas party.
The company's 2023 summer event had sustainability as its main focus and, with offices in both the UK and Europe, we came up with a clever solution that would avoid the usual requirement for everyone to travel to one location – and without any compromise in levels of participation, fun or enjoyment. We set to work event managing a summer festival that could be replicated across four locations – London, Edinburgh, Paris and Barcelona.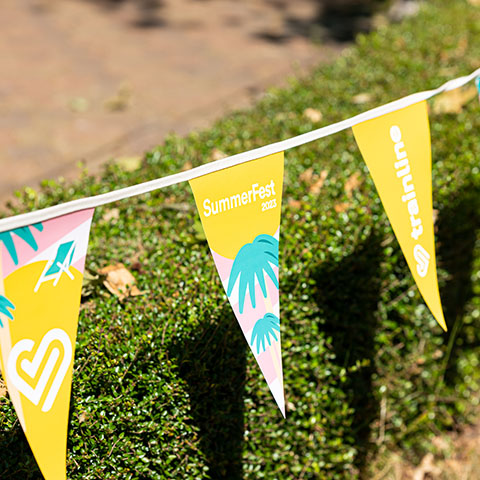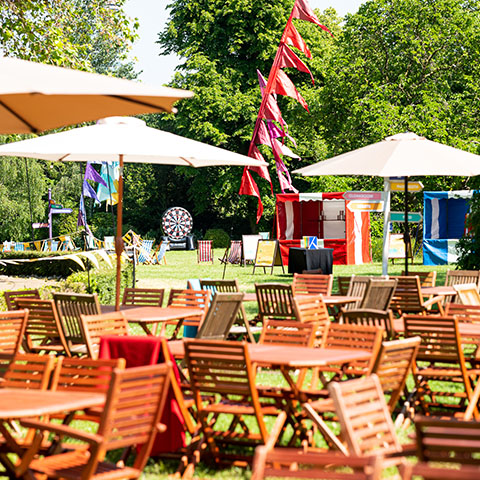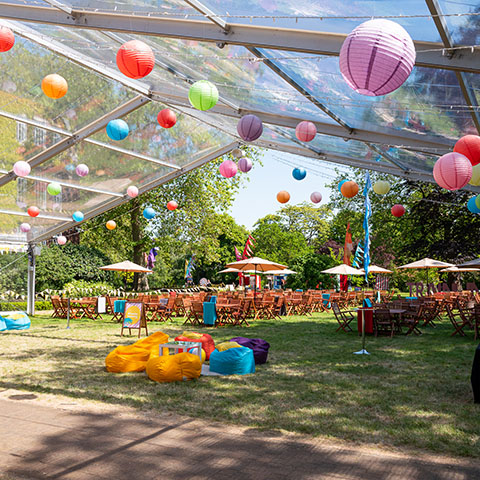 Over 500 guests would be attending the London event so we needed a venue with plenty of space. York Lawns in Regent's Park was perfect. A stunning setting which included a large marquee and beautifully landscaped lawns, York Lawns would give guests a real wow factor as they arrived.
Complementing the venue's own furniture, we used rugs and throws, beanbags, beer barrel seats, deckchairs, coffee tables and festival flags to create clusters of seating and a welcoming and relaxed environment. Giant festival letters, spelling out the company name, were used in London and Edinburgh, whilst specially designed banners were created for Paris and Barcelona.
Sustainability was embedded into all aspects of the event design. From selfie frames for each location to signage, we aimed to make the event as environmentally friendly as possible. Wristbands were made from recycled PET fabric, we sourced eco silk bunting and drinks tokens were made of recycled card.
As guests arrived at the venue, they were greeted with Prosecco, Pimm's and bottled beer, with elderflower spritz and non-alcoholic beer as an alternative. On arrival each guest was given drinks tokens to redeem at the bar for the rest of the party. We worked closely with the venue's catering team to create a superb barbecue that delighted everyone – far from guests with particular dietary requirements feeling left out, we made sure they were also treated to a sumptuous spread. From Dexter beef brisket burgers served in a choice of buns or rolls to gluten-free beetroot and mint burgers and vegan soy hotdogs, there was something delicious for everyone, along with a choice of salads and summer fruit pavlova for dessert.
Garden games, crazy golf and funfair stalls were the perfect choice for outdoor entertainment. Rather than providing single-use plastic prizes, we gave out stickers that we had specifically designed in the event brand to everyone that had a go and, if they were a winner, guests were given a recyclable token. Our client had chosen four charities to support as part of the company's corporate social responsibility and we made a donation box where guests could use their tokens to choose which charity they wanted to donate to.
The MGN team was based at York Lawns. Sporting t-shirts with the event branding, the team made sure that everything ran smoothly and guests knew where to go if they needed any support.
Whilst we didn't have the usual logistical challenge of organising international travel for the entire company, we did need to ensure event materials would be produced and delivered to all locations in time for the events. International shipping of bunting, banners, wristbands and drinks tokens also involved the management of custom charges and taxes specific to each country. Smaller challenges, such as 500 guests arriving at and departing York Lawns at the same time, were easily overcome. We ran two cloakrooms with colour coded tickets and made sure there were plenty of staff available to minimise queueing time.
However, our biggest challenge was to connect the four events and make everyone feel part of something bigger. Visually, we ensured that all locations were supplied with branded materials to give the events the same look and feel. That was simple and obvious. But to really bring people together, we embraced technology – and much of the knowledge and expertise we gained from running virtual events. At each location our in-house Production team installed two large format TV screens. On one we had a Zoom meeting running, which allowed guests to see what was going on in each location. The other screen became a dynamic social wall. Using a unique QR code guests could post photos and comments to the wall, which automatically refreshed with each new post and effectively operated like a bespoke Twitter page. Posters were put up at each location to encourage guests to engage with the social wall and it proved highly successful.