Summer festival to celebrate 30 years
Our client, the founder of a successful video game company, has been at the forefront of digital entertainment for over 30 years. Having previously run several other gaming companies, he had long imagined a glorious reunion event for past and present employees. Keen to see that vision become a reality, our client asked us to produce a big and bold festival event that celebrated key achievements across the decades.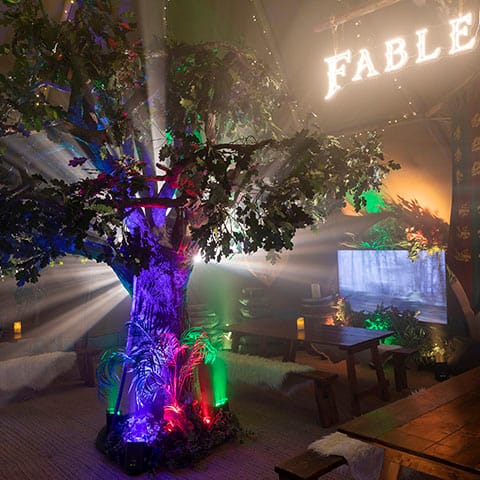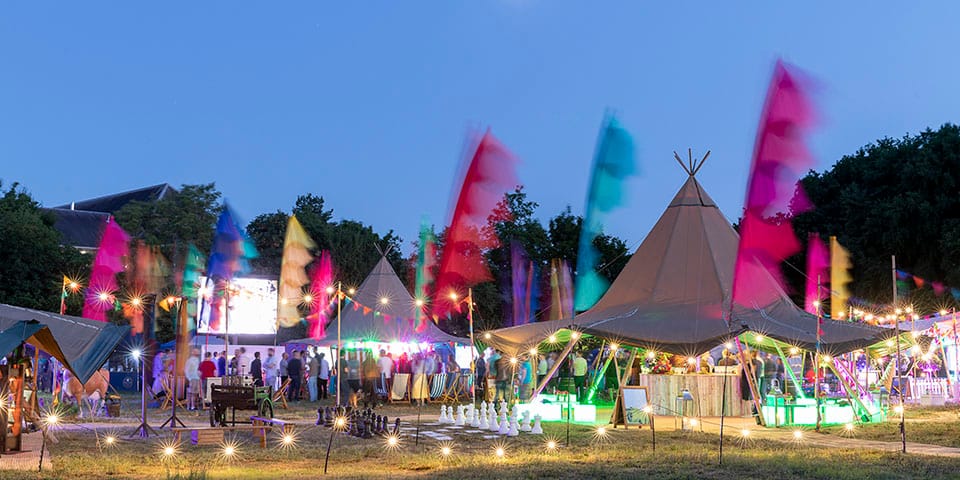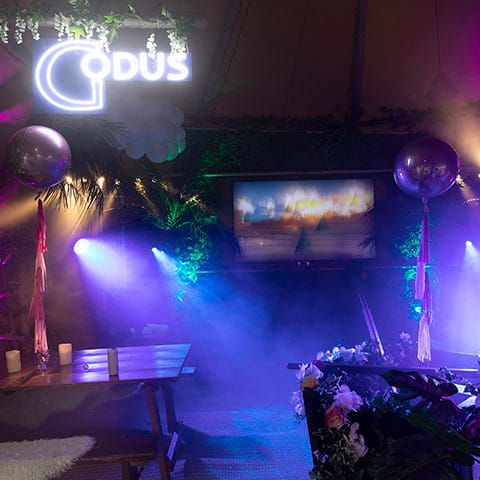 With 250 guests invited, the event needed careful planning and management and MGN events took care of every aspect. With the event to be held in July, we were able to take advantage of the summer weather and plan an outdoors party. Our client's offices are based in Surrey Research Park and look out onto fields and woodland. With plenty of space on site and a visually appealing backdrop, we had the perfect venue.
We gave the event a festival vibe, using a mix of stretch tents and tipis, complete with plenty of bunting and festival flags. The overall look was spectacular and inviting, enticing guests to discover and experience everything. Naturally, as day turned into night so the atmosphere evolved and a carefully designed lighting scheme came into its own, adding even more style and vibrancy.
The event theme drew on the iconic games for which our client's companies are known – we focused on Theme Park, Fable and Godus. For a truly immersive experience, each game was effectively recreated within a tent or tipi, using props and decoration – even sound and smell – to emulate the specific game environment.
There was also a stage tent, which provided a central point of focus – this was where the DJ performed and speeches were delivered. An outdoor LED screen projected game visuals, bespoke animations and a slideshow of visual memories from over the years in business.
Meanwhile, there was fun and games to be had everywhere! We set up a selection of traditional funfair stalls and outdoor games, such as giant chess, and even a bouncy castle. In keeping with the festival feel, we enlisted the help of some fantastic street food traders to provide guests with a delicious array of noodle dishes, gourmet hotdogs, Mexican burritos and handcrafted desserts.
One very important aspect of the event was to acknowledge the passing of a particularly colleague and to celebrate his life. In his honour, we created a bar with his name in neon lights and dressed the area with a wonderful abundance of floral decoration and festoon lighting. Visual memorabilia added yet more personality and gave guests the perfect setting in which to exchange fond memories and pay tribute to a much missed colleague.