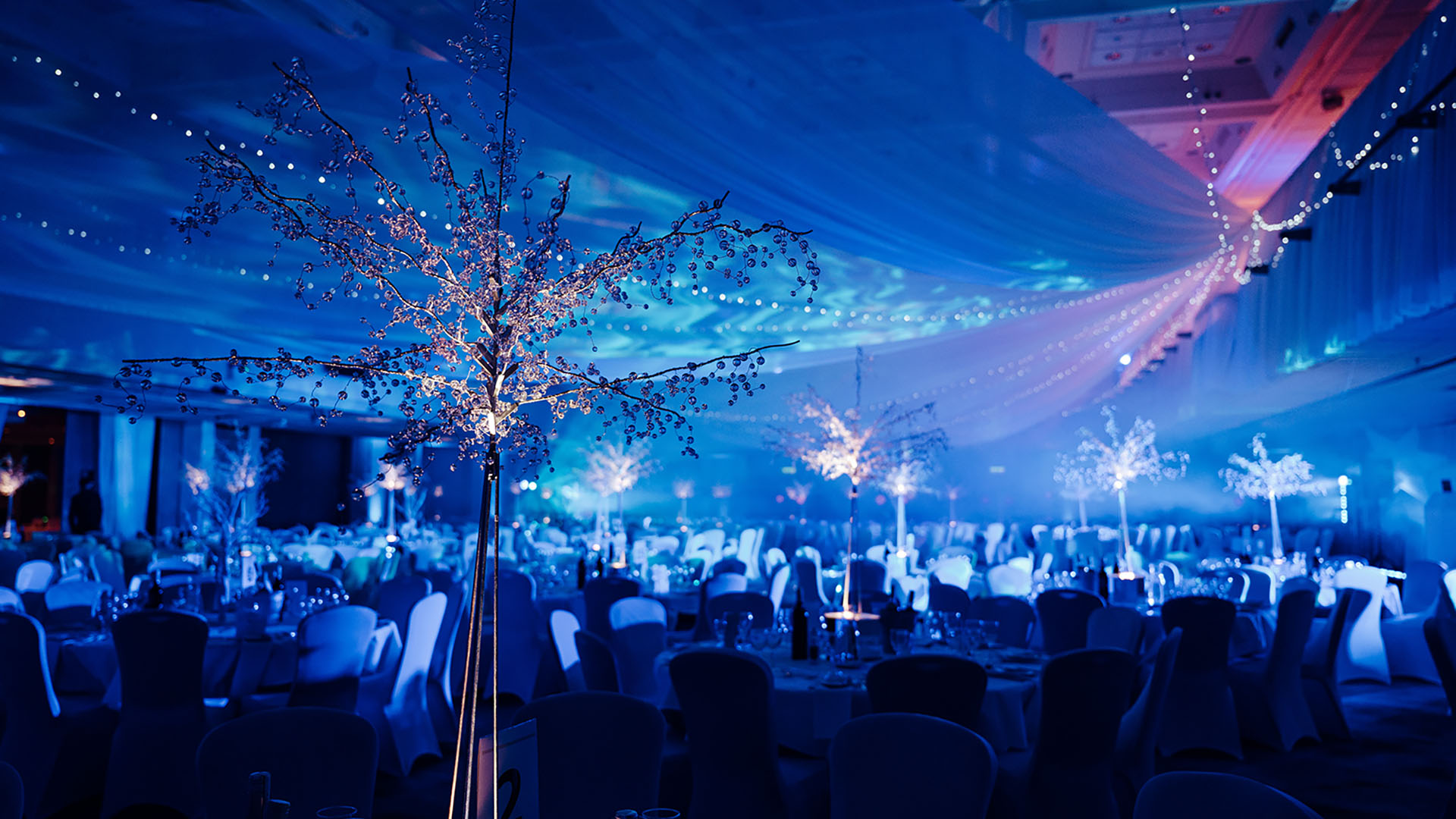 Stylish white Christmas party in Brighton
We've delivered a number of highly successful events for our client, a video games company based in West Sussex. Having created several alternative Christmas parties previously, including one with an Alice in Wonderland theme, this year's theme was an uber-stylish white Christmas.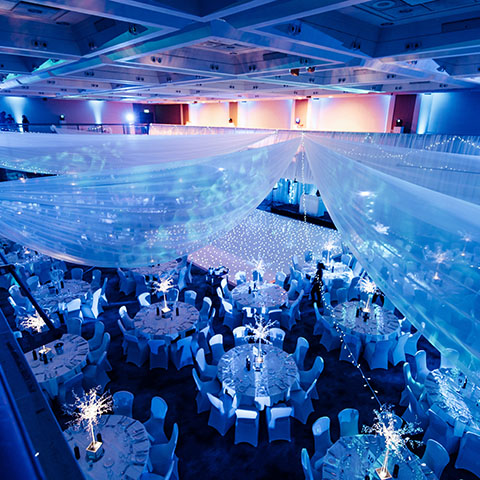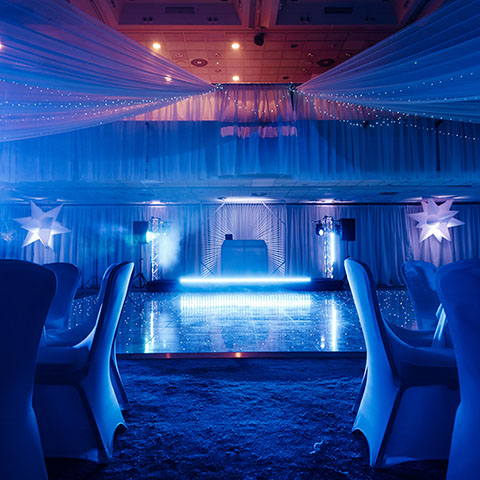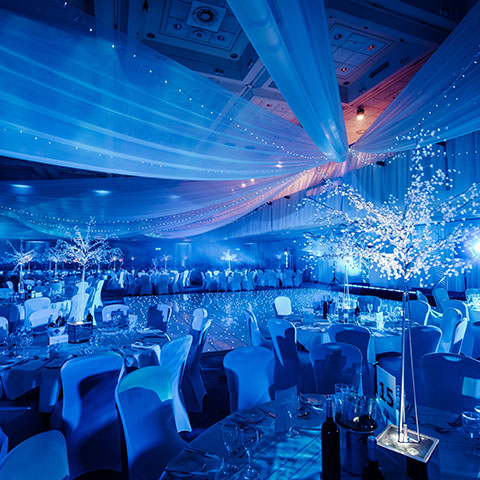 Held at the Hilton Brighton Metropole, a magnificent and imposing Victorian building on Brighton's seafront, the venue would immediately establish a sense of grandeur. The room itself had beautifully high ceilings but we created a more intimate atmosphere by using swathes of voile to lower the height. A cool ice-blue lighting scheme, illuminated twig trees, crisp white linen on the tables, elegant white chair covers and starlit dancefloor completed the look and transformed the room into a sophisticated festive space.
Following a drinks reception, guests enjoyed a delicious three-course gala dinner. Our client wanted dinner to take no longer than 2.5 hours and, unusually, guests were free to sit wherever they wanted and we worked closely with the venue to ensure a smooth and efficient service. A pre-plated starter suitable for all diets meant that the first course arrived promptly. Guests with dietary requirements were given a place name card as they arrived – once placed on the table, serving staff could then easily identify those who had specific requirements and then serve the appropriate meal quickly.
As well as a fabulous DJ who kept everyone dancing right through to the end of the evening, a variety of entertainment provided plenty of fun and laughter, including arcade games, beer pong, magic mirrors, face painting and a pick'n'mix stall.
Whilst we don't tend to shout about challenges that arise during the planning and organising stages, we do pride ourselves on how we surmount them – and this particular event threw up a number of problems to solve.
The venue was originally booked on the basis of 500 guests attending, so when the guest list grew to 650 we had to find a smart solution. Fortunately, the room we were using included an internal balcony. We were able to utilise the space for the required additional tables and created a 'quiet area' – perfect for those guests who didn't want to be constantly in the thick of the action, they had full view of the dance floor and stage and could still feel involved without any compromise to the overall experience.
With just a week to go, we were thrown another curve ball – a football with England's name on it! Yes, the FIFA World Cup was on and England would be playing in the semi-finals during the party. Knowing that this would almost inevitably impact on attendance, our client was keen for the match to be aired. Again, luck was on our side – a room adjacent to the drinks reception was just what we needed. We set up a large format screen, gave the space a patriotic feel with red and white uplighters and those who wanted to follow the game were able to without missing out on the drinks reception.
The other big challenge was a logistical one. Whilst some people were relatively local to Brighton, many more lived in and around London. We organised nine coaches to transport 450 guests to and from the party. A straightforward task in itself, but with restrictions on waiting times for guests to board the coaches and restricted space outside the venue for drop offs, plus the need to avoid causing traffic jams, timings had to be carefully planned. We created a detailed timetable that was communicated to guests ahead of the event and also displayed at the bars. At the end of the evening, we had a half-hour window once the bars shut, and only 15 minutes from when the music finished, for everyone to collect coats from the cloakroom, have bathroom breaks and get on the correct coaches. The DJ made key announcements and we then had teams both inside and outside the venue who were able to communicate with each coach and ensure a smooth process that saw everyone getting home safely.