Read time: 6-8 minutes
How do you host a successful employee event and drive engagement and ROI when you have people on different continents, people with different work-life commitments, learning styles and social or travel preferences? Find out why enlightened organisations are flexing to meet the differing needs of today's employees by developing hybrid event strategies.
Key takeaways:
— How to apply a flexible approach to employee events to promote collaboration and productivity
— Why hybrid events support employee autonomy and company culture and purpose
— Discover the tools and techniques used to successfully blend live and virtual events with exceptional results
[toc]
"Where do you go when you need to get something done?"
Software entrepreneur Jason Fried, who devotes his time to thinking about new ways to conceptualise working and creating, spent 10 years asking people this question. In 2010, Fried found that people rarely responded with "the office", a premises deliberately created by organisations to bring people together for the purpose of being productive.
Instead, to get 'something done', people were forced to apply an approach of radical flexibility, using time during their commute, retreating to a quiet spot at home, or carving out time late at night or early in the morning. Fried's findings opened employers' eyes to the need for office spaces that suit the diverse needs of their employees – quiet spaces for deep thinking, convivial spaces for socialising or collaborating, and private spaces for break-out meetings or discussions.
Fast forward to 2022 and the concept of radical flexibility, or the need to adapt to meet people's unique needs on the road to productivity and well-being, has become ingrained in many companies' strategies and cultures. Gartner defines radical flexibility as giving employees "flexibility over where, when, how much, how and with whom they work." It's a refreshingly inclusive approach that recognises employees as autonomous individuals.
The hype about hybrid events
This same flexible ethos is being applied to events that bring employees together to learn, network, celebrate or collaborate. Internal employee event strategies are evolving from purely live or purely virtual to a blend of both: hybrid events. And, according to a report by Kaltura, hybrid events are here to stay. 67% of employers in the UK and US had a hybrid strategy in place by the end of 2021, versus just 25% who had a virtual-only strategy.
This move from in-person, live events to hybrid events is being made possible by technology and driven by event attendees, 84% of whom would like to always have an online option available to them.
Here, we uncover 6 reasons hybrid events are proving so popular with business strategists, chief people officers, internal communications managers, human resources and internal events managers, and how to make them a success.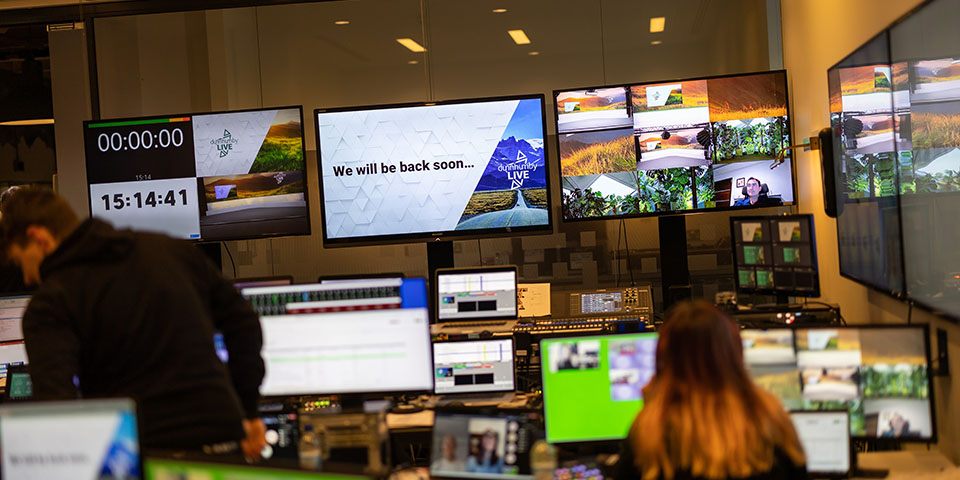 Hybrid events…
1. Deliver learning and networking opportunities
'The State of Virtual Events 2022' report by Kaltura states that the top goal for virtual employee events is learning – about the company or a new initiative, for example. But the primary focus of an in-person event is networking and collaboration. A hybrid event enables people to do both, or to focus on one or the other, according to their job function, comfort levels or preference. It's an environment that offers a richly rewarding experience for those attending in person as well as those attending virtually.
Organiser tip: Online communication tools and a content-rich format are key to supporting networking and learning at a hybrid event. The virtual attendee experience must deliver on substance and must be no less rewarding than the in-person experience. Pre-recorded presentations, live video content and highlight reels will help engage your audiences no matter their location and help ensure your messages resonate and stick.
The solution: Alongside delivering a flawless live event, a seamless mobile app experience is a must for the virtual side of the equation. Choose an app that includes digital tools such as chat functions, virtual break-out rooms and profiles that enable people to find one another to network, engage with content, collaborate and focus on business development virtually.
Contact one of our expert advisers to learn more about our solutions.
2. Support employee autonomy
Hybrid events support the radical flexibility that employees today want and expect from their employer. This type of event gives people a choice whether to attend in person or virtually, helping them manage their work and life commitments.
The format is also proving popular because it means that people don't have travel to attend and can tune in from across the country or the globe, driving cost savings and the convenience factor. People who are comfortable with live events can stay in their comfort zone, and those keen to embrace change and new tech can do that too. Hybrid events increase the inclusivity and diversity of attendees and employees can choose how they want to learn, engage or interact.
Organiser tip: Create a specific landing page that highlights the in-person benefits as well as outlining the digital experience. Use the page to drive registrations so you can track data including attendance preferences and numbers. This will help you shape the event at hand and provide insights on whether your overall event strategy is on the right track.
The solution: A fully branded registration website can be designed to capture  delegate information. A short teaser film can be created to promote the event. Event coordination can ensure that the event merges seamlessly with an internal comms plan. Blending a creative approach with a fact-finding discovery session to understand strategic messages and speaker expertise will bring the event to life.
Contact one of our expert advisers to learn more about our solutions.
3. Build a sense of community
Event strategies are as much about strengthening work connections and cultural ties between people as they are about communicating key messages, educating people or seeking input on a concept. Hybrid events are a flexible way to support an organisation's cultural agenda, and with the right groundwork, give employees a psychologically safe space to show up as themselves and contribute with confidence.
By ensuring that attendees can interact with one another, listen, provide feedback and bring their voices to the conversation, event planners can foster a supportive, inclusive community that thrives as much on camaraderie as professionalism. Enabling people from far flung corners to come together provides opportunities for individuals to meet and work with others outside their usual circles or teams, breaking down silos and encouraging skill sharing.
Organiser tip: Building a brand for your hybrid events, complete with its own logo, colour palette and graphic assets will help establish a consistent look and feel across all your platforms and touchpoints. Using a variety of learning and collaboration tools will help keep things fresh. This cohesive approach will help build a sense of community for audiences whether they're experiencing the event in person or via technology.
The solution: A platform that can support live and on-demand access to keynote speakers, Q&As with luminaries and experts, demos, virtual happy hours, thought leadership sessions, breakout rooms and group discussions. Fully branded 'engagement boxes' with event goodies delivered to all delegates, in person and virtual, to encourage attendance and participation.
Contact one of our expert advisers to learn more about our solutions.
4. Drive a better return on investment (ROI)
Greater ROI and engagement are listed among the key findings in the report, 'The State of Virtual Events 2022'. The report finds that organiser's top three benefits of having a virtual event versus a purely in-person event is higher attendee engagement (36%), a better return on investment (26%) and a greater number of registrations (25%). This is followed closely by greater attendance of high-value attendees and VIPs (24%). The low cost of attendance, ease and convenience and removed pressure to be 'on' are listed as key reasons that a virtual element brings in the attendees.
In the early days of virtual employee events, the drawbacks initially included an inability to socialise and difficulty networking. Tech developers have managed to overcome these obstacles by incorporating easy-to-use, responsive and flexible features that support communication and interaction on multiple levels.
Tech can also be cleverly applied to help you spur on and measure employee engagement at hybrid events. Discover 5 ways to use technology to gather and measure staff sentiment, satisfaction and engagement at employee events.
Organiser tip: Communication tools can make all the difference to people's engagement at an event, driving up enjoyment, satisfaction and retention of key messages.
The solution: Use a mobile-first platform that enables in-session chat functions, live polling and 1:1 chat features with other attendees outside of sessions. profiles to help others find you, attendee lists to find others to connect with, on-demand virtual rooms to meet with other attendees.
Contact one of our expert advisers to learn more about our solutions.
5. Underline authenticity and a shared purpose
It's important that organisations put their policies on cultural, societal and environmental issues into action. People feel more invested in organisations that take actions aligned to their purpose. The Gartner framework 'Reinvent Your EVP for a Postpandemic Workforce' states that shared purpose alone is responsible for a 9% increase in employee loyalty.
Hybrid events provide an opportunity for organisations to reduce the event's carbon footprint, by reducing the road or air travel associated with in-person events.
And broadcast tech enables organisations to turn their HQ into a television studio, bringing company authenticity and familiar surroundings to virtual attendees.
Organiser tip: Introducing your company and event branding on a custom set or backdrop in a TV studio builds brand consistency. Use several cameras to switch-up the angles and shots to keep things fresh. The addition of TV screens and displays enables presenters and in-person attendees to have a meaningful exchanges and dialogue.
The solution: High-tech production and creative services, including camera operators, streaming technicians, audio and lighting crew and kit, graphic operators, AV and stage managers. Considerations like 4K cameras and pole cams help ensure the best possible picture quality. A creative or production director will ensure the highest possible production values.
Contact one of our expert advisers to learn more about our solutions.
6. Support a sense of security and well-being
Bringing national or international attendees together for in-person events can often involve complex logistics around visas, travel requirements, accommodation, and safety and security policies. Reducing the requirement for people to travel means resources can be redirected to the digital experience such as online data privacy and interactive sessions to keep people fresh and energised, regardless of their location. These are things that support the holistic well-being of your people and help them to feel cared for.
Organiser tip: Build in energising challenges such as desk yoga, lunchbreak step count competitions, hydration stations and breaks. Remind your attendees of the company's policies on inclusion and diversity through some leadership-led storytelling to underline that the event is a safe space where people can voice their opinions and share their views in an open- or closed-format.
The solution: TV screens and displays at the live event bring virtual attendees into the room, and support interactive exercises, conversations, workshops and discussions. Bespoke hybrid event platforms encourage people to post messages, photos, updates on challenges as well as providing an activity feed that supports the event agenda.
Contact one of our expert advisers to learn more about our solutions.
Hybrid internal events provide a flexible high-tech, high touch platform
…that enlightened organisations can use to help their people get things done. Whether that's to come together to learn, network collaborate or work effectively. While pre-COVID-19, only 45% of employees had attended a virtual event, today the figure stands at 87% according to Kaltura.
Giving your people the gift of flexibility by developing a hybrid event strategy shows that you recognise your people as individuals and support the whole person. And when your people feel valued, understood and cared for, you may just find they are more engaged, productive, loyal and invested as a result.
You can get more help creating successful internal events that support employee well-being in our 5 step framework for event success. Get more tech inspiration for your next hybrid event or contact our team via the form below, on 01932 22 33 33 or by email hello@mgnevents.co.uk.
Further reading:
People-first culture: 5 ways to spark and measure engagement at employee events
Employee engagement: How to motivate staff in a post-pandemic world
8 ways to drive engagement at virtual events
The rising importance of employee experience in the workplace
Sources:
https://www.clearreview.com/6-employee-performance-management-ted-talks/
https://www.forbes.com/sites/forbescommunicationscouncil/2022/02/09/beyond-virtual-considerations-for-creating-a-hybrid-event-strategy/?sh=1828420c53f3
https://www.gartner.com/smarterwithgartner/make-way-for-a-more-human-centric-employee-value-proposition