So you've decided to throw a party. You'd like to plan your own event. You want it to be an incredible experience for friends and families, meticulously planned and delivered, every detail covered, everything running smoothly and on time. You want it to be unique, with plenty of wow factor, a party that your guests will remember for years to come and keep talking about. It should be a party like no other.

The hard work begins
It's not much to ask, is it?! And, assuming you've given yourself plenty of time in which to plan and organise your party, it's definitely achievable. It's just a question of getting started and knowing exactly where to start. The decision to host your party at home or at a venue may be relatively straightforward. But how will you transform different rooms into a party space, can you accommodate all your guests or would the garden be better?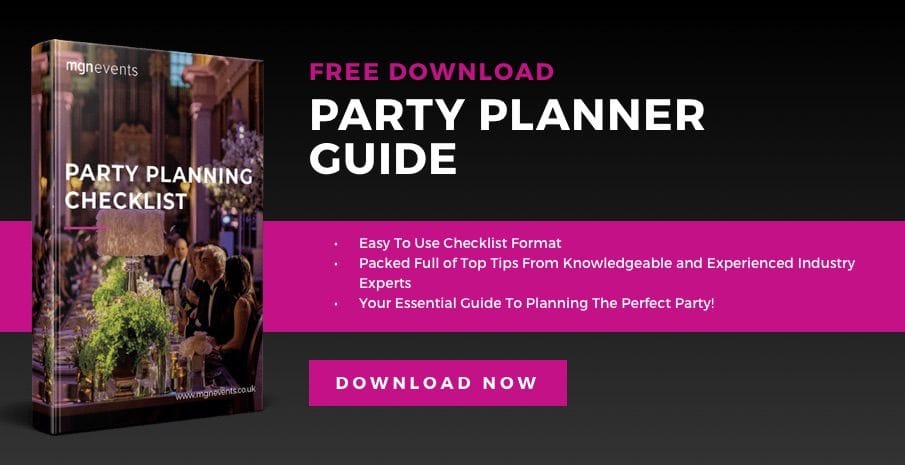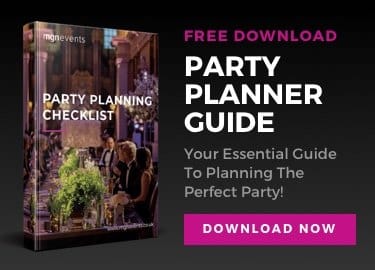 Will a marquee work? What about a venue instead – would that be more special, more impressive? Date and venue sorted, it's on to finding and selecting suppliers you can trust to deliver a high quality service, from caterers and florists to musicians, entertainers, DJs and prop hire companies. The 'to do' list is pretty endless and the details – from planning the best way to utilise the available space right down to the choice of cutlery and cruet sets – would exhaust anyone.

The devil is in the detail – planning a party isn't necessarily enjoyable
Sometimes it's not just down to having enough time. Organising a party can be a bit like a jigsaw puzzle. You want to do the interesting bits first, but finding all those annoying edge pieces is a necessary task, as is filling in the sky or all those trees in the background! That's where the expertise of an event planning and management company like MGN events comes in! 
We fully understand that it's your party, not our idea of your party – and there is a difference. We listen carefully to understand what you want, the experience you want to create for your guests. Whether you have a complete vision and theme for your party or just have a few ideas kicking around, we have the expertise to deliver a fully realised luxury party. We'll provide as much support as you need or want, keeping you as involved in the decision making as you would like. 

The stress-free solution
The advantage of getting us involved is instant access to an extensive network of suppliers, from the most amazing venues to awe-inspiring and unusual entertainers. Our creative thinking is underpinned by excellent organisational skills and budget management; we know how to deal with the boring stuff! And it makes life so much easier for you. We make it a stress-free experience, taking care of all the logistics while you focus on the more enjoyable aspects – menu tasting, visiting a shortlist of venues, checking out the options for entertainment and generally getting excited about how your party is shaping up! And that's exactly how it should be. Just because you're the host, you shouldn't have to worry about every tiny detail, you should be able to enjoy yourself every bit as much as your guests – something that is integral to the MGN events service.
Take a look at some of the parties we've created, give yourself the luxury of imagining what your own party would be like; and then get in touch for a chat about how we can help you plan your own event.
Do you want to plan your own event?
Plan it the stress free way with MGN events. Party planning is in our DNA. Too busy to worry about the details? Or do you want a company that can work alongside you to deliver your dream event? MGN are your perfect partner.
Contact our events team on 01932 22 33 33 or email hello@mgnevents.co.uk to find out more.