Immersive experiences are growing in popularity as sophisticated consumers seek more exciting and innovative ways in which to celebrate meaningful events like birthdays, weddings and anniversaries. Here we look at how to make your next event an experiential treat your guests will never forget.
The demand for experiential luxury is growing amongst ultra-high-net-worth individuals who are looking for memorable and exciting experiences to share with their loved ones. From travel to retail, hospitality to events, this sophisticated consumer group has the highest of expectations when seeking rich, dynamic and immersive experiences that delight and amaze the senses on multiple levels.
This demand is partly driven by the impact of the pandemic, which has seen consumers being more aware of their impact on people and the planet. Materialism is being replaced by the desire for special experiences which express love, wealth, status and generosity in more meaningful ways.
In this article
What is an immersive experience?
The importance of personalisation when creating experiential celebrations
Our 9 Top Tips
What is an immersive experience?
Immersive experiences give participants the perception of being in one place when they're actually in another. By using a blend of visuals, sound and technology to stimulate the senses, viewers are immersed into another real or imagined world where the lines between fantasy and reality become blurred. The result is a breath-taking experience that lives on forever in the hearts and minds of those who participate in it.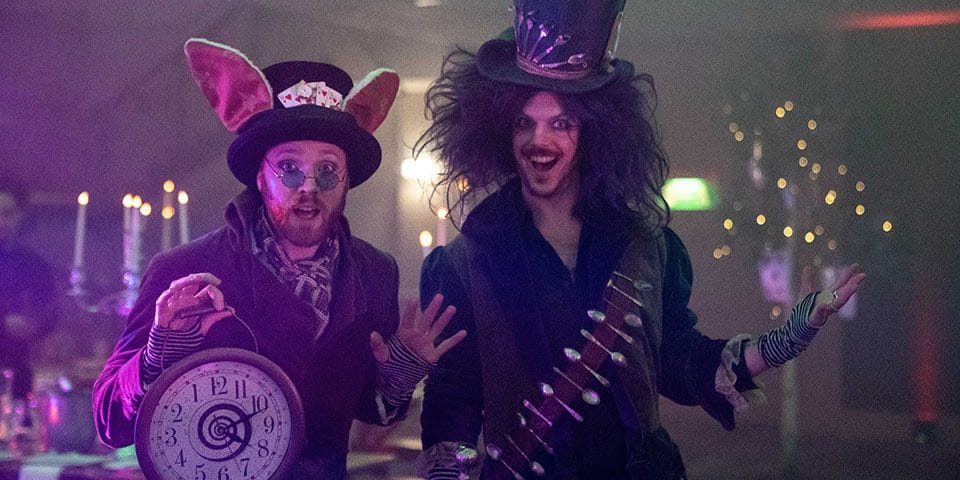 The world of gastronomy is one such place where the appetite for such immersive experiences knows no bounds – not least because all the senses are involved, presenting endless opportunities for chefs who push the boundaries of creative genius.
Charles Spence, Professor of Experimental Psychology at the University of Oxford and author of Gastrophysics: The New Science of Eating, says, "I think we all assume that taste comes from our tongues…. In fact, all of your senses are involved. Everything from the colour of the plate to the weight of the cutlery in your hands, from the background music to any ambient scent, as well as the lighting and even the softness of the chair you are sitting on."
Although the act of eating is multi-sensory by its very nature, experiential dining establishments like SubliMotion in Ibiza have really taken things to another level. Billed as the world's most expensive restaurant, Michelin-starred chef Paco Roncero takes diners on a 20-course culinary voyage like no other. The three-hour extravaganza is put together by architects, designers, engineers, illusionists, and screenwriters to craft immersive audio/visual experiences to accompany the futuristic cuisine.
Secret Cinema is another example of immersive experiences that engage the senses and provide scintillating entertainment. Blending theatrical experiences with well-known movies, Secret Cinema enables audience members to star in their own cinematic adventure. Secret locations across London are transformed into movie sets where both real actors and audience members mingle to create an unforgettable experience.
The demand for such immersive experiences by affluent consumers is reflected in the private parties and celebrations they host to mark important milestone events in their lives. Inspired by experiences like SubliMotion, they want to recreate similar luxury experiences for their guests by hosting immersive parties that have a real wow factor.
The importance of personalisation when creating experiential celebrations
Personalisation is absolutely key to meeting the exceedingly high expectations of today's ultra-high-net-worth individuals. Executed well, personalisation has the power to tap into deep emotions and evoke feelings of sheer delight, surprise and excitement – all of which are key to making an event or party memorable and momentous.
Consequently, it's really important to choose venues that can not only accommodate the most unusual requests, but that can also be highly personalised with bespoke layouts and features, such as marquees.
These temporary structures can be erected in private gardens as well as luxury venues such as the grounds of stately homes. Clever use of lighting and other visual effects – such as illuminating pathways, foliage and architectural features can allow clients to showcase their home and even create the impression the marquee is a natural extension of it.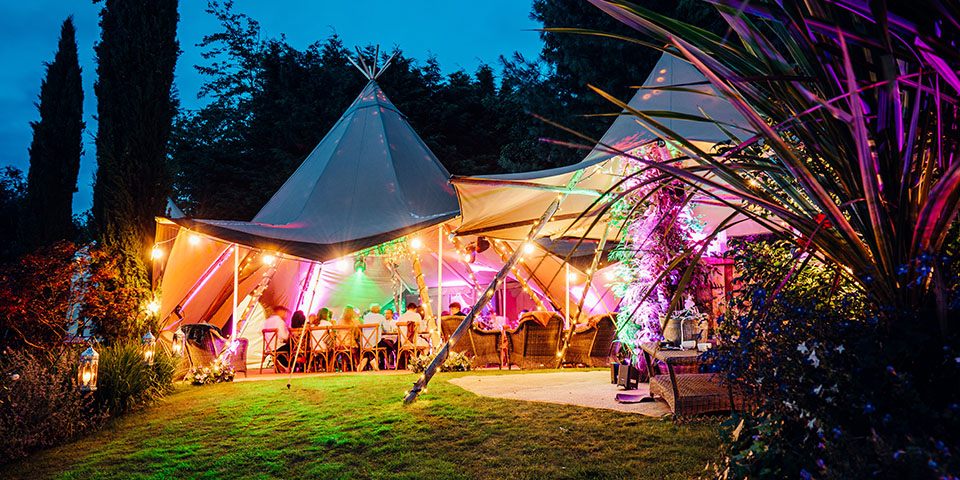 Indeed, without the constraints associated with brick-and-mortar buildings, marquees are essentially a blank canvas from which to design the ultimate immersive experience. Marquees can be built to any size, shape and specification allowing much greater flexibility for creative ideas to be brought to life.
However, choosing to have a marquee to host a special celebration is just the beginning; you need to find a company that has the expertise, creative vision and technical know-how to transform the blank canvas into a spectacular, show-stopping immersive experience.
"The sky really is the limit with what we can do, no request is too big or challenging for us. If our clients can dream it, we can do it" says Mike Walker, Managing Director at MGN events.
"We specialise in experiential events and have worked with some of the world's most prestigious brands such as Ralph Lauren and Google, as well as with ultra-high-net-worth private clients, so we know how much our clients value incredible experiences to mark special occasions and we're constantly innovating to surpass their expectations" says Walker.
Organising an experiential celebration to the highest of standards requires many different elements to come together perfectly in order to create a truly memorable experience. Here are some top tips to help create a memorable experience your guests will love.
1. Specialist lighting and sound effects
Specialist lighting and sound effects are key to not only transforming venues but also to the unfolding of the client's unique story. For example, lighting that changes throughout the event to mirror the music and set the right mood is a subtle yet sophisticated way to evoke the feelings and emotions of guests.
In order to use lighting to its full and desired effect, event companies need to have a deep understanding of the role lighting plays in experiential events, particularly ones taking place inside a marquee as there's no lighting to begin with. Indeed, a whole team of specialist technicians is required, from lighting engineers to artistic directors in order to bring it all together.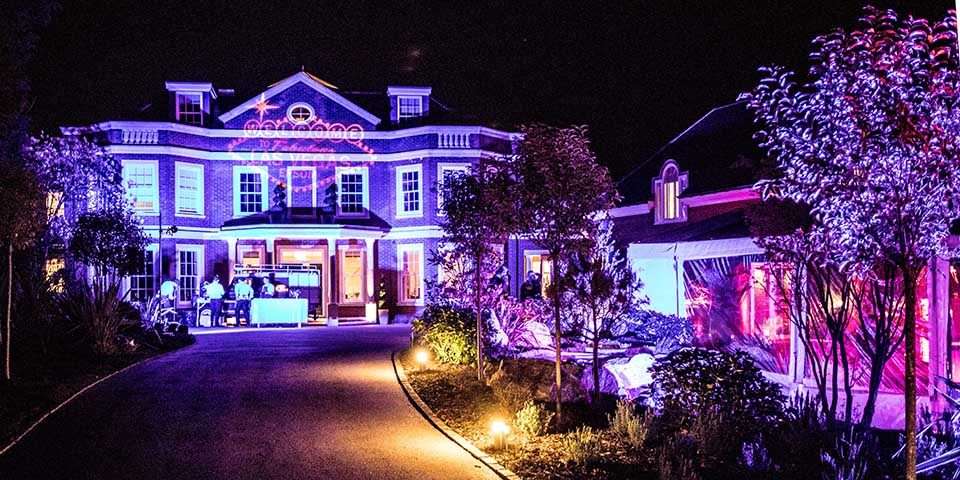 Moreover, lighting can – and should – be used to spectacular effect outside of the venue where the event is being held. For example, lighting up big buildings, bridges, beautiful homes and gardens, historic buildings and palaces are all ways in which the experience begins before even setting foot inside the party.
Neil Walker, Director of Production at MGN events says: "We've transformed many ordinary spaces and surfaces and brought them to life with breathtaking lighting concepts. From stately homes to private marquees, we know how to use intelligent lighting to create that unmistakable wow factor."
2. projection mapping
A growing trend for immersive celebrations is the use of projection mapping to create amazing visual experiences for guests. This special video projection technology is mapped onto surfaces – such as buildings, floors and even water – turning them into beautiful, immersive displays which take guests into an illusory world.
"We use projection mapping to really bring stories to life in a way that wouldn't be possible with other forms of technology" says Walker, who recently created an immersive dining experience for a client in Virginia Water using projection mapping technology.
Inspired by Le Petit Chef's unique and immersive culinary experience – which is normally staged within a restaurant setting – Walker and his team recreated the experience at their client's home but went a step further by introducing additional elements that made the event totally unique, from transforming the space with clever lighting to introducing entertainment that linked to the gourmet food.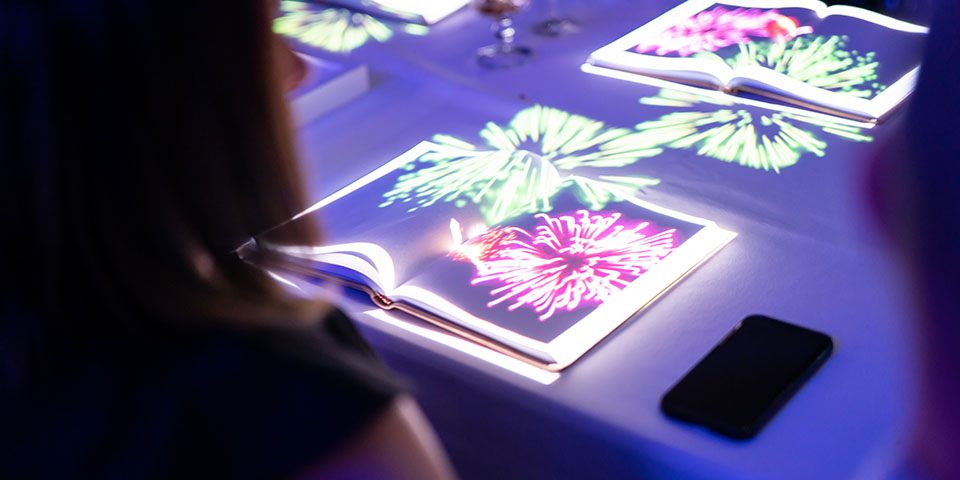 "This was the first time such an experience had been created in a private home and we were confident in our abilities to create a truly unforgettable, multi-sensory experience for our client who was thrilled with the results."
Projection mapping technology can be tailored and expanded to other areas aside from a culinary setting. Other projects that Walker and his team have been involved in include using projection mapping technology to project playing cards and dice raining down on guests as they walked into a marquee as well as recreating a swimming pool effect with shimmering water on a plain white floor for a client's Ibiza themed birthday party.
3. Augmented Reality
Big brands have been using augmented reality (AR) for many years to create memorable experiences for consumers. The famous Pepsi Max bus stop prank is one such example that garnered a lot of attention when it first appeared.
However, the use of AR in private parties is still somewhat new and so if this is something you incorporate into your event, it's sure to leave a lasting impression on your guests. Since AR blends the real world with digital content (as opposed to virtual reality which is a purely digital experience), the opportunity to create a highly immersive experience is incredibly exciting – all guests need to do is simply take out their smartphones in order to participate.
For example, AR could transform a two-dimensional printout from your party (which guests take home with them) into an interactive memento they can view over and over again to relive the experience on a smaller scale.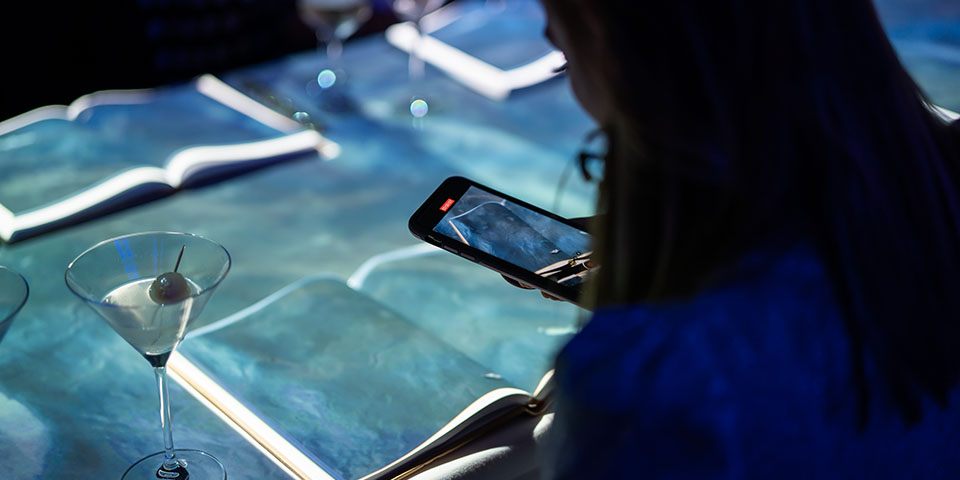 4. Theming and decor
Planning a party based on a theme is one of the best ways to create a memorable and immersive experience. Themes not only help to tie everything together but crucially, enable guests to get involved on an emotional level. Custom-designed invitations that allude to the chosen theme are a great place to start, as well as communicating the dress code early on to help guests plan their outfits and build excitement way before your party has even started.
"People will always remember celebrations that offer maximum entertainment value, and a strongly themed event that everyone can get on board with is the perfect way to mark a momentous occasion" says Matthew Strange, Artistic Director at MGN events.
Indeed, bringing themed events to life in a meaningful and tasteful way for the most discerning clientele requires a deep understanding of the client, their story and their motivation behind the party explains Strange, "many of our private clients are ultra-high-net-worth individuals who come to us having experienced the very best in hospitality and entertainment, and so their expectations are very high, and rightly so."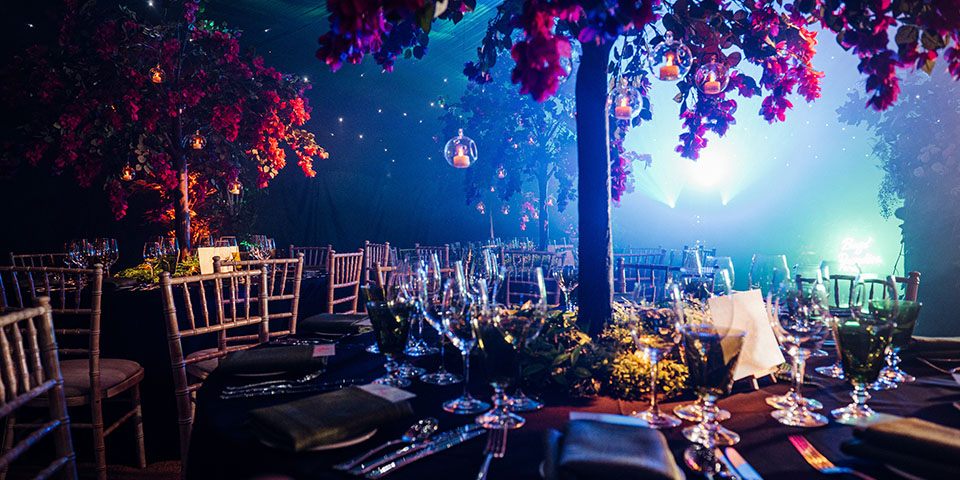 A reputable and experienced events management company can transform any space into a themed celebration worthy of praise. However, marquees are particularly well suited to holding themed celebrations because every single detail can be designed in a way to complement the theme. "Marquees are fantastic for themed parties" confirms Strange. "We've done everything from a Narnia-inspired Christmas party to an enchanted forest birthday celebration."
Moreover, ensuring that details such as event signage and stationery properly reflect the chosen theme will enhance the experiential element for guests. For instance, researching the right fonts and graphics might not seem very important, but can actually make a huge difference to the authentic look and feel of an event.
5. Interactive entertainment
Adding interactive elements to celebrations is a great way to break the ice and encourage guest participation in a way that feels natural and comfortable. For example, the use of real actors in private parties is often overlooked yet can make a huge difference to the whole atmosphere.
"Sometimes guests are shy to begin with and actors can really help them get into the spirit of things" explains Strange, who has organised many events that have featured actors as a way of drawing guests into an immersive experience.
He recounts one such event that was organised for a private client and his daughter who wanted a themed birthday celebration based on their joint love of the movie Back to the Future. A large and beautiful garden provided the ideal space for a marquee, the perfect blank canvas on which to bring the crazy world of Marty McFly to life for a totally immersive experience.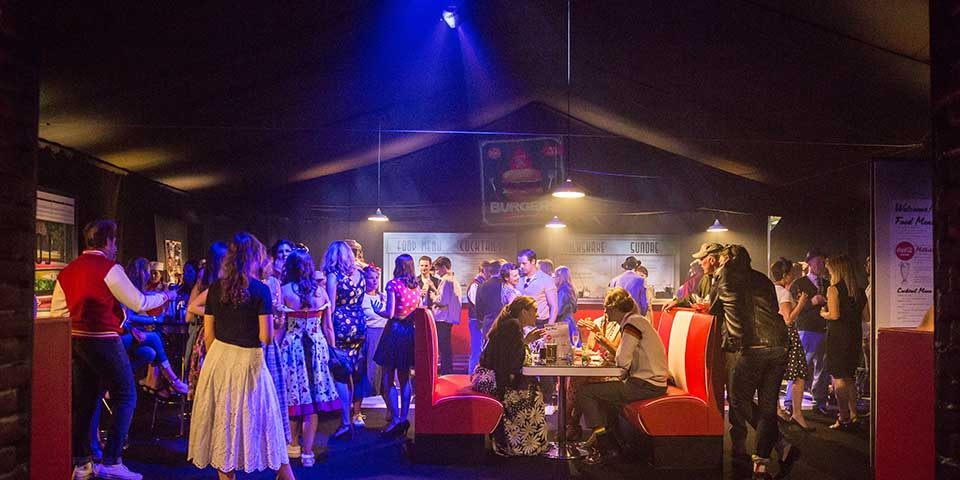 "Alongside building an American diner complete with jukebox and chequerboard floor, we used actors with backstories to draw guests into an authentic experience and really make things come alive. There really was no doubt as to which era they had just entered" says Strange.
Another way in which to make your party into an experiential treat for your guests is by recreating an immersive theatre production where they are actually the stars of the show. And just like the real thing, this slightly unusual but thrilling party experience requires a captivating storyline, actors and props to bring it to life.
Indeed, staging such an intricate event requires a certain type of skill as there are so many different angles to consider" says Strange, who was involved in organising a Sherlock Holmes themed birthday party for a private client.
"We set the party in a hotel where one of the rooms became Sherlock's lodgings and the outside corridor became a traditional cobbled street complete with period lamp posts, floor projection mapping, lighting and sound effects. Actors interacted with guests (turned private investigators) to make the whole thing believable." The result was an evening of mystery and intrigue after which guests hit the custom-built dancefloor to celebrate the party in style.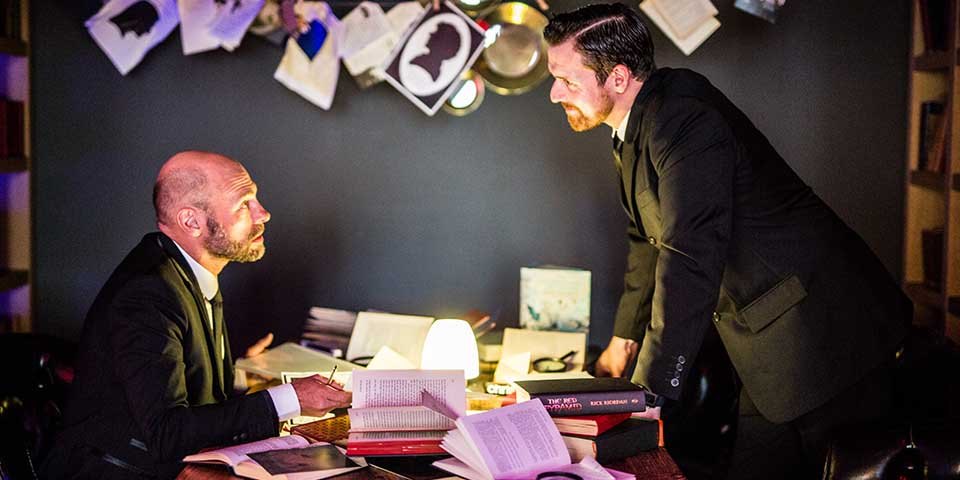 Aside from using actors, there are also many other ways in which to make your event interactive depending on the chosen theme from exotic animal rides to live swing dance lessons. You need to not only think creatively about what form of interactive entertainment will best complement your party, but also what guests are most likely to feel comfortable with.
6. Experiential eating and drinking
Food and drink are some of the most important elements to get right at a party and there's no shortage of different eating and drinking options available nowadays. From beautifully styled food stations, grazing tables and platters to authentic Italian pizza vans (complete with stone ovens) there are a plethora of options available to feed guests.
The choices are as equally as impressive in the drinks department, with drinks trucks, mobile bars and mixologists on hand to serve liquid refreshment to your guests. And for truly bespoke tipples, you can craft your own cocktails with specialist drinks companies to serve at your party.
But if you really want to make the food and drink at your party an immersive experience in and of itself, there are some truly wonderful options available. Live cooking stations not only provide the most freshly prepared food for guests but also add an educational element by allowing guests to ask the chef details about the food, its provenance and cultural significance.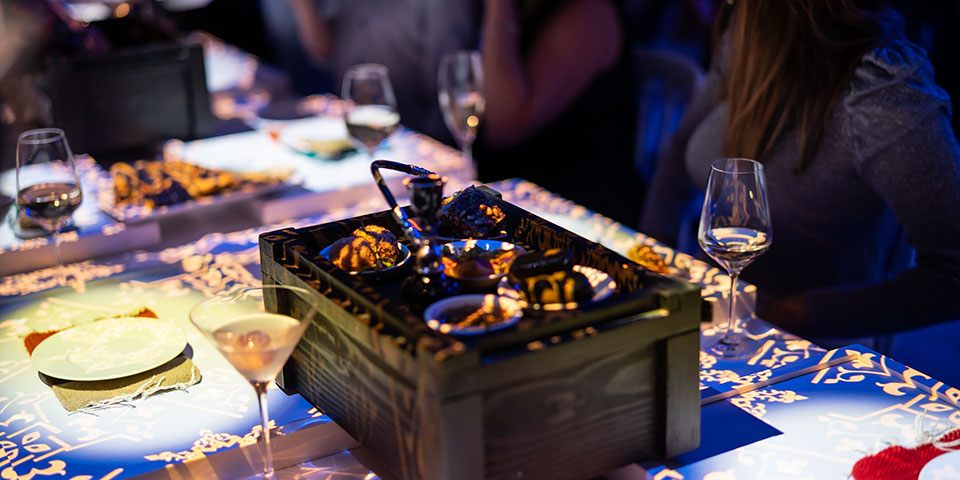 Flair bartending is another interactive, fun and engaging experience you can add to your party. Guests are taught how to create, shake and even flair their own cocktails. If you have a competitive streak, you can even organise a mini-competition to really get your guests into the swing of things.
And, if you really want to take things to the next level, there are some mind-boggling foodie contraptions to help make your celebration the immersive experience you dream of. For example, edible mist cocktails are vapourised alcoholic drinks that can be slurped up using straws from a futuristic-looking chrome pod with coloured lights that can be changed to match party décor.
Nitro ice-cream pods create delicious soft-scoop ice cream in an instant and feature an ever-changing flavour system to satisfy even the most curious of taste buds. From strawberries and cream to caramel and cracked black pepper, the flavours change throughout the party and can even be coloured to complement your party theme. And if you've ever wanted the food you eat to make you sound like a chipmunk, then edible balloons filled with helium gas will have you falling into fits of uncontrollable laughter.
Kids haven't been forgotten either; edible bubbles, endlessly flowing hot chocolate taps and floss whizzers will have them squealing with delight. These fantastical creations might sound like they've come straight out of Willy Wonka's Chocolate Factory but they are in fact from experiential food company Lick Me I'm Delicious.
7. Engage all five senses for an elevated experience
Visually stunning décor, tantalising menus and mood music are a delight to the senses – well at least three of them – but for a truly immersive experience, all five senses should be engaged in a way that ties in beautifully with your chosen theme.
For example, if you're going for a rustic, enchanted wood party theme, use delicately scented candles and essential oil mist diffusers in fresh, woody fragrances to help create the feel of a mystical woodland. Similarly, rustic floral arrangements can be set against shimmering soft fabric tablecloths to create a point of contrast and elevate the sensory experience of seated guests. "There's so much we can do by way of small details to really immerse guests into another world" says Strange.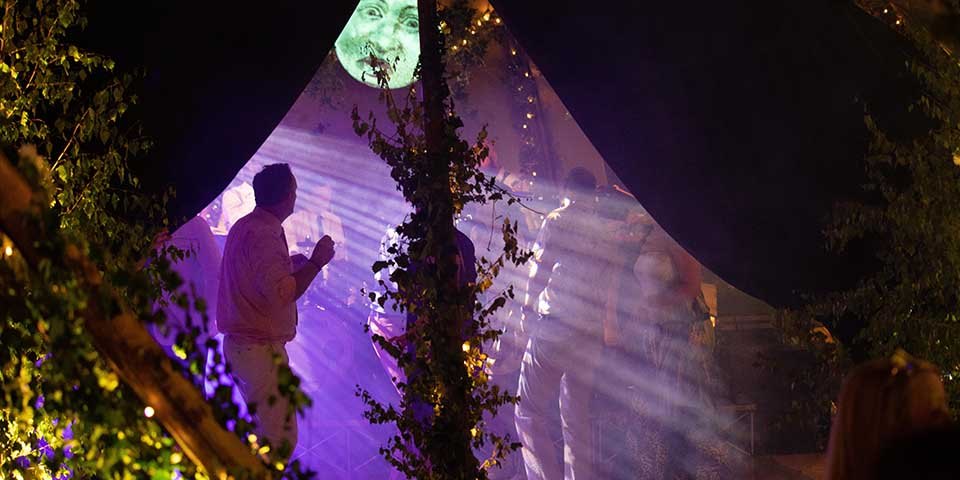 But it should be remembered that bringing all elements together in a cohesive and complementary way is much like an art form that requires specialist skills and expertise. "Guests shouldn't feel as if their senses are being assaulted, it's a lot more subtle than that" explains Strange. And as much as the big picture needs to be done right, it's the finer details that elevate the whole guest experience.
For instance, when Strange and his team were involved in organising a surprise birthday party themed on Shakespeare's "A Midsummer Nights Dream", they created a magical atmosphere using tipis, ornamental trees, candles, foliage and fairy lights. Even the cutlery handles looked like entwined wooden branches, a small but beautiful detail that most certainly would have been appreciated by the esteemed guests.
Other ways in which you can enhance the immersive experience is by providing transport that complements the theme so the experience begins from the very moment guests arrive. For example, for the Back to the Future birthday party discussed earlier, guests parked in a nearby field and were then transferred to the marquee in a mint condition 1957 Chevrolet.
8. Immersive gifting
For hosts who want their guests to leave with more than just memories of a fantastical experience, guests can have their photos snapped in a Bullet Time Photo Booth which captures one image from different angles and then puts them together to make your guest appear 3D.
Taking the immersive element further, you can have phenomenal short videos made of your guests with custom effects added, which are sent to them instantly. Each guest is given the celebrity treatment as they pose for their video, making it an experience to remember in more ways than one. You can even design your own effects to coincide with your party for a totally custom feel.
9. Technical expertise
Crazy, far-fetched ideas and fancy technology can only work if there's a skilled team with the right technical expertise behind them, especially when working with marquees which typically require highly bespoke and intricate installations. No two events are ever the same and so meticulous planning, and attention right down to the finest detail is absolutely critical to the success of a show-stopping event.
However, technical expertise is still only part of the story. Personal celebrations like milestone anniversaries, birthday parties and weddings are emotionally driven stories that hosts want to share with their guests. Consequently, there needs to be a deep understanding of how best to use technology and other features to tell these stories in an immersive and emotionally relevant manner.
"At the heart of every celebration is a story that's waiting to unfold, and it's our job to bring the story to life in both a meaningful and awe-inspiring way" says Strange. With his background in theatre design, he knows a thing or two about how to create magical, immersive experiences with a theatrical dimension to them. For example, using dry ice to emulate walking in clouds or snow machines to create winter wonderlands are just some of the ways in which guests can be transported to another world.
Conclusion
Ultimately, whichever way you decide to make your party an experiential extravaganza, always remember that the safety and comfort of your guests are of utmost importance – especially if you have young children or elderly guests in attendance. Approach everything with an open mind and allow guests to opt-out if they aren't comfortable doing certain things.
Moreover, it's always a good idea to factor in more time for interactive elements as guests are likely to get carried away with the fun of it all. Also, consider if you have enough staff to not only ensure guest safety but also the smooth running of activities and interactive elements.
Despite the enormous amount of planning and hard work required behind the scenes, the whole party vibe should feel relaxed and effortless for both hosts and guests. There's nothing worse than grand ideas executed poorly which creates confusion and stress for all involved.
So if you're thinking about hosting an experiential party with sophisticated immersive elements and a dedicated theme, consider hiring a specialist events management company with demonstrable expertise who can support you in creating the party of your dreams!
Immersive Experiences: Find Out More
If you're interested in creating an immersive experience, party or event then talk to the team at MGN events. You can contact our team either via the form below, on 01932 22 33 33 or by email hello@mgnevents.co.uk
If you enjoyed this article then why not read our feature on how experiential luxury is emerging to meet the expectations of wealthy consumers in a post pandemic world?