Inspired by the latest from the worlds of haute couture and interior design, we explore creative and exciting ideas and luxury party trends for winter 2022. From bold, over-the-top glamour to gloriously homespun and Gothic romanticism, winter 2022 sets the perfect stage for luxury parties with a spectacular on-trend twist.
This winter, be prepared to dial it up if you're looking to ignite delight within your social circles or end the year with a hit of glamourous dopamine.
Read time: 3 – 5 minutes
Key takeaways:
Discover how to wrap your luxe event in memorable splendour this winter
Be inspired by one of three creative seasonal party trends:

Over the rainbow glamour
Gloriously global and homespun
Darkly romantic
After wading through several years of hardship including pandemic-related restrictions and navigating the economic and social complexities of Russia's war in Ukraine, it seems that optimism is the new word of the day. And it is finding an outlet in creative industries the world over.
When it comes to party trends for planning a winter event, while a wonderland with flickering ice lanterns, faux fur throws and silver birch bark accents may never lose its magic, this year we invite you to be daring and harness the unexpected to deliver a memorable, fun-fuelled party or intimate get together.
3 Luxury event party trends
1. Over-the-rainbow glamour
Party trends don't get more colourful than this. Think bigger, bolder and brighter when it comes to your event décor and consider taking cues from the autumn/winter 2022 collections of couture houses Valentino, Prada and Versace. Whether at home, a venue, or in a marquee, using brights will imbue your space with warmth and personality.
Greens are still as popular and omnipresent in the interior design world as they are in high-end fashion and pair well with blues, from azure to cerulean and turquoise. Flashes of hot magenta, red, royal purple, zesty greens, and tangerine will spark joy and provide the perfect backdrop to a colourful cortege of friends.
Meanwhile, sparkles aren't just for Christmas. Crystal chandeliers, a generous smattering of sequins and delicate but oversized metallic embellishments will elevate any event space and deliver super luxury.
If you're looking to embrace the season's penchant for overdressing with deliberate optimism, you'll need a backdrop that will meet your glamour head-on. If in doubt, add an extra dose of tasteful shimmer and sprinkles to everything.
Check out this flamboyant, magical Narnia-inspired party or this opulent, glamorous celebration for more over-the-top inspiration.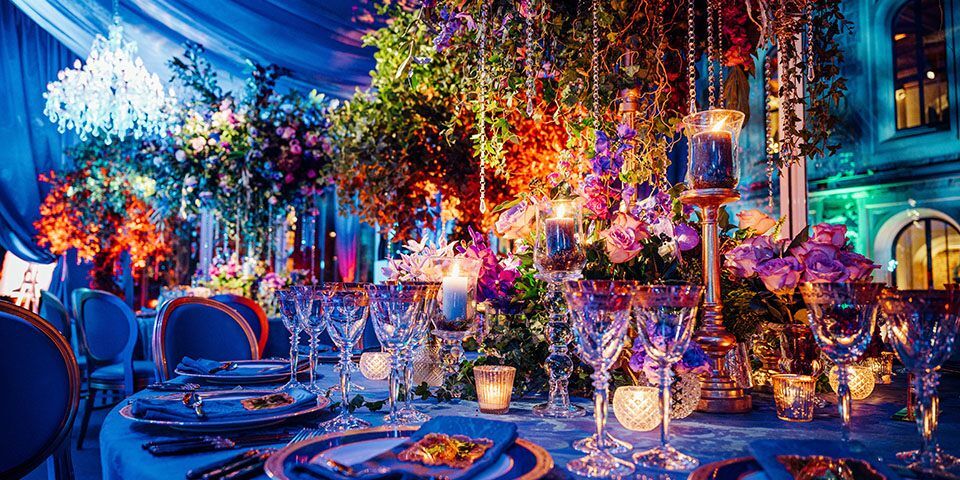 2. Gloriously global and homespun
Evoking memories of adventures to far-flung reaches, time spent giving hands-on support to charitable or sustainable projects, or immersing yourself in learning about other cultures, layering organic textures with earthy grounded colours and random patterns will result in a truly unique dose of winter warmth.
Blend luxe touch-worthy textures such as suede, leather and cashmere with natural decorative materials, such as wood and clay. Inspired by nature, couture cat prints are also making their playful presence felt in interior and couture circles this season. If you want to amp up the sensuality at your gloriously global event, think luxe leopard, animal prints and soft and slinky tactile fabrics.
Borrow from this inspired bohemian chic party theme. This is the perfect excuse to show respect for the humble, hand-me-down and homespun. Layer in natural foliage, bold artwork, glass hurricane lanterns or glimmering festoon lighting and you will be sure to set the scene for a relaxed evening of comfortable luxury.
Check out the seasonal collections of Missoni, Ulla Johnson and Chloé for what to wear and you'll be sure to bring a bohemian flair to your mid-winter party.
For more inspiration, party trends and ideas, read our 5 tips for planning a sustainable party for guidance on how to reduce your event's impact on the wider world and how to balance luxury and sustainability. And flick through the images at this immersive global experience in Virginia Water for inspiration.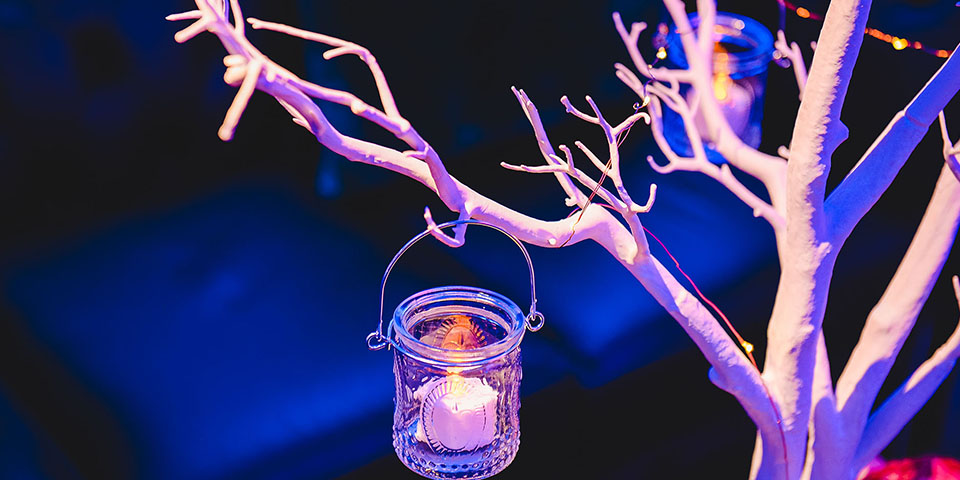 3. Darkly romantic
Taking cues from 18th and 19th Century Gothic literature – melancholic romance, a fascination with science and the occult, mystery and otherness – this season, it's de rigueur to plumb the depths of Goth. Paying homage to this most persistent of subcultures, think Miss Havisham's gently decaying glamour meets Japan's Gothic Lolitas.
Black and grey schemes including swathes of sheer mesh, lace, velvet and bows nestle against delicate colours of rose, ivory and eggshell and pops of red to breathe new life and optimism into Gothic elegance and charm.
Think about bringing a bathtub full of delicately coloured flowers –ala Siouxsie Sioux – darkly glimmering chandeliers, dramatic, coloured layered lighting, and weird and wonderful objets d'art together in an enchanted forest. If you're planning a mid-winter celebration, this could be just the setting you need to bring your guys and dolls together to revel in sumptuous, exhilarating splendour.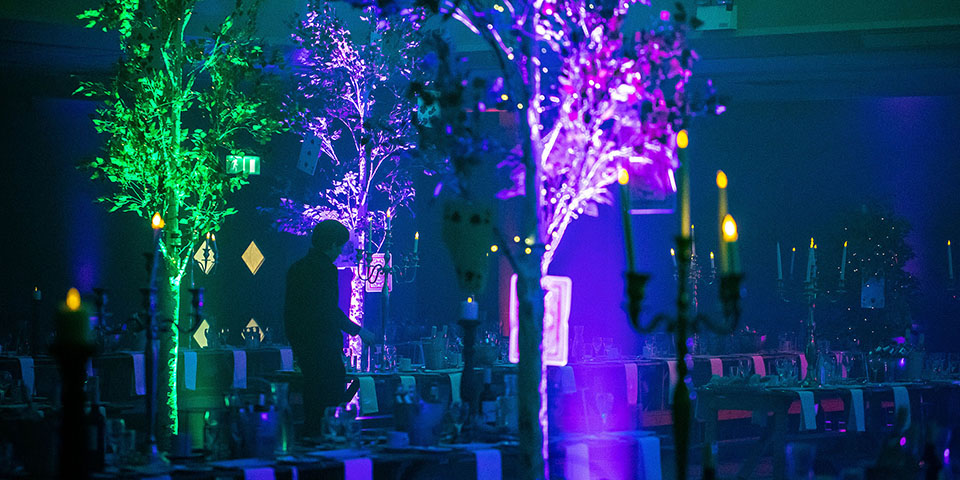 Party trends and ideas that engage the five senses
When it comes to turning up the drama and excitement, consider:
Inspiration and luxe party trends
If you're looking for party trends, ideas and inspiration for your next social or celebratory event or would like to book a consultation, visit our blog or speak to one of our dedicated event planners. You can either complete the form below or call 01932 22 33 33. You can also email at hello@mgnevents.co.uk.
Further reading:
3 time-saving steps to luxury party planning
Hosting the luxury event of the season: 7 essential considerations for briefing your event planner
2 immersive must haves for exclusive social events
9 tips for hosting an immersive experience your guests will love
How to create immersive experiences that engage the 5 senses
How experiential luxury is emerging to meet the expectations of wealthy consumers in a post-pandemic world