A theme for your party can be a great way to bring your celebration to life. MGN events are one of the UK's best luxury party planners and we can help with all types of party themes such as Vegas, Masquerade, Casino, 007 James Bond, Best of British and more! Whatever the occasion, we can help develop your theme into a reality for your event. Using stunning décor and drapery, props and lighting, any venue and any location can be transformed. Check out our private party and corporate party case studies for more inspiration and an idea of the expertise we can apply to your party.
32+ party theme ideas for you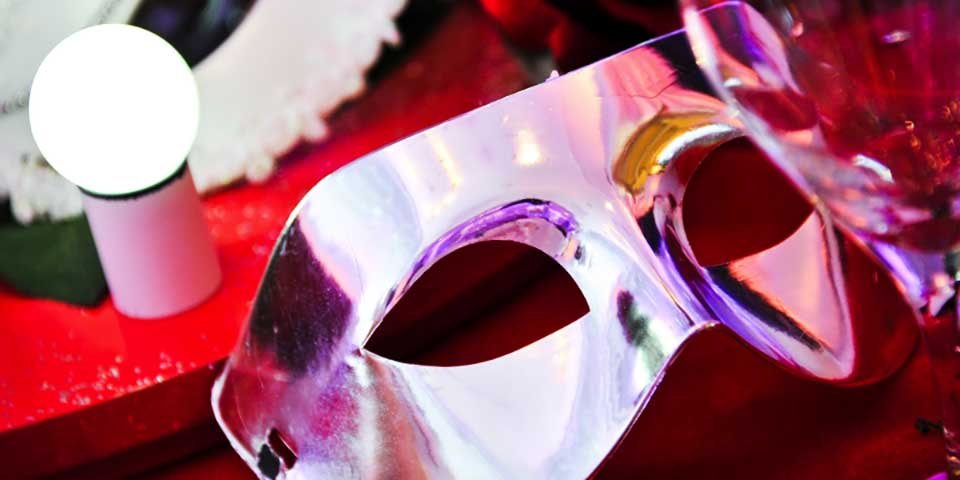 1. Alice in Wonderland Theme
A classic story theme wrapped in a bow of red, blue and white drapes, large rose trees, mad hatters, glittery sign, jam tarts, playing cards, giant mushrooms, a large clock and chain, sweets and cakes, an Alice silhouette, giant red shoe seat.
See our Alice in Wonderland themed corporate party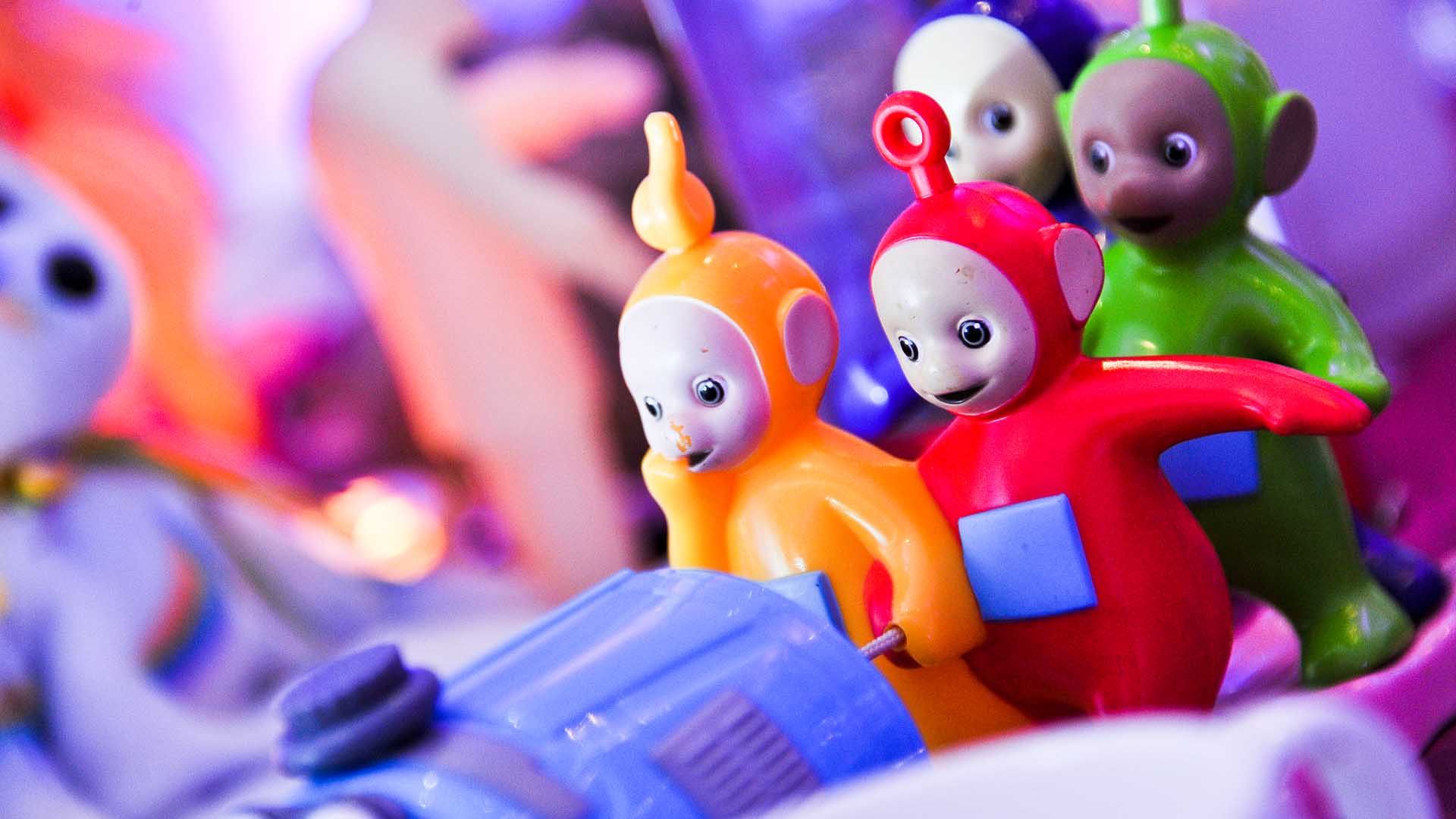 2. 70′s disco, 80′s retro, or 90′s pop theme
Everyone loves a good dress-up party so why not get everyone to come dressed in the fashion of the 1980s or as one of their favourite movie stars or celebrities of the decade? You could have your event management team put together an 80s-inspired playlist as well as some brightly-coloured mocktails for the guests to drink whilst dancing the night away to cheesy pop music! Leggings and ra-ra skirts at the ready! Pull out the wigs for a 70′s theme party, or even a 90s UV party!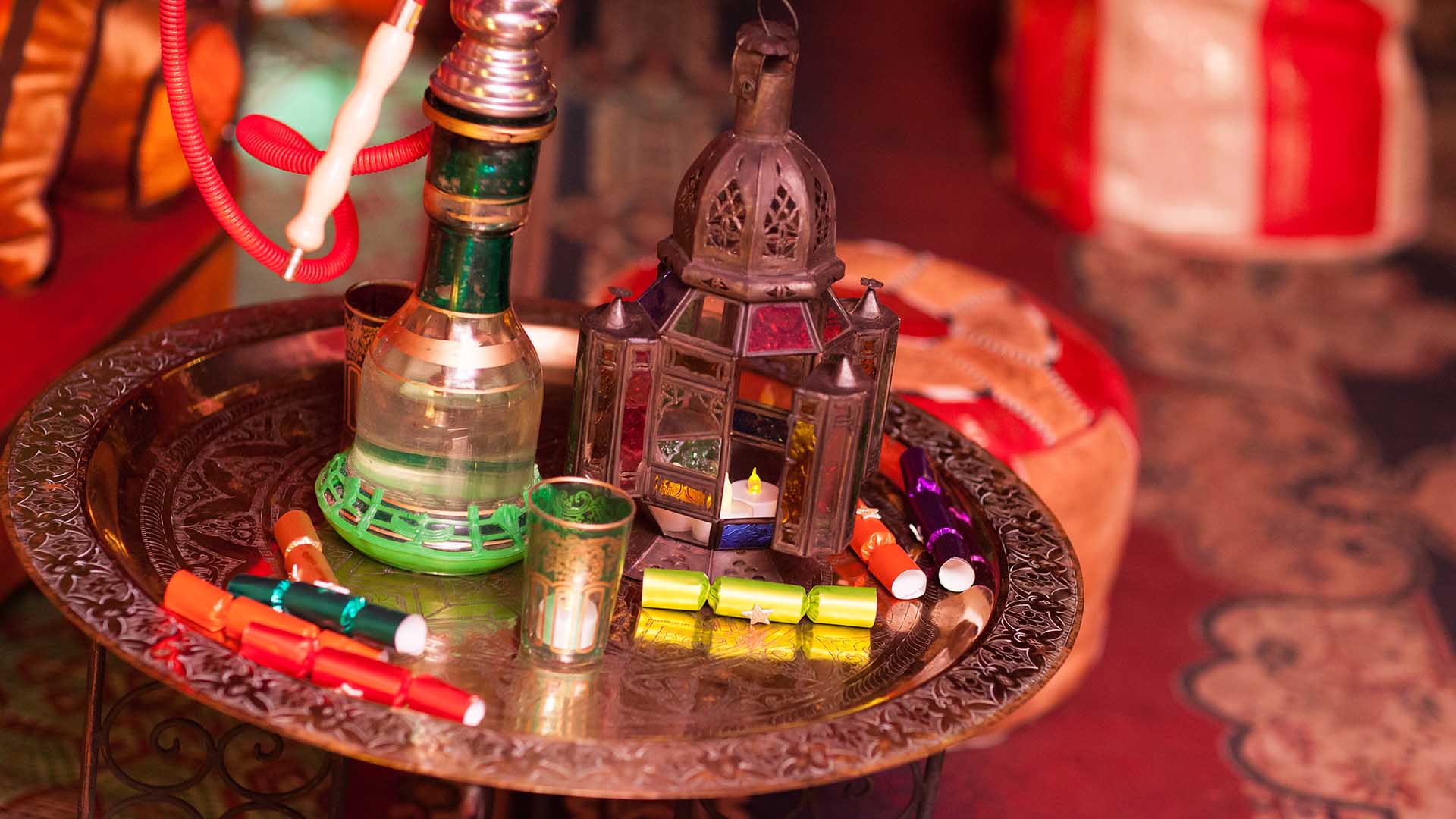 3. Arabian Nights Theme
Rich shades of red and luxurious gold cloth drapes, large palm trees, desert oasis, Bedouin tent booths, cushions, large pots and baskets, large lanterns, flying carpets, and palace scenery.
A very popular current theme, bringing a Moroccan feel to your party, combined with some succulent and juicy catering options by our recommended supplier, can result in a truly memorable event. We use the highest quality Moroccan furnishings, drapes and decor. Our unique authentic Moroccan style will let you and your guest believe they are in a luxury Bedouin tent. We like to get the details just right too and now offer beautiful Arabian nights theme printed invitations to send out to your guests.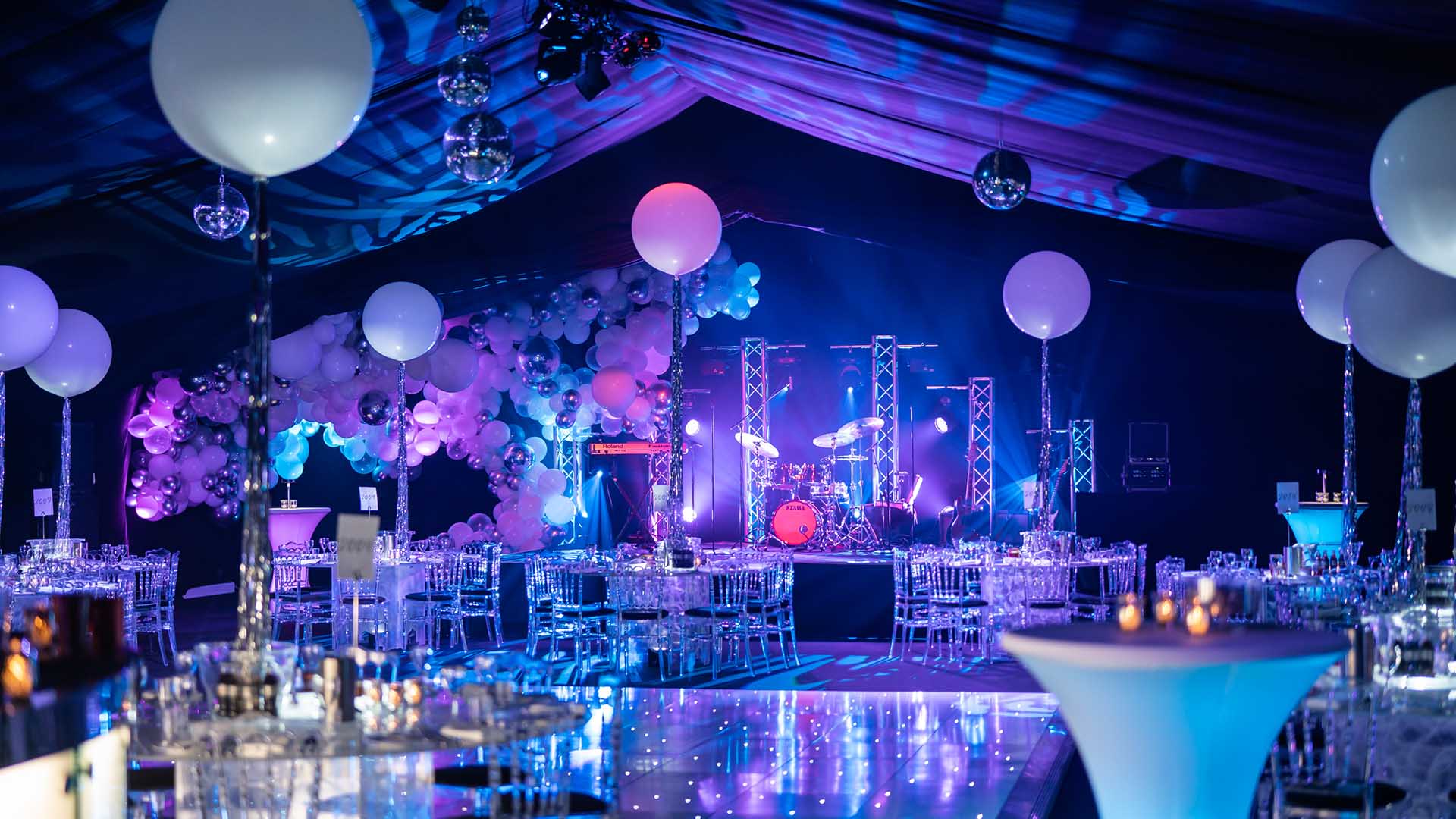 4. Black and White Ball Theme
Black and white satin and voile cloth drapes with black and white feather masks, white Roman pillars, black and white glitter stars, trees, chandeliers, and black and white feather hoops.
Visually striking party theme in which guests are typically dressed in formal or semi-formal attire. Black and white ball parties can be held for various occasions, including birthdays, anniversaries, weddings, Christmas parties or corporate events. The monochromatic colour scheme creates a chic and timeless ambience, making it a popular choice for those looking to host a stylish and memorable event.
View our black-and-white-themed party case study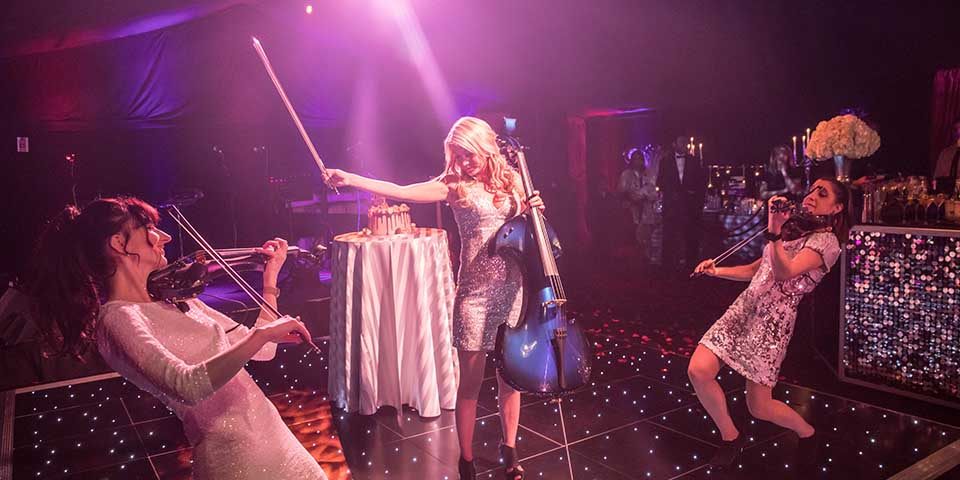 5. Bond 007 Theme
Cloth drapes in black red and white, large 007 gold glitter logos, gun barrel backdrop, gold glitter bond ladies, bullion bars, Martini glasses, bond flats, casino signs and playing cards.
Inspired by the iconic character himself, 007 parties are full of glamour, sophistication and mystery.
View our trendy Bond theme case study.
6. Bollywood Theme
Cloth drapes in bright pink orange-gold and red, saris, draped gazebos, palm trees, palm fans, palm leaves, flower garlands, Bollywood sign, Taj Mahal scenery, gold pots and beads, elephants, and reed screens. View our Bollywood themed party in Cheshire
7. Burlesque Theme
Cloth drapes in reds and golds, feather fans, large ostrich feather mobiles, large windmill sign, Moulin rouge sign, girls sign, ornate swings, velvet mobile screens, giant red roses, gold mock mirrors, red beanbags and cushions.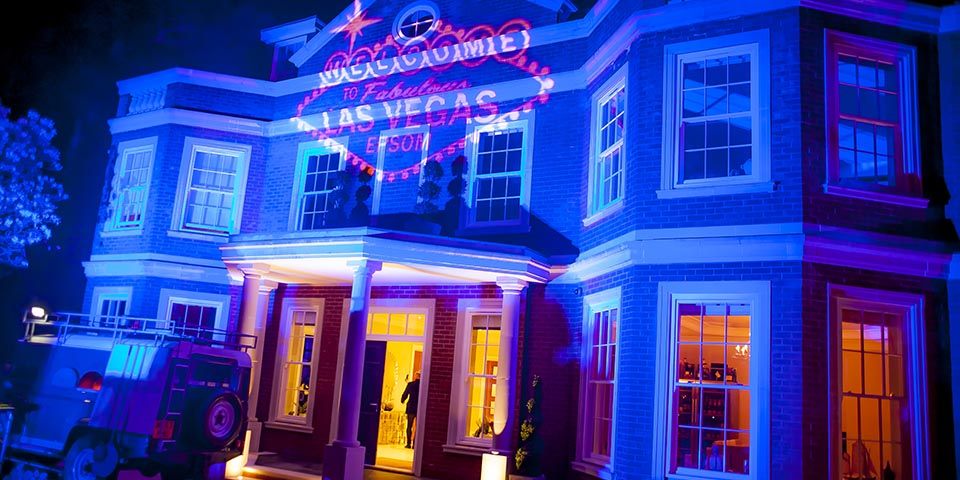 8. Casino & Vegas Theme
Red and gold cloth drapes:
Giant playing cards, dice, large glittery dollar signs and dollar bills, casino sign, cacti and palm trees, giant palm leaves gold Roman pillars and gambling signs.
Go wild for your Vegas-themed party, and hire a party planner to make it cool and trendy! There is so much scope here for décor inspiration from slot machines to chips and dollar signs as well as fancy dress opportunities too – it wouldn't be Vegas without at least one casino table and a Vegas sign prop!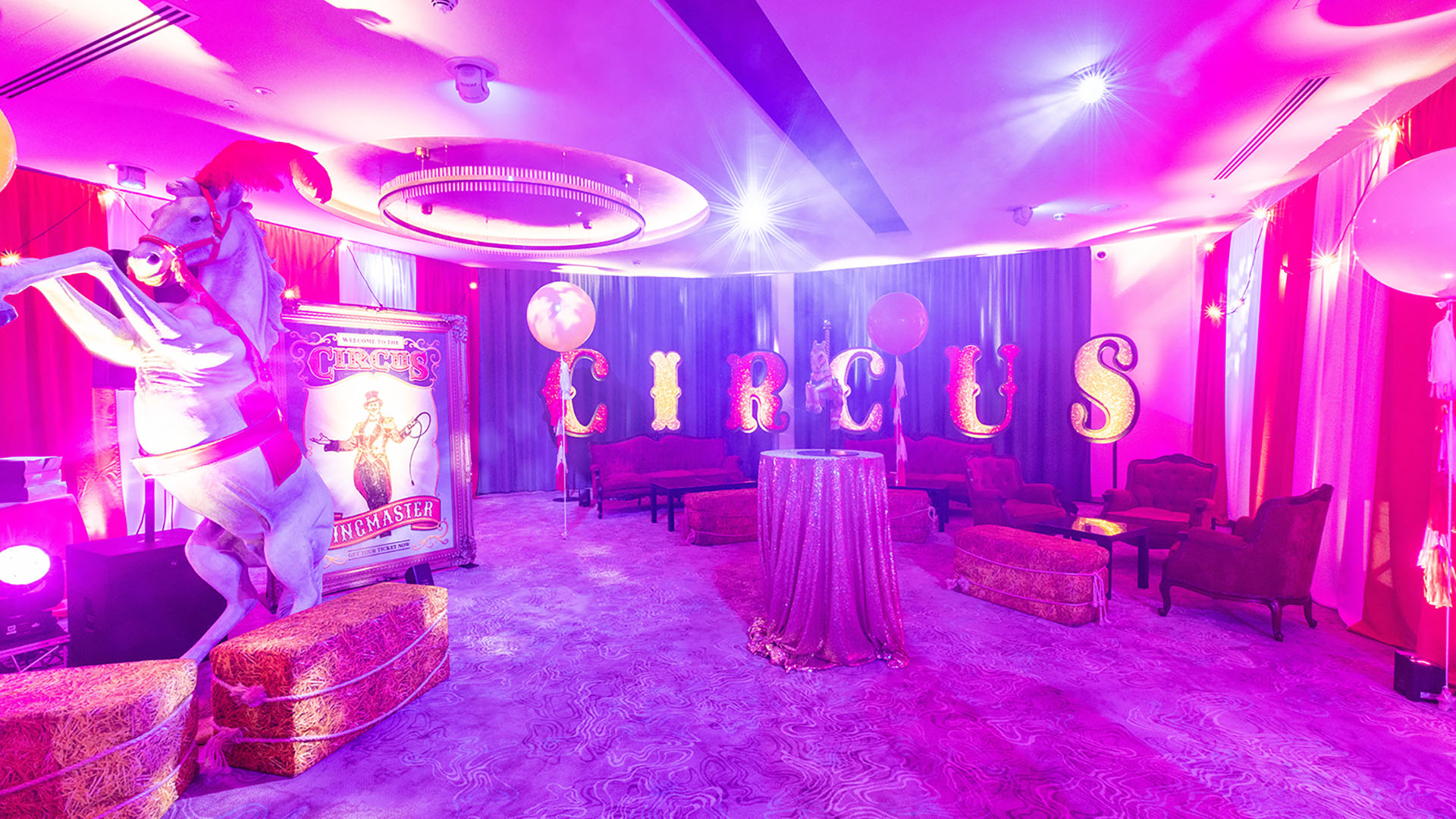 9. Circus & Funfair Theme
Cloth drapes in red white and blue, lions in cages, acrobat flats, festoon, bunting, giant magicians hat and wand, trapeze and net. Ringmaster mannequin, balloon clusters, funfair signs, helter-skelter.
A Circus & Funfair theme party aims to create a whimsical and joyous atmosphere, evoking the nostalgia and excitement of traditional circuses and amusement parks. Incorporate these elements so you can create a memorable and entertaining event for your guests.
View our circus and funfair-themed case study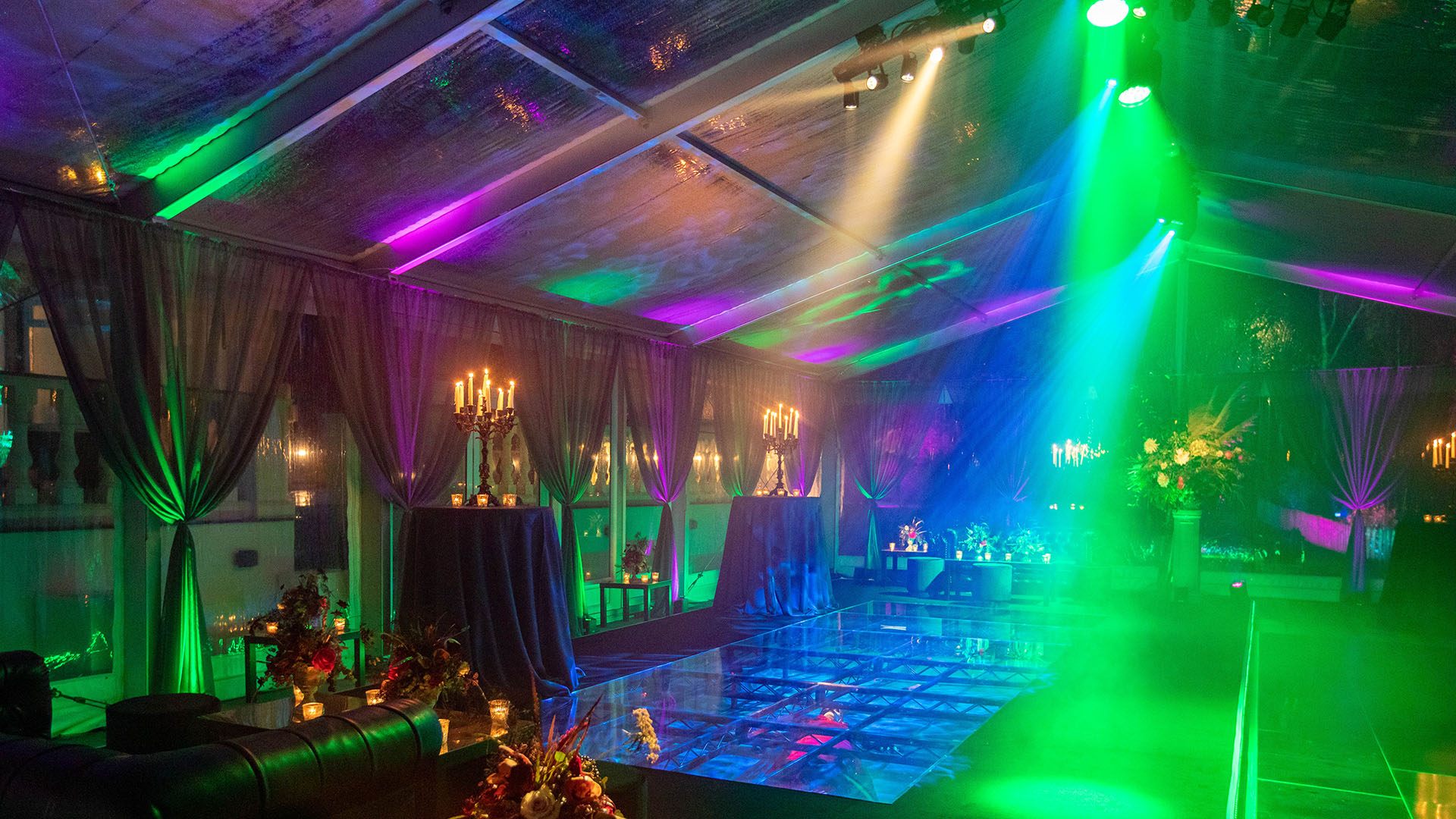 10. Funky Disco Theme
Purple red and silver drapes, glitter curtains, platform boots, mirror balls, rope light disco signs, assorted sparkle stars, mirror mobiles, lava lamps, and glittered musical notes.
A groovy, vibrant and retro event that captures the disco era. Celebrate the energetic and flamboyant style of disco music, fashion and dance.
11. Fire & Ice Theme
White and ice blue/red and orange cloth drapes, snowflakes, icicles, ice panels, icicle strings, icicle lights, white glitter twigs, flame machines, horns, flame fabric batons, flame solar projection, large devil tails, and lame banners.
A fire and ice-themed party revolves around the contrasting elements of heat and cold, creating a visually striking and dramatic atmosphere.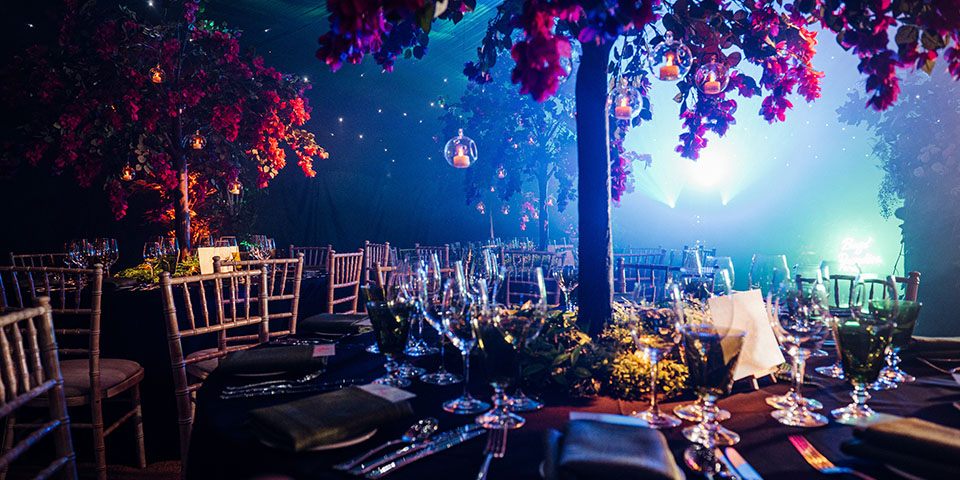 12. Enchanted Forest Theme
Shades of green and gold cloth drapes, large shimmer flowers, flower garlands, trees, glittery large leaves, toadstools, hanging branches, twinkle lights and sparkle stars, fresh ivy trails and garlands.
Transport your guests into a whimsical and magical woodland setting. Drawing inspiration into your theme from fairy tales, folklore and the enchanting beauty of nature. View our Enchanted forest 21st birthday in Surrey

13. Gangster & Molls Theme
A black, white and silver cloth, large black and white metropolis building flats, gangster cutouts, Buick cut out, flapper girls, Tommy guns, large feather fans, large tassel lampshades, bullet holes, black and white glitter stars, and feather boas.
Inspired by the glamourous and rebellious era of the 1920s and 1930s, capturing the essence of gangsters, speakeasies and fashionable women. Transport your guests back in time and create an immersive event that captures the Roaring Twenties.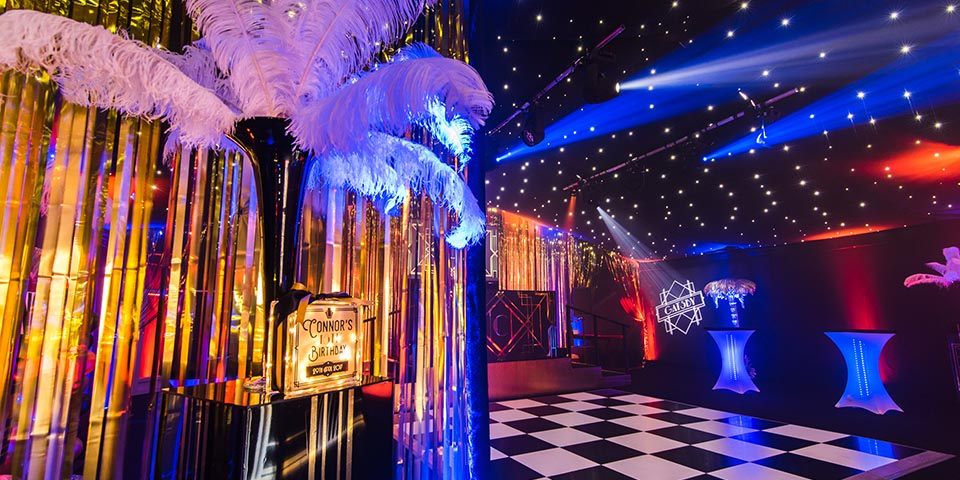 14. Great Gatsby Theme / 1920′s Theme
The roaring twenties was an era of glitz and glamour with stunning evening wear, sexy flapper dresses, cloche hats, feather fans and glittering headbands. Let us transform your event space, into a perfect scene from the 1920′s era, and for a look at how the film stars partied with a Gatsby-themed event.
See our Gatsby party case study.
15. Hollywood Oscars Theme
Black satin and voile, gold satin and lame cloth drapes, 2 giant Oscars in gold, 1940's film banners, celebrity cutouts, silver and gold stars, clapper-boards, Hollywood signs, film reels and reel banners. Giant follow spot and a camera red carpet.
16. Heaven Theme
Cloth drapes in white and sky blue, 3D carved clouds, cherubs and angels, cloud cushions, cloud scenery, cloud banners, white Roman pillars, white swings, flower garlands, small white birds, and pearly gates.
17. Hellfire Theme
Cloth drapes in red, orange and black, giant floor horns, flame machines, flame cloth, red lights, devil faces, 30ft devil padded tails, skeletons and coffins, devil mobile tails, hell-fire signs, hanging flames, and large chains.
18. Asian / Japanese Theme
Cloth drapes in red black and silver, Large red and pink lanterns with tassels, Red and black square voile screens, parasols, butterflies, dragon heads, blossom tree silhouettes, and gold glitter letter mobiles.
19. The Library / Murder Mystery Theme
Cloth drapes in black purple and silver, 2x 8ft bookcases, wall hanging bookcases, standard lamps, giant reading chair, gold mock mirrors, large gold frames, giant poly carved books and pencils, large scroll.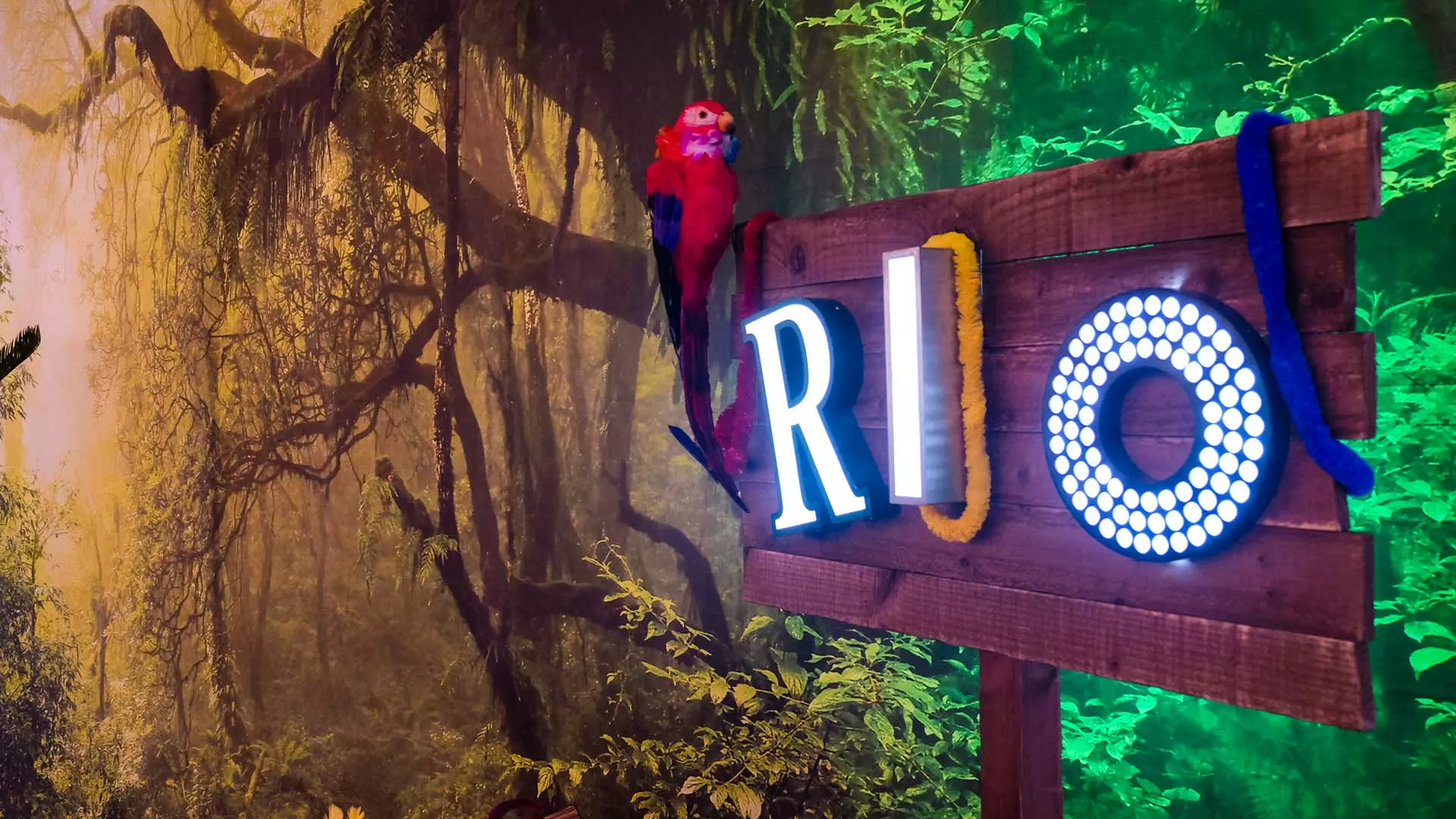 20. Mardi Gras & Carnival Theme
Cloth drapes in green, red and liquid gold, large feather fans, palm trees, giant cocktails and fruit, costumed mannequins, large palm leaf mobiles, bright feather masks, and carnival signs.
View our carnival-themed party case study
21. Masquerade Ball Theme
For a more sophisticated atmosphere at a party, a masquerade ball is always a good option. Your party planner can make this theme so atmospheric with the décor and candles. With a formal dress code, this party will be a classy affair!
Gold and purple satin cloth drapes with gold lame, large feather and beaded masks, small assorted masks, large and small feather fans, gold beads, gold Roman pillars, gold glitter garlands, gold ornate frames, masked ball signs, and gold birdcages with masked heads.
22. Medieval Castle Theme
Cloth drapes in black, purple and gold, 10ft castle turrets, large stone wall panels, castle arches, hanging flames, stone pelmets, hanging cloth pelmets, large gold frames, shields and swords, large candlesticks, and massive candles.
23. New York Theme
Cloth drapes in red, white and blue, American flags, statue Liberty cut out, skyline banners, skyline building flats, large apple, New York signs, street signs.
24. Pirates Shipwreck Theme
Cloth drapes in black and red, shipwrecks, ropes and nets, skull and crossbones, skull flags, skeletons, treasure chests, barrels and crates, gold coins and bullion bars, palm trees, and treasure maps.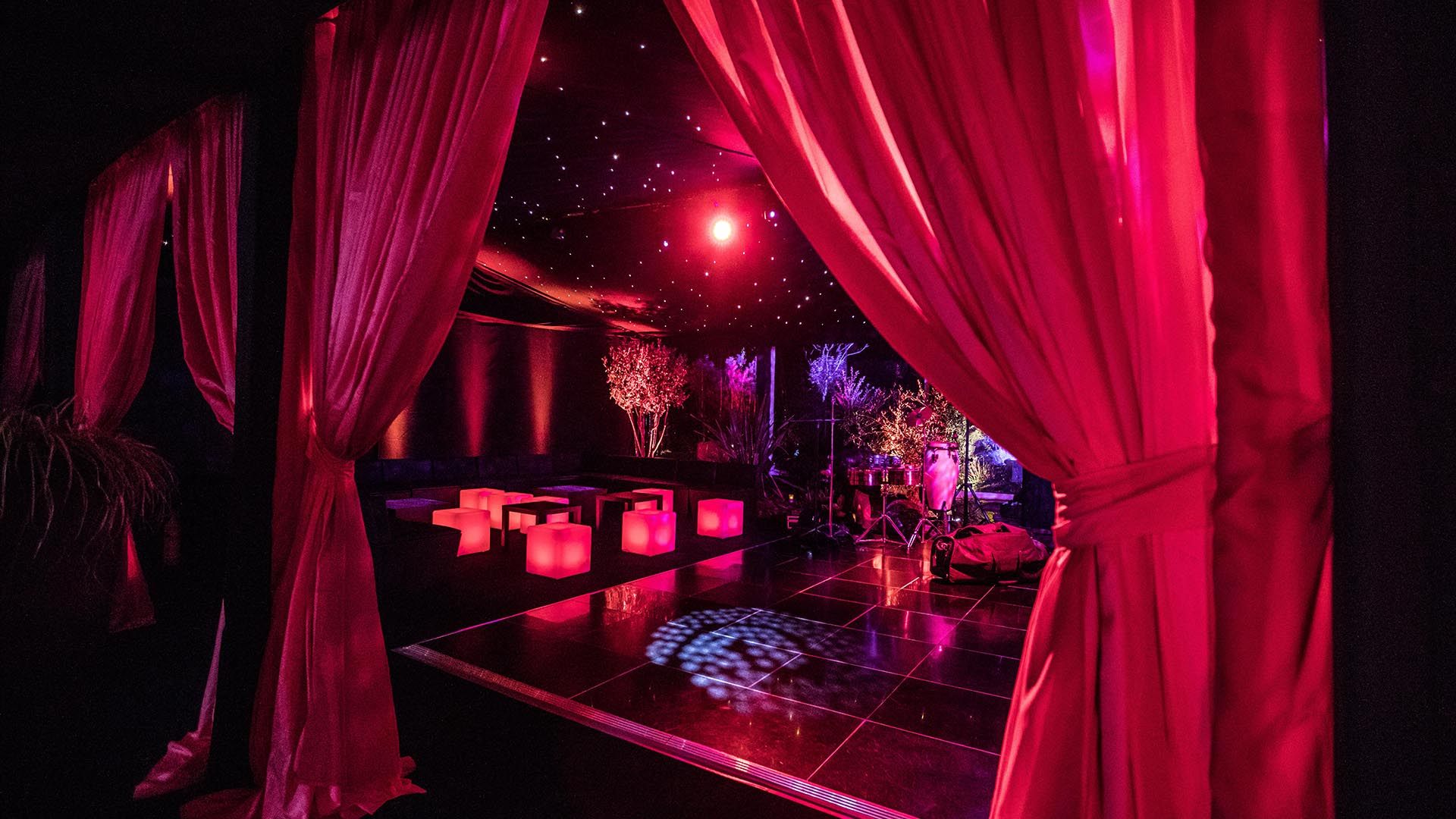 25. Playboy Mansion Theme
Cloth drapes in red, pink and silver, large silver glitter Playboy bunny heads, mirror balls, red and pink feather hoop mobiles, silver and red glitter stars, glitter mannequins in feather headdresses, bunny girl cutouts in silver glitter 5ft, large round bed with silver cushions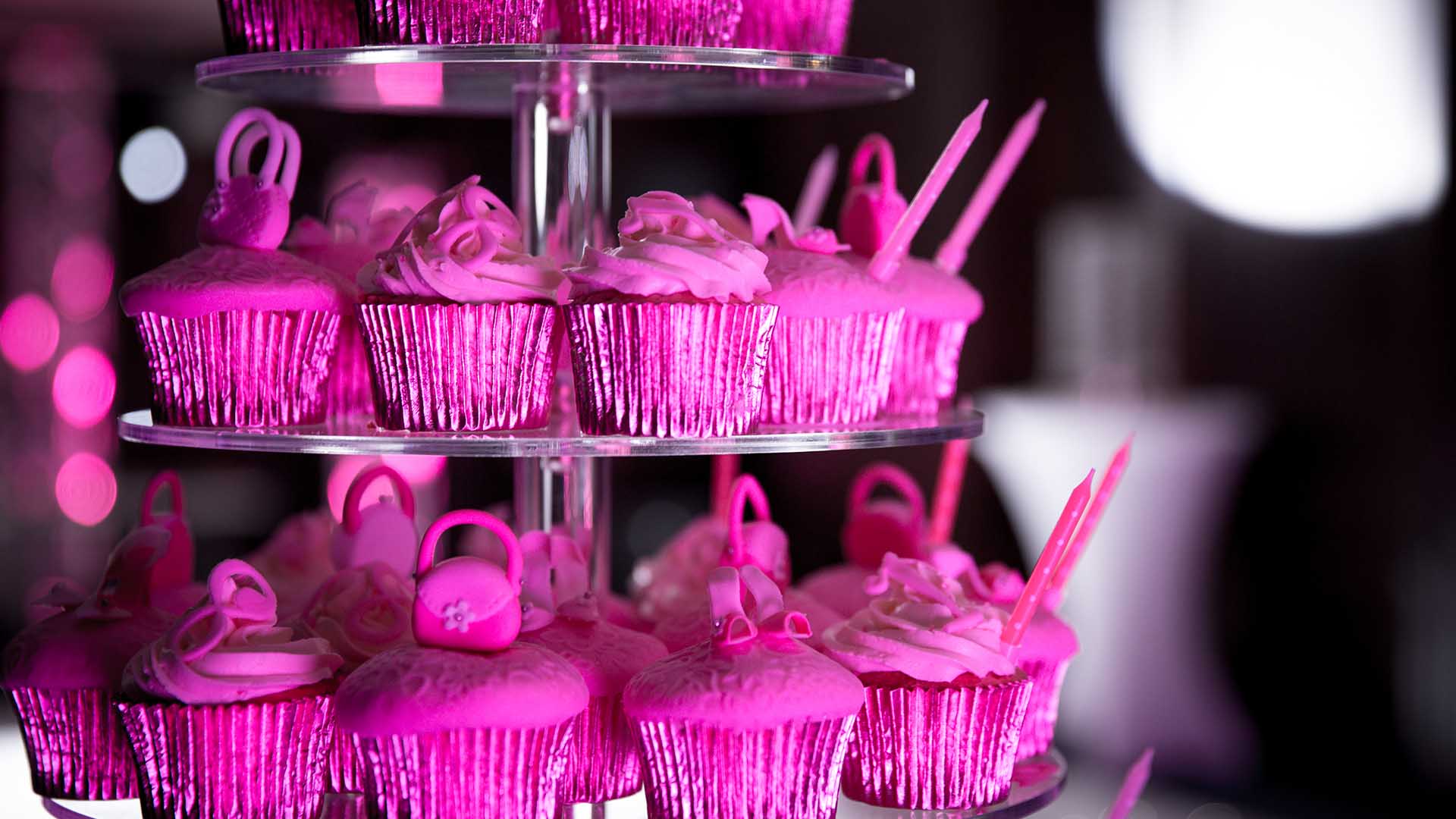 26. Pink Party Theme
With pearlescent pink, white cloth drapes, stunning pink diamonds, playboy bunnies, silver and pink glittery stars, glitter screens, pink shimmer curtains and pink flower mobiles you could create the most amazing pink-themed party.
Everyone loves pink, right? (Well almost) if you or your child is one of those who do, why not ask us to create an amazing pink-inspired party? We can transform a venue into a pink wonderland, or create a chic and upmarket Pink theme, transforming the party into a magical setting.
View our Pink Party case study.
27. Roman Toga Party Theme
Assorted white cloth drapes with gold lace, white Roman pillars, Roman carved heads, male torso busts, Grecian lady statues, white vase and fountain, large pots and vases, gold grapes and purple grapes and vines, gold and white garland decorations, large glitter sun, chaise lounge.
28. Seaside Party Theme Ideas
Cloth drapes in blue, white and red, deck chairs, put your face through photo boards, lamp posts, to the beach sign, large shells, sticks of rock, festoon lights, naughty postcards, life rings, wave flats, palm trees, candyfloss and clairvoyant and ride signs, giant ice creams and lollies, seagulls, parasols, fluffy clouds.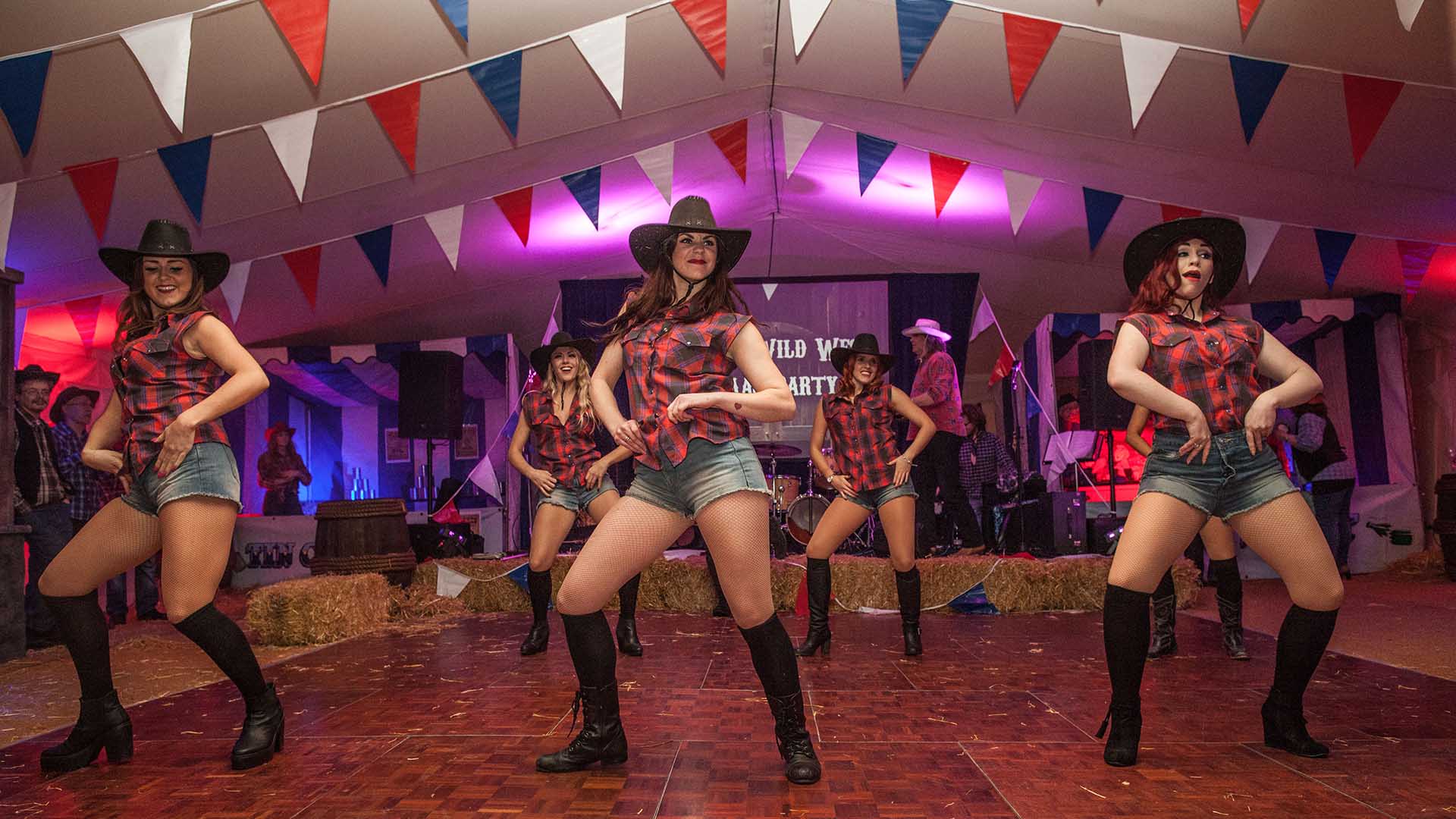 29. Wild West Theme
Brown gold, red and white cloth drapes, old barn windows, wood planks and panels, wanted posters, wagon wheels, cacti, gingham curtains, bunting, cowboy boots, wild west sign, golden nugget saloon, large barn sacks and rats.
View our wild west-themed corporate party.
30. Under the Stars/ Night Sky theme
Cloth drapes in blue, purple and silver, large poly cared sparkling moons, blue and silver sparkling stars, moon faces, star and moon screens, twinkle star cloth, large rooftop doorway, street lights, twinkling lights, full moon, mirror balls White birch trees and uplighters. View our Night Sky themed party case study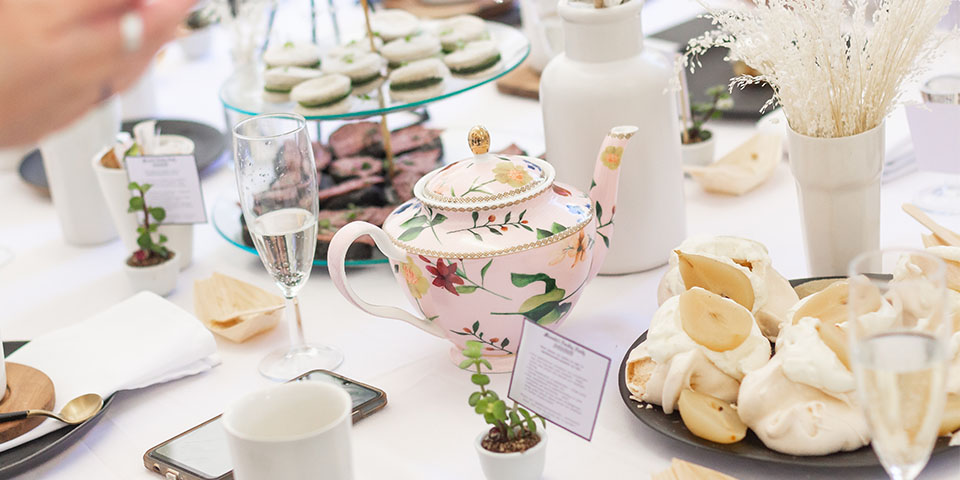 31. Tea Party theme
Cloth drapes in pink, white and pale blue, assorted sweets and cakes and jam tarts, lollipops, bubble gum and chequered curtained windows. View our coronation themed tea party case study
32. Tropical Beach Theme
Cloth drapes in green, orange and gold, palm trees and palm tree flats, beach banners, large palm leaves, tropical flower garlands, Hessian screens, surfboards, cocktails, parasols, love island signs, fruit slices, wave flats, lantern lights.
We've added a few more – if none of the above took your fancy
33. Moulin Rouge
Famed 19th-century cabaret featuring Belle Epoque decor, dinner & dancers in elaborate costumes. The perfect excuse for a party theme!
34. Studio 54
Studio 54 is a former nightclub and currently, a Broadway theatre, located at 254 West 54th Street, between Eighth Avenue and Broadway in Manhattan.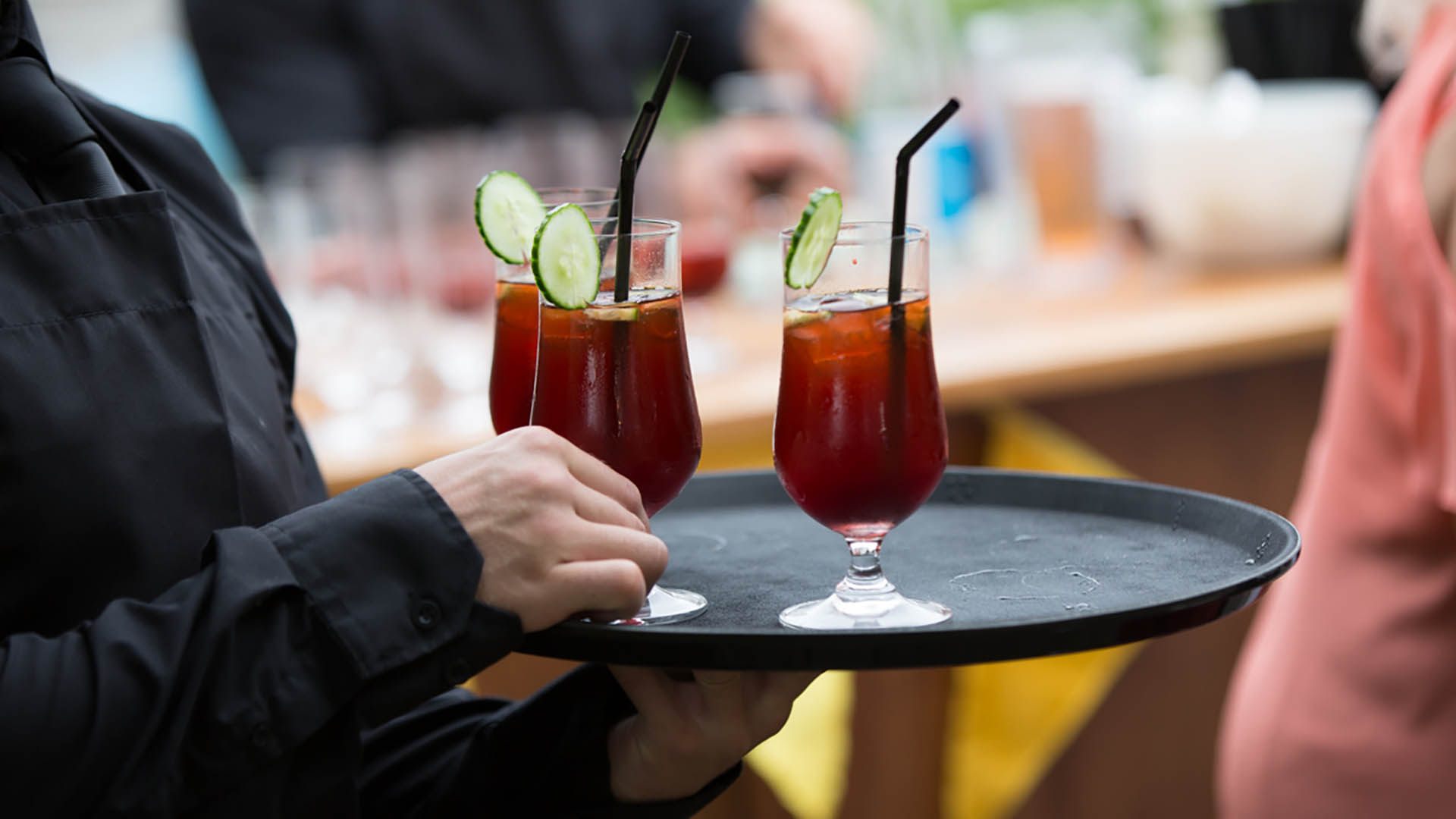 35. English Garden theme
Transform your garden into a quintessentially English country garden, complete with stalls and traditional decor. View our English Garden case study
To discuss your party theme or enquire about a bespoke theme for your next event, simply contact us by one of these 3 options:
Fill out our contact form below
Call us today on 01932 22 33 33 or
Please e-mail us